When Jess Adamiak moved to New York to work in publishing, it wasn't long before she broke into the industry, landing a web production gig at Condé Nast's Bon Appétit."There I was, 23 years old with unhemmed jeans, straight out of Pittsburgh, and riding in the elevator next to Anna Wintour," says Adamiak, who recalls a time at another publishing job when she looked up from her desk (just rows away from Steven Spielberg's son) and saw Al Sharpton walking down the hallway. "It was a very glamorous and very exciting setting — there was so much power in such a concentrated area."
Four food writing and editing gigs later at some of the city's biggest media brands, including O, The Oprah Magazine, Delish.com, Food & Wine, and Huffington Post, and Adamiak had seen it all, from queso taste tests to a story she penned about three ways to open a pomegranate. It was the hilarity she found in instances like these that led her to create The Vertical, a comedic web series launching November 29 about six offbeat food editors inspired by the characters Adamiak encountered during her three years in the industry — including herself. The series was born after Adamiak won two rounds of Reckless Theatre's Fighter Pilots, a live sitcom competition.
"I set out to create both a celebration and a satire of the food publishing world," she says. "It follows these six editors at an imaginary publication called Nosh News who are trying their best to deal with this strange world, and they all deal with it in slightly different ways."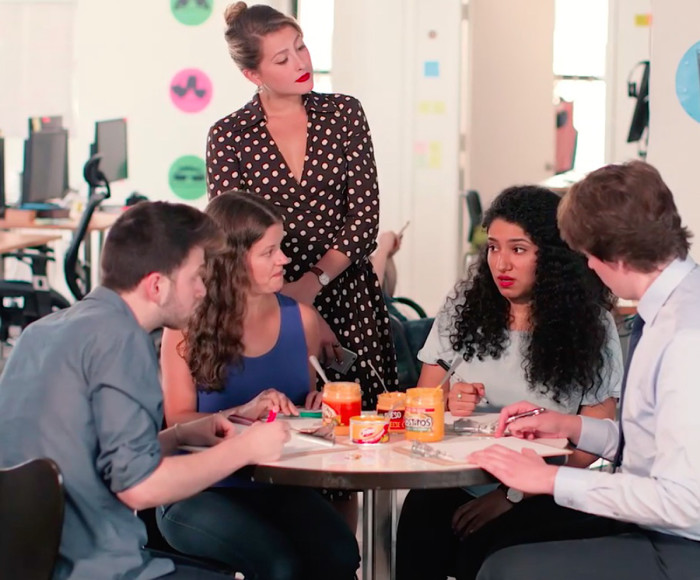 That strange world is the one that Adamiak came to understand in her own experience of the food publishing field, though she makes it clear that people in any office-based job will be able to relate. "When you step into the world of this job, it's no longer the world — it's that world, and in that world, certain things are true, even if they're absurd," she notes. Just one example of absurdity hits in the episode "Three Billion Pageviews" (previewed below), when editor in chief Hilda holds an editorial pitch meeting. "The ideas are totally fine, but she rejects them for reasons she has so much conviction about, and the editors and audience cannot see why," says Adamiak, who mentions how much fun it was to create Hilda's character. "She's one third Anna Wintour, one third Stepford wife and one third the Joker," she says. "She's not exactly mean — she's just in her own world, and she doesn't realize how her demands affect her staff, who are clamoring to please her."
Sound familiar? We're thinking the role of Joe, the office know-it-all, will ring a bell, too, even if all of his burdensome factoids revolve entirely around food (did we know that peanuts are not nuts — they're legumes?). And then, of course, there's overanxious and eager-to-please Julie; Christine, the "can't be bothered to raise a finger" intern; and Bree, the closest one to a straight man in the bunch. "Bree is looking around at these people as I hope the audience sees them," says Adamiak.
The biggest goal for the series, according to its creator? "I just want people to laugh and enjoy these characters," she says. "They're based on a composite of people I met, including myself. After all, I'm the one who wrote a Miracle Whip takedown piece."
And while Adamiak is certain that these characters could have worked well in a job dedicated to anything from fashion to design, she feels that there's a particular relatability found only in the food realm. "The food world is a wonderful filter to put these universal experiences through because there are so many fun details to play with," she says. "I mean — have you ever seen a Peep?"
Here's a sneak peek at the forthcoming series: