Death & Company Reveals New Menu Design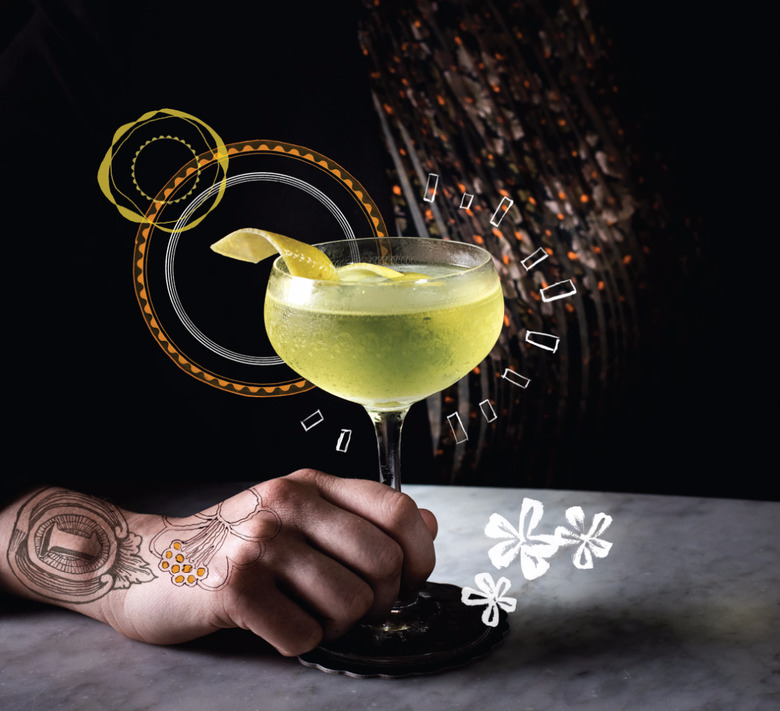 The new design of Death & Co.'s menu marks a significant departure from the current one.
To celebrate its 10-year anniversary, New York cocktail institution Death & Company is launching a redesign of its iconic cocktail tome.
A decade ago, the small East Village bar established a new standard for cocktail culture at a time when cocktail culture wasn't really a thing. The trend took off, and over the past decade urbanites across the country have enjoyed a renaissance of serious haute mixology. But perhaps a little too serious? With the new menu design, Death & Co. can "take pause and not take ourselves quite so seriously," explains co-owner David Kaplan. "No one was really drinking cocktails when we first opened, but now that it has proliferated to such a big degree, we can let our hair down a little more. We're still the same Death & Co., but I think more of our personality can come out."
The new design marks a significant departure from the current menu, notably the infusion of color and still photography. The original menu had neither: It was mostly monochrome, featuring small sketches of drinks, but to a keen observer, there were a few tongue-in-cheek jokes sprinkled throughout. "In the old menu's stirred gin section, there was a skewering of an olive — so that playfulness has always been there, but now we can really embrace it and run with it," Kaplan explains. The new design embraces the humor that has always been at the foundation of the bar's culture. As graphic designer Kate Tomkinson says, "We wanted to make it more fun."
The menu is indeed more playful, featuring neon outlines and other blasts of color. The cocktails, as always, employ rare spirits, unusual bitters and classic techniques. "We knew we wanted to use photos and not just 'cocktail hero' shots, but cocktails being made and showing the process," explains Tomkinson and her partner, illustrator Tim Tomkinson. "These illustrations are looser, showcase the point of view of Death & Co., and how that reflects its evolving style. It's a lot of work to look that easy, but it's also a lot of fun," explains Tim Tomkinson.
Ironically, looking effortless requires a great deal of effort, and in many ways, this new menu captures the evolution of Death & Co. and showcases its range, voice and aesthetic. The sophisticated cocktails may go down down easy in a cozy drinking den with '70s rock blasting over the sound system — but blending those seven ingredients into a single cohesive drink? No easy task.
"[The menu] is a way to continue to evolve, but also celebrate where we've been and where we are now," says Kaplan. What might the next 10 years hold for these gurus of mixology? Kaplan, along with co-owners Alex Day and Ravi DeRossi, will be launching the second location of Death & Co. in Denver. The new spot is inside a hotel, which for the team posed a unique challenge. They reimagined cocktail culture 10 years ago; now they'll reimagine the hotel bar.
Check out more images of the new menu below.
Death & Co. Reveals New Menu Design on Scribd