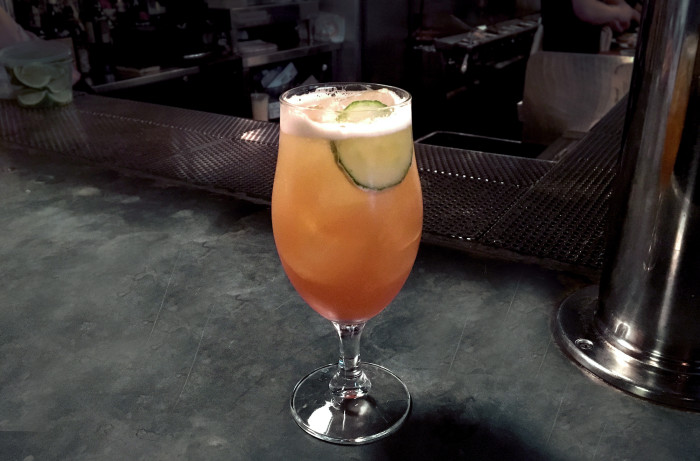 Beer cocktails can range from the very basic, such as the way a Michelada is just cerveza with lime, hot sauce and seasoning, to complex shandies blending spirits, citrus, modifiers and garnishes. Despite the growing popularity of beer cocktails, the almost limitless combinations make it feel like we've only just begun to taste what's possible. For Tyler Barnard, beverage director at Au Cheval, the lauded Chicago diner-meets-burger joint, the combination of agave spirits and German gose beer came together for his Cartel Cup.
"The Cartel Cup was inspired by a desire to meld the vegetal nature of tequila and mezcal with the saltiness characteristic of a gose," notes Barnard. "The Anderson Valley Briney Melon Gose lends melon rind and cucumber notes that also play well with the subtle spice and citrus in Pimm's, with Peychaud's offering just a hint of anise."
Gose was one of the earliest brews to be created in Germany and was even bottle-fermented directly at the tavern, rather than at the brewery. It also has a slightly lactic taste from the bacteria used to make it, giving it a slight sour flavor, which contrasts with the sweetness of watermelons in the case of Anderson Valley's Briney Melon Gose. The river originally used to feed this brew centuries ago had a natural salinity to it, so breweries add salt today to remain true to the style.
The refreshing reputation of the Pimm's Cup makes it the perfect vehicle for beer; in this case the cocktail is marked by a bright citrus bite, tequila and cucumber, all tied together with the effervescence of this dry, slightly savory gose. A great warm-weather drink for sure, but since it also brings the acid needed to cut through the grease of Au Cheval's famous burgers, variations of this Cup will likely remain on the menu for some time. Enjoy.
Cartel Cup
Servings: 1 cocktail
Ingredients
1 ounce Lunazul Blanco tequila
¾ ounce Pimm's No. 1
¾ ounce fresh lime juice
½ ounce simple syrup
¼ ounce Pelotón de la Muerte Mezcal
2 dashes Peychaud's Bitters
Directions:
Combine all ingredients in a shaker tin and shake.
Strain over ice in a tulip glass and top with Anderson Valley Briney Melon Gose.
Garnish with a cucumber round and straw.
Prep time: 2 minutes
Difficulty: Easy