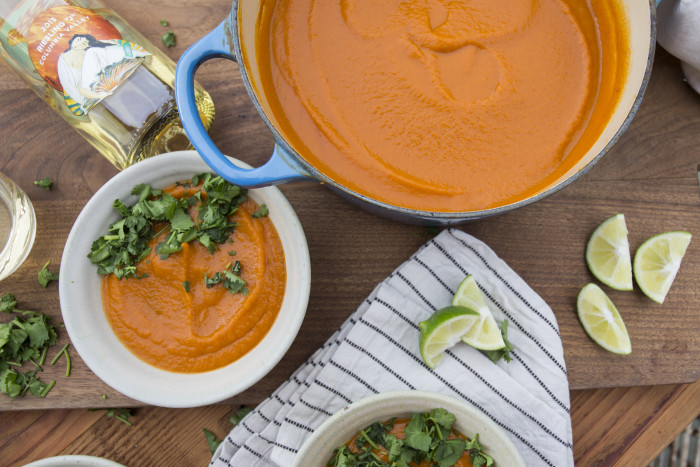 The last vestiges of Halloween candy are finally starting to disappear, and just like that, the holiday season is upon us. Cooks across the United States are beginning to plot out their elaborate holiday celebrations — from cocktail parties to brunches to long, drawn-out, traditional meals.
If green-bean casserole and mashed sweet potatoes with marshmallows on top are sounding a bit stale for this Thanksgiving's buffet table, we have just the solution. Not that there's anything wrong with a classic Thanksgiving spread, but there's certainly no harm in spicing things up a bit here and there. We've come up with a few fresh takes on Thanksgiving regulars, both of which pair delightfully with a crisp glass of Riesling.
The last thing you want on a big eating day like Thanksgiving is a heavy, oaky wine, and these Rieslings are the perfect alternative. The bright crispness of Pacific Rim Riesling helps to cut through the richness of Thanksgiving delicacies and leaves your palate refreshed after each sip.
Our take on classic butternut-squash soup swaps coconut milk for heavy cream and Thai curry paste for nutmeg. The result is a thick, creamy, lightly spicy, umami-filled soup. The slight sweetness of Pacific Rim Classics Medium Riesling balances the spice from the curry perfectly.
We've also updated honey-glazed carrots, a cult classic dish. In our version, a simple tahini sauce replaces the honey glaze for an earthy spin on the original. The complex character and bright citrus flavor of Pacific Rim Wallula Vineyard Dry Riesling pairs perfectly with the sweet caramelized roasted carrots and the nutty, herby tahini sauce.
This Thanksgiving, introduce some atypical dishes and wines to your dinner table. That's something to be thankful for!
Curried Butternut Squash Soup
Yields about 7½ cups of soup
Ingredients
2 tablespoons coconut oil or olive oil
1 medium yellow onion, chopped
4 garlic cloves, chopped
2-3 tablespoons Panang curry paste (yellow or red also work)
1 teaspoon ground cumin
1 teaspoon chili powder (if you like spice)
¼ teaspoon sea salt
2 pound butternut squash, peeled, seeded and cut into 1-inch pieces (about 3 cups)
3-4 cups (16 ounces) chicken or vegetable broth
1 can whole peeled tomatoes (28 ounces)
1 can coconut milk (13.5 ounces)
2 tablespoons fresh lime juice
1 cup cilantro, chopped (optional)
Directions:
Heat oil in a large Dutch oven or heavy-bottomed pot over medium heat. Add onion and garlic and cook until onion is translucent, about 5 minutes.
Add curry paste, cumin, chili powder and salt and stir to combine for 30 seconds. If you're wary of spice, omit the chili powder and start with 2 tablespoons of curry paste. You can add more later.
Add butternut squash, broth and canned tomatoes, bring to a boil, then reduce heat and simmer until squash is cooking through, about 15 minutes.
Once the squash is cooked, remove the pot from heat and stir in the coconut milk.
Working in batches, transfer the soup to a high-power blender and purée until very smooth. Return to the pot. Add more chicken stock if needed to achieve your desired consistency.
Taste the soup and add more curry paste or other seasonings to taste.
Stir in lime juice.
Serve warm and garnish with cilantro if desired.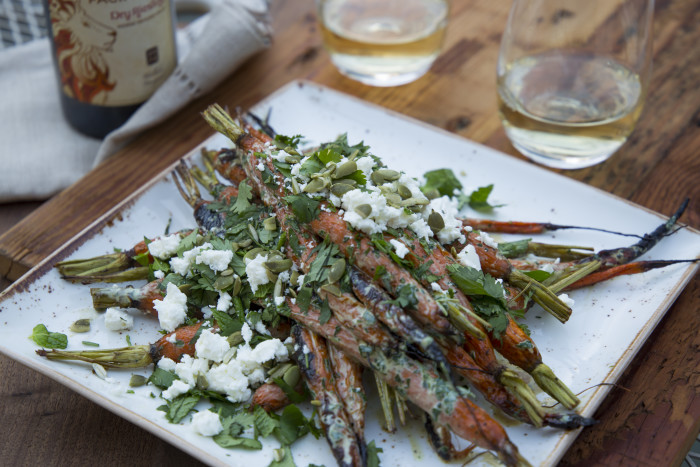 Roasted Carrots With Green Tahini Sauce
Servings: 4
Ingredients
2 pounds small carrots, scrubbed clean, tops trimmed
1 tablespoon olive oil
½ teaspoon sea salt
Freshly cracked black pepper, to taste
¼ teaspoon smoked paprika
½ cup Greek yogurt
1 tablespoon honey
1 tablespoon tahini paste
2 tablespoons lemon juice
1 tablespoon water
¼ cup fresh cilantro (leaves and stems), plus 2 tablespoons chopped for garnish
¼ cup fresh parsley (leaves only), plus 2 tablespoons chopped for garnish
¼ cup fresh mint (leaves only), plus 2 tablespoons chopped for garnish
2 tablespoons toasted pepitas, chopped
3 ounces feta cheese, crumbled
Directions:
Preheat oven to 425°F.
On a large baking sheet, toss carrots with olive oil, salt, pepper and paprika. Roast at 425°F for 30-40 minutes or until browned and tender.
Meanwhile, place Greek yogurt, honey, tahini paste, lemon juice, water, ¼ cup cilantro, ¼ cup parsley and ¼ cup mint in the body of a food processor fitted with a blade. Blend until almost smooth — there should be small green specks.
Allow the carrots to cool out of the oven for several minutes, then pour a generous amount of the tahini sauce over the carrots and toss until they are coated.
Transfer carrots to a serving platter and top with cilantro, parsley, mint, pepitas and feta.
Tip: Tahini paste can be found in the ethnic aisle of most major grocery stores. Mix it with a little water for a super simple sauce, spread it on bread as you would a nut butter, or mix it with yogurt and herbs like we did above!
---
"J" Classic: 100% Riesling, 100% Columbia Valley, Washington — "Just" the right amount of sweetness and complexity. Bright crispness, subtle sweetness and aromas of jasmine, pear and apricot. 
Wallula Vineyard Dry Riesling: Single vineyard expression expertly crafted to portray a distinct sense of place and one of the finest expressions of this varietal. Dry, complex character balanced by citrus flavors and refreshing acidity.