Ten Restaurants You Can't Miss In Greenville, South Carolina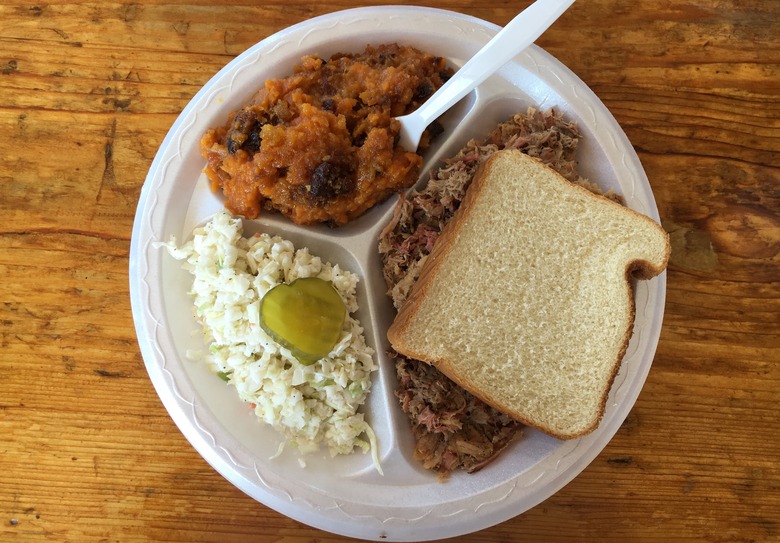 At Henry's Smokehouse, up to 1,800 pounds of pork butt are smoked and chopped by hand daily. (Photo: Katie Chang.
If you haven't heard of Greenville, South Carolina, you're not alone. But in the past few years, interest in the charming yet vibrant Southern city, tucked away upstate in the Blue Ridge Mountains, has soared. Its natural beauty is postcard-perfect, with leafy, tree-lined Main Street and Falls Park, which boasts waterfalls and a pedestrian suspension bridge. Outdoor enthusiasts can walk, jog or bike down the Swamp Rabbit Trail, a popular 22-mile multiuse greenway that runs along the Reedy River. There's also a cool crop of art galleries and theaters for the culture buff.
Last but not least, the food. After spending a few days in Greenville this fall, it was a no-brainer why the city is on the radar for travelers with eating well on the mind. (Need proof? Sean Brock's third location of Husk is to open on Main Street any day now.) And despite its small size, the dining scene here packs a surprisingly diverse punch. From a family-owned Persian restaurant to a barbecue joint that still chops all its pork by hand, here are 10 restaurants you can't miss during your first (or next) visit to Greenville.
Henry's Smokehouse
In the Carolinas, barbecue is all about pork. And here, at this Greenville institution, lean butts are mopped with yellow mustard, then smoked all night long over a mix of hickory and oak. The chopping process — it's all done by hand, up to 1,800 pounds daily — begins promptly at 6 a.m. The resulting meat is smoky, fork-tender and packed with flavor. In short: It's porky perfection. They don't cut corners with the equally lip-smacking sides, either, from the hand-cut fries to cool, creamy slaw. 240 Wade Hampton Blvd.; 864-232-7774; henryssmokehouse.com
Mekong Restaurant
Every local insisted on me checking out this place — and I'm glad I did. What formerly was an Arby's is now a deceptively unassuming spot that turns out seriously fresh Vietnamese food, thanks to owner and classically trained chef Huy Tran. Want to see how fresh? Then check out the garden behind Mekong, where you'll discover giant food buckets repurposed to grow a bounty of vegetables and herbs (peppers, eggplant, lemongrass and cilantro). The prices are wonderfully forgiving, too, with everything under $11. 2013 Wade Hampton Blvd.; 864-244-1314; mekongrestaurantgreenville.com
No visit to Soby's New South Cuisine would be complete without the famous shrimp and grits. (Photo: Soby's New South Cuisine.)

[/caption]
Soby's New South Cuisine
Many credit this restaurant, housed in a former cotton exchange from the 1880s, with pioneering the restaurant boom and downtown revitalization of Greenville. Even though it opened in 1997, it continues to be a beloved mainstay with its contemporary yet comforting takes on classic Southern fare. Signature dishes include the jalapeño-studded pimento cheese with pita crisps, fried green tomatoes topped with a luscious cheese sauce, and shrimp and grits – which get fancified with Anson Mills grits, andouille sausage and a smoky tomato broth. 207 S. Main St.; 864-232-7007; sobys.com
Bacon Bros. Public House
The name's a bit corny. The strip mall location is slightly strange. But there's a good reason why this restaurant, which opened in 2013, is such a hit with locals. And that's because the food is outrageously belly-busting, and well, fun. Obviously, there's plenty for meat lovers to flip for, like the housemade charcuterie — the delicate, fennel-laced coppa is especially solid. The coffee-crusted pork chop and house-smoked barbecue will satisfy the heartiest appetites, and even the salads take a meaty turn, as in an arugula salad tossed with dry-cured ham. 3620 Pelham Rd.; 864-297-6000; baconbrospublichouse.com
American Grocery
Tucked away on Greenville's West End, this spot by owners Joe and Darlene Clarke is also credited with pioneering the city's restaurant boom. The dining room is comfortable and cozy, with its exposed brick walls, local artwork and low lights. And the food? It's wholly original, whimsical and downright delicious. The sriracha-honey fried chicken skins, for example, are crunchy, fatty, spicy, sweet and tangy. (You can't stop at just one.) Wash all that goodness down with one of head bartender Kirk Ingram's equally creative cocktails. The cheekily named Accidental Hipster is a bracing but smooth blend of Bulleit Rye, Fernet Branca, maraschino and lemon. 732 S. Main St.; 864-0232-7665; americangr.com
Pomegranate on Main
Believe it or not, it took a trip to Greenville for me to experience Persian food for the very first time. And what a meal it was, from the complimentary starter of their take on a Persian breakfast — typically, it's comprised of feta cheese, nuts, radishes, fresh herbs and pita — to the rich and savory-sweet Fesenjan (an addictive pomegranate-walnut stew with meat), to the four types of basmati rice (the dill and lima bean version is especially noteworthy). My only regret was not binge able to make room for more of the wonderfully fragrant, deeply satisfying food. 618 S. Main St.; 864-241-3012; pomegranateonmain.com
Hall's Chophouse
Despite its massive size, this newly opened steakhouse — it's the second location of the family-owned restaurant in Charleston — does what many restaurants half its size can't, turning out spot-on steaks and equally agreeable service night after night. No wonder it's quickly become the destination for both special occasions and happy hour, which offers all sorts of wallet-friendly, hearty bites, like the house-ground burger and steak-topped nachos. And the giant, ice-cold, silky-smooth martinis are the perfect way to cap off a long day (or commence your evening). 550 S. Main St.; 864-335-4200; hallschophousegreenville.com
The Pita House
To get the most out of one of Greenville's best (and most affordable) spots, arrive before or after the maddening lunch rush. Because within minutes of ordering at the counter, you'll be presented with a fresh, filling and fuss-free plate of Middle Eastern food. The fluffy pita is baked in-house daily and perfect for mopping up the smoky baba ghanoug or stuffing with grilled chicken shawarma. Don't forget to indulge your sweet tooth with a piece of baklava. Oh, and it's cash only, so bring those bills. 495 S. Pleasantburg Dr.; 864-271-9895; pitahousesc.com
Duke's Sandwich Company
If you're a full-frontal fan of mayo (like me), you know and love Duke's, whose formula packs in more egg yolks (along with no added sugar) than its competitors, making it extra creamy and zippy. What I didn't know is that Greenville is the birthplace of Duke's and continues to manufacture tubs of the golden goodness. The company also produces classic sandwich spreads (including egg salad, pimento cheese and baked ham), which are featured at their humble, namesake sandwich shop. It's far from fancy, and the service is notoriously slow and inconsistent (check your order before you leave). But there's something about biting into these basic sandwiches — imagine a thin layer of mayo-based spread between white bread — that makes you feel nostalgic, as if you're snacking on a bit of history. 1001 Poinsett Hwy.; 864-400-3222; dukesandwich.myshopify.com/pages/restaurants
Passerelle Bistro
When the weather's fine, it's tough to imagine a more picturesque place to dine than at the charming Passarelle (French for "footbridge"). Grab a table on the outdoor patio, and enjoy the views of the Liberty Bridge and Falls Park, while tucking into chef Teryi Youngblood's spirited spins on classic bistro fare (think moules frites, niçoise salad and cassoulet) and wines, all of which are French. (Youngblood is a passionate self-proclaimed Francophile.) 601 S. Main St.; 864-509-0142; passerelleinthepark.com