When the temperature drops, the Dutch ovens and slow-cookers come out and soup is on the menu. Just because soup and a piece of buttered crusty bread may land on the simpler side of dinner doesn't mean a glass or two of wine's not perfectly in order. To pair some of our favorite seasonal soups with a vino that does them justice, we turned to Brahm Callahan, master sommelier and beverage director for Himmel Hospitality Group and ambassador for the Ribera y Rueda region of Spain.
"Pairing beverages with soup can be tricky, but there are a ton of options," Callahan says. "You can pair them based on flavor profile (spicy soup with sweet wine), weight (rich creamy soup with a rich wine) or a more acid-driven wine to cut through the richness and temperature."
Here's everything you wanted to know about having a well-balanced soup experience that doesn't leave out the good stuff.
What are some of the challenges you face in pairing two liquids, especially two very different ones?
One of the major issues in pairing two liquids is that you're incorporating a number of variables, like texture and consistency. As you take it all into consideration, you're either pairing like with like or comparing and contrasting.
Surely there has to be a line you draw, given the variety of soups in the world. Take, for instance, a spicy Korean tofu and kimchi soup with an anchovy broth base, or a Thai hot and sour soup.
You can definitely do it, but your window becomes much smaller. You'll want something with residual sugar for anything with a spicy component. German Riesling can be an amazing pairing for spicy Asian food.
If you were to pair your favorite wine of right now with a soup, what would it be? 
It's fall here in Boston, so something heartier. There's a lot of really great mushrooms and foraged product here, so I'd probably do an earthy mushroom and vegetable stew with a nice Barolo or Barbaresco.
What is the worst thing someone could do in attempting to pair wine and soup themselves?
One thing I would say is to be really aware of what your base is. With soup, flavor is built in via the stock. If you have a fish or seafood based, it's going to be hard to pair that with red, so you'll want to go with white or you'll risk getting a really metallic gross flavor. White wine is generally going to be more versatile in pairing because it's "safer." There are proteins and compounds in seafood and fish that have a very negative reaction to the tannins in red wine, and with white you're much less likely to have an egregious pairing.
Here are a few soups you're likely to encounter during the fall and winter, with expert pairings from Callahan.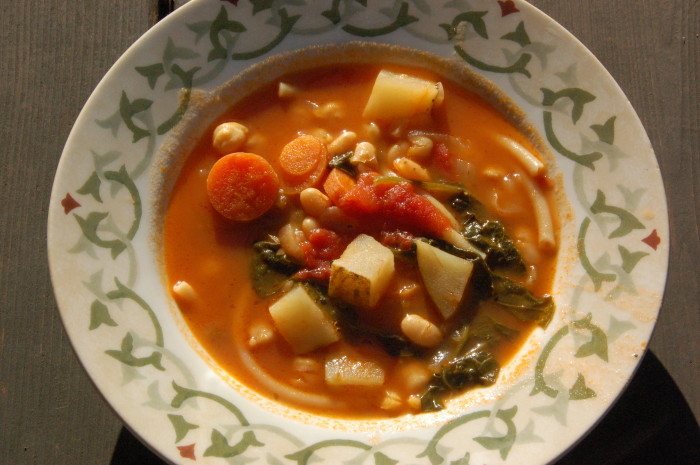 Vegetable Soup
As hearty fall and winter vegetables come into season, this is one of my favorite soups, and my go-to pairing here is rosé. I love the Cepa 21 Hito rosé from Ribera del Duero for its tart fruit, earthy tones and bright acidity. It's refreshing and plays off the earthy tones in the soup.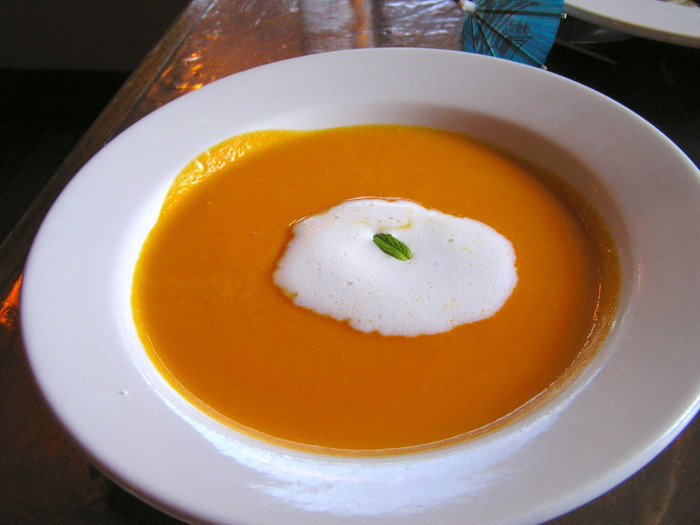 Curried Carrot Soup
What I love about curried carrot soup is the flavor, spice and heat that carries it, with a great texture and weight. German Riesling works amazingly well — I like one with a little bit of residual sugar to tame the heat of the soup, but with enough fruit and bright acidity to cut through the richness as well. Try St. Urbans-hof's Ockfener Bockstein Kabinett reisling 2015 from the Mosel.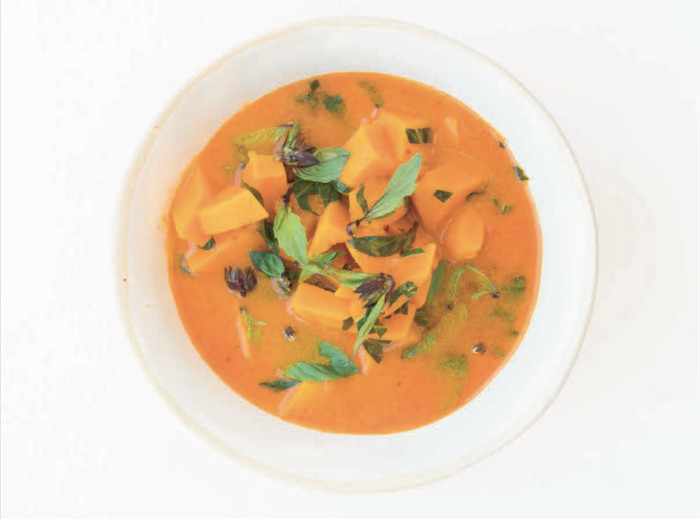 Pumpkin Soup
About as fall as it gets, a classic pumpkin soup with just the right amount of sweetness and notes of classic baking spices pairs perfectly with Verdejo. The ripe citrus, tropical fruit and grassy herbal notes in the wine cut right through. Try the Finca Montepedroso 2012 Verdejo from Rueda.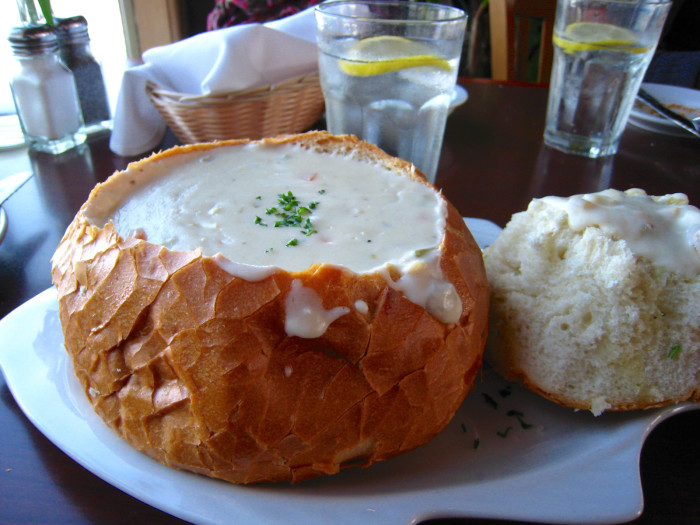 Clam Chowder
Clam chowder is a tough pairing. The wonderful weight, texture and shellfish flavor oftentimes can overpower a wine, but one of my go-to pairings that works perfectly is sherry. Think tangy, salty and driven by citrus with a wonderful nutty biscuit note. I love Barbadillo's amontillado sherries from Jerez.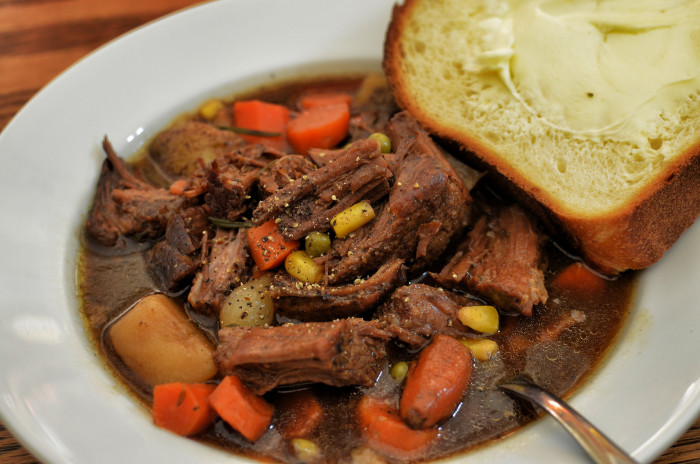 Beef stew
Meaty, earthy, hearty: It takes a serious wine to stand up to this stew. I think Nebbiolo is a great option, as many of the earthy, mushroomy, funky flavors in a classic Nebbiolo play well with beef stew. There also is plenty of tannin to cut through the richness of the beef. One of my favorites is Elvio Cogno's Ravera Barolo 2009.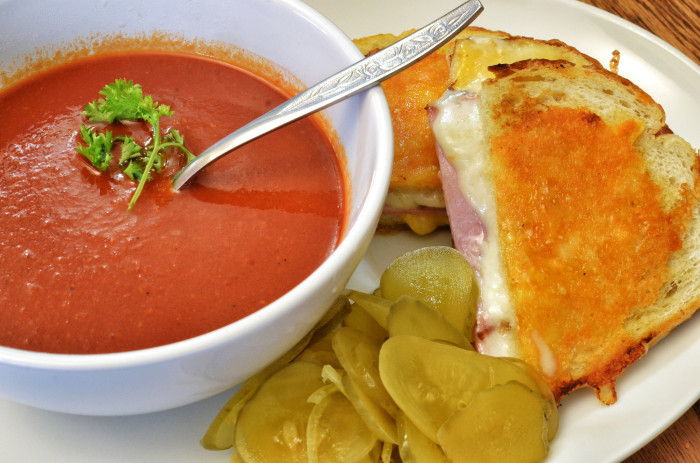 Classic Tomato Soup
Sometimes the most simple dishes invite the some of the more subtle and complex pairings. Tomato soup is such a basic comfort item that it needs a great wine to lift it up. I think Pinot Noir from Burgundy is an amazing pairing, as the sweet ripeness of the tomatoes is mirrored in the sweet ripe red fruits and earthy tones you find in great Burgundy. Benjamin Leroux's Savigny-les-Beaune 2012 is drinking beautifully right now.