Can Snoop Dogg And Martha Stewart Make Food Fun Again?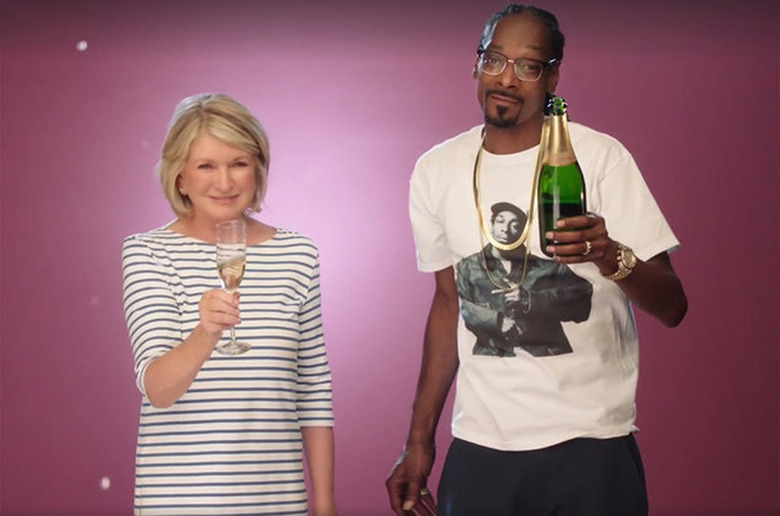 I have shared weed with Snoop Dogg and waited on line for food at a glitzy Miami party next to Martha Stewart, so I feel more qualified than most people to hypothesize about what to expect from this unlikely duo's new show, which premieres tonight on VH1. Martha and Snoop's Potluck Dinner Party seems so bizarre on the surface that it must be hilarious, right? Right?
To start, let me point out that I have not seen an advanced preview of the show, other than the teasers available online, such as this:
The New York Times feature that ran in yesterday's paper did a better job of selling the premise: These two seemingly mismatched friends, the doyenne of home entertaining and the hip-hop legend turned weed ambassador, team up to cook dinners for famous folks including Seth Rogen, Wiz Khalifa and Kathy Griffin. It's not a real potluck, as the Times points out, since the guests don't bring any dishes — the ads for the show emphasize the word "pot," of course — but both Martha and Snoop do the cooking themselves (at least for the cameras). And this is no thrown-together gimmick, according to the Times, which cites the duo's past collaborations.
Okay, I'll bite (so to speak): Martha and Snoop have common ground. She's beloved in the hip-hop world — to wit, Jay Z's lyric
"The Martha Stewart who's far from Jewish"; also, her prison stint gives her street cred. And he's one of the most recognizable stars on the planet. A personal tangent: I met Snoop as an editor at a prominent magazine. We'd chosen to feature him on the cover, in part because he's one of the most recognizable stars on the planet. He arrived for the shoot, at a big Los Angeles studio, with an entourage of about 20 friends, bodyguards and, well, "hoes," in the parlance, and he was indeed flyin' high. Through his handlers, Snoop had requested a catered spread of very specific Southern food — okra, fried chicken and the like. But when he arrived, he and his team had an appetite for something else. Our art director approached me with a request that had been relayed from Snoop himself: They no longer wanted Southern food, but instead craved In-N-Out. "You're gonna have to take one for the team and go get them In-N-Out," the art director told me. The order? Thirteen double-doubles, no onions, fries and shakes.
This was a pretty big order to try to fill on short notice at prime time on a Friday night, but in a whisper, I explained to the clerk at the In-N-Out on Sunset Boulevard that these burgers were for a VIP — Snoop had personally requested them. After a surprisingly brief wait, the clerk informed me that the order was ready, and he even helped carry it to my car. I raced back to the studio and handed the order to two of Snoop's beefy, deep-voiced body guards. Long story short, later, as I tried to stand up straight despite getting so high off a Snoop blunt that the room was spinning around me, one of the bodyguards approached, put his arm around me, and said something like, "Snoop really appreciates you getting us all those In-N-Out burgers. We all wanted to say thanks."
As touching as that was — and it's a surprisingly enduring memory, given how baked I was, and considering that it happened a decade ago — I do not have, um, high hopes for Martha and Snoop's Potluck Dinner Party. In fact, I'll go so far as to predict that beyond the shock value of the show existing, it will have no value at all. I could be wrong, and I hope that I am. The food world can take itself too seriously, and Martha at least has it in her power to take the whole culinary zealousness thing down a few notches. But given the less-than-stellar track record of VH1's recent programming, and the earnest PR push that the show has gotten, this looks to be more novelty act than prescient satire.
Sorry to be a buzzkill. Oh and an aside to Snoop: If the show's smarter, funnier and more successful than I'm predicting here, the next round of 13 In-N-Out burgers with fries and shakes is on me.