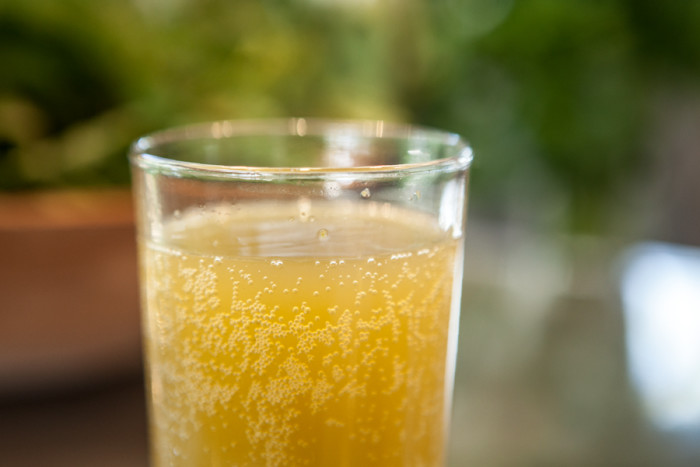 In northern California, a fermented beverage called kefir is having a moment as the elixir of choice. It's traditionally made from cultured cow's milk, which produces a product similar to drinkable yogurt. A couple of superb spots are serving kefir from a tap, using fruit, tea and even coffee to create lighter, more crowd-pleasing versions.
In San Francisco, the new Tartine Manufactory serves house-made turmeric ginger kefir. The drink at first blush looks the same shade as a farm-fresh egg yolk (or even dark urine, for the potty-minded amongst us), but the bubbles and ginger notes make for a refreshing pairing with breakfast treats like a Liege waffle or a chocolate tea cake. At lunch, the kefir (on ice) helps cut the fat from a pleasing warm porchetta sandwich — with the added halo effect of helping with digestion, owing to its high probiotic content.
Caitlin Koether, a chef at Tartine Manufactory, says the kefir — at times billed as a soda— is made using a technique originating from her time at Bar Tartine. It's based on a "Ginger Burns" recipe from Bar Tartine chefs Cortney Burns and Nick Balla, two fermentation and DIY experts. Koether's team makes the kefir "by placing the [kefit culture] grains in an environment where they are happy," which is just sugar and water with a couple of added ingredients to encourage the natural process, brewed for three days. The grains are then strained out and placed in a new base environment.
"The former batch is left to continue a slower fermentation, having been populated with natural bacteria, yeasts, lipids and proteins to ferment to a dry, flat base," continues Koether. "It's then flavored with turmeric juice, ginger juice, lime juice and brown sugar. At that point, it goes into a slight secondary fermentation in which we keg it and put it on tap with controlled carbonation."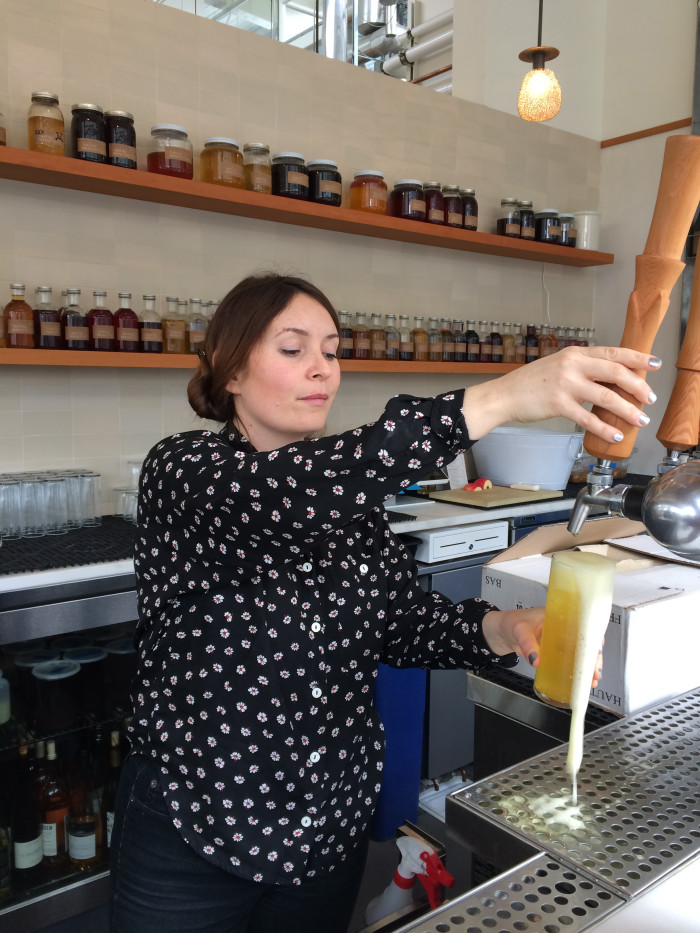 Two outposts of the ever-popular South Bay locations of Manresa Bread seemed to kick the kefir craze off. Manresa chef-owner David Kinch and head baker and partner Avery Ruzick are well known for their innovation and technique. Diners are besotted with kefir, fruity go-tos like lemon gingerade, elderberry passion and tangerine as well as tea-based flavors like pu'erh and rooibos that are fermented with coffee. Andrew Burnham, a partner at Manresa Bread, says these drinks are "wildly more nutritious and less acidic than traditional kombucha."
The bubbly creations are mainstays from a 2013 collaboration with Santa Cruz "beverage artisans" Dr. Kefir and Verve Coffee Roasters, brewed with Verve's Streetlevel coffee blend. The unusual pairing is said to be a "natural extension" of Dr. Kefir founder Brian Lovejoy's own drink curiosity.
"I'm an experimenter, so I try to ferment everything I love," says Lovejoy.
Dr. Kefir's line of nondairy kefir — also served on tap — is perhaps the next wave for this remarkable beverage. It works by activating kefir starter crystals within another compatible substance. This results in a fermented beverage that is technically vegan and lacks the overly sour notes that kombucha often sports. The secret sauce? "A particular strain of kefir grain that would consume plant-based sugars, rather than lactic sugars," Lovejoy says.
Further north in Healdsburg, Cindy Daniel, co-owner of SHED, serves on-tap kefir at her award-winning restaurant/fermentation bar/store/community hub sourced from a local maker called the Kefiry. Their live-cultured kefir contains botanicals brewed in small hand-crafted batches in nearby Sebastopol. "We are fans of the probiotic benefits and flavors of kefir water. It's an elixir we enjoy throughout the day as a pick-me-up." Daniel says their most popular flavors are lemon ginger, turmeric and root beer, offerings with zing and promise.