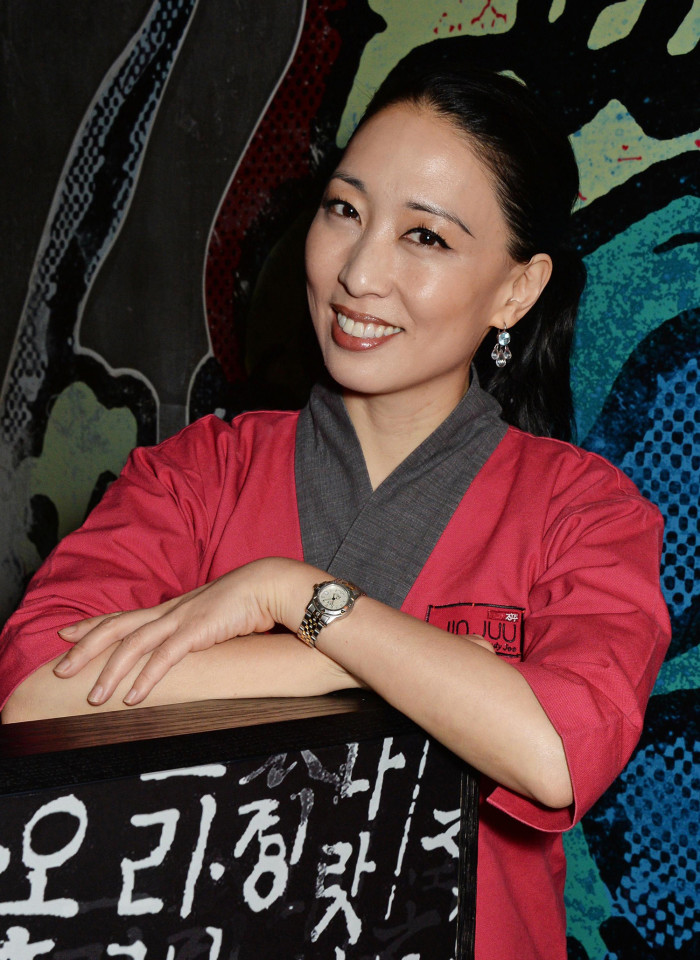 "I must admit, it was a fun time in my life. My friends and I ripped around New York City, with a bit of cash in hand, single, working hard and playing even harder. But something was missing…." That's the set-up in the introduction to Judy Joo's new cookbook, Korean Food Made Simple, but it could also be the voiceover narration in the trailer for the movie that it's easy to imagine being made about her life.
When I meet the chef, restaurateur and television personality for coffee at Landmarc in midtown Manhattan, she's poised, relaxed and clearly in her element. After all, while she may call London home now, this — New York City — is her old stomping ground. Over the next 45 minutes, we discuss her journey from being the daughter of Korean immigrants in suburban New Jersey to Columbia student to Wall Street banker to budding housewife to divorcée to apprentice and then celebrity chef. How did a little girl with big dreams and hands that reeked of perilla leaves from her mother's garden end up here, promoting a cookbook that shares a title with her Cooking Channel show, while juggling the opening of her second location of successful London Korean restaurant Jinjuu (and third overall; there's another in Hong Kong).
You could wait for Hollywood to pick up on Joo's story, or you could hear what she has to say right now in the latest FR Interview.
In your new book, you talk about growing up the daughter of two Korean immigrants and what that was like….
I grew up in a family where food is a language of love, and food always had love in it. Kind of like a Jewish or Italian grandmother, as a way of expressing love for someone. And my mom was making everything from scratch because my dad only likes Korean food. She as well, always craving those flavors from home. Particularly something like kimchi — Koreans have to eat it every single day. Every single meal. Things like gochujang (chili paste) or doenjang (soybean paste) are at the heart of Korean cuisine. When I was growing up in New Jersey, there were no grocery stores where you could buy these things, so we had to make everything from scratch. Occasionally we would do these pilgrimages to New York City. K-town was very small back then. It was nothing like what it is now.
Did you get your hands dirty?
Oh, yeah, child slave labor, absolutely. [Laughs.] Making dumplings. We weren't allowed to make the kimchi because she was scared because it was too spicy, so we used to watch her and she would be like, "Step back!" Because the chilies are kind of dangerous. She had this garden outside where we'd pick perilla leaves and she would make kimchi out of them. I couldn't eat perilla leaves for a really long time because the smell is so strong and it would make my fingers smell; I was so sick of picking them all the time that I got turned off to them.
Did she pickle a lot? I noticed that the first section of Korean Food Made Simple is about pickling.
Yes, fermenting, pickling. Everything. She had to make everything from scratch. You couldn't buy it.
You were in suburban New Jersey. I imagine that you had classmates who weren't used to authentic Korean cuisine. What would friends say when they'd come for dinner?
Well, my mom used to cook Western food, too. Generally if we had friends over it'd be normal stuff like noodles or dumplings. It wasn't anything too funky, like soondubu jiggae [seafood tofu soup] or anything like that.
"In a million years I never thought it would turn into what I'm doing now. I never thought it would be this much of a career."
What about when you'd travel?
We'd always bring a little kimchi, a little gochujang. It was very embarrassing to break it out at the restaurant. Now it's not such a big deal, though, because everywhere you go you can find a Korean restaurant.
What about Thanksgiving — do you incorporate Korean flavors?
Yes. Sometimes we just have Korean Thanksgiving. Like maybe we'll do a turkey, but we'll have all the side dishes like kimchi, japchae, all different types of things next to, like, mashed potatoes. But it goes together well. Maybe some people would think it's a gastronomic disaster. But turkey, kimchi and mashed potatoes together are really good.
Let's go into your personal history, which is really interesting—
Random.
Yeah. You're in finance, I'm sure your parents are bragging about you. At what point did the career change come?
I did my analyst program in New York, and then I moved to California with Morgan Stanley. I was working New York market hours on the West Coast, so like 3 a.m. wake-up calls, in the office by 3:30. That was a really warped existence. You can't even go out to dinner — if you want 8 hours of sleep you have to be in bed at a ridiculous time. I was traveling so much. I was always on a plane. I got really tired. I always say that career changes are driven by love and hate. Or dissatisfaction and how unhappy you are propels you forward to make a decision. As well as the love for something else. I just couldn't do it anymore.
Then I got engaged to my now ex-husband. He sponsored me and said do what you love. I enrolled at cooking school here in New York. He was living here.
Then what?
I went to pastry arts school. I really didn't have any goals or ambition. I went to cooking school thinking I would have cool birthday parties for my kids. Really. I had no idea where it was going to lead. I was kind of a dilettante.
How did your family react?
Bragging rights disappeared. Every time I would bring it up with my mom, she was like, "When are you going to get pregnant?" She had no interest in hearing about cooking school. I was working at Saveur [where she met Vivian Jao, who recipe-tested Korean Food Made Simple] and doing interesting projects. In a million years I never thought it would turn into what I'm doing now. I never thought it would be this much of a career. It wasn't until I got divorced that I really started throwing myself into it because it really lit a fire under my ass. I was like, I really have to do something with my life. In the past five years it's pretty much come together.

You're running Jinjuu in London—
I've got another [Jinjuu] on the way. And another one in Hong Kong. I moved there for three months, and I've been three times this year. I never wanted to be a restaurateur. It kind of just happened. I'm the accidental restaurateur. I really owe a lot to luck and serendipity, but to some extent you make your own luck. You meet people. You turn that into opportunity. My TV career started when I met a woman [and TV producer] named Janice Gabriel at a party. She was like, "I'm going to put you on TV." She put me on a show in the UK called Market Kitchen, and I became a regular guest. Then Iron Chef UK came up. I ended up landing that gig. Then the producers for Iron Chef America consulted on that; Iron Chef UK never got great momentum, but they brought me over here and started doing more work with Food Network. That's when I started doing all the judging, making appearances, competing. That led to my own show.
Backing up a bit, how'd you end up in London?
My ex-husband. He opened up the European division of his hedge fund. We ended up getting divorced. The kids never happened; the birthday parties never happened. And I gave birth to restaurants instead. I was ready to move back [to the U.S.]. After something like that you're ready to go home. Then I got a random phone call. My business partner just cold-called me. He said "I've had your food, and I have a lease on Kingly Street," and that was it.
How did it go over at first, opening a Korean restaurant in London?
It's been a lot of education. I didn't have a good time with the critics. They compared me to Thai food and Thai restaurants, saying we used a lot of the same ingredients. But we've had an amazing response. We're packed. We're going to a second location now in Mayfair. I'm really trying to make Korean food global. We're able to do things a bit more funky, spicy and authentic in Hong Kong because people are more open to it. I've tried putting things that are more off-piste on the menu in London and it doesn't work. We keep trying. We change the menu seasonally. Even things like rice cakes don't really sell.
It doesn't seem like there's a lot of fermented foods in British cuisine.
Other than beer! Y'know. There's a history or pickles. And some chutneys on the Indian side. But kimchi is kind of polarizing. I have girlfriends who are married to non-Korean guys and they can't stand the stuff. It's not for everyone.
So that's your story. To bring it full circle, you'd have to come back to New York. Is that something that's on the radar?
It's on the radar. I don't know if it'll be the first place I open a restaurant in the States, but it's on the radar. I would love to get back to New York. I really consider myself a New Yorker at heart.