NYC Chef Wins World Championship Of Pâté-Croûte Semifinal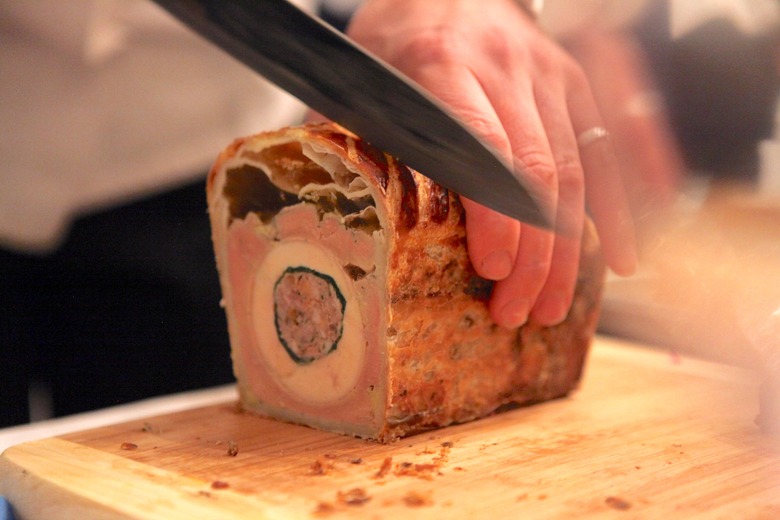 (Photos: Lesly Guihard
The World Championship of Pâté-Croûte was held Monday, October 24, at the Consulate General of France in New York City. What is pâté-croûte? Also known as pâté en croûte ("pâté in pastry"), this preparation is a dense cooked terrine of meticulously seasoned and layered meat and offal encased in puff pastry, and it's one of the crown jewels of the French charcuterie repertoire. As challenging to master and prepare as they are beautiful to behold, these loaves showcase both French culinary talent and the vast range of highest-quality raw material the country has to offer. At Monday's competition, chef Guillaume Ginther of NYC fine poultry palace Le Coq Rico took home the top prize, as well as a painting by artist Laurent Jacquet, who created the piece (while snacking on pâté) throughout the evening.
Competing chefs and charcutiers from New York, D.C., Connecticut and Montreal came together to feed a panel of judges, including chefs Jacques Pepin, Elena Arzak and Daniel Boulud as well as Food & Wine editor in chief Nilou Motamed, dean of classic studies at the International Culinary Center André Soltner, and founder/CEO of D'Artagnan Ariane Daguin (among others). Nothing short of perfection would impress these cured- and compressed-meat experts.
The submissions were presented to the panel whole for visual inspection, then sliced to reveal the intricate inlays and complex, savory aspics within and plated precisely with complementary accoutrements. Each pâté embodied the signature flawlessness of classic French cuisine. In 2010, UNESCO recognized France's culinary contributions on its Representative List of the Intangible Cultural Heritage of Humanity, so if you're thinking, "Really, a global contest for compressed meat in bread?" it's high time for you to enjoy a slice or two of the good stuff. Here are a few photos from the evening to rev you up:
Says Chef Ginther of his pâté (and mentor, Le Coq Rico owner Chef Antoine Westermann), "Chef Westermann is a master of pâté en croûte, so I started with a center of his delicious 'farce' made of Berkshire pork butt and back fat. Inside is a row of pistachios, which adds a great crunch and surprising texture, and on the outside I layered it with spinach for a bright splash of color to make it more visually appealing. Since Le Coq Rico is a chicken restaurant, I wanted to incorporate chicken into it as well. I rolled chicken breast around the 'farce' but not any chicken breast — it was the Brune Landaise, which is a special breed that we get for the restaurant and has an incredible texture and flavor to it. Then, in order to maintain the crispiness of the puff pastry, I rolled the entire thing in foie gras because it creates a barrier that allows the crust to stay crispy."
Chef Ginther will go on to compete in the finale, hosted at winemakers Maison M. Chapoutier in Tain l'Hermitage in the South of France on December 5.