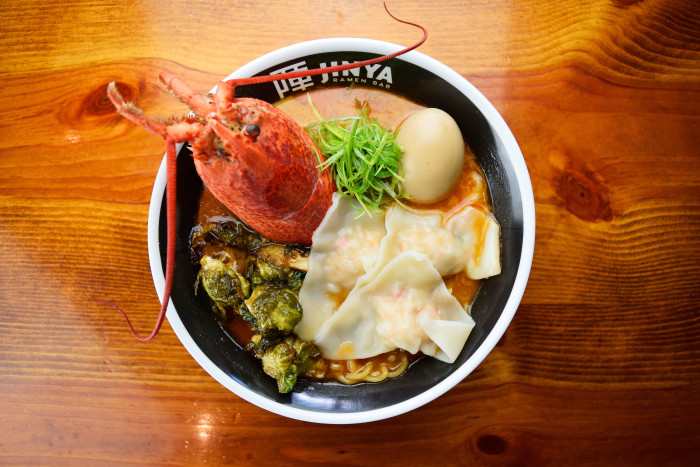 Ladies and gentlemen: It's officially ramen season. Start date? Right now! End date? Pfffft. Why would we ever propose an end date to ramen season when we are just getting started?
In honor of this — the king daddy of all cold-weather comfort foods — we've rounded up a few such dishes you probably haven't yet had the pleasure of trying. These eight bowls take the Japanese staple to weird and wonderful new heights, and we'd like to make a formal introduction.
Contributions by George Embiricos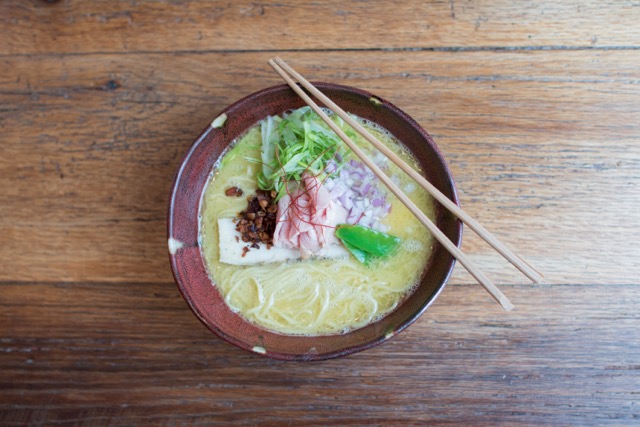 Mew Men — New York, NY

Inside this brand-new shop in the West Village, a giant sound system decorates the large back wall, and film lights hang above wooden communal tables. It's the venue's Saumur technique that sets it apart: The broth starts with water that is salted by soaked kelp.
"We marinate the raw chicken in the water for more than 24 hours," explains general manager Kei Oku. "The chefs then boil the chicken at a low temp. The long cook time breaks down the fibers so that the chicken is extremely tender."
This technique is tough to find, even in Japan. Slurp the Shio Paitan, which has a thick, chicken-chowder consistency with slices of pork and chicken chashu, onion flakes and crunchy red onions, snow peas and scallions. Bonus points: The restaurant uses only free-range birds, sourced from a farm upstate. 7 Cornelia St., New York, NY 10014; mewmennyc.com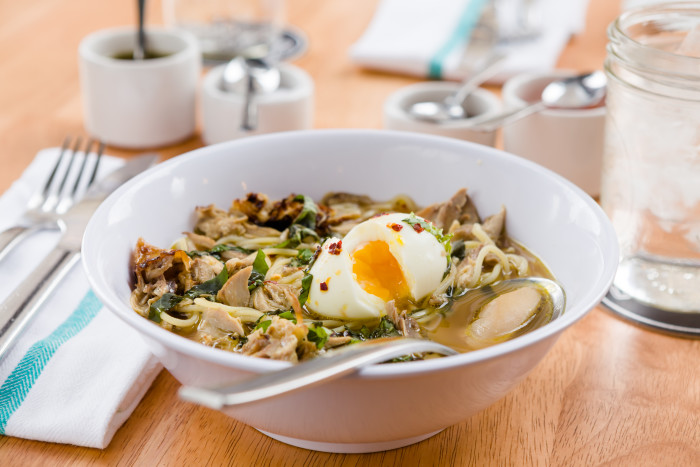 Pastaria — St. Louis, MO

Gerard Craft has won a James Beard Award (Best Chef: Midwest) and is quickly becoming known for his mastery of casual Italian fare. His executive chef, Ashley Shelton, is gunning for even more awards via invention. She's combined Japan's favorite comfort bowl with Italy's mainstay in their simply named Italian Ramen. Fragrant basil and chicken broth are topped with a soft-cooked egg. There are spaghettini noodles and shaved Grana Padano cheese dusted on top. 7734 Forsyth Blvd., Clayton, MO 63105; pastariastl.com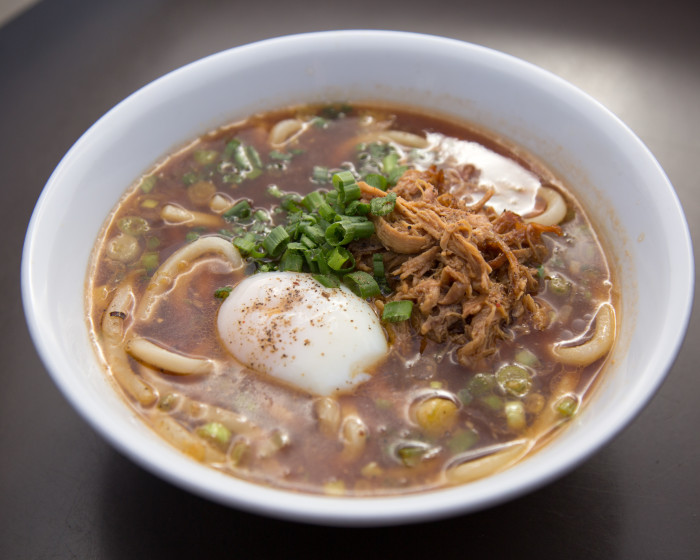 Bones — Denver, CO
The warm and wonderful Pork Udon Bowl has shredded pork, scallions and a poached egg with a thick, classic udon noodle. It's the composition of the broth that lands this one on our list. Udon noodles are traditionally served in a mildly flavored broth called kakejiru, but this bowl features a plum soy miso broth, created with dashi and plum sauce after deglazing garlic, ginger and scallions with the noodles already in the pot. It's faintly sweet with nice aromatics and a slight saltiness. We didn't realize Colorado had such an ace up its sleeve for Japanese food, but we stand happily corrected. 701 Grant St., Denver, CO 80203; bonesdenver.com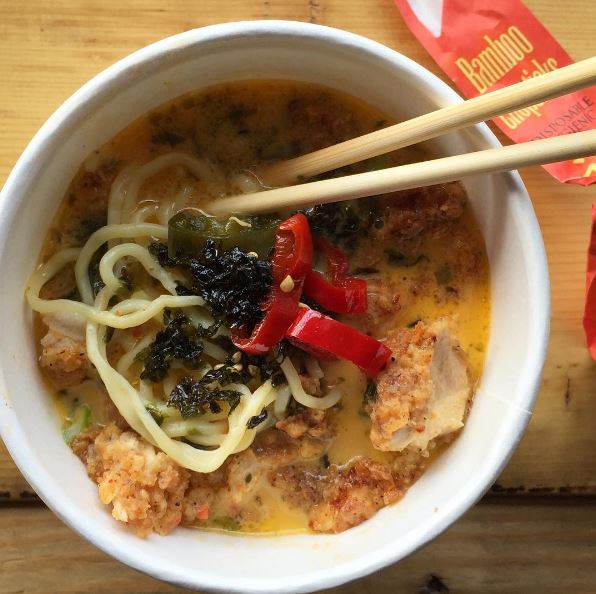 Honey Butter Fried Chicken — Chicago, IL

It's not every day that your favorite chicken shack offers a bowl of ramen done right. This spot's Fried Chicken Ramen is no gimmick — it's outstandingly delicious and shockingly balanced.
"The broth is a dashi that we make," offers chef-owner Christine Cikowski. "It starts out with water and kombu, but we use roasted chicken bones instead of bonito flakes to finish it. It's finished with steeped orange peel, then mounted with Pine River cheddar that has been blended with pimento peppers. The finishing seasonings are soy sauce, mirin and rice-wine vinegar." She garnishes the bowl with fried chicken strips, candied jalapeños, nori seaweed, a bit of crunchy chicken skin, togarashi and scallions. We're on board with all of that. 3361 N. Elston Ave., Chicago, IL 60618; honeybutter.com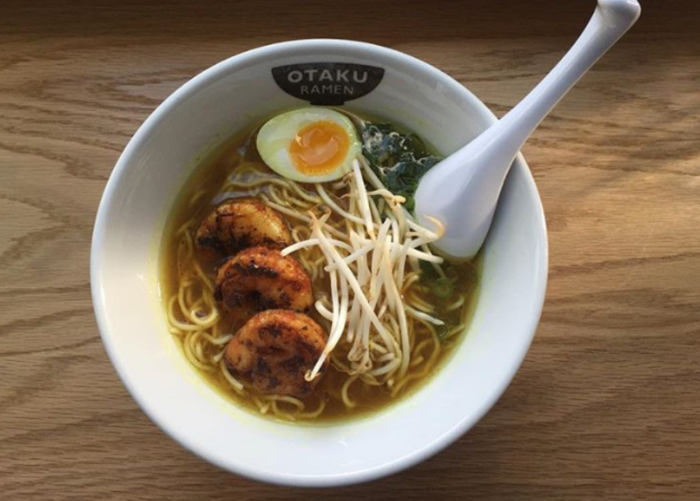 Otaku Ramen — Nashville, TN

Otaku caught our eye at Food Republic a few years ago when it put the city's original dish, hot chicken, into a bowl of ramen. That was a pop-up party, and, sadly, it's no more. However, the restaurant should still be on your ramen radar for winter 2017. The Curry Shio bowl is only featured during cold-weather months, and it has a strong fan following. Chefs sear shrimp in sumac oil for this salt-based broth with curry powder mixed in. The noodle is white, light, medium-hot and you get a bit of bitter crunch from the helping of mung bean sprouts. 1104 Division St., Nashville, TN 37203; otakuramen.com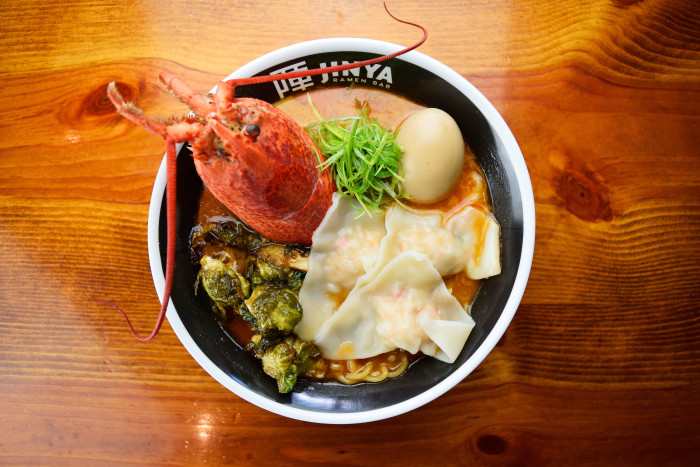 Jinya Ramen Bar (and Robata Jinya) — Los Angeles, CA

The bowl to request at any of these locations in autumn starts with a pork-broth base, thick noodles, a soft-boiled egg and green onion. All standard. Nothing to see here, folks. Until…wait for it…there are soft, melting pieces of lobster, plus lobster stock and a lobster-and-shrimp-meat wonton. It's a perfect way to get the L.A. population excited about the three-degree dip in temperature from approximately 75 to right around 72. Stop in early. The spots only make a specific amount of this Lobster Me Happy per day. Multiple locations; jinya-ramenbar.com and jinya-la.com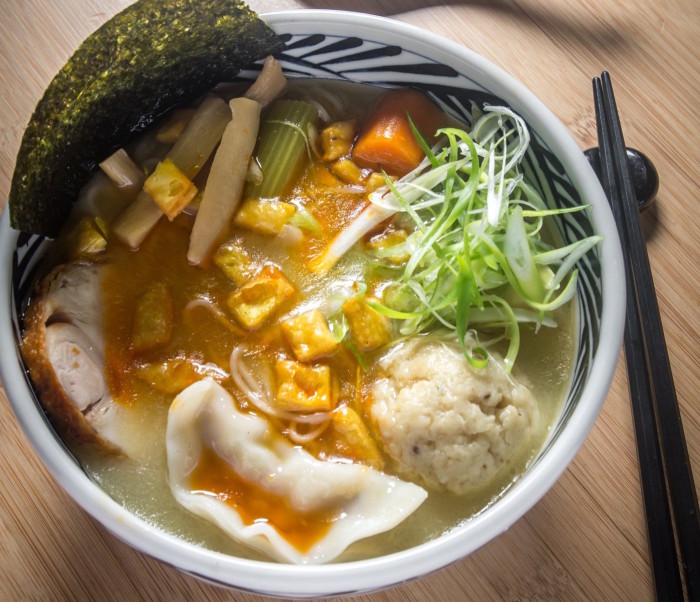 Shalom Japan — Brooklyn, NY

In what might be the greatest culinary mash-up of all time, a husband-and-wife team in Brooklyn runs a place devoted entirely to combining classic Jewish nosh with Japanese ingredients (think sake challah tuna takaki with tahini and okonomiyaki with pastrami). The highlight, however, is Aaron Israel and Sawako Okochi's Matzoh-Ball Ramen, which combines a base reminiscent of chicken noodle soup with croutons, sliced chashu chicken and a floating dumpling packed with foie gras. You can add on an extra matzoh ball for $2. Don't forget to add on the extra matzoh ball for $2, people. 310 S. 4th St., Brooklyn, NY 11211; shalomjapannyc.com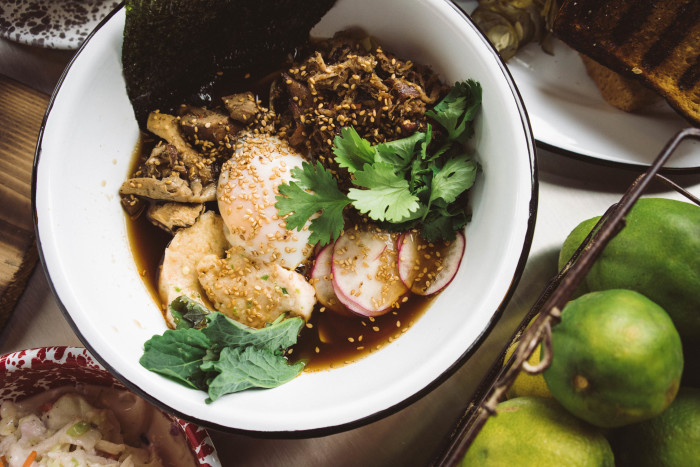 Gilbert's Social — Jacksonville, FL

Let's start with the ham-hock broth. Then throw in regional ingredients and creations like pulled pork, baby kale, mushrooms, radish, roasted nori, jalapeño shrimp cake and toasted benne seeds. Toss in egg noodles and a 63-degree egg and what do you get? A Southern Ramen from local star chef Kenny Gilbert. "It's spicy, salty, smoky and umami-rich from the mushrooms," says the chef. "It's so popular that I ended up creating a pho dish with local shrimp as guests love how I've taken something so traditional and put a local spin on it." 4021 Southside Blvd., Jacksonville, FL 32216; gilbertssocial.co