Cidermakers Search For Apple Terroir In The Finger Lakes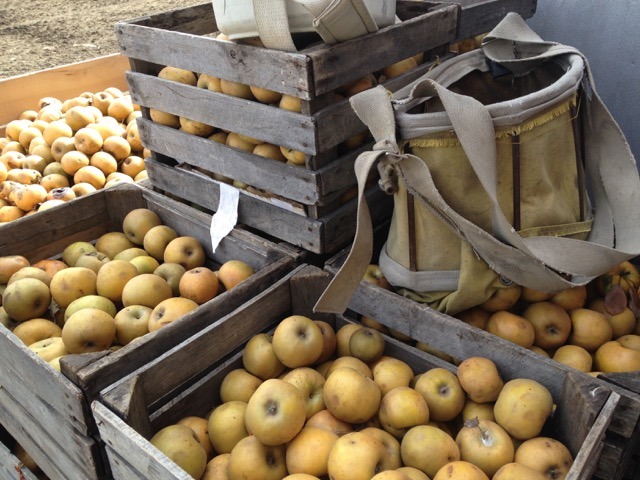 The climate and rich soils of New York's Finger Lakes region are perfect for apple growing. (Photos: Autumn Stoscheck.
"Golden Russet has such phenomenal aromatics," muses Autumn Stoscheck, owner of Eve's Cidery in Van Etten, New York, as we walk past rows she cultivates on a steep hillside overlooking her house in the valley below. "It's what I want to smell in a cider: melons, petrol and ripe fruit."
While the Finger Lakes region in central New York is known primarily for wines, especially Riesling, the climate and mineral-rich soils are also perfect for growing apples. It's where two prized varieties, Northern Spy and the aforementioned Golden Russet, were first discovered. These apples are just two out of dozens specially selected for making cider that Stoscheck has been growing organically for over two decades, along with her husband, Ezra, and their partner, James Cummins.
Even though Eve's make some of the best champagne-style cider in the country and has influenced a tight-knit group of growers and cidermakers around Ithaca also using organic and biodynamic practices — South Hill, Redbyrd and Good Life, to name a few — Stoscheck takes her cues from traditional winemaking and apple-growing regions in Europe, where centuries of knowledge have solidified into a geographically specific style. "We still need a lot more time to identify what makes a good cider," she says, sounding more like a novice experimenter than a pioneer of award-winning American cider. Regardless, she is clear about one thing: Cider begins in the orchard.
With its glacially scoured, mineral-rich soil, temperate climate and serpentine lakes (some of the longest and deepest in the country), the Finger Lakes region has bragging rights in the terroir department. But ideal soil, climate and topography alone don't make great cider: It's this unique community drawn closer by isolated gorges and impassable bodies of water that give the mute forces of terroir expression in the glass. In fact, there is no other apple-growing region in the U.S. where a network of cidermakers share such a unified approach.
There is no other apple-growing region in the U.S. where a network of cidermakers share such a unified approach.
"The style of Finger Lakes cider goes back to Riesling," says Steve Sellin, a fiddle player, apple hunter and the cidermaker behind South Hill Cider. "Both aim to showcase the potential of great fruit and the expression of acid in the fermentations and bottling." The influence of winemaking has given cidermakers here a sensibility much closer to wine than beer, and proximity to Cornell University provides important horticultural knowledge. But as I discovered after walking around the scrawny high-density plantings and chemically treated soil in one of their experimental orchards, universities are ultimately less interested in the nuances of flavor. Yield is mostly what they are after.
When I asked Stoscheck what impacts flavor the most in her cider, even though varieties are a defining characteristic, she says, "Growing practices." Sellin agrees: "It's more important how you grow than what you grow," he tells me as we walk around his newly planted hilltop orchard five miles south of Cayuga Lake, while a family of ducks waddles between rows. For now, Sellin makes his ciders from foraged fruit growing wild or in abandoned orchards. Last year, he made Stone Fence Farm, a cider sourced from a single homestead orchard planted over 20 years ago with varieties chosen specifically to create a balanced cider.
Even from a plastic sampling cup, the rich and floral aromas (mostly from the Golden Russets in the blend) stand out. Yet the intensity and depth of flavor wasn't coming from the varieties alone. Sellin thinks the age of this orchard is what imparts the depth of flavor. "This is what the Finger Lakes has to look forward to," he says biting into one of the few apples he found this year (apple trees are biannual) while walking around the orchard.
Twenty years may not seem substantial, but America lost an extraordinary diversity of apples starting in the late 1800s and culminating with Prohibition. Now that cider is back on the American table, it's places like the Finger Lakes that will be leading the way in defining the potential of this beverage.
You can meet Autumn Stoscheck, Steve Sellin and other cidermakers from the Finger Lakes and taste their ciders during Cider Week NYC now through October 30. Check out their calendar for a list of events, including a discussion of Finger Lakes terroir and Golden Russet tasting with Autumn Stoscheck at Wassail Sunday, October 30.