Thanks to the comedic work of Charlie Murphy and Dave Chappelle, everyone knows that a main hot thing in Prince's life was pancakes. After featuring Chappelle on the cover of a song called "Breakfast Can Wait," Prince famously threw a 2 a.m. "Breakfast Experience Pajama Dance Party" in 2013 at Paisley Park, his wondrous estate and recording studio in Chanhassen, Minnesota (about 20 miles from Minneapolis). Pancakes became a thread. Kim Berry, a hairstylist who worked with Prince for nearly three decades, said in an interview that several fans left offerings of boxed pancake mix outside Paisley Park's gates when he died unexpectedly at 57 this past April.
Fans wanted to know what Prince liked to eat so much that they once caused a fake story (alleging that Prince loved Dunkaroos cookies and yak milk) to go viral. In truth, though, he ate mostly vegetarian food and devoured sugar in leviathan amounts for most of his life. Paisley Park has recently been open to the public for limited tours, and you can sample some of the late artist's favorite foods at the conclusion. I spent 25 hours traveling to and back from Minnesota to eat as he ate, and will never forget the experience. 

It sounds strange and maybe even wrong to be eating in this man's sanctuary so soon after his death, and it definitely is a surreal experience. But Prince was generous with Paisley Park, and tours were something that the artist formerly known as "The Artist" had been preparing for and even briefly hosted before his passing. Educational murals and timelines, including an "influence wall" by artist Sam Jennings that pays homage to musicians whom Prince influenced and musicians who influenced him, had already long been installed.
Both the standard (70 minutes) and VIP (100 minutes) tours include an almost too-intimate look into the musician's life and tragic death. The tours are guided and limited to the ground floor of the two-story building, but you may find it more rewarding to only pay partial attention to the narration in favor of taking in each element on your own terms. There are some truly mind-blowing moments as you are allowed into his two recording studios, massive soundstage and adjoining nightclub and listen to his music roaring on pristine sound systems.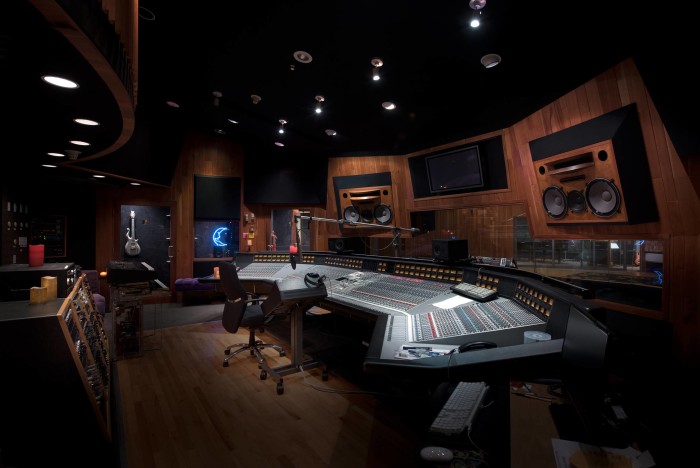 You'll also have very close access to Prince's ashes, enclosed in a miniature model of Paisley Park on display in the atrium. I was just inches away and stood there as long as I was allowed, thanking him for making music that will continue to feed the world. With enough internal monologue, you may (as I did) contemplate how to break from the tour group and find the infamous vault of unreleased music, even if it means you might be banned.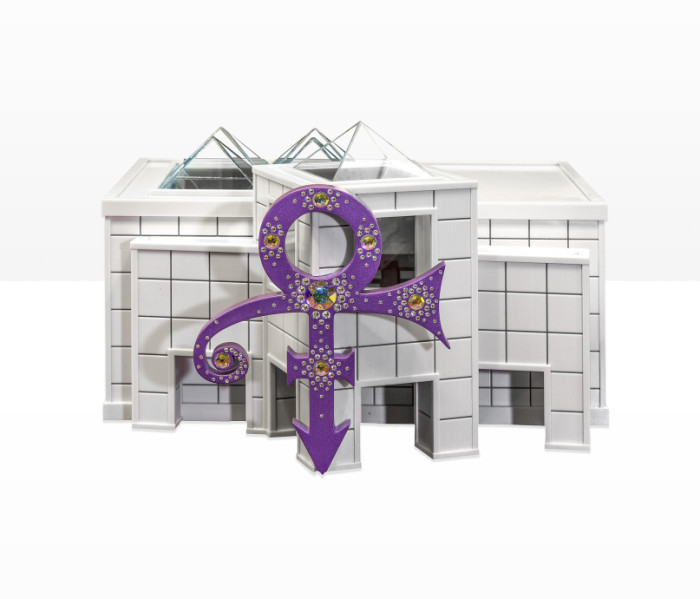 Those sanctioned opportunities to enjoy his creative spaces will mean more to some than seeing what he wore in Purple Rain up close and personal in a room now called the "Purple Rain room." There is a tension between what has been minimally touched and probably looks reasonably close to how he left it and what has definitely been changed for the tour. 
One of the last artifacts on view is "The Fence," a rotating display of memorial messages and tokens left outside Paisley Park in the days following Prince's death. Curators are now accepting new contributions to be featured. Tootsie Pops were his jam (according to his hairstylist), but it was still touching to see that someone left him a posthumous offering of a love note with a green apple Jolly Rancher lollipop there.
The tour lets out into a tent, where T-shirts and other merchandise is for sale, along with a small menu of some of Prince's favorite foods prepared by his personal chefs. In a heartfelt interview with City Pages, chefs Juell and Ray Roberts revealed that they had cooked for the star at home for the past three years, a gig that came to resemble a friendship that only their parents and a few friends knew they had. The couple own seven locations of their Peoples Organic restaurant in the greater Minneapolis area, including a bakery and a drive-through location in Eden Prairie, just a few miles from Paisley Park.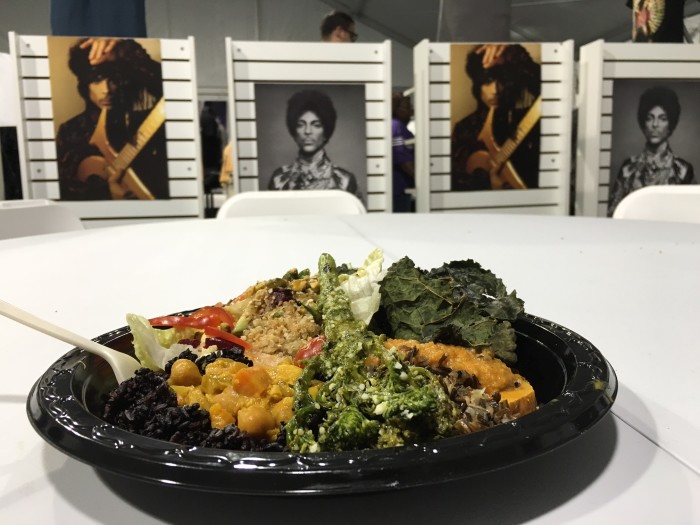 I was eager to connect with Prince through the dishes he loved, and the Roberts' narration on the menu offered some insight: "He loved to eat food that gave him energy and was 'alive' like he was!" While he spent some time as a vegan, he was more of a vegetarian in recent years, and there's a combination of vegan and vegetarian selections available to try at the end of the tour. I enjoyed vibrant Bibb lettuce cups filled with quinoa, crushed pistachios and crunchy veggies, earthy grilled broccoli with pesto and Pecorino cheese, wild rice with a comforting fall pumpkin sauce and a buzzy Indian coconut curry with turmeric, ginger, garlic and chickpeas over black rice.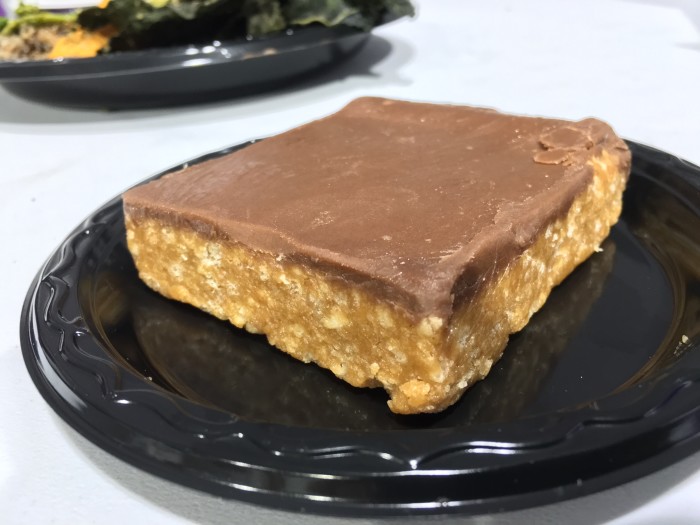 Dessert was the best: cowgirl mini cookies, made with dark and white chocolate, oats, coconut and a generous amount of vanilla, and vegan peanut butter rice crispy bars coated in a well-balanced milk chocolate. The menu noted that they always stocked his fridge with these bars, which made for a "perfect 4 a.m. energy snack." I didn't order the chocolate mousse cake because I'm stupid, but luckily some lovely ladies gave me the last few bites of theirs when I asked how it was. It was super-rich, and a few bites definitely did the trick — still, the menu did disclose that sometimes they would cut Prince a second slice.
Prince's sweet tooth was legendary. The Robertses also noted to City Pages that they always made sure desserts were plentiful, serving him treats like sea salt caramel cake, chocolate mousse, sour cream apple coffee cake and chocolate macadamia nut cookies — sometimes as the whole meal. The daughter of his former bodyguard Charles "Big Chick" Huntsberry fondly recalled to People how Prince would ask her mother to bake her chocolate chip cake. It was delightful to think that Prince had probably charmed a lot of ladies in his life to bake for him over the years. 
Those close to him knew his sugar cravings were a little out of control, but it was the subject of lighthearted humor. About a year ago, Prince staged a faux "chocolate overdose" on his Princestagram page, which showed him facedown in a scattered box of Nestle Buncha Crunch candy. That's how he really wanted to go. His known wit and humor nourished me along with the food as I ate, reflecting on what I had just seen. Soon I'll spin my own remixes of some of his culinary favorites — especially the desserts — in my own kitchen, with Prince right there in my ear and deep in my soul.
Check the Paisley Park website for upcoming tour dates.