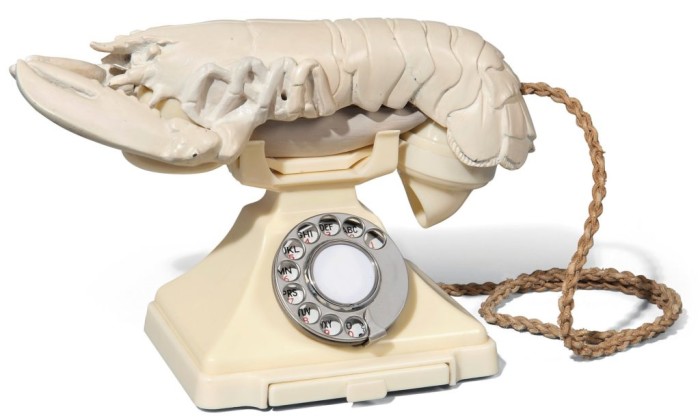 "I do not understand why, when I ask for a grilled lobster in a restaurant, I am never served a cooked telephone," wrote Salvador Dalí in his autobiography. The Spanish surrealist, who originally wanted to become a chef, went on to question why champagne, and not a telephone, would be served chilled in a bucket with ice (the latter being uncomfortably warm). The result: His lobster-shaped telephone, up for auction at Christie's London on December 15.

The auction coincides nicely with the November 20 re-release of Dalí's cookbook, Les Dîners de Gala, containing the recipes and themes employed in the artist's famously decadent dinner parties. Whether it was bottle-feeding a live lion cub or watching Bob Hope eat fish out of a high-heeled shoe, the atmosphere was every bit as appealing as the cuisine.

"If you are a disciple of one of those calorie-counters who turn the joys of eating into a form of punishment, close this book at once; it is too lively, too aggressive, and far too impertinent for you," said Dalí of his recipe collection. But if you're the kind of person who would squeeze a lemon wedge over your telephone simply to make a point, either of the artist's works (at the cost of $3 million and $35.99, respectively) would make a splendid addition to your dining room.