Every Dumpling Recipe You Need For Dumpling Night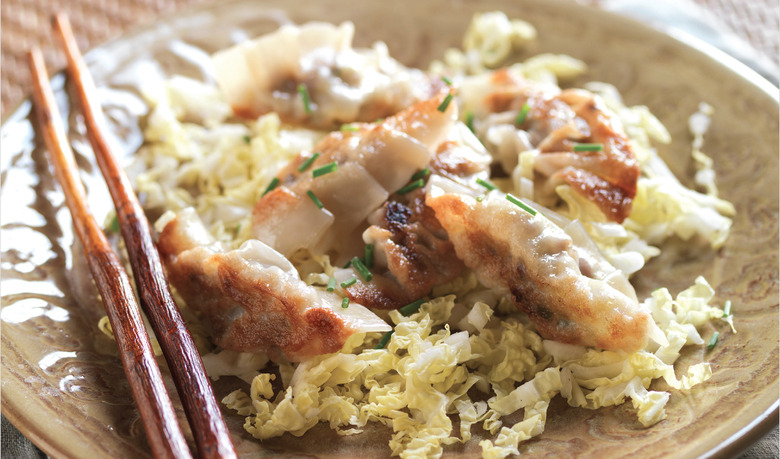 It's time to open up your mind — and one of those 200-packs of wonton skins you can buy at the supermarket. Whether you're going for basic pot stickers, fried duck delights or foie gras–stuffed dim sum, we've got a dumpling recipe for you. We've also opened up the game to empanadas, gnudi, crab rangoon and other things that definitely qualify as dumplings (because we're keeping open minds), and it's dumpling night. Now get stuffing and let's fry/boil/bake!
Recipe: Duck Dumplings
These dumplings can be made with any of your favorite birds, but I believe duck is especially good. You can use either wild or domestic duck. This Chinese-inspired recipe no doubt has a long history because the Chinese were the first to domesticate duck and other birds.
Recipe: Soup Dumplings
Xiao long bao are a signature dish of Shanghai, where locals judge them by a few key factors. First, the filling must be plentiful and delicious, so use meat fatty enough to melt in your mouth; lean pork is a no-no. Second, there should be lots of soup that really sings with flavor. Finally, the dough should be thin enough that it almost seems to dissolve as you bite, yet it must be strong enough to hold the hot soup right up to the moment of truth.
Recipe: Crispy Shrimp Gyoza
Pot stickers, gyoza, pan-fried dumplings. Call them what you will, but once you discover how simple they are to make at home, you may join me among the ranks of the addicted. My favorites come from hole-in-the-wall New York ramen joint Minca, where the shrimp version arrives with the tails sticking out of the crisped-up shells, ready to be picked up and demolished in just one or two bites. The secret lies in the method, which starts with a surprisingly small amount of oil and finishes with a cloud of water vapor: steam-frying that results in a gorgeously burnished, deeply browned underside that regularly haunts my dreams.
Recipe: Spicy Cajun Crab Rangoon
Who doesn't like crab rangoon? We wanted to think of the best way to flip it up for game day snacking. We came up with a Cajun-flavored filling that hits all the right notes, then switched the crab stick out for real crabmeat and added spicy sausage, rotel tomatoes and cilantro.
Recipe: Gnudi
Gnudi are very simply that: ravioli filling without the pasta encasing. They're light, fluffy and don't miss the extra starch one bit. They're also not fancy, and very quick and easy to make.
Recipe: The Slanted Door's Famous Pork And Shrimp Wontons With Spicy Chile Oil
Wontons are ravioli-like meat dumplings that are traditionally boiled and served in soup or with a dipping sauce. Start with meat that is very cold — it will stick together better — and avoid the urge to overstuff the wontons.
Recipe: Smashed Shrimp Shumai
This dish began with a near-disaster. I was making shumai for a TY KU Sake party, held in Aspen, Colorado. As the guests were arriving I realized that the water I was going to cook the dumplings in wasn't going to boil at our high altitude. What to do? I grabbed a paella pan, put it on the grill and added oil. I smashed — flattened — the shumai with a wet palm, then sautéed them until golden and crisp.
Recipe: Wolfgang Puck's Pot Sticker
If you think it's hard to make dumplings, think again. Pot stickers are some of the easiest finger foods to make, and once you get the hang of egg washing, stuffing and folding you just might become a dumpling-making machine. Best of all, these freeze perfectly. Just load batches of uncooked pot stickers into freezer bags for a pleasant surprise when you think there's no food in the house.
Recipe: Bacon And Scallop Empanadas
This dough is made specifically for frying, not baking. If you're going to bake them, just add an egg to the dough and use less water (about an egg's worth less of water).
Recipe: Foie Gras Dumplings With Cilantro Beef Consommé
In case your own plans aren't taking you to southwest France's famed wine region anytime soon, try making Aurélien Crosato's take on Chinese dumplings, which sub in duck foie gras for pork stuffing.