Report: Delivery Meal Kits Are One Of The Reasons Major Chain Restaurants Are Failing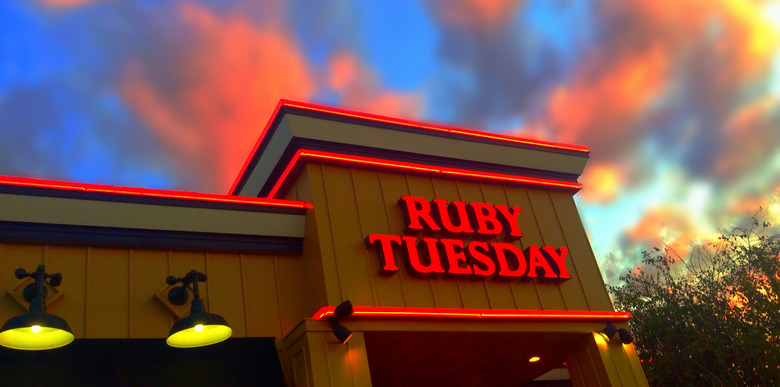 Good bye, Ruby Tuesday? (Photo: jeepersmedia/Flickr.
In what could be caused by paradox of choice, America's overflowing amount of chain restaurants are experiencing hard times.
According to the Wall Street Journal, three restaurant companies, Rita Restaurant Corp. (Don Pablo), Garden Fresh Corp. (Sweet Tomatoes) and Così Inc., have recently filed for bankruptcy. Meanwhile, chains such as Ruby Tuesday and Bob Evans have closed over 100 restaurants in the last year collectively.
The Journal also reports that a cog in the failing machine is the fact that the number of new restaurants that opened between 2006 and 2014 exceeded the growth of the U.S. population by 0.4 percent. The number of restaurant-goers, however, has not matched the opening rate of eateries. In short, there are too many restaurants and not enough diners.
Delivery meal kit services such as Blue Apron and premade meals at supermarkets are another factor that's contributing to the fall of chain and independent restaurants. Diners, including people who are single and without families, are now more likely to prepare meals at home. As for lunch, those who work from home or choose to eat at their desks have contributed to the slump in restaurants sales as well.
"Restaurants are competing against a lot of those other choices, not just restaurants," Eugene Lee, CEO of Darden Restaurants Inc., tells the Journal. His company operates chains including Olive Garden and LongHorn Steakhouse.
Experts tell the newspaper that this isn't necessarily the end of days for restaurants. Offering delivery and takeout services has allowed chains such as Olive Garden and California Pizza Kitchen to avoid major closures and bankruptcy. Expect to see more chains follow their lead.