A Guide To The Dishes, Restaurants And Markets Of Palma, Mallorca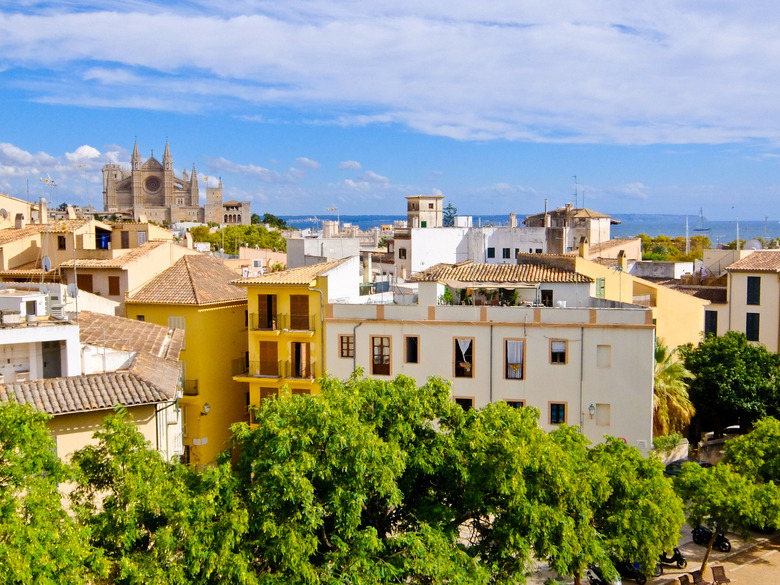 Mallorca is the largest of the Spanish Balearic Islands and has always been a cultural melting pot, sitting in the Mediterranean around 250 miles from the coast of Valencia. The Romans were here until the 5th century, planting olive trees and vines, and were followed by the Arabs. They were ousted by the Kings of Aragon and the island has been Spanish ever since. You can find typical mainland dishes like paella and Spanish omelet everywhere, but it would be a shame to miss out on the local specialties.
Mallorcan cuisine has its roots in a peasant lifestyle where fishing and farming were essential for survival on an island far from the Spanish mainland. Cereals and olives make up most of the crop, while almond trees thrive in the millions. As well as typical Mediterranean vegetables like peppers, zucchini and eggplants, potatoes are widely cultivated. The meat of choice is pork, eaten when young as suckling pig, or wrapped in cabbage and slow-cooked in wine and, of course, cured as sausage or salami. Lamb and goat are also available, and their offal features are found on many menus.
Wine has been made here since Roman times, and since it's not usually exported, you're in for a nice surprise. Five areas, all with separate climates, create distinctive wines, usually from indigenous grapes such as Callet, Manto Negro and Prensal Blanc. White wines are fresh and fruity, while reds are full-bodied and earthy. The Spanish Denominacio de Origen classification recognizes two regions in Mallorca — Binissalem in the center of the island and Pla i Llevant in the east. Local wine is served in most restaurants, and you can't go wrong if you choose from one of these.
Palma is the charming seaside capital where the architecture is a mix of medieval and Art Nouveau. You'll find traditional food here but younger chefs, trained at the city's own culinary school, are taking the island's classic dishes and transforming them into something lighter yet still distinctive. Mallorca now boasts seven Michelin-starred restaurants, scattered over the island, but many of these close in the winter, so the chefs open pop-ups in Palma.
Typical dishes
Caragols: Mallorcan snails are quite different from the French Burgundy variety and are usually boiled with fennel and mint and served with aioli, garlic mayonnaise.
Sopas Mallorquinas: Mallorcan stew of seasonal vegetables including onion, garlic, tomatoes, cabbage, beans and fine slices of local bread. Meats such as pork or bacon are optional, and the dish can also be made with fish.
Arròs brut: Translated as "dirty rice," this stew is a combination of rice, different meats, mushrooms and a variety of vegetables.
Frito Mallorquin: Potatoes, onions, eggplant, fennel, peppers, garlic, olive oil, herbs and spices are fried with lamb or pig offal, usually just the liver and kidney.
Llom amb col: Pork loin, sobrassada (the homegrown version of chorizo with red pepper) and botifarró (blood sausage) wrapped in cabbage leaves and slowly cooked with tomatoes, wine, pine nuts and raisins.
Porcella: suckling pig, marinated for 24 hours in wine, garlic, bay leaf, thyme, rosemary, lemon, salt and pepper, and then slow-roasted. It's often eaten for Christmas dinner.
Trampó: A simple salad with tomato, green pepper and onion dressed with salt and olive oil. Extra ingredients include capers, olives, potatoes, boiled eggs, chickpeas and even tuna.
Gató de almendras: Sponge cake made with almonds.
Coca de patata: Sweet buns made from mashed potatoes, flour, olive oil, eggs, sugar and lard served dusted with icing sugar.
Markets
Palma's main covered market is right in the center, near Placa d'Espana, and starts early but finishes by 2 p.m. The stalls focus on local and seasonal produce, and many of the fruits and vegetables are organic. Fish and seafood are also features here — not surprising since the sea is so close — and the selection is one of the best in Spain. Where the market comes into its own, however, is in the wide range of local cheeses and cured meats, particularly sobrassada.
It's made from the whole pig, usually in the autumn, and the meat is chopped with the fat, mixed with huge amounts of paprika, cayenne and salt, then stuffed into intestines. The sausages are hung for several weeks to partially cure, but the inside retains its smooth and creamy texture. It's eaten on its own, spread on bread, added to stews and even fried with eggs. Many families still make their own sobrassada with secret recipes, and you'll find many variants in the market. Plaça de l'Olivar, 4, 07002 Palma, Illes Balears, Spain; mercatolivar.com
Restaurants and cafés
Ca'n Joan de S'Aigo
Dating back to 1700, this is Palma's oldest coffeehouse and the best place to sample another of the island's specialities — ensaïmada is a coiled sweet, flaky pastry made from flour, sugar, yeast, eggs and lard, eaten throughout the day. Mallorcans dip the sugar-sprinkled pastry into their morning coffee, but later it becomes an afternoon snack, stuffed with custard cream, chocolate or even slices of sobrassada. It comes in various sizes, but it's always deliciously light and fluffy. The coffeehouse is also famous for its range of ice creams, and you shouldn't miss the variety flavored with local almonds. Carrer de Can Sanç, 10, 07001 Palma, Illes Balears, Spain
This café advertises "Mallorca fast slow food" made with organic ingredients. Pa amb oli is the archetypical Mallorcan starter: Slices of special brown bread are rubbed with raw garlic and half a local Ramallet tomato, then drizzled with olive oil. You can eat it just with salt, but here it's served with a generous helping of olives and pickles and a choice of cured meats, including sobrassada. Another local speciality is coca, a flatbread — the Mallorcan equivalent of pizza — and you'll find it everywhere. Coca de trampó is topped with tomato, roast peppers and onion and dressed with salt and olive oil. Another combination is onion, garlic, honey and rosemary, but my favorite is Swiss chard with anchovies and tomatoes. Av. de Jaume III, 20, 07012 Palma, Illes Balears, Spain; es-rebost.com
Marc Fosh
British chef Marc Fosh has been in Mallorca for 22 years, after stints in London and San Sebastián, where he was introduced to modern Spanish gastronomy. His take on Mallorcan cuisine is a mix of the rustic and peasant, a typical example being Tumbet, a baked dish of layered potato, courgette, eggplant and tomato. What inspires him are the local products, particularly the olive oil and sea salt, a double act that is the base of all his dishes. Even better, nowhere on the island is more than half an hour away, so he can always guarantee exceptional freshness.
Fosh is about to open two new restaurants in Palma, but his long-established Michelin-starred Marc Fosh doesn't disappoint. Thin slices of tuna wrapped around cubes of watermelon with tapioca demonstrate how he matches flavor. A chilled yellow-tomato gazpacho with red prawns, sardine chunks and smoked cucumber seems a perfect combination. Steamed salt cod with aloe vera and samphire resting on a pea and lemongrass puree is inventive. Even a perfectly cooked piece of duck breast is topped with eucalyptus foam and sits on salt-baked baby turnips and pineapple. I wish him well in his new ventures. Carrer de la Missió, 7, 07003 Palma, Illes Balears, Spain; marcfosh.com
Other Restaurants
Caballito de Mar serves the freshest of fish. Passeig de Sagrera, 5, 07012 Palma, Islas Baleares, Spain
La Boveda is famous for its tapas. Carrer de la Boteria, 3, 07012 Palma, Illes Balears, Spain
Bon Lloc is an inventive vegan restaurant. Carrer de Sant Feliu, 7, 07012 Palma, Illes Balears, Spain
Aromata is in an ancient courtyard and is a good value for lunch. Carrer de la Concepció, 12, 07012 Palma, Illes Balears, Spain
Es Baluard is in Palma's Museum of Modern & Contemporary Art, has great sea views and serves a mix of traditional and modern food. Plaça de la Porta de Santa Catalina, 10, 07012 Palma, Illes Balears, Spain
Lodging
The newly opened Nakar Hotel, with its rooftop swimming pool, makes a good base in the city center. It's worth checking out its Cuit restaurant, with food by chef Miquel Calent, and the bar on the roof comes alive at night. Av. de Jaume III, 21, 07012 Palma, Illes Balears, Spain