Here are couple facts you might not know about Phoenix, Arizona. It's the sixth-largest city in the country, with a population of over 1.6 million. Though it can get blisteringly hot during the days, especially come summer — the city's record high was 122 degrees on June 26, 1990 — the surrounding land (the Sonoran desert) is incredibly fertile and home to a bounty of farms.
As it turns out, the desert is great for growing. In fact, Arizona agriculture is a $17.1 billion industry, and citrus is a key crop. (It's also one of the state's 5Cs, elements Arizona considers crucial for its economic health; copper, cattle, cotton and climate are the four others.)
Unsurprisingly, the culinary landscape of Phoenix is just as diverse as its agricultural offerings. From James Beard Award–winning chefs to perfectly charred and lush Neapolitan pizzas, it's easy to see why the dining scene in the Valley of Sun is worth paying attention to. (Though it should be noted that this list excludes Scottsdale and Tempe, which we'll save for another time.) Here are 14 places you can't miss during your next visit to Phoenix.
Beckett's Table
Chef Justin Beckett makes the kind of food we want to eat every day of the week, no matter the occasion or the company. (Translation: It's hearty, approachable and deeply, deeply comforting.) The deviled egg of the day, which is sourced from local Hickmans Family Farms, makes for the ideal starter, and mains like the green chili pork stew signature short ribs will satisfy even the biggest appetites. If you're seeking lighter fare, Beckett also makes magic with vegetables in colorful, balanced salads. Gaslight Square, 3717 E. Indian School Rd.; 602-954-1700; beckettstable.com
Pizzeria Bianco
Chances are you've already heard of this place, and for good reason. Because when Chris Bianco started making pizza in back of a Phoenix grocery store over 25 years ago, little did the rest of the country know just how transcendent and life-affirming a humble Neapolitan pie could be. 623 E. Adams St.; 602-258-8300; pizzeriabianco.com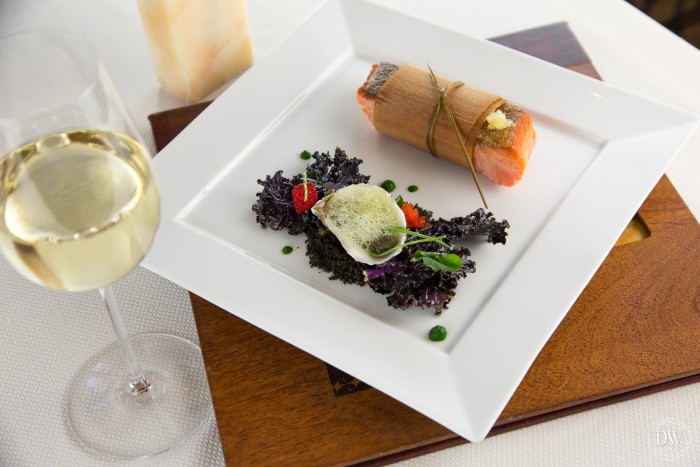 Kai
Though fine dining might have fallen out of the spotlight, at some point, an occasion is going to warrant a meal that's a bit more polished. This is where Kai, the first Native American–owned and operated AAA Five Diamond and Forbes Five Star Award–winning restaurant, delivers on all counts. The dining room is elegant (not stuffy), and the service is gracious (not overbearing), but the highly original and artfully plated food by chef Ryan Swanson is the real star. Popular dishes, like the grilled tenderloin of tribal buffalo with smoked corn puree and cholla buds, encapsulate a style wholly unique to Kai: contemporary American with Native American flourishes. 594 Wild Horse Pass Blvd.; 602-385-5726; wildhorsepassresort.com/kai
Crudo
As the name implies, the specialty of this contemporary Italian restaurant is raw seafood bumped up with a few flavorful ingredients. (For example, the butterfish crudo features generous slabs of fresh fish simply topped with tomato, arugula and lardo.) Though the raw plates are satisfying without being too heavy, the crispy pig ears, surprisingly, are the most requested dish. Boiled and then double-fried, these crispy strips are irresistibly salty, sweet and tangy, thanks to a Fresno chile vinaigrette. Gaslight Square, 3603 E. Indian School Rd.; 602-358-8666; crudoaz.com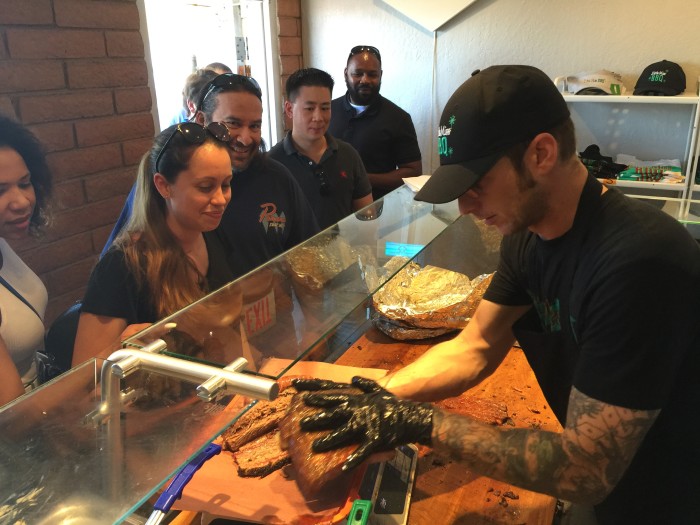 Little Miss BBQ
The line for this barbecue joint starts early. By the time the restaurant opens at 11 a.m., it can be 50 or so people deep. The place closes when the BBQ has sold out. Nope, you're not in Austin, but in Phoenix. Started by husband-and-wife team Scott and Bekke Holmes, Little Miss BBQ lives up to all the hype and acclaim (much like Franklin Barbecue). The ribs, turkey, and pork — everything is smoked over Arizona oak and pecan — are impressive, but the tender brisket capped with a rich, salt-and-pepper bark is unequivocally worth waiting in line for. 4301 E. University Dr.; 602-437-1177; littlemissbbq.com
Barrio Urbano
This casual spot is the latest venture by celebrated chef Silvana Salcido Esparza, who's renowned for introducing authentic, regional Mexican cooking to the area. That's why you'll discover some less-than-familiar dishes on the menu, like huevos divorciados — two fried eggs served on two different salsas with black beans and potatoes — and cochinita pibil, orange- and achiote-marinated pork roasted in banana leaves. Thirsty? Good thing the agave-driven cocktail program is just as spirited and fun as Esparza's cooking. 5632 N. 7th St.; 602-287-9000; barriourbanophx.com
Bitter & Twisted
Located in the historic Luhrs Building, this bar turns out expertly crafted cocktails in a fun, relaxed environment with zero pretense. Founder and principal barman Ross Simon makes sure that whatever you're thirsty for, whether it's a Long Island iced tea (cleverly served in a Coca-Cola can) to a frosty gin martini served at 10 degrees, he and his team will deliver. The offerings are so extensive, in fact, that Simon released a colorful, comic book–like booklet (that doubles as a menu) illustrating the 116 or so cocktails available. 1 W. Jefferson St.; 602-340-1924; bitterandtwistedaz.com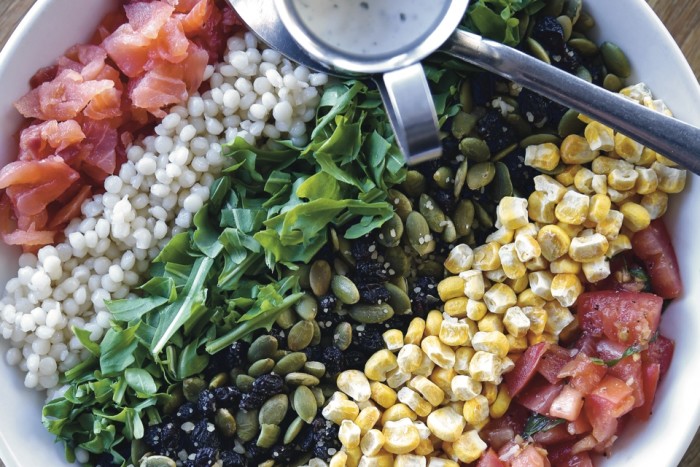 Gladly
From Bernie Kantak, chef and co-owner of Citizen Public House in nearby Scottsdale, comes this spot specializing in unexpected twists on classic comforts. But no visit would be complete without the famed Original Chopped Salad. (It even has its own Facebook page.) A carryover from CPH, it's a neatly arranged plate of smoked salmon, Israeli couscous, tomatoes, dried corn, and other savory, sweet and crunchy bits. It's crazy addictive, as with most of the menu items, like the Hillbilly Egg Roll, which is stuffed with Little Miss BBQ's barbecue. 2201 E. Camelback Rd.; 602-759-8132; thegladly.com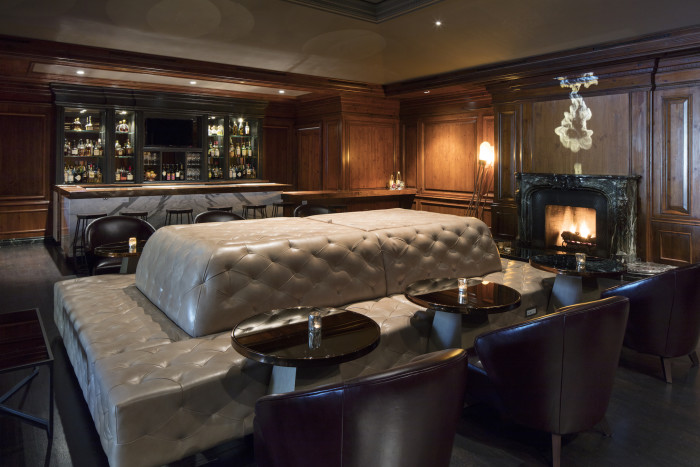 Artizen and The Bees Knees
Sometimes, after a long day of working, the last thing you want to do is be on the move. And that's where The Camby hotel and its excellent restaurant and bar come to the rescue. At Artizen, director of culinary experiences Dushyant Singh serves up an innovative, globe-trotting menu, from duck tamales with white chocolate mole to "kung pao" quinoa. And next door at The Bees Knees, the bartenders stir and shake some of the most refreshing libations in town. (The Smoked Boulevardier, made with Johnnie Walker Black and Campari, is especially silky, smooth and spirited.) 2401 E. Camelback Rd.; 602-468-0700; thecamby.com/dining
Durant's
A city institution, this beloved steakhouse was opened by James E. "Jack" Durant in July 1950. Today, it still maintains a delightful old-school vibe. There are no windows in the building, so no matter what time you visit, the space always looks dark and a little illicit. And wherever you look, you'll be seeing red — in the leather banquettes, bar stools, even the velvet wallpaper. The chops are juicy and the service is agreeable, but the best seat in the house is at the bustling bar. It's where you can throw back one seriously stiff, ice-cold martini while engaging in some gripping people-watching. 2611 N. Central Ave.; 602-264-5967; durantsaz.com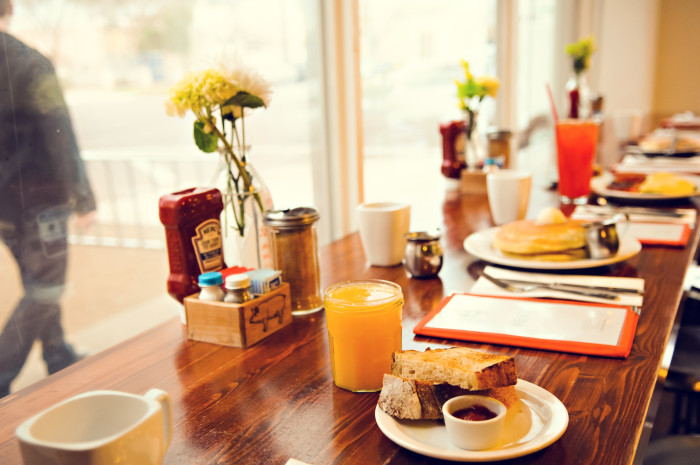 Matt's Big Breakfast
For many of us, the first meal of the day is a hurried affair. But at Matt's, it's time to slow down a bit, catch up with friends, and fuel up over a filling, hearty meal. The Five Spot is a simply sublime breakfast sandwich, with thick-cut bacon, eggs, and grilled onions on a squishy, oversize white roll. The pancakes and waffles are buttery and fluffy, and lighter appetites will appreciate the steel-cut oats and egg-white scramble. (Bonus points for having a location in the Phoenix airport.) 825 N. 1st St; 602-254-1074; mattsbigbreakfast.com
Phoenix Public Market Café
This is the kind of hangout that every city — nope, make that every urban neighborhood — needs and deserves. When chef Aaron Chamberlin (of St. Francis) opened this all-day restaurant in downtown Phoenix, it was among the first businesses to help revitalize the once bleak, but now lively neighborhood. No matter what you're hungry for — rotisserie chicken, biscuits and gravy, kale salad, quesadillas — chances are you'll find it here. At a good price, too. 14 E. Pierce St.; 602-253-2700; phxpublicmarket.com/cafe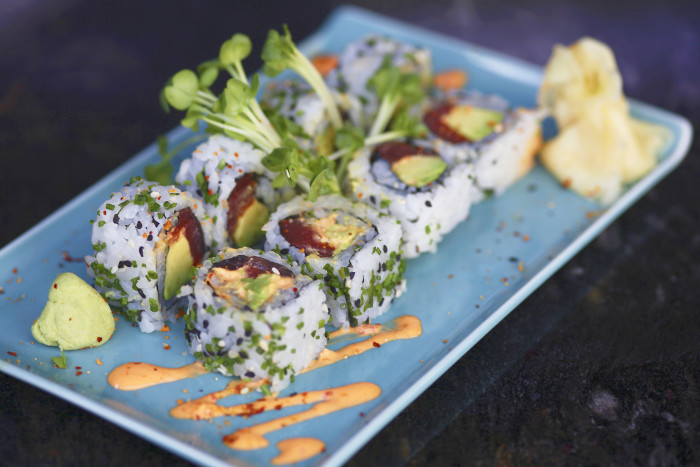 Buck & Rider
Just because Phoenix is landlocked doesn't mean it can't have top-notch seafood. From pristine oysters to creative sushi to mini lobster rolls, there's so much to dive into at this bustling spot, which really comes to life at night. And the space, reminiscent of a boathouse, is open and airy, lending it an indoor-outdoor feel. After a few drinks and snacks from the raw bar, it's easy to forget that you're not anywhere near the ocean. 4225 E. Camelback Rd.; 602-346-0110; buckandrider.com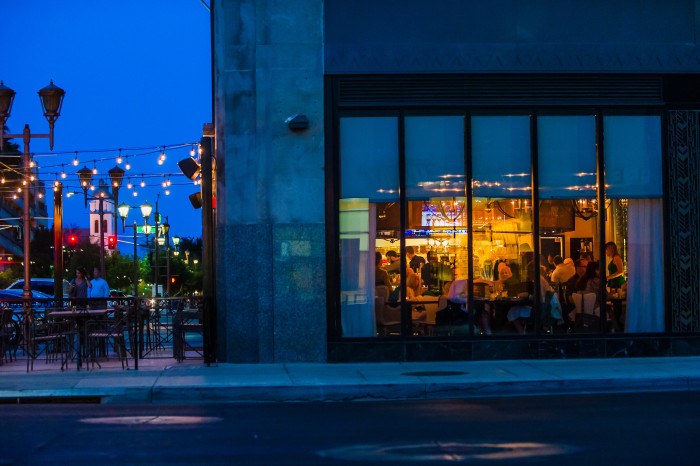 Nook
This is the much-anticipated, newly opened offshoot of the popular Italian restaurant in Arcadia. Like the original, you'll find dependably delicious bites (think gooey arancini, rich chicken marsala, and crispy Neapolitan pizza). But like the hotel it's located in, the Hilton Garden Inn Phoenix Downtown, the design is Art Deco–inspired with its black-and-gold palette, ornate columns and handsome marble bar. When the weather's fine, be sure to snag a coveted seat on the outdoor patio. 15 E. Monroe St; 602-258-1037; nookkitchen.com