A Look Back: L.A.'s Schwab's Pharmacy Was More Than A Drugstore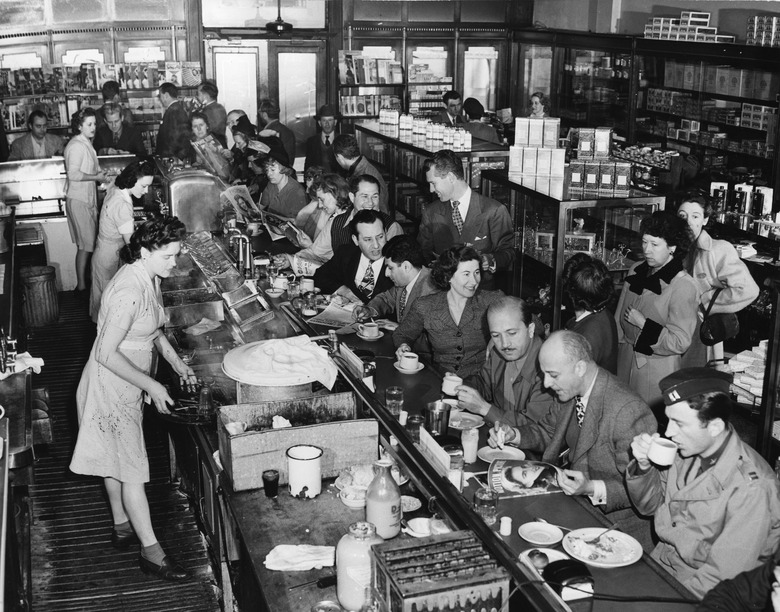 Aspiring actors and actresses hoped to rub elbows with the famous at Los Angeles' Schwab's Pharmacy from the 1930s-80s. (Photos courtesy of Santa Monica Press.
We may receive a commission on purchases made from links.
Glitz and glamour weren't the only things that fueled the guys and dolls of old Hollywood. From award-winning pastry chef George Geary comes a historical look at Los Angeles's most talked-about restaurants and dishes from the 1920s through the 1980s. Packed with vintage menus, photos, recipes and trivia about Marilyn Monroe and Bob Hope's eating habits, L.A.'s Legendary Restaurants will delight history buffs and food nerds alike. Geary has updated over 100 famous recipes for today's home cook, allowing us to re-create the chili Elizabeth Taylor once craved and more.
The world's most famous pharmacy, Schwab's, was the scene of many Hollywood tales, both tall and true. The pharmacy was owned and run by brothers Bernard, Jack, Leon and Martin Schwab, who discovered the failing drugstore and decided to cash in on its location, which was close to all the movie studios.
Besides filling prescriptions, the brothers also ran a soda and lunch counter, where their Hot Fudge Brownie Sundae was a big seller. According to Hollywood lore, Lana Turner was discovered while drinking a milkshake at the Schwab's counter. Writer F. Scott Fitzgerald reportedly had a heart attack at Schwab's while purchasing a pack of cigarettes. It is said that composer Harold Arlen wrote "Over the Rainbow" for The Wizard of Oz on a Schwab's napkin. Once, Humphrey Bogart reportedly asked Leon Schwab for a hangover cure. Schwab told him to stop drinking. Bogart was not pleased with Schwab's retort and replied that he was not looking for a lecture.
Whether these events actually happened or not, stories like these drove aspiring actors and actresses to the pharmacy in hopes of rubbing elbows with the stars. On weekend evenings in the 1950s, the sidewalk in front of the pharmacy was filled with customers six deep, standing around with a soda or a malt. Schwab's had an impressive Rolodex of actors who referred to it as "headquarters." In the early days, you could run into Orson Welles, Mickey Rooney, Judy Garland, the Marx Brothers, Marilyn Monroe and Ronald Reagan there. Hollywood columnist Sidney Skolsky set up an office in one of the booths on the premises to stay close to the action. If the newspapers wanted some new gossip, they would send a reporter to Schwab's to get the scoop. Articles described the celebrity-filled atmosphere as "Schwabadero," a name inspired by the old Trocadero.
For Billy Wilder's 1950s noir classic Sunset Boulevard, an exact replica of the pharmacy was created on the Paramount Studios backlot. In the film, when screenwriter Joe Gillis (played by William Holden) finds himself down on his luck after being rejected by Paramount, he explains: "Schwab's was kind of a combination office, coffee klatch, and waiting room. Waiting, waiting, waiting for the gravy train."
Over the years, Schwab's became a popular local mini-chain, with locations at 6255 Hollywood Boulevard, 430 N. Roxbury Boulevard and 401 N. Bedford Drive. The Bedford Drive location, which had a special department and phone number reserved for the famous, was where Marilyn Monroe filled her prescriptions. One of her prescription bottles sold for $3,200 in 2014.
In the 1970s and early '80s, a new set of celebrities began gracing the fountain with their presence, including Eric Estrada, Al Pacino, Sylvester Stallone, Goldie Hawn and Jerry Brown. In 1980, Jack Schwab passed away at age 75, and after five decades of service, the Schwab's on Sunset Boulevard closed down. Leon Schwab stated that the closure was due to family reasons, but the truth was that the company was in financial distress. In 1983, everything that was not bolted down, from the stools and counters to the pharmacy's famous Rolodex, was auctioned off to the highest bidder. The large red-and-blue neon sign that hung over the front door sold for $650; a leather payroll bank bag with the Schwab's name sold for $300. An investment banker from Beverly Hills paid $500 for the Rolodex.
The pharmacy's closure hit the staff hard. Waitress Margy Handley, who had worked for the Schwab brothers for nearly 40 years, was in tears when she told Leon, "I will never find another boss like you." After Schwab's closed, its former waitresses, busboys and chef started working at a small, quiet restaurant on Melrose called Teddy's. The menu was a word-for-word copy of the Schwab's menu.
About six months after Schwab's closed, the location was transformed into a themed dance venue named the L.A. Heartbreakers, owned by Jerry Preston. Booths from the defunct Tiny Naylor's were also incorporated into the setup. In October 1988, a new $40 million complex was planned for the location, including a glamorized Schwab's with an underground parking lot, an atrium, a movie theater, a grocery store, a branch of the Carnegie Deli from New York and other retail stores. Unfortunately, the plans fell through and never came to fruition.
Thanks to all the Hollywood stories associated with the place, the Schwab's legend lives on. And so does the recipe for its most famous sundae, a treat that's worth replicating.
♦♦♦
Schwab's Holiday Fudge Brownies
With a load of candy canes left over from the holidays one year, Schwab's decided to chop them into their brownie batter and create a new dessert. After they used up the candy canes, they switched to hard candy mints, which were available year-round.
Makes 24 browniesIngredients
1 1/4 cups granulated sugar
3/4 cup unsalted butter, at room temperature
1/2 cup unsweetened cocoa powder
2 large eggs
1 teaspoon pure vanilla extract
1 1/2 cups all-purpose flour
1 teaspoon baking powder
1/4 teaspoon baking soda
1 cup whole milk
1 cup chopped candy canes or hard candy mints
Directions
Preheat the oven to 350°F. Line a 9 x 12-inch baking pan with foil and spray the foil with nonstick cooking spray.
In a 2-quart saucepan over medium heat, heat the sugar, butter, and cocoa powder until the butter melts, stirring constantly. Remove from the heat. Whisk in the eggs and vanilla. Beat lightly until just combined. Set aside.
In a large bowl, whisk together the flour, baking powder, and baking soda. Add the dry ingredients, alternating with the milk, to the chocolate mixture in a few batches. Beat after each addition. Stir in the candy canes. Pour into the prepared baking pan.
Bake for about 20 minutes, or until a tester comes out with small crumbs attached. Cool in the pan on a wire rack before cutting into squares.
---
Excerpt from L.A.'s Legendary Restaurants: Celebrating the Famous Places Where Hollywood Ate, Drank and Played by George Geary.