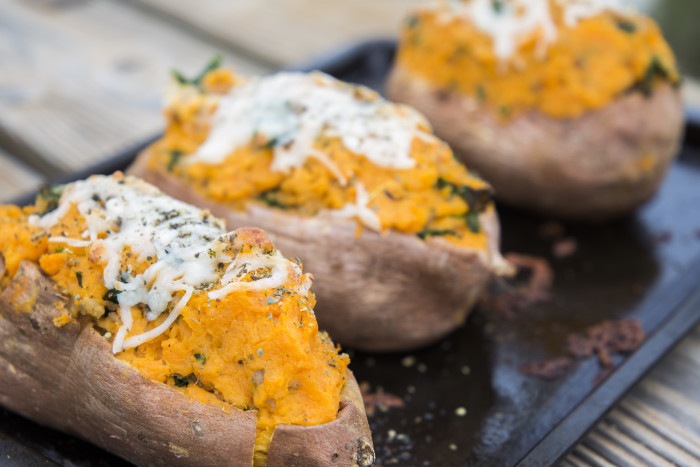 Temperatures all over the country are beginning to drop, and the days are growing shorter. Our cravings shift with the weather from crisp salads in the summer to hearty, warm comfort food in the fall. Fall produce typically requires a bit more time and devotion to make delicious than summer produce — the root vegetables, potatoes and leafy greens emblematic of the season yield their best flavors and textures after being roasted, sautéed and braised into nirvana. We're sharing a healthful spin on twice-baked potatoes, which require very little active cooking time and work well as a simple weeknight family dinner or a fun meal with guests.
Fresh, flavorful herbs are the greatest loss as the temperatures drop. McCormick's new Herb Grinders are your solution! They contain gently dried whole leaves, which are bottled and then ground "à la minute" in their unique, simple-to-use grinders for maximum flavor.
This meal comes together so easily. While your potatoes are roasting, sauté the remaining ingredients. Your active cook time will only be about 10 minutes. Roast your sweet potatoes the night before to make dinnertime a snap.
Mashed sweet potatoes, browned sausage, McCormick Italian Herbs, shallots, corn, kale and feta come together in this hearty, flavorful homage to the beginning of autumn. Serve one of these twice-baked sweet potatoes alongside a simply dressed, leafy salad and a large pour of red wine for an ideal cozy, simple supper.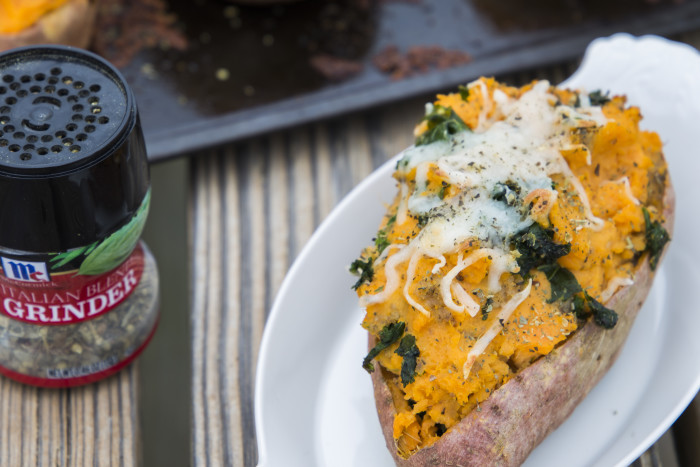 Twice-Baked Italian Sausage, Corn, Feta & Kale Sweet Potatoes
Servings: 4
Ingredients
 6 large, perfectly oval sweet potatoes
1 tablespoon vegetable oil
1 tablespoon McCormick Sea Salt Grinder
8 ounces ground pork sausage, casings removed
1 medium shallot, diced
4 cups kale, stems removed, finely chopped
2 tablespoons lemon juice
1 tablespoon water
½ teaspoon salt
McCormick Italian Blend Herb Grinder (several grinds, to taste) plus more for garnish
2 ears white corn (or 1 cup frozen corn)
1 cup Greek yogurt
8 ounces feta, crumbled
Salt and McCormick Pure Ground Black Pepper to taste
¼ cup shredded mozzarella
Directions:
Preheat oven to 425°F.
Scrub sweet potatoes and dry with a clean towel. Puncture each potato 8 times using a sharp knife. Rub with vegetable oil and coarse sea salt and place spaced apart on a large sheet pan. Roast for 45 minutes to 1 hour depending on size. Remove from the oven and allow to cool.
Reduce oven temperature to 400°F.
Scoop the flesh from two of the sweet potatoes into a large bowl. Discard the two skins. For the other four sweet potatoes, cut a large slit in the top of the potato lengthwise, then carefully scoop out the flesh and add it to the large bowl. Be careful not to tear the skin. Using the back of a fork, mash the potatoes until completely smooth.
Place a large skillet over medium-high heat and add pork sausage. Use a spatula to break apart the sausage and cook for 1-2 minutes until almost cooked through.
Add the diced shallot to the pan and cook for 1-2 minutes or until beginning to soften. Add the finely chopped kale, lemon juice, water, salt and McCormick Italian Blend Herb. Stir for 2-3 minutes, until kale has softened and all liquid has evaporated. Add corn and cook for an additional 1 minute, then remove from heat and transfer to the large bowl with the sweet potato mash.
Add the Greek yogurt and feta to the bowl. Fold gently to combine. Season with salt and McCormick Pure Ground Black Pepper to taste.
Using a large spoon, gently fill each of the four potato skins with the mixture. The potatoes should be overflowing with the filling. Top with 1 tablespoon mozzarella per potato and several grinds from the McCormick Italian Blend Herb Grinder.
Return potatoes to the sheet pan and cook for 15 minutes, or until cheese is melted and lightly browned and potatoes are heated through.
Expert Tips:
*Make these as far as two days ahead of time. Complete all but the last step, wrap in plastic wrap and store in the refrigerator. When it's time to eat, unwrap, place on a baking sheet and cook at 400°F for 25 minutes. These also freeze beautifully. Wrap each potato tightly in plastic wrap and two layers of aluminum foil. Unwrap and cook from frozen at 400°F for 45 minutes to an hour.
*Make these a side dish for 8 instead of a main dish for 4 by halving each potato lengthwise. This way, you'll stuff 8 half potatoes instead of 4 whole potatoes.
*To make this a vegetarian dish, remove the sausage and cook the shallot in 1 tablespoon vegetable oil instead of the sausage grease.
---
This post was in partnership with McCormick. To learn more about the new McCormick Herb Grinders and some simple recipes to put them to use, click here!