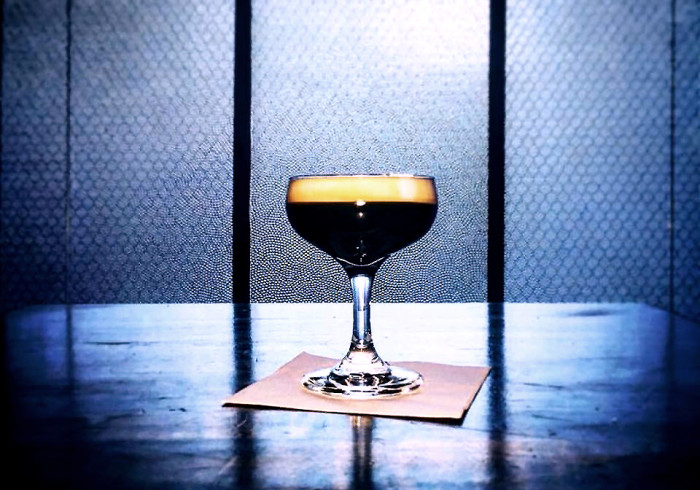 I've rarely been one for coffee after a meal, though an affogato is always welcome. An amaro seems to have the same effect of quelling any after-dinner lull, without the pickup. For me, a drier coffee cocktail to start a meal — such as a Negroni or Manhattan variation — is more appealing, though surprisingly hard to come by. What's needed to make these drinks is not an espresso shot, but rather a suitable coffee liqueur, and one that is definitely not Kahlua.
Tequila is not the first thing I would expect to see paired with coffee, but at casual neighborhood spot Robert in Brooklyn, the bar features a drink that looks deceptively sweet. "People think it will be a saccharine espresso martini," notes the bar's beverage director and general manager, Josh White, who pairs Contratto Fernet with Bittermens New Orleans–style coffee, chicory and cacao-nib liquor. Opposite the bite of the Fernet and coffee, the añejo tequila shows its earthier side in this unapologetically dry drink, with an orange-bitter cream floated on top, giving the drink its domino resemblance.
Coffee in a non-sweet context is actually far more versatile in cocktails than previous iterations of White Russians and espresso martinis would let on. As a modifier, a half-ounce of coffee liqueur could likely be treated in the same way that one might add amaro to enhance a stirred drink. Though the Whoa, Domino! might shock a few people who expect a sweeter drink, it delivers just the right coffee punch.

Whoa, Domino!
Servings: 1 cocktail
Ingredients
1½ ounces El Jimador añejo tequila
¾ ounce Bittermens New Orleans coffee liqueur
½ ounce Contratto Fernet liqueur
½ ounce whipped cream with orange bitters and sugar
Directions:
In cocktail shakers, whip several ounces of cream with orange bitters to a pourable thickness. Separately, combine tequila, coffee and Fernet into mixing glass. Stir with ice for 10 seconds.
Strain spirits into a chilled coupe glass. Garnish by pouring or spooning whipped cream on top.
Optional garnish with three espresso beans on top of the foam.
Prep time: 5 minutes
Difficulty: Easy