In Hungry Concierge, we travel the world to spot hotels that operate with their guests' food and drink needs squarely in mind — hotels, both big and small, that are located in neighborhoods rich with bar and restaurant options. Because there's nothing worse than having your trip derailed by crummy room service.
The best case scenario for food when staying at a hotel is that there's a decent in-house restaurant with fantastic room service and myriad dining options just outside the revolving doors. The worst case scenario is that there's neither and you're facing your reflection in the metallic container of soggy bacon at the breakfast buffet. At Hotel Lucia in downtown Portland, Oregon, it's the motherlode: award-worthy restaurant and coffee/breakfast spot on either side of the lobby, and a walkable neighborhood that's chock-full of time-tested food trucks, award-winning cocktail bars, and excellent casual and fine dining options.
When I checked in this summer, I had an immediate sense of déjà vu, then I realized why: I had stayed at the hotel about a half-dozen years back. A lot has changed. A renovation, completed last year, kept the building's classic structure intact but updated the decor and added the massive Imperial restaurant on one side of the hotel and the more casual and compact counter-service Penny Diner on the other. Vitaly Paley, the ex–New Yorker who helped transform Portland's culinary scene when he and his wife opened Paley's Place in the mid-1990s, oversees both (though the new chef de cuisine at Imperial is the native Portlander Matthew Jarrell), and the food and beverage service is at an absurdly high level, with meats, fish and veggies cooked over open fire in the gleaming kitchen at the far end of the dining room.
As election year fervor kicked in this summer, I took it as a hopeful sign that when I disembarked the elevator to check into my room, I faced a black-and-white photo of a laughing Bill and Hillary Clinton; it's one of hundreds of photographs lining the walls, all by Pulitzer Prize–winning lensman David Hume Kennerly, a Portland native. (I did later see a photo of Donald Trump, though, as well.) There's more local art in the lobby, where the hotel hosts a free craft beer happy hour each night from 5 to 6:30, featuring ales and lagers from the city's rightfully respected brewing scene.
The Rooms
There are 127 rooms, with five different size and amenity options. The smallest is 165 square feet, still a spacious option given the rates; the gallery suite gets up over the 700-square-foot mark and features two bathrooms as well as a fireplace and wet bar. My "superior" room fell in the middle range and featured four windows, including one in the bathroom, and enough space to sprawl out a bit. It was a perfect home base for my part-business, part-leisure stay (if you count eating your way around the city business). And for those who've never visited Oregon and have gleaned their knowledge of Portland from a certain satirical TV show, there's no need to fear: Hotel Lucia features modern trappings like flatscreen TVs and reliable Wi-Fi.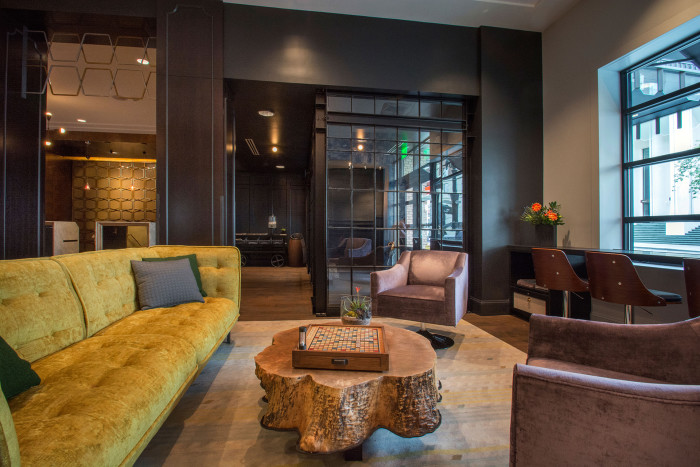 The Look
The hotel is tasteful at every turn, from the Art Deco architecture and contemporary design to the photography, furniture and lighting. That said, it's an eclectic look, with nods to the Pacific Northwest mashed up with more urbane accents and industrial flourishes. For those who prefer a more sleek aesthetic in their boutique hotel, the Lucia may come off as a bit folksy, but it certainly doesn't lack for chicness, an unexpected quality given the locale. The open-floor plan at the restaurant, Imperial, is more defined, with weathered brick walls contrasting with the modern tiling, and tables and chairs that nod ever so slightly to the city's beloved retro aura.
The Neighborhood
Downtown Portland, in the southeast quadrant of the city, is generally pretty sleepy at night, but it's not as desolate as it was a few decades back. And restaurants like Imperial as well as late-night hangs like nearby Clyde Common and Pépé Le Moko — helmed by our contributing cocktail editor, Jeffrey Morganthaler — ensure that there are at least a few people on the streets (besides the ever-present homeless population). The location is much more attractive during the day, when it's an easy walk to places like Powell's Books, Bunk for sandwiches or the Pine Street Market, a food hall that opened this year with new offshoots of the city's famed Salt & Straw ice cream (a first-ever soft-serve counter) and Olympia Provisions (Wurst, serving brats, hot dogs and such). Portland's food scene and much of its notoriety as a hip young city owe much to the east side of the Willamette River, with streets like N. Williams and Division that developed around revered restaurants like Lincoln and Pok Pok (respectively). But it's easy enough to pedal or Uber across the river to experience that side of Portland; I've always been partial to the more urban vibe of downtown.
My last morning in Portland, I walked a few blocks up to have breakfast at Tasty 'n Alder, and I sat at a window seat looking across at Superbite, the new restaurant from the team behind Ox, where I'd sampled a few bites the night before. On my way back to the hotel, I passed the food truck block between Alder and Washington, and spotted my old go-to for burritos back when I was a young music critic working around the corner for Willamette Week. At the time, there were maybe three food trucks in an abandoned lot; now, the entire block is comprised of more than 20 trucks offering myriad foods from around the globe. I stopped in for one more cold brew (don't try to call it iced coffee here) at Penny Diner, packed my bags and headed for the Oregon coast, completely satisfied and sated, in large part thanks to the Hotel Lucia.
Rates from $199 per night. 400 S.W. Broadway, Portland, OR; 503-225-1717; hotellucia.com