13 Places To Eat Incredibly Well In Sicily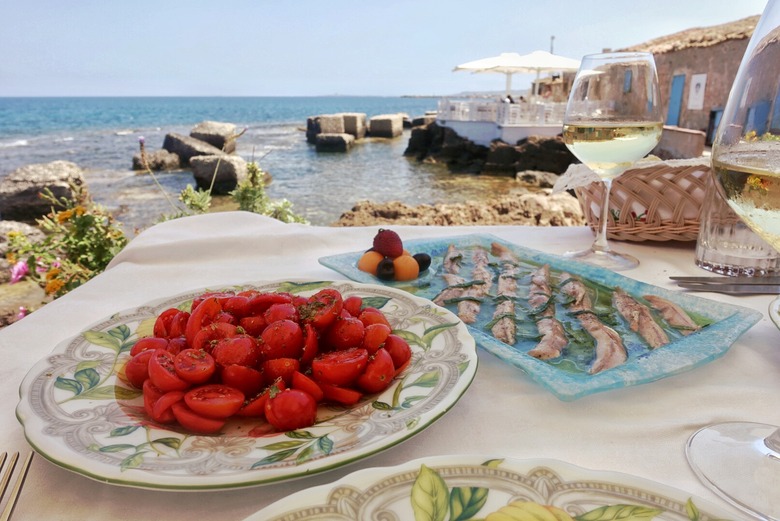 Just south of Italy's toe lies Sicily, the largest island and a sparkling jewel in the Mediterranean Sea. The island bathes in sunlight and is surrounded by seductive blue, turquoise and azure waters. Sicily's mild climate makes it a popular destination most of the year, from spring through autumn, with visitors flocking there for its endless pebbly beaches and private, rocky nooks along the coast; historic, tiny fishing villages; an exciting, gorgeous and lush wine country; Mt. Etna (Europe's largest active volcano) and the surrounding majestic volcanic terrain; the Greek temples of Agrigento; and of course amazing Sicilian cuisine. A longer growing season and extremely fertile volcanic soil yield a plethora of seasonal ingredients, the immediateness and abundance of the surrounding sea provides the freshest seafood, and a long history of influences from the Arabs, Greeks, Spanish and French have all contributed to a cuisine that is uniquely Sicilian.
Each region has its own specialty throughout the island, but expect to find a variety of pastas and dishes teeming with sardines, tuna, anchovies and prawns that are accented with capers, olives, herbs, pine nuts, pistachios, raisins and garlic. Eggplant, tomatoes, cheeses, mushrooms and Sicilian citrus are also popular ingredients, and it is impossible to forget about the gelato — legend has it that Sicily is responsible for the birth and rise of sorbetto and gelato. Below are 13 places to eat and drink incredibly well in Sicily, including the best spaghetti with sea urchin that I've ever had and my favorite gelato in Sicily. I'd like to give a special shout-out to my friend the food writer and Sicily expert Jennifer V. Cole for pointing me in the right direction for a few of these recommendations, too. Buon appetito!
Traditional Sicilian fare reigns supreme at Da Vittorio.[/caption]
Da Vittorio
Da Vittorio is located in Menfi, a seaside town just 70 kilometers southwest of Palermo, and specializes in traditional Sicilian dishes utilizing fresh-caught seafood sourced from local fisherman in nearby fishing ports. The restaurant is famous for pasta con i ricci di mare alla Vittorio, or pasta with sea urchin. This is a very typical Sicilian dish made with spaghetti, fresh sea urchin, olive oil, white wine, garlic, parsley, salt, and white pepper. Da Vittorio serves the best version of spaghetti with sea urchin that I've ever had — I even proposed marriage to it after my first bite. Reserve a table in advance and request a spot by the window with a view of the sea. Via Friuli Venezia Giulia, 9, 92013 Menfi AG, Italy; +39 0925 78381; ristorantevittorio.it
Viri Ku C'e is a seafood lover's haven.[/caption]
Viri Ku C'e
If you love all things seafood, then sitting down for a meal at Viri Ku C'e is like opening up the gates to seafood heaven, making it rain seafood dreams, and where all of your seafood fantasies come true. A multitude of glorious preparations arrive at your table over the course of a few hours, all impeccably fresh and locally sourced (the port is literally in front of the restaurant). Your server will ask you if you would like everything — there is no menu, dishes are based on the day's catch — and you of course nod your head and say, "Yes, please. With wine." Then it begins. Your table will be flooded with an array of antipasti that includes every type of crustacean, fish, octopus and squid, among many other starters; then silver trays filled with raw clams, oysters, mussels, mollusks, red shrimp, blue shrimp and sea urchin arrive. Next, multiple pastas are served family-style, including a divine seafood and lobster pasta of the day, and finally a whole grilled fish is presented, filleted and served tableside with gigantic, juicy, sweet Sicilian lemons. A refreshing Sicilian lemon gelato and an Italian coffee perfectly concludes the seafood orgy at Viri Ku C'e.
Pro-tip: If dining at Viri Ku C'e for lunch, wear a swimsuit underneath your clothes because you're going to need to pass out immediately after this feast on the beach, conveniently located across from the restaurant, as you will also most likely be too drunk and happy to operate a vehicle or go very far. This is destined to happen, and nothing can save you. Just take a nap on the beach and no one gets hurt. Via Riviera Lanterna, 29, Scoglitti, Vittoria RG, Italy; +39 0932 980016
Trattoria Piccolo Napoli's menu changes daily and depends on what local fishermen have to offer that day.[/caption]
Trattoria Piccolo Napoli
The Corona family has been operating this essential Sicilian trattoria since 1951 in Palermo. Frequented by locals and popular with visitors, Piccolo Napoli serves straightforward Sicilian dishes extremely well. Each day, local fishermen arrive with catches reserved specially for the restaurant, which determines the menu. A fresh seafood display welcomes you at the entrance, as well as a table full of Sicilian antipasti to start your meal. My favorite was the bucatini con le sarde: long, tube-like pasta cooked with fresh sardines, wild fennel, pine nuts, raisins and breadcrumbs, also known as the national dish of Sicily. Other highlights include spaghetti with sea urchin, pasta with squid ink, spaghetti with shrimp and bottarga, and fresh seafood prepared with garlic and olive oil, involtini, or fritto misto. Piazzetta Mulino a Vento, 4, 90139 Palermo, Italy; +39 091 320431; trattoriapiccolonapoli.it
For all gelato-stuffed brioche needs, head to the Gelateria Brioscia.[/caption]
Gelateria Brioscia
A Sicilian tradition is brioche con gelato, or gelato stuffed into a warm, fluffy brioche bun. This Sicilian treat can be enjoyed any time of the day, any time of the year, but in the hot summer months it's quite popular for breakfast. Gelateria Brioscia serves some of the best gelato in Palermo, and their brioche con gelato is excellent. Make sure to try the pistachio gelato and prepare to get messy. Via Federico Giuseppe Pipitone 60 | Via M. Stabile 198, 90144, Palermo Italy; +39 091 7219085; brioscia.it
Fresh and raw ingredients make up the gelato at Al Gelatone.[/caption]
Al Gelatone
Another great spot for gelato and brioche con gelato in Palermo is Al Gelatone, also considered one of the best gelaterias in Palermo. Owner and gelato master Peppe Cutti started this family business many years ago for the love of his girlfriend, when he decided to open a shop that sells a food everybody loves: gelato! The shop offers a wide variety of traditional and creative flavors using only fresh and raw ingredients, including dairy-free and sugar-free options. I also love topping everything off with a hefty drizzle of dark, milk and white chocolate sauces that flow from taps located behind the counter. Via dell'Autonomia Siciliana, 96, Palermo, Italy; +39 091 363604; algelatone.com
The pace is relaxed at Giardino di Bacco. Hurried travelers be warned. [/caption]
Giardino di Bacco
Stepping into Giardino di Bacco is like walking into a Sicilian Dolce & Gabbana family reunion, in all of the best possible ways. Located in a beautiful, refined, antique villa from the early 20th century with an exquisite garden surrounded by citrus and camellia trees, Giardino di Bacco serves freshly prepared traditional Sicilian fare using locally sourced, seasonal ingredients. My favorites include the stuffed sardines, marinated red prawns, fresh sea urchin with olive oil and Sicilian lemon, and squid ink risotto. The pace is relaxed, and meals are "strictly forbidden for hurried travelers." Owner and sommelier Salvo Trischitta is welcoming and delightful, taking time to visit with patrons and discuss the menu with each table. Nestled between the mountain and the sea near Catania, the restaurant is filled with locals, so make sure to book ahead and reserve a table in the garden during the summer. Via Piave, 3, 95037 San Giovanni La Punta CT, Italy; +390957512727; giardinodibacco.com
Le Serre
If you find yourself in the Giarre region near the foot of Mt. Etna, make a stop at La Serre for delicious pizza, calzones and pastas. The restaurant is located in an Italian villa with a beautiful view of the mountain; you'll be surrounded by the sweeping scenery of the Sicilian countryside and a room full of locals happily dining on wood-fired pizzas topped with a variety of local ingredients. My favorites are the Camelia with mozzarella, roasted tomatoes, tuna steaks, onion, capers, mint leaves and olive oil, and the Azalea with mozzarella, cherry tomatoes, pistachio pesto, porcini mushrooms, Parmesan and olive oil. Via Pio XII 74, 95014 San Leonardello, Giarre, Sicily, Italy; +39 095 778 1382; leserrepizzeria.com
La Contea
La Contea fires up some of the best pizzas in Sicily. Situated in the heart of picturesque and charming Modica, La Contea is buzzing with locals and tourists, and tables overflow onto the busy street and into the nearby alley. The menu is extensive, with more than 40 delicious thin-crust, wood-fired pizza-topping combinations, pasta, antipasti and salads. In addition to the usual pie toppings (tomato, Parmesan, onion, ham, olives, pepperoni, prosciutto, sausage), guests can also enjoy pizzas loaded with anchovies, sardines, hot dogs, French fries, shrimp and/or pistachios. These are so surprisingly good that after I finished my first pizza, I ordered another savory one for dessert. Via Clemente Grimaldi 15, 97015, Modica, Sicily, Italy; +39 0932 944812; pizzerialacontea.com
Mind-blowing gelato can be found at Dolceria Corrado Constanzo.[/caption]
Dolceria Corrado Costanzo
The city of Noto has the reputation of having the best gelato on Earth. There are two famous institutions: Dolceria Corrado Costanzo and Caffe Sicilia (we'll get to Caffe Sicilia next). In addition to gelato, Dolceria Corrado Costanzo is also very well known for its granitas and cannolis. Everything is outstanding, and the mandarin and ricotta gelatos are both mind-blowing. This was my favorite gelato of my entire Sicily trip. Put this at the top of your itinerary. Via Silvio Spaventa 7/9, 96017 Noto, Sicily, Italy; +39 0931835243; facebook.com/pages/Dolceria-Costanzo
This iconic Noto spot serves up Sicily's best cappuccino ghiacciato.[/caption]
Caffe Sicilia
Caffe Sicilia, opened in 1892, is iconic in Noto and serves outstanding gelato, granita, and Italian confections. Fourth-generation owner Corrado Assenza plays with unique and interesting flavors, such as tomato, basil, black olive, saffron and Noto almond with wild oregano. The cappuccino ghiacciato, iced coffee with almond milk granita, is incredibly refreshing on a hot day in Sicily. Also one of the best in Sicily. Corso Vittorio Emanuele, 125, 96017 Noto SR, Italy; +39 0931 835013; facebook.com/Sicilia-Noto
Fully loaded sandwiches are slung at Caseificio Borderi.[/caption]
Caseificio Borderi
Caseificio Borderi is a small family-run shop located in the Ortigia Market that carries Borderi-produced artisanal cheeses, high-quality Sicilian charcuterie, olive oils and Sicilian wines. The shop's owner, Andrea Borderi, a.k.a. the Panini Maestro, is famous for creating crazy, gigantic made-to-order sandwiches that are fully loaded with various Sicilian cheeses (smoked mozzarella, provolone, tuna, ricotta), charcuterie (prosciutto, salami, ham), olives, sun-dried tomatoes, fresh tomatoes and greens, oregano, olive oil, Sicilian lemon juice and potato salad. The line is long, but the Borderi family passes out samples to the hungry crowd, and it's fun to watch Mr. Borderi in action, feverishly building his insane panini while you wait. Also, each sandwich is only 5 euros (just over $5)! Via Emmanuele de Benedictis, 6, 96100 Siracusa SR, Italy; +39 3299852500; caseificioborderi.eu
This tagliatelle and shrimp topped with shaved black truffle comes with a view.[/caption]
La Cialoma
La Cialoma is located in Marzamemi, a pretty, 18th-century fishing village in southeastern Sicily. The restaurant is in the Piazza Regina Margherita, with a seaside terrace that offers stunning views of the vibrant turquoise sea. Order a bottle of Sicilian wine, dine on fresh seafood and pastas such as tagliatelle and shrimp topped with shaved black truffle, and enjoy the view. Piazza Regina Margherita, 23, Marzamemi, Pachino SR, Italy; +39 0931 841772; facebook.com/Taverna-La-Cialoma-Marzamemi
La Trattoria is a hidden gem that serves traditional Sicillian fare.[/caption]
La Trattoria
La Trattoria is a traditional Sicilian restaurant that serves very tasty, fresh seafood and pastas in a casual, warm and friendly environment. Located in Scopello, a tiny, seaside village in northwest Sicily that is a low-key destination and a hidden gem. Start with a simple and delicious Sicilian salad and make sure to order some busiate — little, corkscrew-shaped rolled pasta found throughout Sicily. I fell in love with La Trattoria's busiate con pesto alla trapanese, Sicilian pesto made with tomatoes and almonds, and the busiate ai frutti di marre, made with an abundance of local seafood including mussels, clams, langoustines and fish in a fresh and flavorful tomato sauce. Via Finanzierè Vincenzo Mazzarella, 17, Castellamare del Golfo TP, Italy; +39 388 101 0772; facebook.com/La-Trattoria-Scopello