In Hungry Concierge, we travel the world to spot hotels that operate with their guests' food and drink needs squarely in mind — hotels, both big and small, that are located in neighborhoods rich with bar and restaurant options. Because there's nothing worse than having your trip derailed by crummy room service.
Let's just get this out of the way. Sweden is cool. Really cool. While the mainstream infiltration of its exports — its fashion, design and television — have subconsciously dictated the way we choose our clothes and dress our homes, the truth is that they're not even trying. And in true Scandinavian fashion, what the country exports can be viewed as a friendly gift for the rest of the world, from a corner of the planet that has reserves like the Spurs' bench.
To really make sense of the wave of hype that Sweden has been effortlessly cruising on of late, as with anywhere, it pays to see it for yourself. Thus, if the country itself is a beautiful, stately home, then its capital, Stockholm, can be considered its perfect hostess with the mostest — accommodating, friendly and with a thrilling energy that imbues a city blessedly unaware of its high-wire balancing act as both tastemaker and laid-back capital of the midnight sun.
While the effort to travel to Northern Europe pays dividends, it has to be said that a visit ain't cheap. Naturally, this extends to accommodations, where even a modest Airbnb can be unexpectedly draining. Thus it makes sense to bite the bullet and invest in one of the city's world-class boutique hotels, with the pitch-perfect Miss Clara presenting itself as one of the city's prime options.
Run by the Nobis group — responsible for a raft of the city's most desirable hot spots — the hotel is housed in a former girls' school that ran for 40 years (and whose beloved headmistress it's named for) within a gorgeous Art Nouveau building in an ultra-central location, minutes from the Royal Palace, Nobel Museum and Storkyrkan Cathedral. It's also perfectly located for the city's Ostra and Central rail stations, serving newbies and seasoned travelers alike.
Practicalities aside, your fellow guests — well-heeled creatives, worldly business types and the odd model — make a strong case for heading here, cutting straight to the city's cosmopolitan, perfectly attired Scandi heart. Like joining the cool kids' table at the cafeteria, it's one of the many intangibles, along with the staff's superior, efficient service, that  justifies the extra expense.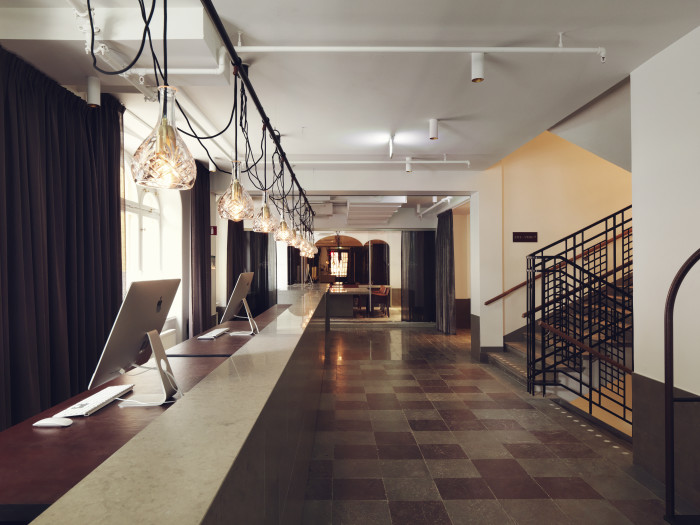 The Look
Stepping into the Miss Clara, it's obvious that someone with a dab hand at interiors has been at work — it's the sort of place that's discreetly tasteful and gorgeously outfitted but without the maximalism of a W Hotel or the intimidating opulence of a Ritz-Carlton. Though it's easy to immediately attribute this to the Swedes' innate sense of style, it's worth noting that the hotel's owner, Alessandro Catenacci, is actually Italian.
The hotel plays on the strengths of its Art Nouveau foundations, with a slick restoration courtesy of local architect Gert Wingardh that plays on the building's history with classic, vintage pieces of furniture and installations. The result is a feeling of a nostalgia of the warmest kind, the subtle interior upgrades — from elegant wood paneling to splashes of tactile tan leather — building to a pitch-perfect score that effortlessly harmonizes low-key Scandi minimalism with a chic, industrial glamour. Each corner is a knowing eyeful of interiors porn that exhilarates and impresses; your Instagram feed will have enough material for weeks after a visit here.
Though the lobby echoes with the sounds of expensive shoes, the hotel isn't without a sense of fun, with a buzzy ground-level restaurant that's both sexy and casual (in a glamorous "Oh, this old thing?" kind of way) and a wealth of facilities that encompass what the vast majority of travelers might ever need, including a gym, sauna and relaxation lounge.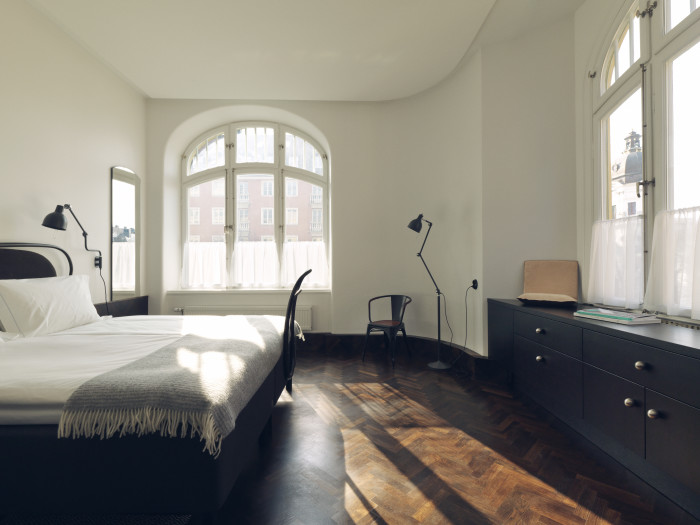 The Rooms
Like any good boutique hotel, the deal here is that you're getting the essentials executed well, with thoughtful touches to round out the experience. Though the rooms — starting at 15 to 17 square meters (or 160 to 180 square feet) — are compact, everything is a couple of notches better than it needs to be. The basic single room, the smallest of the hotel's options, offers a handmade bed outfitted in opulent Egyptian bedsheets and the obligatory 37-inch LED television (not that you'll be watching it much), along with smooth parquet floors, freestanding sinks and limestone bathroom surfaces bathed in an ocean of peace and quiet.
Try plumping for the better rooms if you can, as this is where the design team's creativity is allowed to flourish. Pinterest daydreamers and interiors nerds will be in raptures over the details — vintage and designer furniture, or perhaps the heavenly Orla Kiely amenities will do the trick — while the rest of us will just appreciate all that extra space and the light streaming through the building's massive windows. Overall, it's master class in taste and discretion.
The Neighborhood
Despite its location, the hotel's surrounding area is convenient but best experienced as a one-and-done — it's fun to walk around the old town and Stockholm's historic district, but the majority of the action is in the southern part of town, Södermalm, which is where the majority of the city's most chill cafés, bars and restaurants are located, alongside a thriving arts and café culture. It's a leisurely half hour walk from the hotel, or even better, blend in with the locals and hire a bike, cutting that journey in half — a detour at one of the city's many excellent boutiques is optional.
Like any other well-connected capital, it's unsurprising to find that many of Stockholm's most buzzy restaurants and hang spots have kept abreast of major food trends. Discerning eaters can rest easy knowing that bistronomy and omakase-style tasting menus are represented with their own, wry Swedish twist — hello, Imoutu and Omakase Köttslöjd. Similarly, Stockholmers' voracious appetite for fresh, East Asian flavors has led to an explosion in young urbanites' interest in places serving pretty plates of bao, okonomiyaki and the ever-familiar ramen.
It's easy to get caught up in a vortex of travel FOMO (that's fear of missing out, for the uninitiated), but it's also easy to avoid if you avoid overplanning. The best bet is to head to Södermalm with a clutch of reccies, and let your gut take you where it may. While central Stockholm's Frantzen is obviously a big draw for visiting chowhounds, you'll also get a great meal at Woodstockholm, where you'll be able to savor elegant, ingredient-driven cooking in the environs of a wine bar-cum-restaurant-cum-designer furniture showroom. A short walk away is Vina, which embraces the small-plates trend with open arms and weaves it together with a thoughtful wine list, serving charcuterie, pintxos and cheeses to a trendy creative and media crowd. In the evening, the larger plates are worth trying, too, with bistro-influenced dishes livened up with earthy Nordic ingredients.
A stroll over to Teatern is also never a bad idea — as with their North American counterparts (not to mention all of Asia), the Scandinavians have grown in confidence with their markets and food court offerings, with shopping mall Ringen seeing high-profile names set up shop here for casual dining options. Grab a stool at the counter for a bowl of noodles from chef Adam Dahlberg and Albin Wessman (the first in Scandinavia to use Sun Noodles, with a particularly Swedish twist), or grab one of Magnus Nilsson's hot dogs to accompany you on a wander around the building.
Omnipollos Hatt is a homely spot opened by the founders of Cheap Monday that unsurprisingly attracts a cool, young crowd who come for the relaxed vibe and high-quality sourdough pizzas and good selection of craft beers. Follow it up with a drink at Riche, where you'll find a back room with old-time tunes — just be aware you might have to casually saunter through the kitchen to find it! Last but not least, if you must try the meatballs, both Kalf and Hansen (a busy lunch spot run by a father-and-son team) and the upmarket Bobergs Matsal in the swish Nordiska Kompaniet department store are both great options.
Miss Clara
Sveavägen 48, 111 34 Stockholm, Sweden
+46 8 440 67 00
Rates from $240