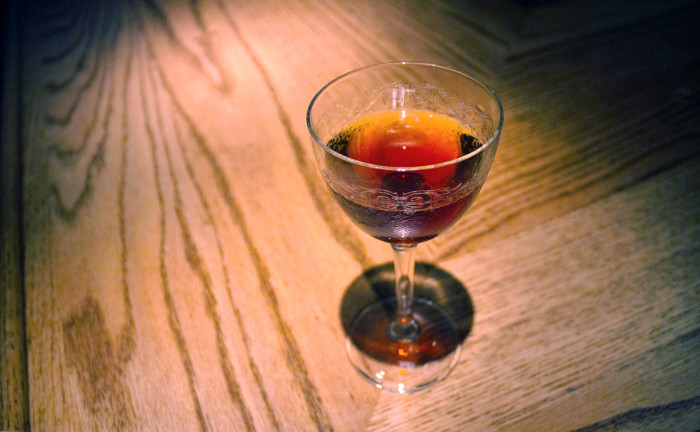 Manhattans are just as personal a drink as the martini to many. Many variations of the classic exist, and when done well, this cocktail can feel akin to a warm blanket. A high degree of spiciness gives the drink its unique character, derived from the bite of the rye whiskey and its oaky edge. Opposite a sweet vermouth and bitters, the resulting complexity is unassailable, but there are many ways this balance can be achieved — an inviting prospect for any skilled bartender.
Perhaps one of the more exciting places to order a Manhattan in New York City is the lauded Dead Rabbit, which features an ever-evolving menu. Beverage director and bar manager Jillian Vose has a take called the Pocket Watch, which beguiles the drinker by combining rye alongside an arbol chili–infused bourbon, Nardini Amaro and Marie Framboise, a fortified wine with raspberry-infused Cognac. Vanilla syrup, Bittermen's hopped-grapefruit bitters, and a discarded orange twist complete the picture.
It sounds overly complex on paper, but one sip and that satiating, classic feel of the Manhattan sings. Perfectly layered, the spice from the arbol chilies fade into the overall spice, smoke, hops and raisiny notes of the drink. As with any strong drink, food is a necessary part of the equation, and at a recent dinner with the Belfast-based and Michelin-starred OX, Vose's Manhattan only enhanced the restaurant's decadent plating of chateaubriand, hops, smoked potato and artichoke. Forget the three-martini lunch; steak and Manhattans are a pairing no one should overlook.
Pocket Watch
Servings: 1 cocktail
Ingredients
1 1/2 ounces Rittenhouse Rye Whiskey
1/2 ounce arbol chili–infused Old Forester Bourbon*
3/4 ounce Nardini Amaro
1/2 ounce Marie Framboise
1/4 ounce vanilla syrup**
2 dashes Bittermen's Hopped Grapefruit Bitters
Directions: 
1) Combine ingredients into a mixing glass and add ice.
2) Stir briskly for approximately 8-10 seconds and strain into a chilled Nick & Nora glass.
3) Garnish with expressed orange twist, and discard.
*Arbol Chili–Infused Old Forester Bourbon
1) Add 1/2 cup of chilies to bourbon, and let sit overnight. Strain and store for later use.
**Vanilla Syrup
1) Combine 1 cup sugar, 1 cup water and 1 whole vanilla bean over medium heat, stirring until sugar dissolves.
2) Remove vanilla bean and set aside to cool.
Prep Time: 3 minutes
Difficulty: Moderate