How To Make Black Pepper Soufflés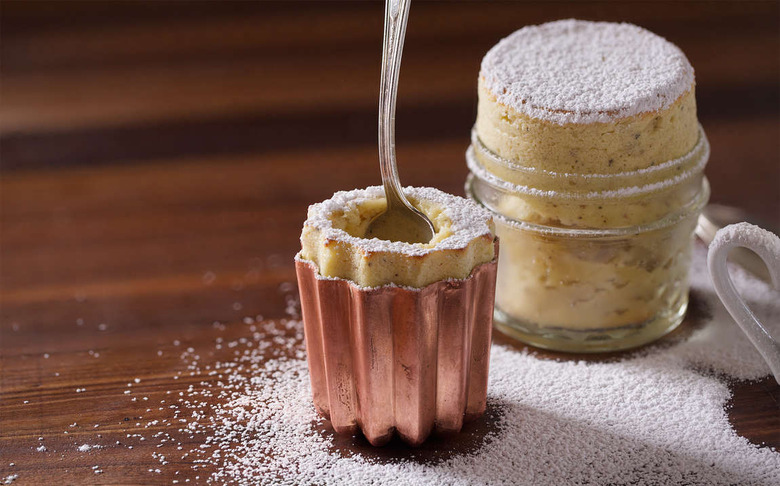 Master the fluffy art of the soufflé and dazzle all.
Who doesn't love the delightful and sweet fluffiness that is the soufflé? They're fun to watch in the oven and even more fun to eat. Our friends at ChefSteps wrote in with an amazing recipe that's sure to impress. The classic soufflé is all good and dandy, but the heat from a bit of black pepper will help cut that sweet richness and perhaps land you another date. If heat isn't in your wheelhouse, this recipe serves as a great blank canvas. Check out the recipe and video below and get baking!
https://www.youtube.com/watch?v=YyFfHUE-nZ0
Servings: 3 soufflés
Ingredients
45 grams butter, plus extra for coating ramekins
98 grams sugar, granulated, divided, plus extra for coating ramekins
34 grams bread flour
7 grams salt
5 grams black peppercorns, coarsely ground if possible
200 grams plain whole milk yogurt
75 grams egg yolk, from about 4 eggs
112 grams egg white, from about 4-5 eggs
Powdered sugar, for garnish, as needed
Directions:
Preheat oven to 375°F.
Butter each ramekin lavishly. Be careful not to miss any spots, especially along the sides of the dish—the soufflé may stick in spots that aren't thoroughly buttered.
Add a small amount of sugar to one of the ramekins. Place it on its side over another ramekin and rotate to allow the sugar to adhere to all the buttered surfaces. Catch excess sugar with the other ramekin. Repeat until all your molds are coated evenly with sugar. Reserve the excess sugar—you can use it in Step 4.
Combine ingredients with your hands (or a spatula) until they form together, leaving no dry flour.
In a small pot over medium-high heat, combine yogurt and sugar with your peppery butter ball and bring to a boil, stirring constantly to break up clumps and prevent scorching.
Cook until the mixture has a thick, gummy texture, about four minutes.
Add egg yolk and mix until well incorporated, with a spatula or a whisk.
In a large bowl, whisk egg whites into a light foam.
Add sugar and continue to whisk until stiff, glossy peaks form.
Gently fold about a third of the meringue into the soufflé base. Repeat twice more until you've incorporated all the meringue.
Fill soufflé molds to the top. Use the back of a knife to remove excess batter from the rim, creating a level surface. Using a dry paper towel or a tissue, wipe any excess batter off the side.
You can keep these babies uncovered in the fridge for about 30 minutes before you bake.
Place ramekins on a baking sheet.
For a custardy texture and a molten center, bake for 17 minutes. For a fully set soufflé with a springy texture, bake for about 19 minutes.
Using a small sieve, dust powdered sugar over the top and serve immediately. (Finished soufflés will quickly crack and deflate if not served immediately.)
Serve as is, top with whipped cream and strawberry (whole or diced), drizzle with chocolate, or split open and fill with Crème Anglaise.
Serve that thing!
ChefSteps comprises a team of award-winning chefs, filmmakers, scientists, designers and engineers focused on revolutionizing the way people cook by inspiring creativity and encouraging expertise in the kitchen. You can also get access to all of ChefSteps' Premium content — including paid classes and dozens of recipes available only to Premium members for a onetime fee — for the special price of $24 (regularly $39). Classes include Sous Vide: Beyond the Basics, Fluid Gels, French Macarons and more!