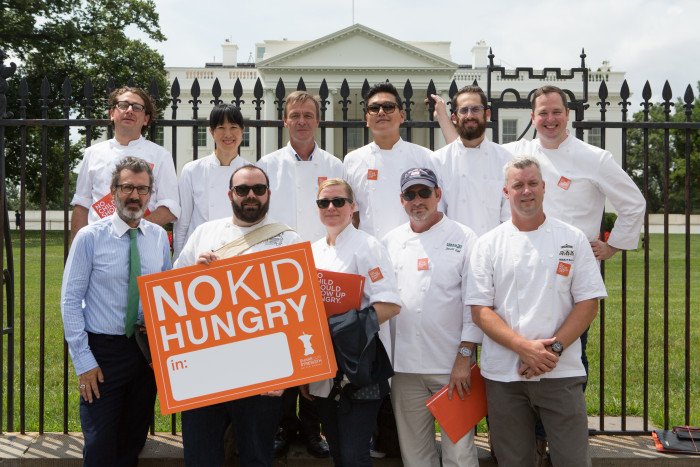 In the sultry heat of New Orleans a few months ago, a group of chefs from around the country gathered for dinner. The meal took place at Shaya, but the chefs weren't there just to taste Alon Shaya's chic Israeli food. They were gearing up for a different kind of food crawl: a tour of several elementary schools offering free meal programs to students. The No Kid Hungry campaign has courted the restaurant industry for years in an effort to end childhood hunger. In New Orleans, the chefs got to see firsthand just what they were supporting: school breakfasts, summer meals and family nutrition education.
The No Kid Hungry campaign is nationwide, but New Orleans is the ideal place to see it in action. Since the school district was decentralized after Hurricane Katrina, some 93 percent of public-school students attend charter schools. Public schools have just voted to reunify, but the era of independent schools, if anything, fostered a spirit of experimentation and a can-do attitude. The city now has one of the highest participation rates in school breakfast programs.
"Working with food every day and seeing so much waste, whether it's a cook burning a piece of meat or something goes rotten in your cooler — so much food gets thrown out [in restaurants]," says Ryan Pera, the chef-partner at Revival Market in Houston. "To think that some kids in this country can't get meals, that discrepancy, it hurts. It's mind-boggling. And it makes me mad."
The number of kids living in food-insecure homes dropped from 15.3 million in 2014 to 13.1 million last year.
Pera and other chefs on the trip — Anita Lo of Annisa in New York, Josh Henderson of the HuxleyWallace Collective in Seattle, Karen Akunowicz of Myers + Chang in Boston — participate in the No Kid Hungry campaign by hosting fund-raising dinners or cooking for Taste of the Nation, a series of curated tasting events throughout the country whose proceeds go toward the cause. Some restaurants donate customer tips. This October, Pera is taking part in the Dallas edition of Chefs Cycle, a 100-mile bike tour that aims to raise $100,000. What's more, dozens of chefs have gone to Capitol Hill to meet with congressional representatives to discuss childhood hunger. Josh Henderson, Hugh Acheson and Mary Sue Milliken have each written op-eds for local publications urging Congress to take action.
In New Orleans, the chefs grew quiet when faced with first-graders eating their first meal of the day during their morning class or second-graders enjoying an afternoon snack. They learned the grim facts: One in five kids in America is food insecure; three out of four teachers say they have students who come to school hungry. Karen Akunowicz shared with the group how her mother, a schoolteacher, would bring peanut butter and jelly sandwiches to class for some of the more destitute kids she taught.
The chefs also learned how simple the solutions can be. Serving breakfast after the first school bell of the day is more effective than offering breakfast before school: It eliminates the stigma associated with coming in early to eat and the need for struggling parents to find a way to get their kids to school before the scheduled bus pickup.
The campaign is seeing results. Just this month, the government reported a significant drop in food-insecurity rates across the country. The number of kids living in food-insecure homes dropped from 15.3 million in 2014 to 13.1 million last year. A number of factors are at play, including a stronger economy, but No Kid Hungry is not discounting the impact of chefs. They have become some of the cause's greatest champions.
In New Orleans, the chefs stopped by Samuel J. Green Charter School, an outpost of Edible Schoolyard, the school started by Alice Waters in California. Out back, a vegetable and herb garden flourished with the help of composted school lunches. Food is incorporated into nearly every aspect of the curriculum here, from studying the biology of strawberries to learning how to make granola in cooking class. The school garden even plays a role in coping with behavioral issues. Should a student become upset or disruptive, he or she will ask to go pick herbs. The effects are therapeutic.
"I tell that story to anyone who will listen," says Sarah Simmons, chef-owner at Birds & Bubbles in New York, adding that her New Orleans experience helped reinforce her dedication to No Kid Hungry. "I believe it was José Andrés who said that, as chefs, we're in the business of feeding people. And that doesn't just mean the people paying money in our restaurants."