How (And Why) To Make The Perfect Highball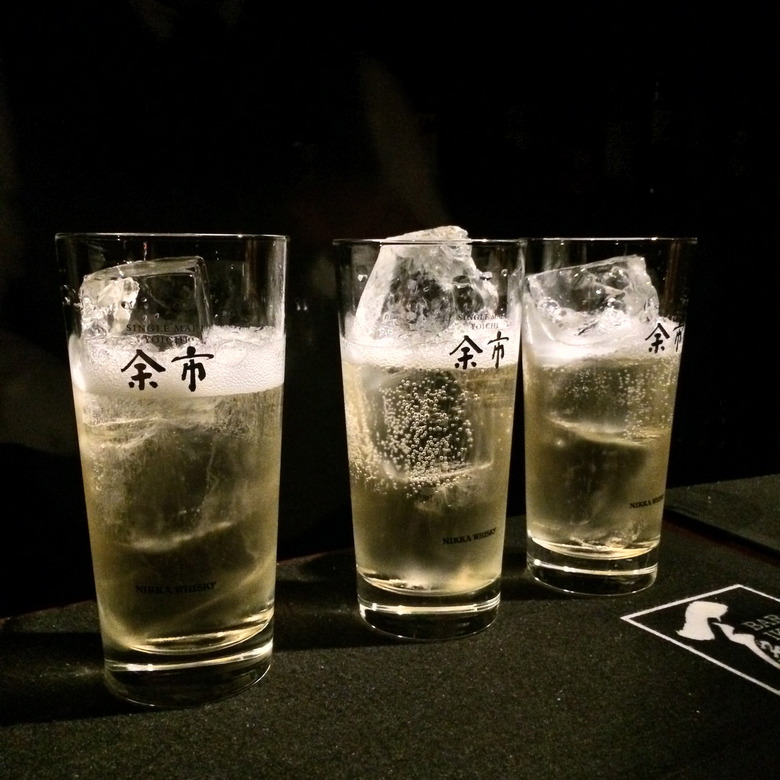 Ingredients are thoughtfully added to the highball in Japan. (Photo: Naren Young.)
Like many of Japan's great bars, Bar Ikkei is located inside an anonymous office building; it's two floors up from the main thoroughfare in Sapporo, on the northern island of Hokkaido. The bar is so dark that as I push through an unassuming door, I almost grope a poor lady, unknowingly of course, as I try to find a seat. Any seat. The bar's namesake, owner Ikkei Honma, directs me to one of only 12 or so seats that make up this shoebox of a room. This is the Japan I love.
Under the soft hum of that ubiquitous speakeasy soundtrack — generic jazz — Ikkei San is aided by several younger apprentices, though it is quite obvious, as the name of his bar would suggest, that he is the star of the show. He prepares each drink with exacting precision, a style that has been lauded in the West for almost a decade now. It can be utterly mesmerizing to watch, though the mostly fruit-based drinks are a little too, um, fruity for mine.
The highball, however — well, that's another story. This has become my absolute go-to drink in a land where the weird and wacky reign and yet where they take great pride in perfecting the simple things. The highball is a case in point. Everywhere else in the world, this modest concoction would simply be known as a whiskey and soda. It doesn't sound too exciting despite its global popularity. When prepared in Japan by the sure hands of someone like Ikkei San, it has an intrinsic beauty to it that belies its simple roster of ingredients.
And this is why the highball is such a special and important drink. Each ingredient is thoughtfully added, in a very specific order, and each plays a vital role in making the whole more than the sum of its parts. Nothing is superfluous. Every action is considered. Start with a tall, slender highball. If it's frozen, then all the better.
Japan has been the catalyst for the current global infatuation with hand-carved, crystal-clear ice, and the Japanese certainly inspired the practice at Angel's Share when it came on the scene in 1994, wowing New Yorkers as each gnarly piece slowly chilled their Manhattan, old-Fashioned or whiskey highball. Hidden amongst the neon lights of Ginza, though, you'll find several dexterous barkeeps shaping their chiseled ice into diamonds and other impossibly perfect shapes.
And yet this practice is not only reserved for the high-end cocktail temples of Ginza and beyond. Using crystal-clear, high-quality ice came more out of necessity than because it was de rigueur. Very few bars in Japan's congested cities have space for a commercial ice machine, so they often buy or freeze their own blocks of ice, which they carve down into various shapes to fit into specific glasses. All of a sudden the highball (known in Japan as a haiboru) looked much more sophisticated than perhaps it needed to be.
This has become my absolute go-to drink in a land where the weird and wacky reign and yet where they take great pride in perfecting the simple things.
Most often, a few mismatched chunks of ice are added to the glass and stirred with the concentration of an eye surgeon. Once the glass is well chilled, the mineral-free water that has accumulated at the bottom of the glass is strained off, avoiding any unwanted extra dilution. I request the Nikka Coffey Grain whisky, a delightful dram that is made at the tranquil Miyagikyo distillery in Sendai and, as it turns out, the perfect highball whisky with its subtle notes of spicy cinnamon and tropical fruits. Ikkei San nods with an approving smile at my dram of choice. This makes me happy.
Exactly 30 milliliters of whisky goes in. He carefully pours the whisky so it hits the exact highest point of the ice, which has been stored at -23 degrees Celsius for two days. A brand-new bottle of the most perfectly carbonated sparkling water, called Cho-Tansan, is opened and is slowly trickled down the sides of the glass, this time trying not to touch any ice. I'm later told that this particular brand is referred to as "super soda." Yes, indeed it is.
The highball, despite my own reverence for the drink, is not something I would typically order on American shores. It is served with such nonchalance here — dismissed as a mundane mixed drink of whiskey and soda — that it doesn't nearly resemble the work of art that one will find throughout Japan.
And yet in a move away from the modern ethos of complicated mixology, several bartenders are going back to the basics. In the process, these bartenders are understanding that there's no shame in serving simple, perfectly made highballs, such as a Tom Collins, an Americano, a gin and tonic or a Cuba libre. Or what about the Horse's Neck, which started out as a rather dainty nonalcoholic beverage, favored by ladies who lunch and consisting of ginger ale poured over ice? It was garnished, superfluously some might suggest, with the long peel of an entire lemon curled inside the glass.
Well into the 1950s, the Horse's Neck remained a tame if somewhat sophisticated mocktail. Shortly thereafter, however, hard liquor would find its way into the glass, and although whiskey was the most common base, gin, rum and brandy (and almost anything else) were never frowned upon. It's rarely ordered nowadays, and I doubt whether any bartender could recite its laughably simple list of ingredients should some nostalgic cocktail aficionado order one.
That said, it's worth noting that the highball's resurgence is not limited to Japan.
Joerg Meyer, one of Germany's most celebrated bartenders, owns Le Lion in Hamburg, and in late 2012 he opened the Boilerman Bar, a venue focused solely on the service of highballs. The name, Meyer tells me, refers to that hardened individual who would load coal into the fire of those early steam engines taking Americans and immigrants alike across our newly expanding continent. A highball at the end of that shift would have been a welcome reward.
At the new Blackrock whisky bar in London, owner Tristan Stephenson has dedicated an entire section on his menu to the highball. Of the five options, you'll see unlikely ingredients such as mirin, fennel pollen, coconut and lemon salt, adding an exotic touch to this simple drink. He even lists a Mizuwari, which is essentially just whisky and water, though he does use a special mineral water from Islay to pair with the smoky Talisker expression.
"When we were developing the list at Blackrock, we wanted a clear division between longer [highball] mixed drinks and shorter cocktails," Stephenson told me recently. "This was partly so that guests know how strong the drink was likely to be, but also to elevate the forgotten art of the highball back to the forefront of mixology. As bartenders, we tend to fall back on short, strong drinks where dark spirits are concerned. It's a nice challenge to find new ways of expressing whisky styles in long drinks."
A little closer to home, the new Cuban-inspired bar called Blacktail, from the duo behind the Dead Rabbit in lower Manhattan, has an entire section on its gorgeous menu dedicated to the highball. Bar manager Jesse Vida was kind enough to join me as I tasted a few of them, which are served in preposterously large glasses over large hand-cut ice (of course).
"We chose the highball section as a focus for the menu because we felt that what a highball once was has been lost in the fray," Vida says. "In researching for the menu at Blacktail, we took inspiration from cocktail books from the 1910s to the 1950s. We have eight cocktails in the highball section, and a couple of my personal favorites are the Rum & Cola [angostura, cola cane syrup, fernet, white rum and champagne], and the Gin & Sarsaparilla [sarsaparilla, citric acid solution, lemon sherbet, amontillado sherry, ramazotti amaro, Dolin blanc, gin and vanilla soda]. This is a category back on the rise. Though it still seems to be an afterthought in many cocktail programs."
♦♦♦
The most popular story surrounding the etymology of the word "highball" centers on the railroads. As a sign that the track ahead was clear and the train could therefore safely increase its speed, a ball would be located at the highest point on the signal. Cocktail historian Greg Boehm has another theory: that before the drink became prominent, there was a type of poker being played called highball, andt the drink's name might have developed from this.
The first time mention a highball drink appeared in print was in a New York Times article in 1899; the first time an actual recipe appeared in print was in Harry Johnson's wonderful New & Improved Bartenders' Manual (1900), in which the author suggests using a "medium size fizz glass," suggesting perhaps that the receptacle was not yet known as a highball. He calls for "crystal clear ice, Scotch and ice cold syphon Vichy." That even sounds exotic by today's standards.
"Modern cocktail books always say that a highball is something like a long drink in a Collins glass, but that is wrong," says the ever-opinionated Meyer. "It was typically a small drink, which was the main idea for the Boilerman Bar: to offer small drinks of very high quality and serve them very quickly and at a cheap price. That way, people can also try several of them in one sitting."
Neyah White, the brand ambassador for White & Mackay whiskies, has been a huge proponent of the highball for years.
"First of all, the highball is an authentic drink with a long history. Even more interestingly, New York barman Patrick Gavin Duffy, who was widely attributed to popularizing the highball in the late 1800s, claimed that this was the first scotch cocktail to get any traction and was responsible for the first cases of scotch to be imported into New York. This is probably accurate as it coincides with the introduction of blended whisky after phylloxera and the perfection of the column still."
Maybe one day, the highball will afforded more respect by the bartenders of America. If anything, a simple highball proves that simplicity works. These are not drinks meant to require too much contemplation, if any. Or are they? They suit a purpose; they have their place. And if that purpose is to make you feel refreshed, then I'll certainly drink to that.
---
How to Make the Perfect Highball
Pull a highball glass from the freezer. Yes, the freezer.
Add one long Collins ice "spear" (purchase rubber molds from cocktailkingdom.com).
Pour in a good slug of your preferred spirit (about 2 ounces). I like a good blended scotch, pot still Irish or something Japanese, especially the Nikka Coffey Grain.
Fill with bottled soda. It must be a fresh bottle, and cold.
Stir with one of those fancy metal straws (also available from Cocktail Kingdom) if you're feeling dandy.
Twist a lemon peel over the surface and drop it into the drink.
Smile. Repeat.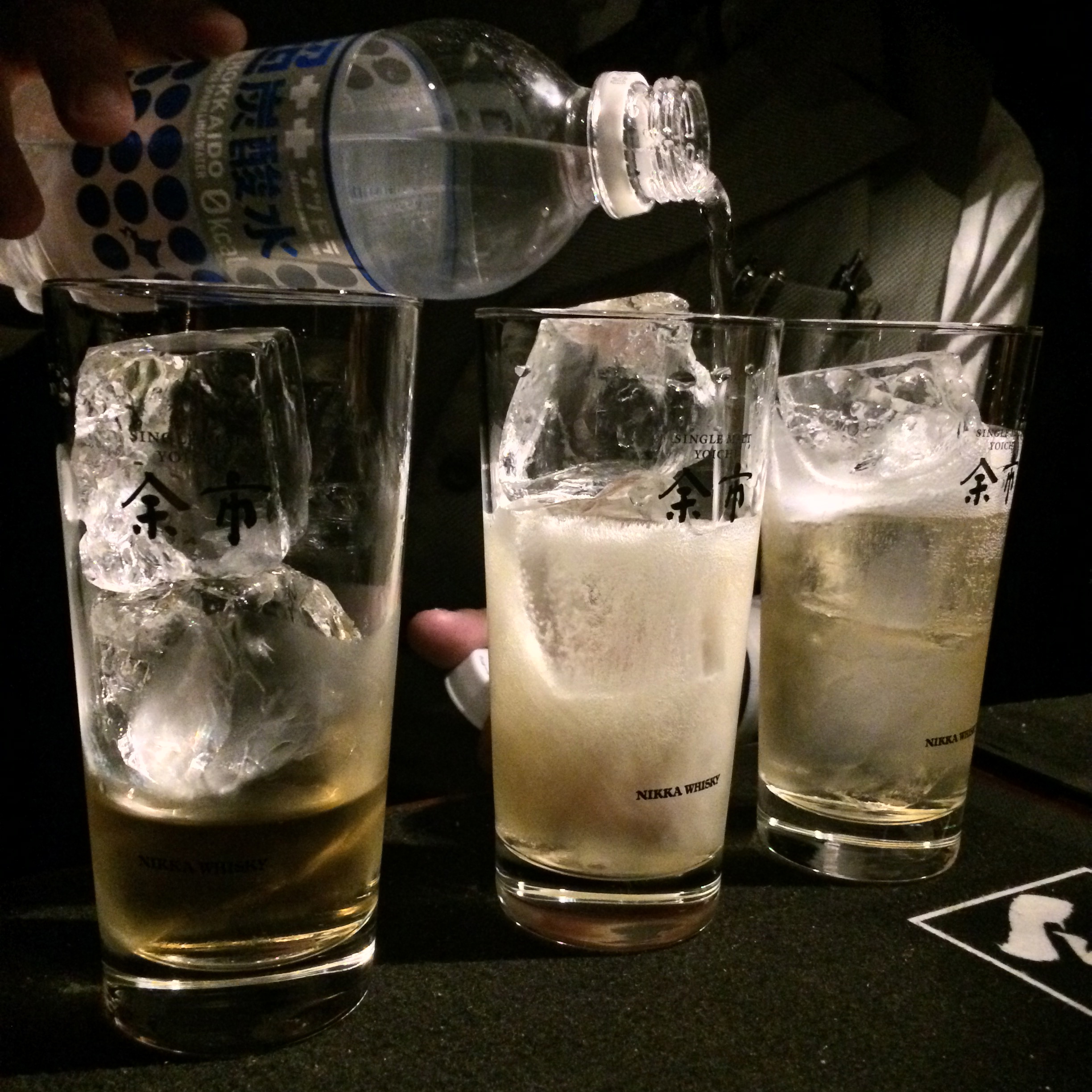 A brand new bottle of the most perfectly carbonated sparkling water called 'Cho-Tansan' is opened and is slowly trickled down the sides of the glass, this time trying not to touch any ice.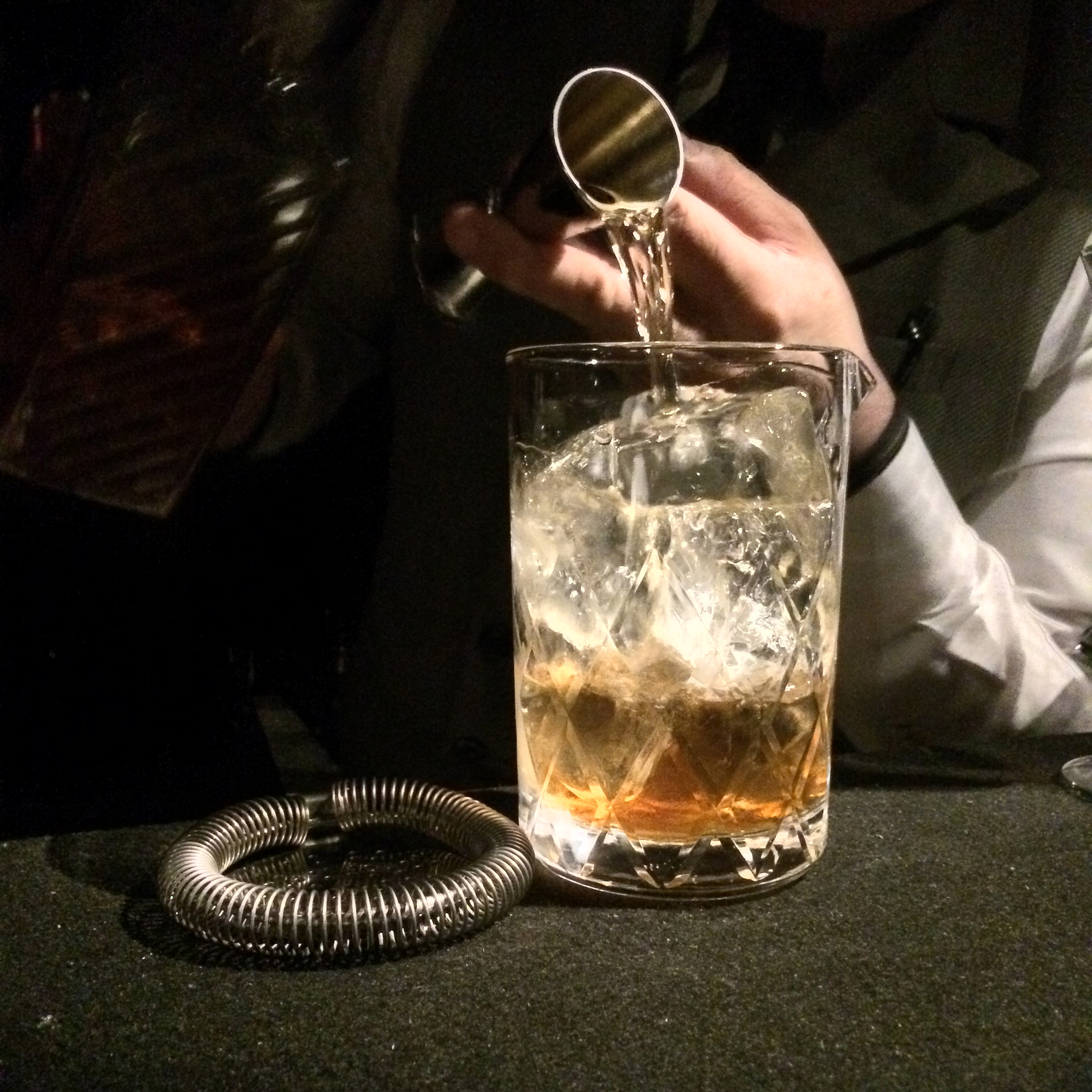 Exactly 30 milliliters of whisky goes in.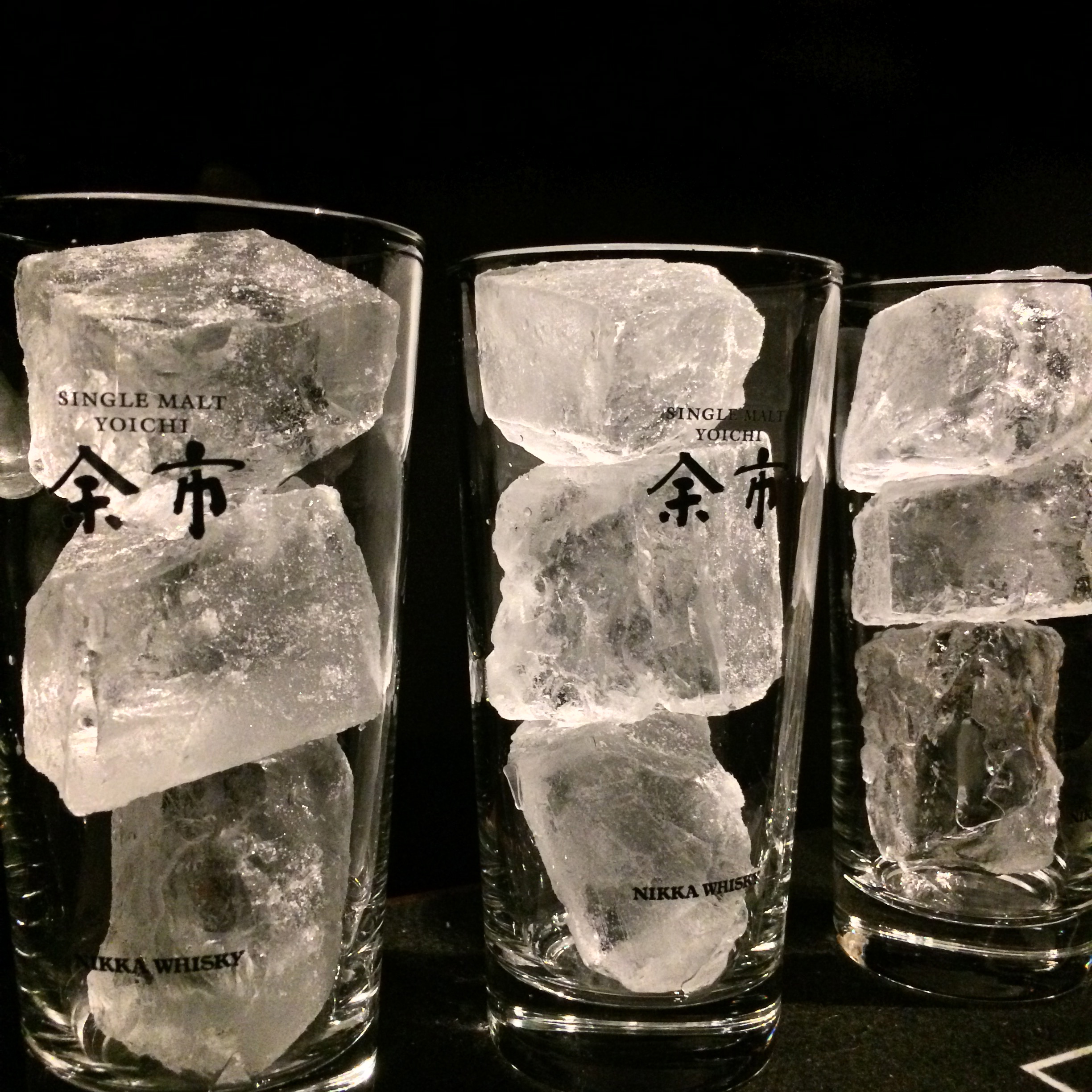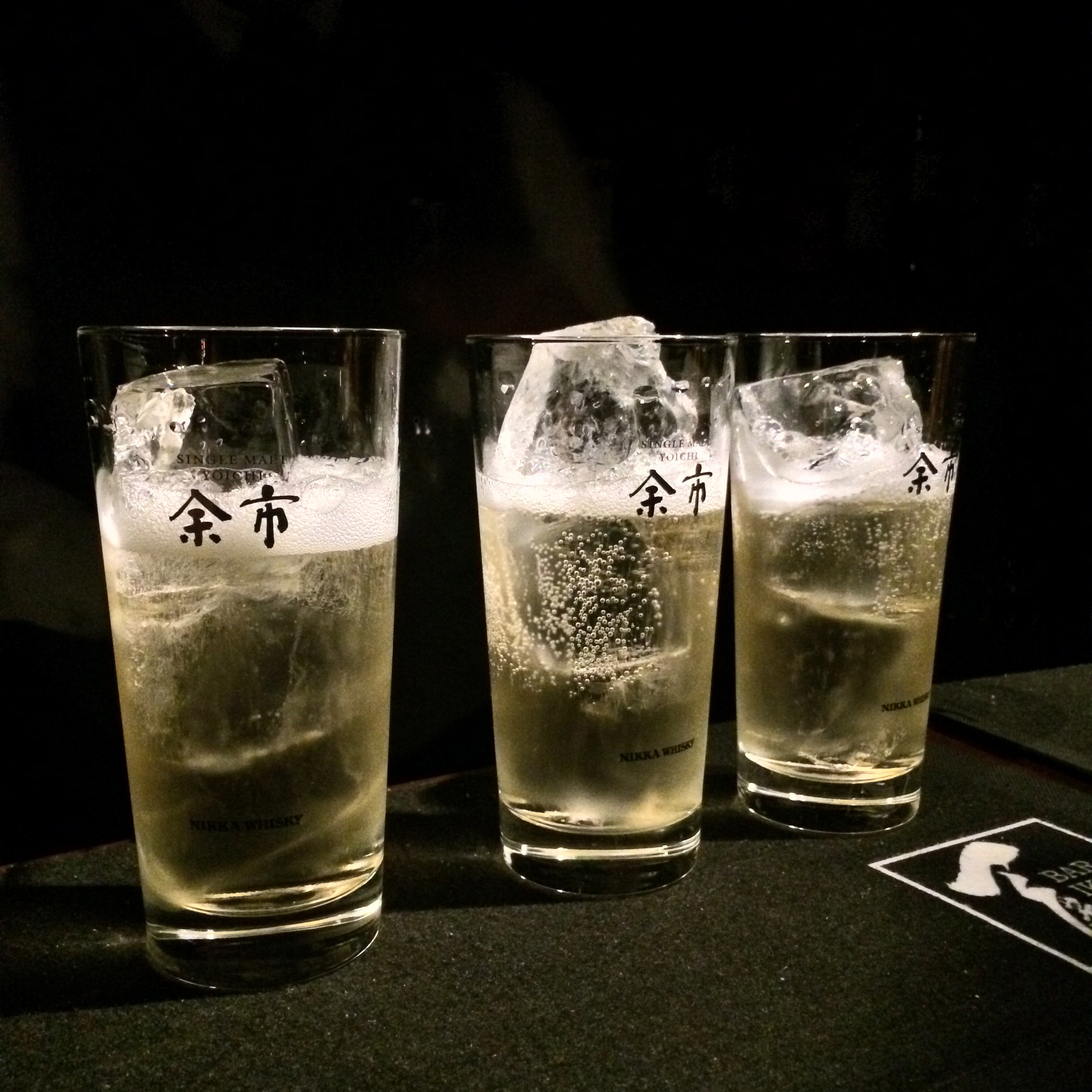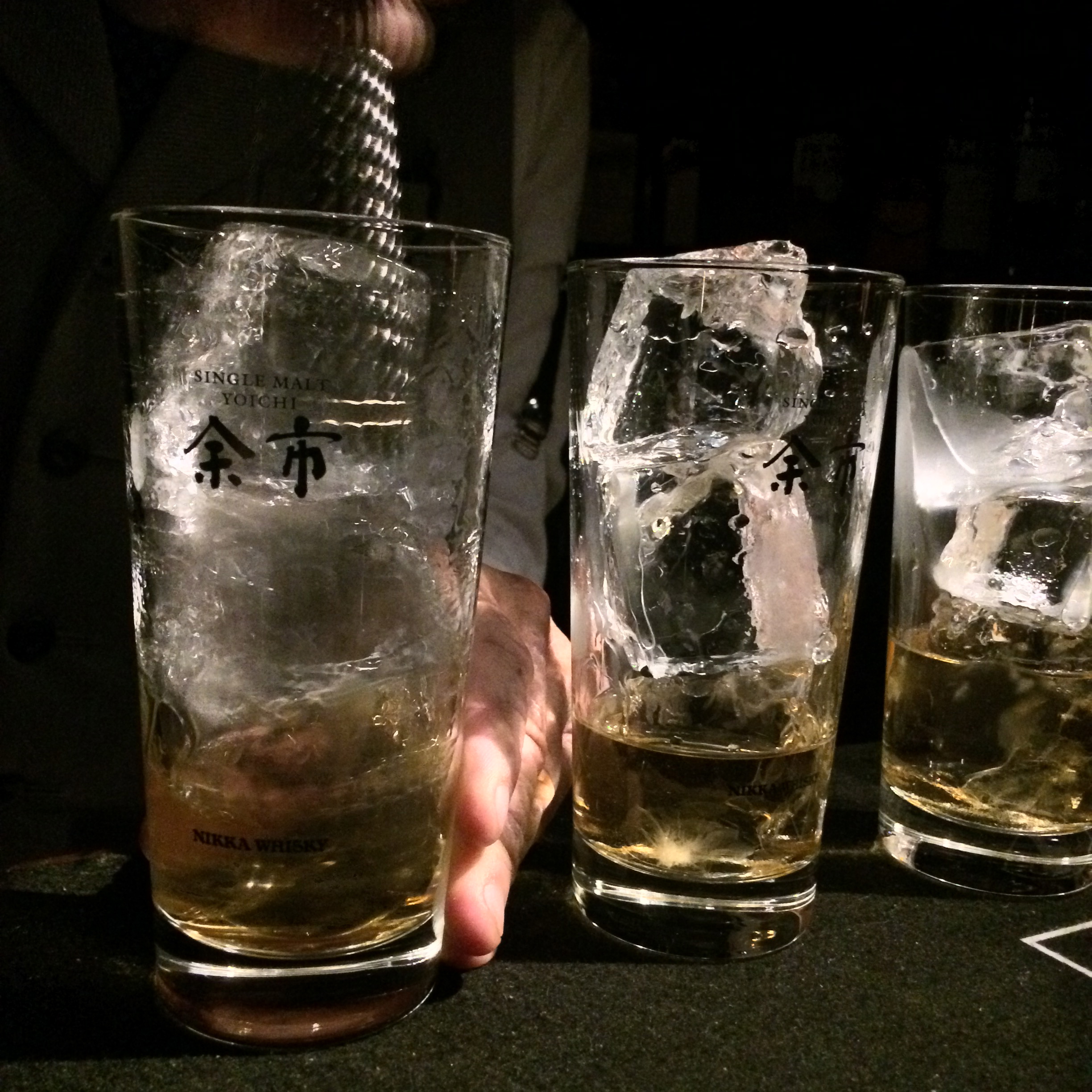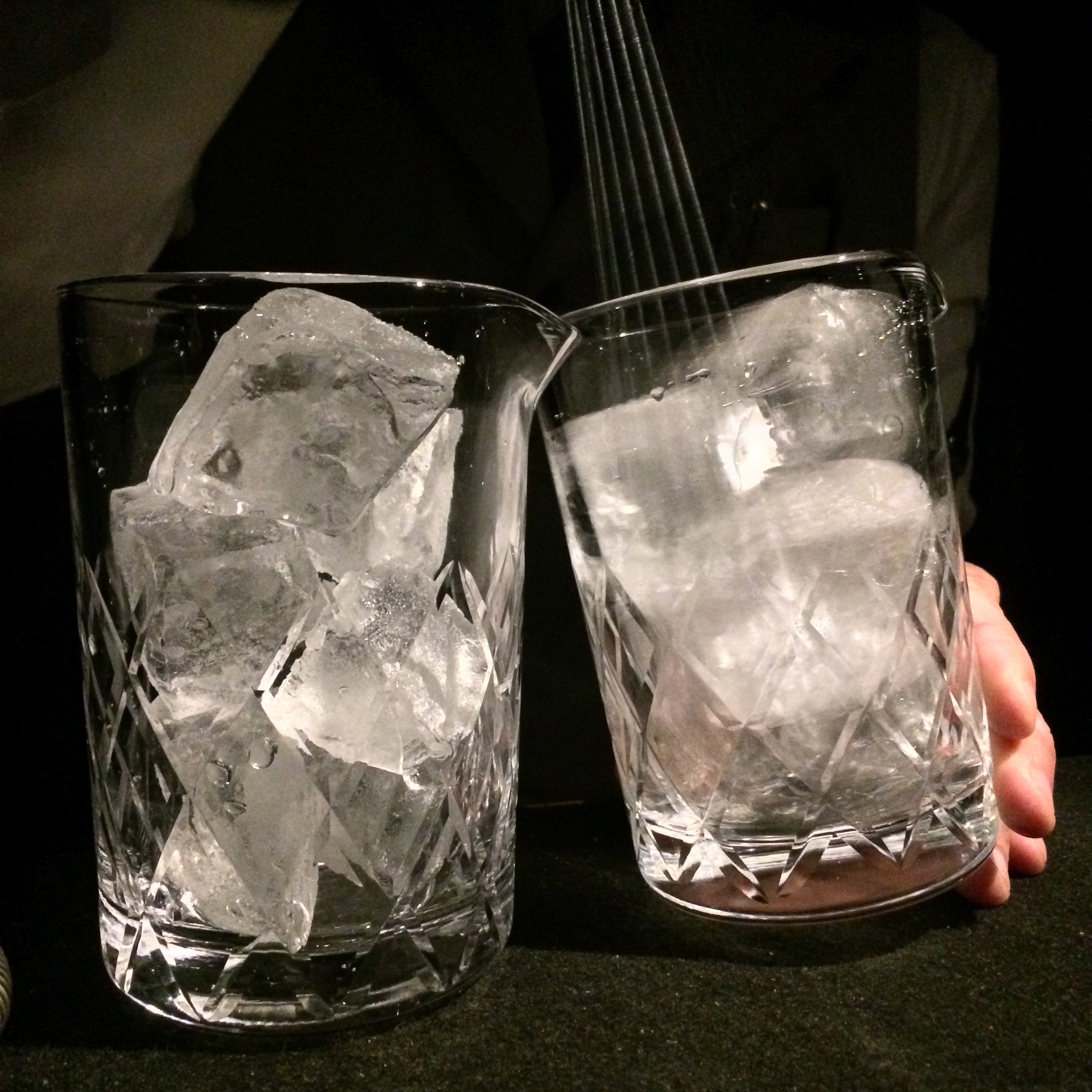 The highball starts with the most perfect ice cubes.