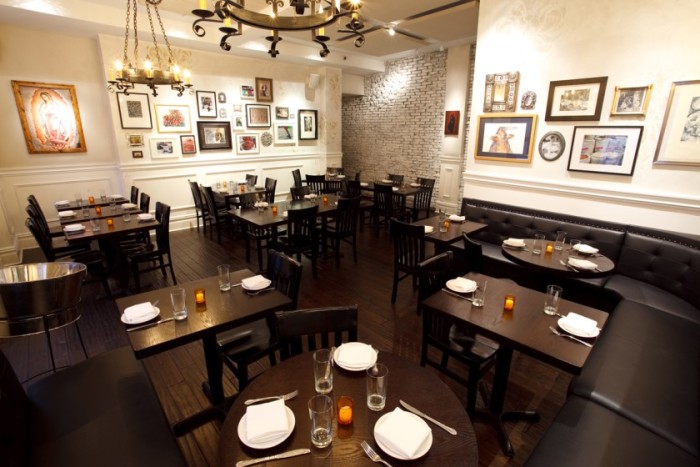 Food Republic has partnered with premier hospitality technology platform Reserve to bring its readers new content from the restaurant world. Love to eat? Check out Reserve's blog, where this post first appeared, for the latest food trends and U.S. restaurant tips.

From modern hand-blown bulbs to classic shimmering crystals, restaurants these days are lighting up their spaces with eye-catching chandeliers. Slip into one of these beautifully lit spots for a great meal, or model your dream home after one of these fine dining rooms. Here are 22 restaurants from across the country with the bright idea to add beautiful lighting to their dining rooms:

Mexican eatery Empellón Taqueria serves up innovative cuisine and tasty margaritas in an artful dining room illuminated by iron light fixtures.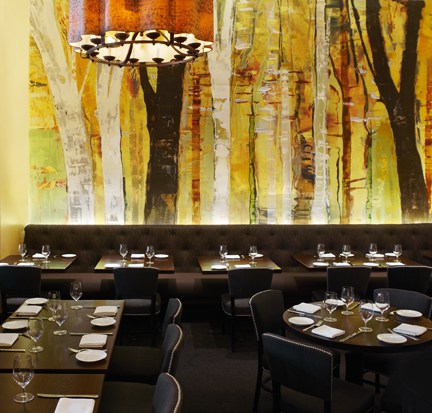 2. Fork (Philadelphia)
Nature-inspired murals cover the walls of sophisticated New American restaurant Fork, in a warm ambience filled with the light from lamp-like, burnt orange chandeliers.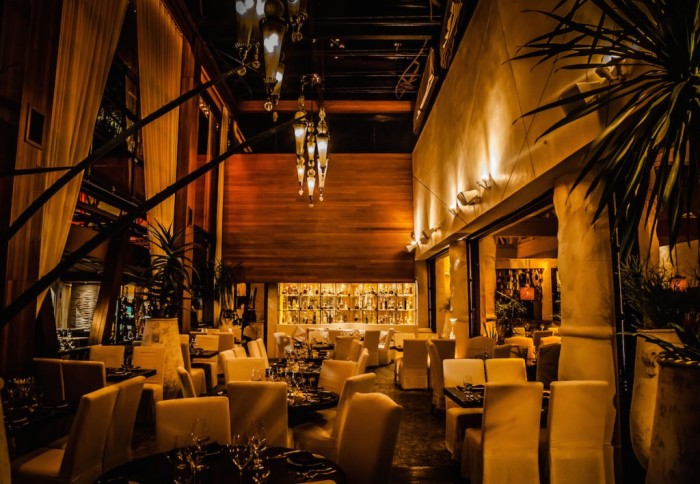 3. Red O (Los Angeles)
Bold, authentic Mexican cuisine and classic steakhouse fare come together in the stunning atmosphere of Red O, embellished with unique, conical chandeliers.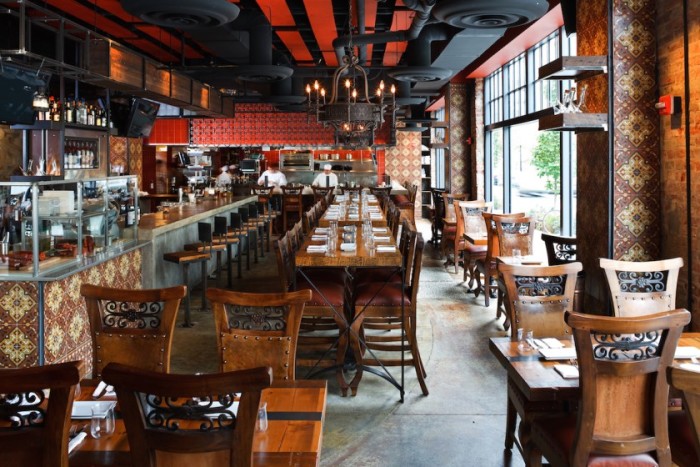 4. Estadio (Washington, D.C.)
The Moorish-style decor utilizes elaborate tile and iron work — reflected in the centerpiece chandelier — as well as dark wood and stone to transport diners back to old Spain.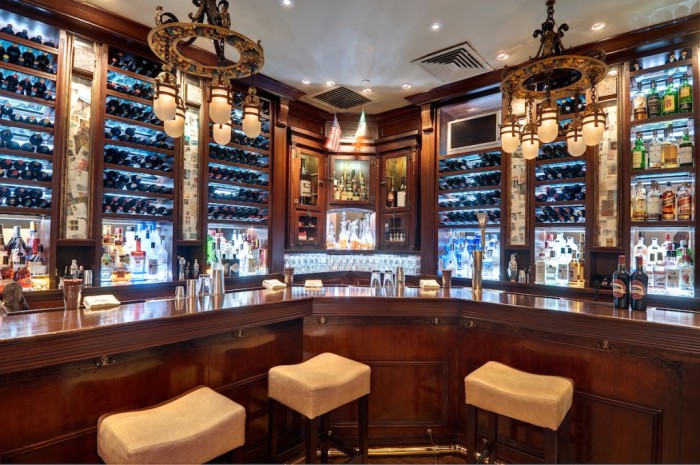 Smith & Wollensky features an elegant bar — characteristic of old New York — made vibrant by colorful chandeliers.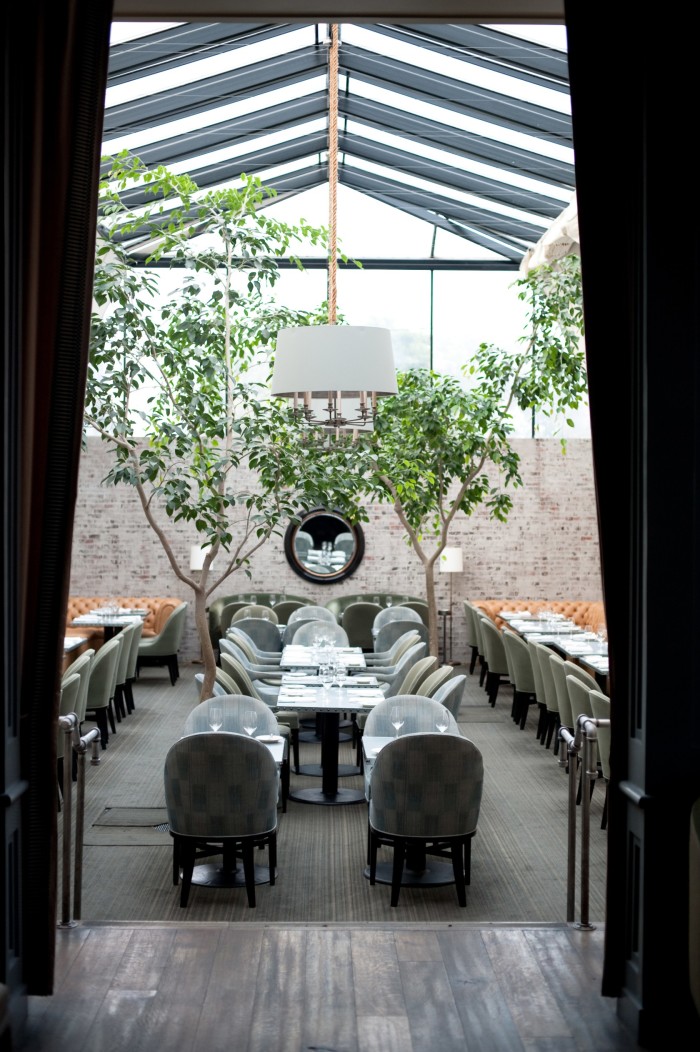 6. Tavern (Los Angeles)
Anchored in the glass atrium by a nautical rope, Tavern's understated chandelier adds just the right amount of light to the relaxed, elegant atmosphere.
7. Bar Primi (New York City)
A retro-meets-modern light fixture — an arrangement of bulbs framed by a conical shade — brightens the dining room of Italian hot spot Bar Primi.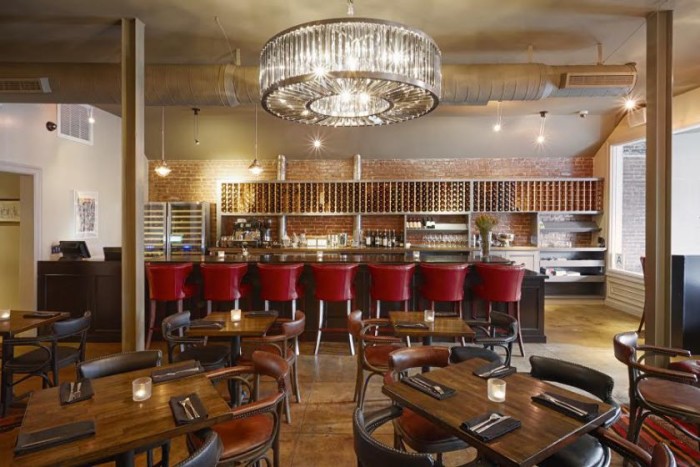 Inspired by European-style brasseries, Wilde Wine Bar boldly showcases a breathtaking, shimmering chandelier in the center of its retro-chic bar.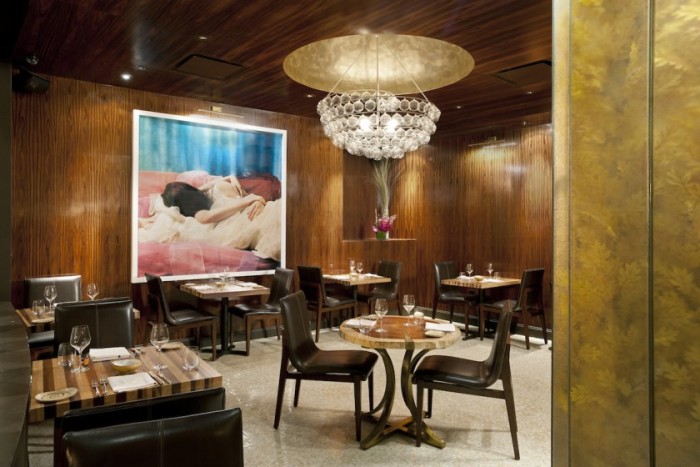 9. Fiola (Washington, D.C.)
Fiola's geometric chandeliers, bright art and dark leather seats create an Art Deco atmosphere, complemented by lots of global wines and creative cocktails.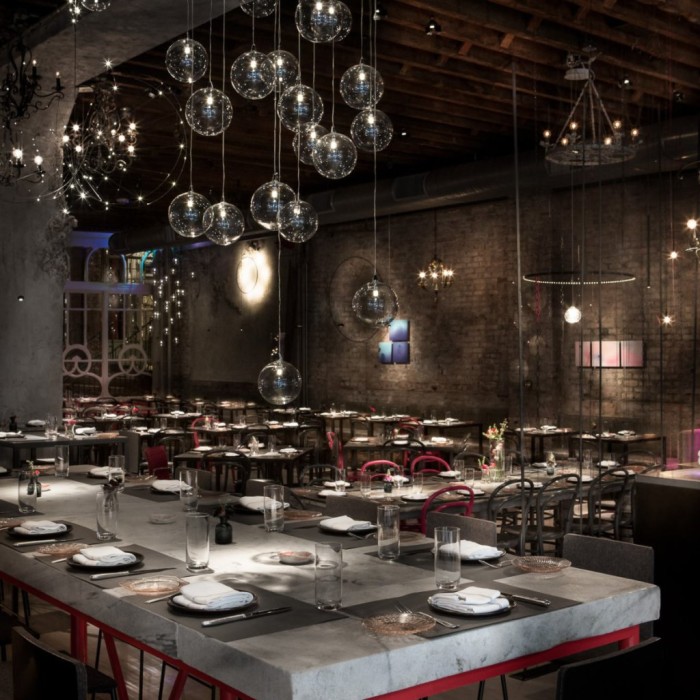 The brick-walled, rustic-chic dining room — adorned with an eclectic mix of hand-blown glass bulbs and twinkling lights — creates a glamorous ambience at ABC Cocina.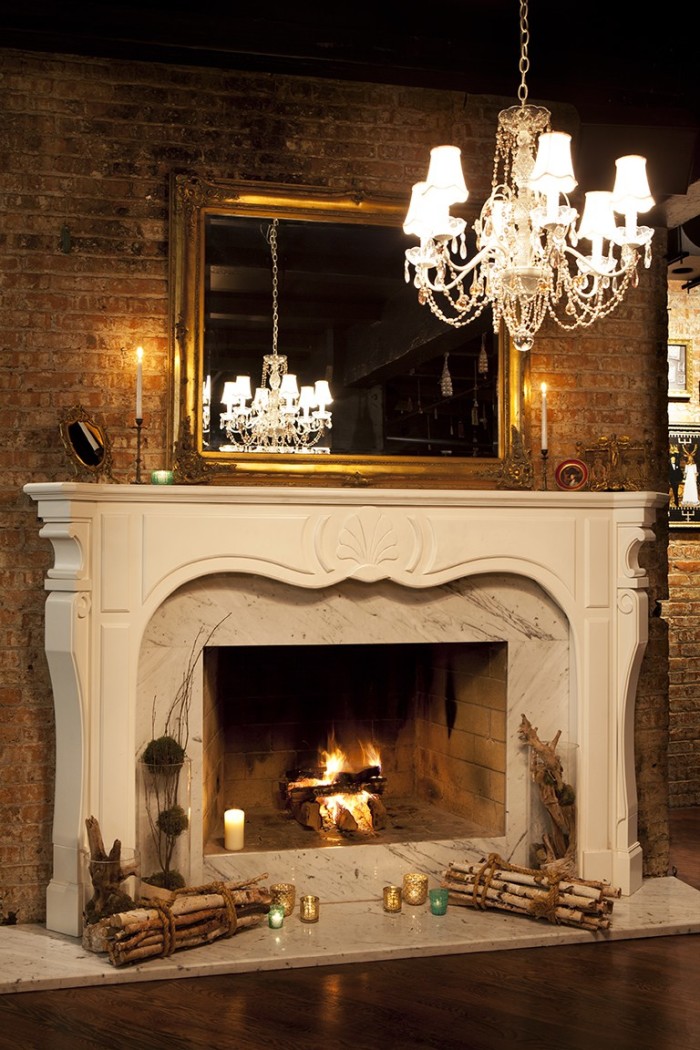 Complete with a marble fireplace and crystal-beaded chandeliers, RM Champagne Salon is the ideal place to celebrate with a glass of bubbly in a sophisticated setting.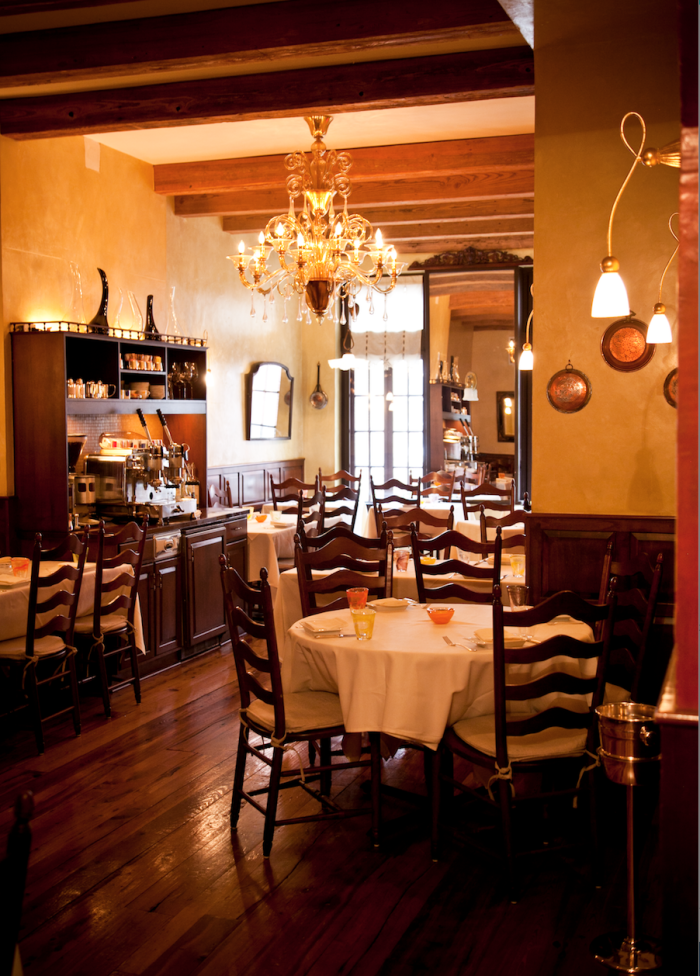 12. Vetri (Philadelphia)
Exposed wood beams keep the intimate town house setting rustic and reminiscent of Italy, while elegant chandeliers elevate the atmosphere to match Vetri's impressive menu.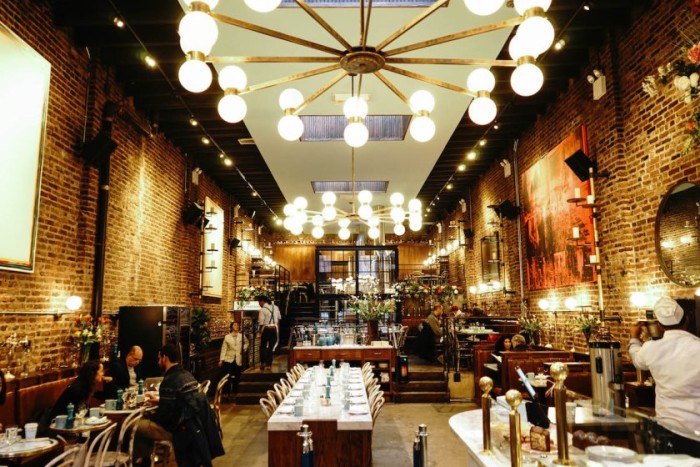 13. Sadelle's (New York City)
Sadelle's puts a modern spin on the traditional Jewish deli with its massive pinwheel chandeliers, soaring brick walls, leather booths and vintage details.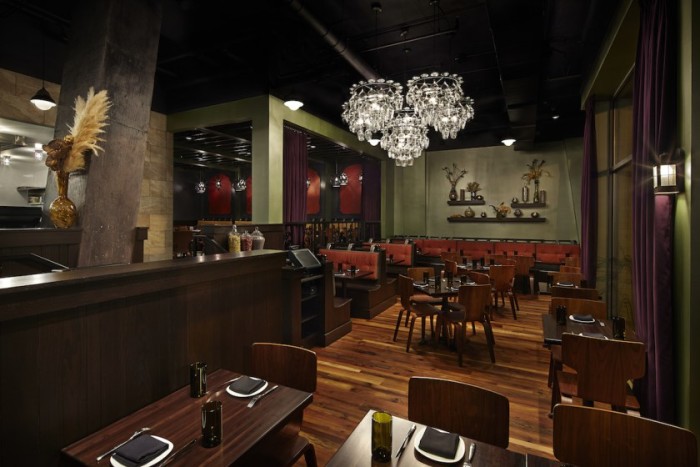 14. Kapnos (Washington, D.C.)
Plush cushions and drapes create the stylish, exotic atmosphere at Kapnos, while a cluster of crystal-clear chandeliers add a touch of luxurious flair.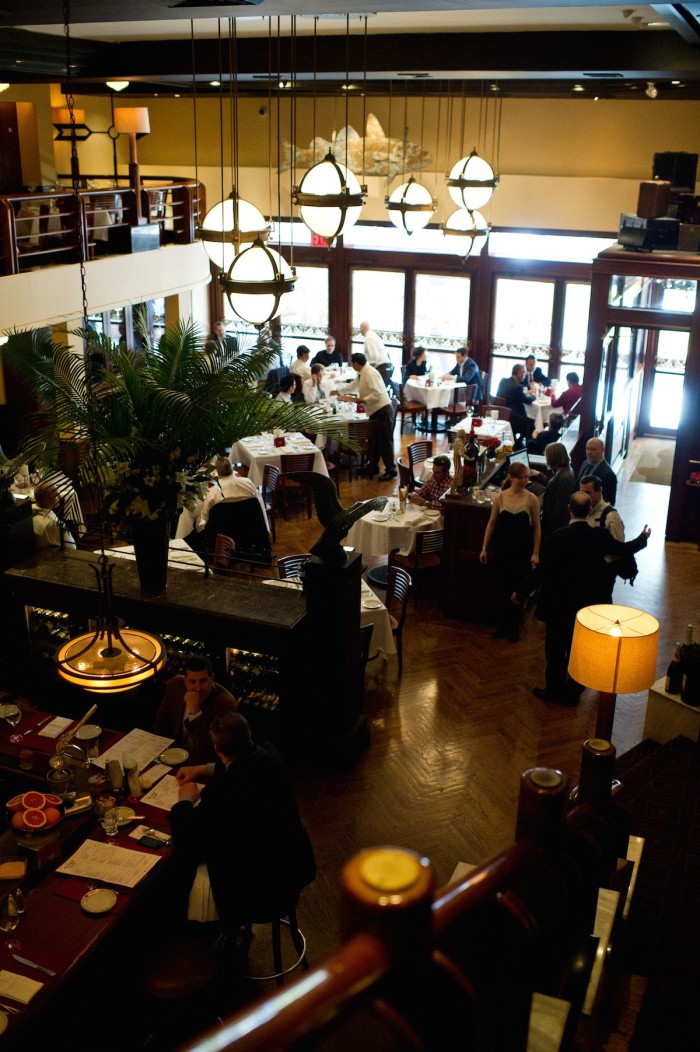 Maloney & Porcelli — with its playful takes on classic decor including globe-shaped light fixtures — embodies the charm and grandeur of New York in the 1950s.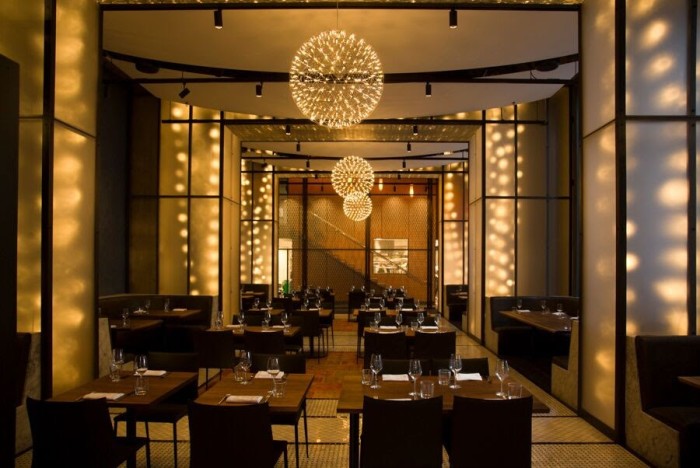 16. Mourad (San Francisco)
Located inside a newly renovated Art Deco tower, Mourad features starburst chandeliers and lofty ceilings, as well as private dining rooms and a lounge.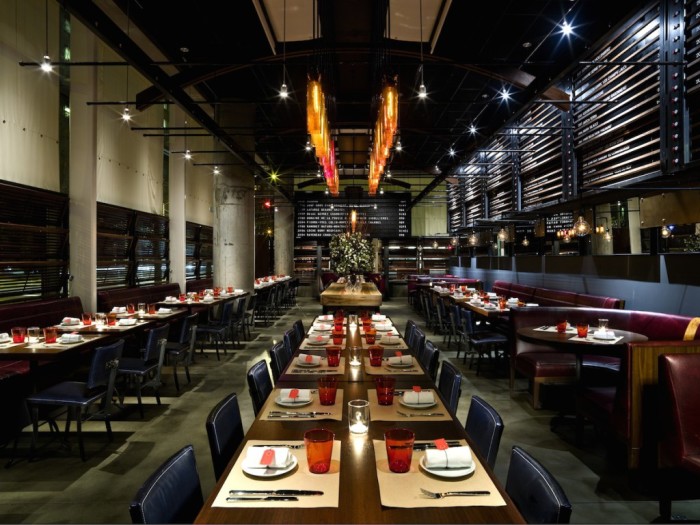 17. RN74 (San Francisco)
The grand, train station–themed space of RN74 features industrial accents, a dynamic timetable list spotlighting the wines on offer and sleek rows of rectangular, yellow-orange lights.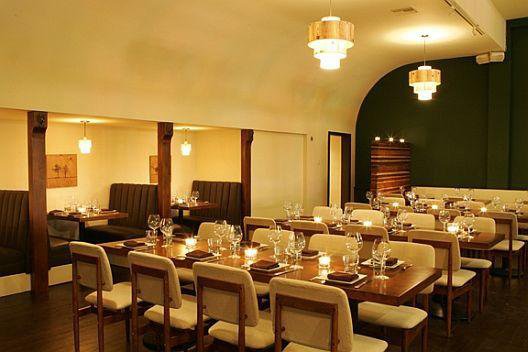 Rustic Canyon Wine Bar & Seasonal Kitchen is a casual yet stylish Santa Monica spot that remains down-to-earth, with a minimally decorated dining room, wood accents and two bright chandeliers setting the tone.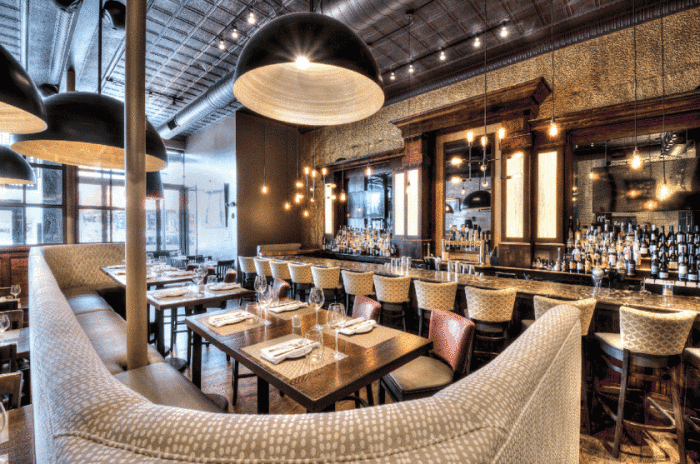 The Red Bird's brick and tile walls, dark wood floors and modern, rounded chandeliers give the intimate space an industrial feel.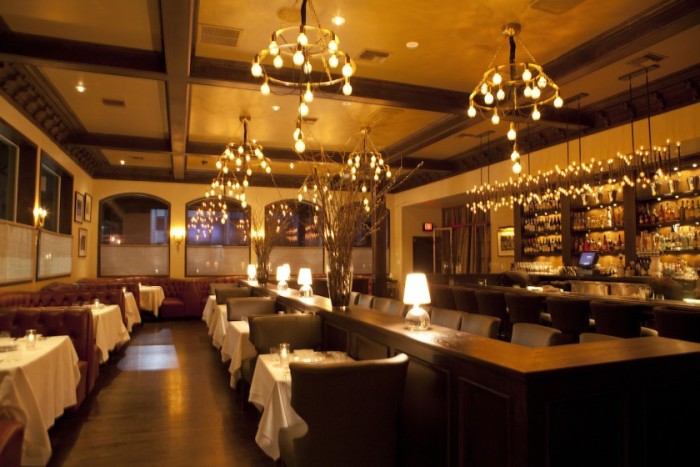 Tiered chandeliers with dangling lightbulbs line inventive vegan eatery Crossroads Kitchen, setting the mood of the warm, rustic scene.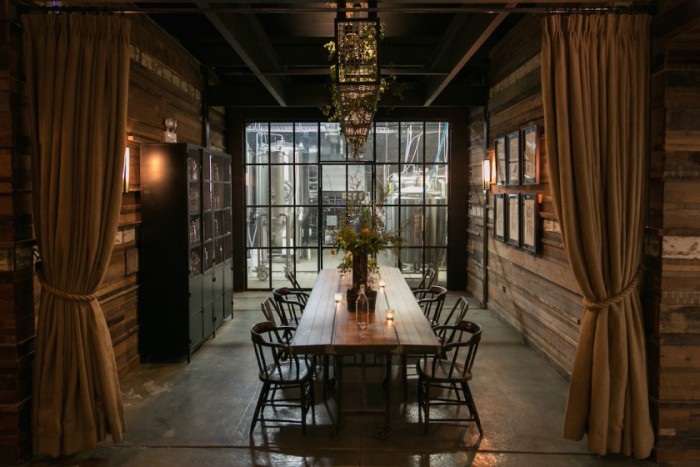 Forbidden Root, a "botanical brewery," uses wood, brick, plants and cast-iron chandeliers to create an outdoors-meets-industrial feel.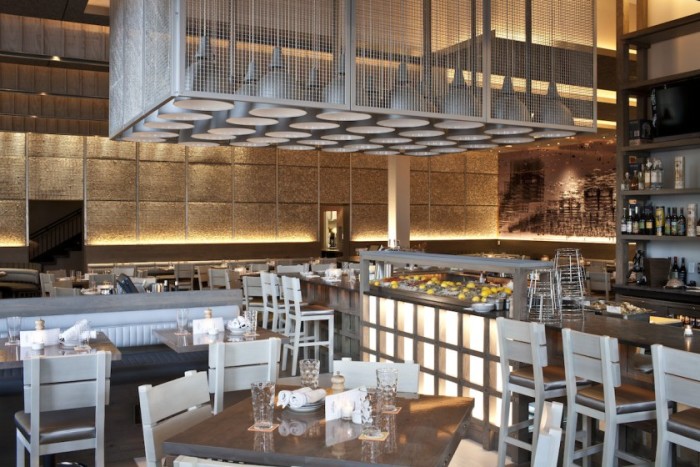 A striking, industrial-style display of light fixtures hangs from the ceiling in a cage-like structure above the raw bar and dining room at Island Creek Oyster bar.
---
Reserve is the country's premier hospitality technology platform, helping restaurants and guests connect. Reserve helps guests discover restaurants, make reservations, get personalized service and seamlessly pay the bill.