Sydney's The Old Clare Hotel Spoils You With Two World-Class Restaurants (Plus Two Bars)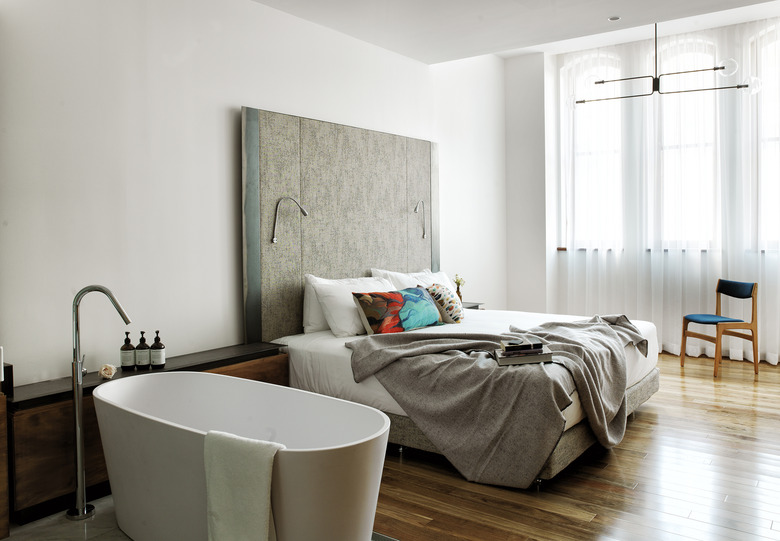 Sydney's the Old Clare Hotel is part of the Unlisted Collection, a group of design-driven boutique hotels and restaurants set within historic buildings. (Photo courtesy of the Old Clare Hotel.
In Hungry Concierge, we travel the world to spot hotels that operate with their guests' food and drink needs squarely in mind — hotels, both big and small, that are located in neighborhoods rich with bar and restaurant options. Because there's nothing worse than having your trip derailed by crummy room service.
When I was invited to stay at the Old Clare Hotel in Sydney, I didn't have to vet it first (as I typically do with other hotels). I just said yes.
Why? Well, it's part of the Unlisted Collection, a group of incredibly cool, design-driven boutique hotels and restaurants set within historic buildings spanning four continents. And the founder, Singapore-based lawyer-turned-hotelier Loh Lik Peng, couldn't be any more low-key and gracious – he'll be the first to say, "just call me Peng." But ultimately, travelers and writers alike depend on Loh's uncanny knack for developing what everyone will be buzzing about next, whether it's a hotel, a restaurant, or an up-and-coming neighborhood. (More often than not, it's a combination of the three.)
And even though the flight to Sydney (from San Francisco) is nearly 15 hours long, I was still thrilled about going West because Australia's preeminent airline, Qantas Airways, kindly booked me a seat in their renown Premium Economy cabin. In short: these seats are approximately twice the price of coach, half the price of business, and unequivocally worth the cost if you've got the dough. And the perks are many, including a separate cabin with access to the business class restrooms, a proper drink and hot towel before takeoff, a menu of very decent food and beverages, soft pillows and blankets, and a chic amenity kit by beloved Aussie brand Country Road. But the biggest perk of all? Space. Though the seats aren't flat-bed, they're much wider than the ones in economy, with plenty of room to spread out comfortably. So instead of feeling like a shell of woman, I arrived to The Old Clare Hotel fresh as a daisy.
And back to the property. The Old Clare is Unlisted Collection's first foray into Australia — it opened in September 2015 — is no exception and proves how necessary and chic urban revitalization can be in the right hands. Two historic buildings (the Clare Hotel pub and the Carlton & United Breweries Administration Building) in the formerly gritty, now trendy neighborhood of Chippendale were joined by a striking steel-and-glass atrium, which serves as the hotel's lobby. It's one of many examples of how Tonkin Zulaikha Greer Architects have stayed true to preserving both buildings' original bones while repurposing them in functional and aesthetically pleasing ways.
Like two other Unlisted Collection properties I've stayed at before (Singapore's New Majestic and London's Town Hall), the Old Clare's restaurants are as deserving of high praise as the hotel. Nowadays, plenty of boutique properties are home to a respectable bar or restaurant, but the Old Clare goes above and beyond by spoiling guests with two incredible dining options, plus a stylish cocktail bar. (And a poolside rooftop bar, when the weather's fine.)
Kensington Street Social, led by chef Jason Atherton (the culinary mastermind behind London's Pollen Street Social and New York's the Clocktower), is a casual yet bustling all-day brasserie. In the morning, it's a civilized, serene spot to kick off your day with a hearty mackerel omelet or bacon and egg sandwich, which arrives with HP sauce for dipping. At night, the scene takes a lively turn as Sydney's stylish set mingles over craft cocktails and shared plates, like the signature sourdough flatbreads. Next door at Automata, chef Clayton Wells, formerly of Momofuku Seiobo, offers an exciting and ever-changing five-course dinner — imagine Japanese techniques applied to Australian ingredients — nightly in an industrial, warehouse-like space that's boisterous and fun. (You'll even find shots on the drink menu.) And like Kensington Street Social, the Clare bar is located right off the lobby, and open throughout the day, in case you need to fuel up with a proper flat white or wind down with a glass of local Shiraz.
THE ROOMS
All 62 rooms and suites feature high ceilings (so even the smallest room feels roomy), windows with original framing, and exposed brick, concrete, and timber paneling. The best part? Since the architects worked with and around the historic buildings' structure (instead of the other way around, as with corporate hotels), no two rooms are configured alike. I was lucky enough to score a Chippendale Loft, which spread a bathroom, bedroom, and living area over two levels. It was bigger than my Brooklyn apartment. And it had stairs. And a deep, freestanding bathtub.
THE LOOK
As with all Unlisted Collection hotels, the design is quirky, eclectic, and wholly original, thanks to the contributions of creatives from Australia and beyond. Sydney-based Eloise Rapp designed the bold, graphic cushions in all of the rooms, along with the cheeky "Random Crap" and "Dirty Laundry" tote bags. Renowned lighting designers PSLab from Beirut constructed one-of-a-kind pendant lights from black steel and hand-blown glass bulbs, while British craftsman Paul Firbank (aka the Rag and Bone Man) fashioned all the desk lamps from old machinery. The plush patterned rugs, courtesy of local textile company Tappeti, lend a cheerful pop of color. Even the luxury candle line Maison Balzac whipped up a scent, a heady blend of amber and cedar, just for the hotel.
THE NEIGHBORHOOD
Chippendale might be small, but it packs quite a delicious punch. Even better? All our recommendations are just steps from the Old Clare. Right across from the hotel is Spice Alley, an exciting collection of outdoor Asian hawkers, including Alex Lee Kitchen, Bang Luck Thai Street Food, KYO-TO, and Mekong. Brickfields is a charming bakery and café turning out exceptional sandwiches (like the beef brisket with radish and anchovy mayo) on baker Simon Cancio's legendary sourdough. Barbecue takes a fancy spin at the buzzy LP's Quality Meats, where choice meats like lamb belly, porchetta, and even a T-bone get smoked and served. Ester dishes up hearty, wood-fired comforts — think roasted oysters, aged sirloin, and Brussels sprouts — in a warm, minimalist space. Thirsty? Head to Freda's or Pegleg (or both) for well-crafted drinks and chill vibes. And if your sweet tooth needs satisfying, look no further than KOI Dessert Bar by Reynold Poernomo, where the desserts are almost too pretty to eat. Almost.
The Old Clare Hotel
1 Kensington St., Chippendale NSW 2008
Rooms start at $299 per night