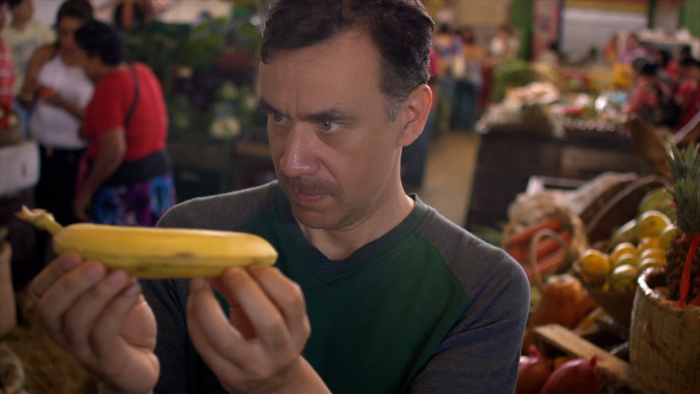 Saturday Night Live alumni Fred Armisen and Bill Hader returned to our television screens last week with the premiere of the second season of Documentary Now, a documentary parody show. Poking fun of the highly acclaimed Jiro Dreams of Sushi, last night's episode, "Juan Likes Rice and Chicken," shared the story of a Colombian man's three-Michelin-starred chicken-and-rice restaurant. Here are five things we learned from last night's hilarious episode.
1) Colombian chicken and rice is served with a banana and coffee.
Juan serves his sautéed chicken cubes with rice and a tiny bit of butter, coffee and a banana split perfectly in half.
2) David Chang is jealous of Juan's simple success.
The acclaimed New York chef and restaurateur makes a guest appearance in which he does nothing but praise Juan's outstanding dish. "How the hell do you take four ingredients and translate that into three Michelin stars?" Pulitzer Prize–winning food writer Jonathan Gold also makes an appearance and says, "It's like no other restaurant in the world."
3) The only way to perfectly tenderize chicken breast is not with a mallet, but with a cannon.
After massaging the chicken breast for an hour, the breast is launched into a high-pressure cannon and shot against a wall. For the softest rice, one must bang the grains against a tree. Only then is the dish perfecto.
4) A banana can be used as a phone, among other things.
Armisen plays Juan's bashful son Arturo, who went to college in America. He later joins an improv group and only returns when his older brother, Diego, opens his own restaurant. The documentarians catch Arturo in a playful moment with Manuel, the restaurant's only other employee, using bananas as a mustache, gun and mouth drill.
5) Blood runs thicker than water, unless your elder son opens a fun restaurant that serves chicken and rice and Skittles.
Diego's all about fun, and that's why he offers Skittles, peanut butter, teriyaki sauce and other delights with his bastardized version of chicken and rice. Juan refers to Diego as his "dead son" on several occasions.