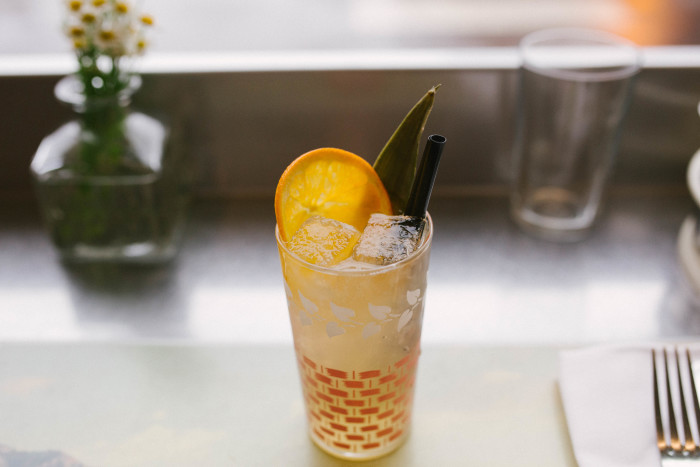 "It's something that people don't know about, so it's like a secret weapon," says executive chef Charles Welch.
Welch is referring to tepache, a peculiar ingredient amidst his cocktails at the new Honey's in Chicago. A slightly boozy Mexican pineapple drink — a juicy soda with a kick — tepache might sound strange to you, but it's no stranger to crafty venues across the country that keep tepache in their artillery.
Here's why they're giving it a shot.
What is tepache?
Tepache is a pedestrian drink in Mexico made by fermenting pineapple rinds with water, sugar, and spices, spice, often a combination of cloves, cinnamon and allspice. The sugar is traditionally piloncillo, a raw, whole cane sugar that adds a touch of caramel and smoke. Tepache is low fuss and low alcohol — only about 2 percent ABV. It has a distinctly funky and zippy flavor (it's slightly effervescent), and depending on who's serving it, it might be tied up in a plastic bag from a street cart or ladled from a 30-gallon plastic drum at a taqueria.
In the United States, it's served in craft cocktails — because 2 percent ABV is just the beginning.
Why is it in my cocktail?
The fact that tepache is traditionally homebrewed means the recipe is open to interpretation. For craft mixologists, tepache means experimentation.
"It's kind of one of those things that you can put anything you want in — an herb, allspice, or whatever," says Welch. Dane Nakamura, beverage director at Volt in Frederick, Maryland, uses the basic recipe as a quick jumping-off point. "A lot of times in Mexico, they'll add tobacco for a little bit of astringency and smokiness — we don't like to do that," says Nakamura. Instead, Volt's team fiddles with flavor. "Szechuan peppercorns add a little bit of the astringency and numbness that tobacco would normally do." In Volt's Bright and Sunny, their current concoction includes a house-made five-spice tepache to drive home tropical flavors with rum, ginger syrup, lime juice and herbal bitters.
Beer is often added to start tepache's fermentation, but it's also a tasty way to finish it. Austin's Qui has added a yeasty tepache to its final cocktail rotation before it closes next month (relax: Paul Qui is opening a new venture soon). In Qui's Shanananana, the house-made tepache is mixed with hefeweizen and Underberg. Meanwhile, in Chicago, Dove's Luncheonette often serves the best of both worlds — its house tepache gets a splash of tequila before it's topped with Pacifico.
At its most practical level, tepache is a sensible substitute. "It almost takes the place of a simple syrup in a cocktail, and acidity as well," says Welch. For his Tepache Daisey, Welch ferments tepache for two days in a mason jar, playing up cinnamon and cloves, before serving it in a coupe with mezcal, blanco tequila and yellow chartreuse — all combined, they play up herbal and smoky notes.
And if being practical means skipping the fermentation process altogether, Portland's Bittermens Spirits released Tepache, a liquor that bolsters tepache typical flavor notes with a 40% ABV, thank goodness.
But if you're going to make it yourself…
While it's one of those anybody-can-do-it drinks, tepache still has its fermentation quirks. When Nakamura first started making tepache, he accidentally made pineapple vinegar (which was delicious, and which he used separately). Meanwhile, Welch had to play with the rudimentary (read: stubborn) process, adding ginger beer or Modelo to get the yeast activated faster.
If you're up to fidget, here's a look at Welch's recipe, enough to make a quart, or, in a more promising measurement, about 30 cocktails:
Ingredients
½ pineapple cut into chunks (leave skins on)
½ cup brown sugar (or piloncillo if available)
4 cups of water
2 whole cloves
1 whole cinnamon stick (canela cinnamon if available)
mason jar
Method
Wash the pineapple and then cut into chunks. Mix the brown sugar and water until sugar dissolves. Add the pineapple chunks, sugar water and cloves to a large glass mason jar. Cover with cheese cloth and let sit on the counter in a cool, dry place away from direct sunlight for 3 days. Tepache will become cloudy in 2-3 days and white foam will form on the surface. Scoop out the white foam that forms. Strain through cheesecloth. Chill.