In Hungry Concierge, we travel the world to spot hotels that operate with their guests' food and drink needs squarely in mind — hotels, both big and small, that are located in neighborhoods rich with bar and restaurant options. Because there's nothing worse than having your trip derailed by crummy room service.
"People don't take trips – trips take people."
—John Steinbeck, Travels With Charley — In Search of America
The above quote is inscribed on the keycard envelopes of the Press Hotel. It is indicative of both the vibe of the hotel and a weekend spent in Portland, Maine. The hotel, like the charming port town that houses it, welcomes you to explore a place where time moves a half-click slower, the people smile a half-watt brighter and the hospitality is a half-cheer merrier. It's a quaint collision of modernity and heritage. Whether it materializes as a five-star dish featuring lobster caught using handmade wooden traps or a luxury hotel dropped into a now-defunct newspaper printing house, Portland is full of these happy contrasts.
Maine is known almost exclusively for its succulent, cold-water lobster. It is undoubtedly the best in the world and is still the reigning idol in Portland. In recent years, however, a bevy of local restaurants are pushing sophisticated alternatives to the popular crustacean. The result is a bona fide foodie boom. Between the charming lobster shacks, world-class microbreweries and laid-back fine dining, Portland is the "it girl" of weekend getaway spots.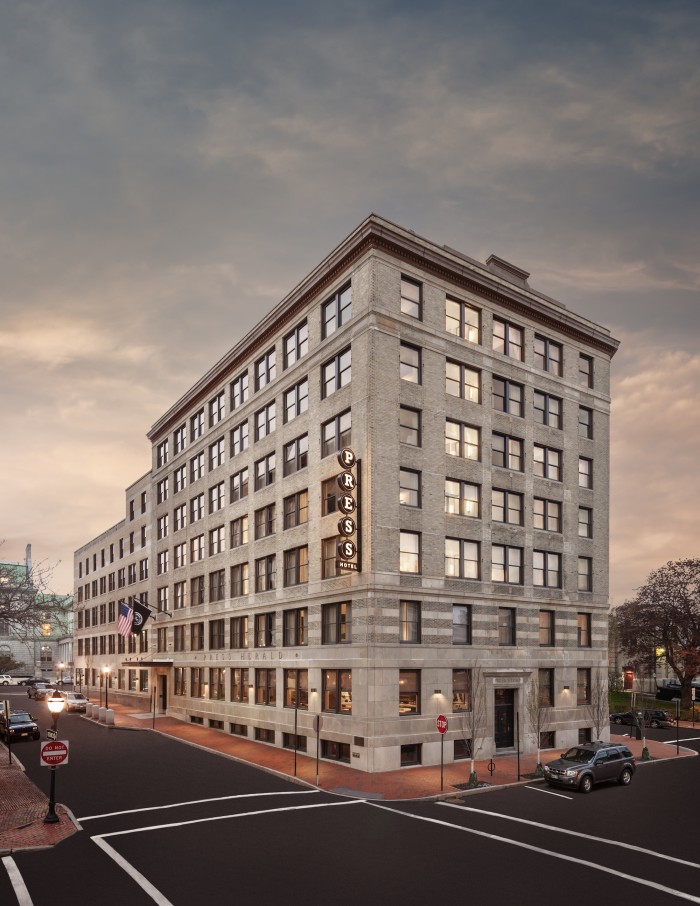 Hungry tourists are flocking to Portland in droves, but there are only six centrally located hotels. Lodging is tight to say the least, but if you're looking for something other than a standard chain, there's only one option. The Press Hotel opened 18 months ago in the former printing plant of the Portland Press Herald, the area's largest newspaper. It is the only boutique hotel in Portland, and incidentally also home to one of its best up-and-coming restaurants, Union.
Portland, more than any city I've visited lately, is hyperfocused on local ingredients and supporting local purveyors. This is aided heavily by its prized bounty of local shellfish, but just a few miles inland are abundant farms growing now-trademark Maine blueberries, tomatoes and long peppers (to name a few).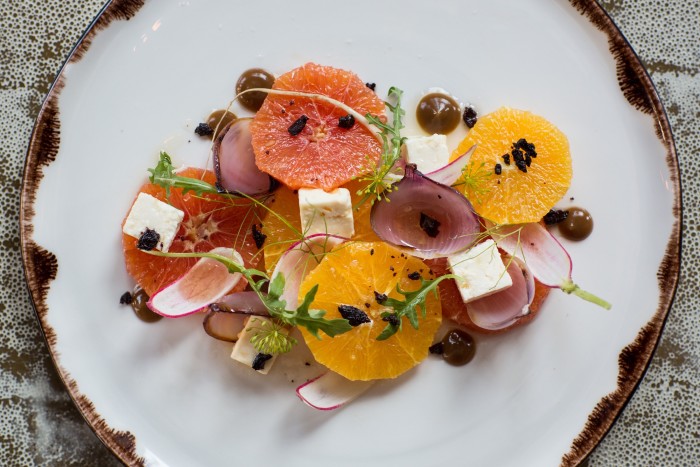 Chef Josh Berry at Union harnesses the best of what Maine has to offer in a modest hotel restaurant that begs you to reconsider what a hotel restaurant really is. The pairing menu is worth the investment, if for nothing more than the kitchen-side counter seating which affords diners an evening of banter with the jubilant Berry himself. The squid and bok choi dish was a standout, a perfect marriage of local seafood (that isn't lobster) and Berry's thoughtful, light touch. The corn and mussel chowder, too, was a reflection of Portland's evolving sensibilities: Instead of the traditional cream-heavy soup, Berry's velvety corn base was accented with tender smoked mussels and a playful savory "popcorn" dust.
The Look
The Press has just the right amount of subtle, New England charm without risking cliché. Since the hotel was only recently finished, the interior is modern and sparkling without feeling sterile. Drawing on the building's heritage, there is an old-school typewriter in the lobby with a sign encouraging guests to draft and send letters — their on-theme equivalent of a postcard. The literary motif carries throughout the hotel, which at times can feel a little obvious, but ultimately it's a playful aesthetic choice that made me grin (and send a letter) more than once.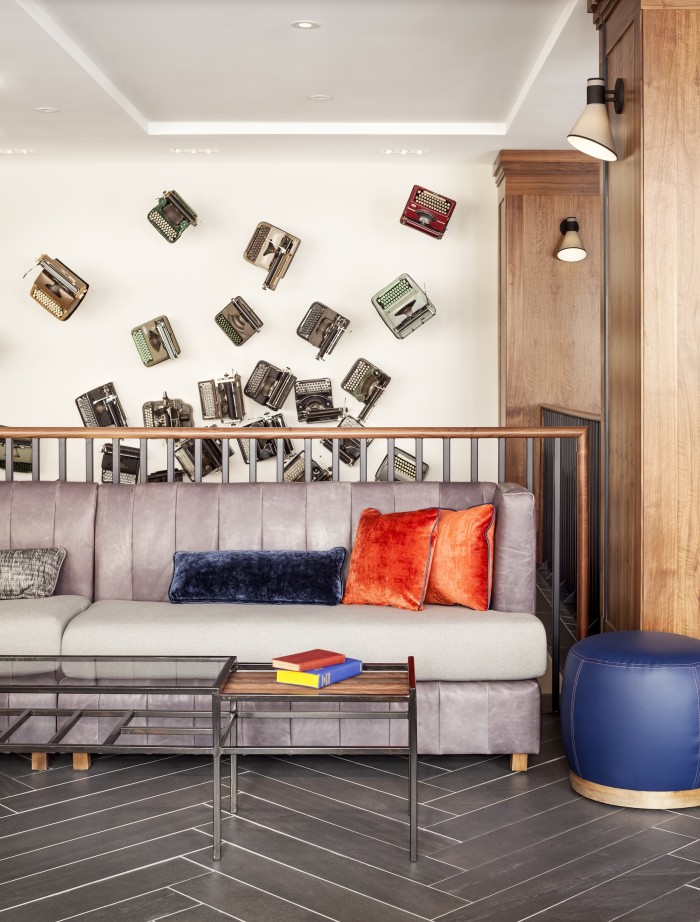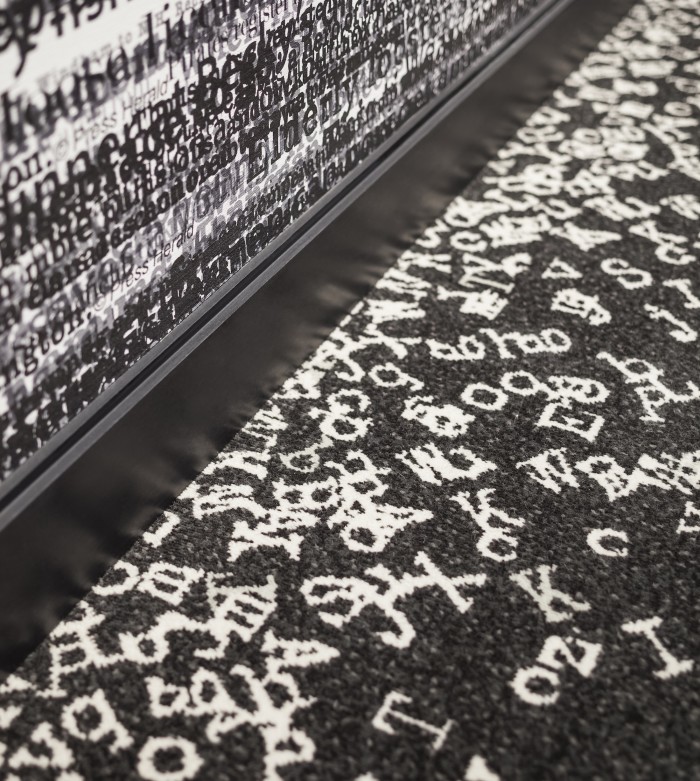 The concierge team at the Press, however, is truly exceptional and is a big contributor to the hotel earning its "luxury" categorization. As a chronically underprepared traveler, I found myself leaving town with four liters of local gin and a case of Allagash beer, and no way to transport it. The front desk team was gracious enough to provide packing materials (including ziplock baggies in the event of breakage!) and offered to pack a to-go lunch, presumably to absorb all the small-batch booze I was shoving into my duffle bag.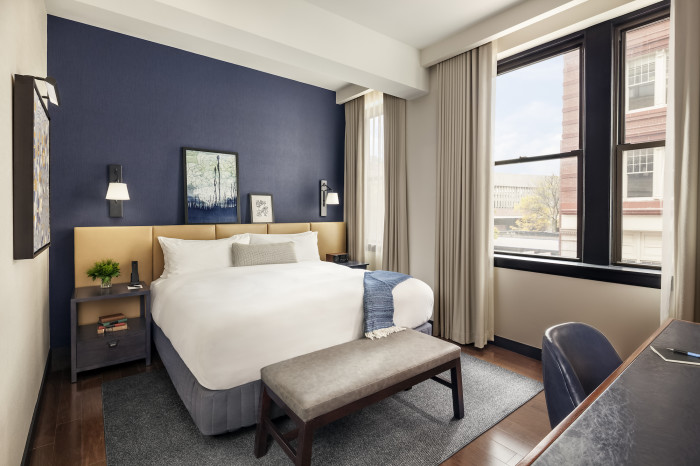 The Rooms
I walked into my room and was stunned to discover polished hardwood floors throughout. Most hotels reduce costs by opting for carpeting, at most including a small patch of hardwood by the entry. However, the generous choice is noticeable. Hearing my heels click against the floorboards mimicked the mechanical sounds of the manual typewriters downstairs. In addition, the spacious room included all the basics of proper luxury accommodations, including a puffy king-sized bed, bedside artisanal bottled water (complimentary) and lavender soaps and shampoos in the white granite bathroom.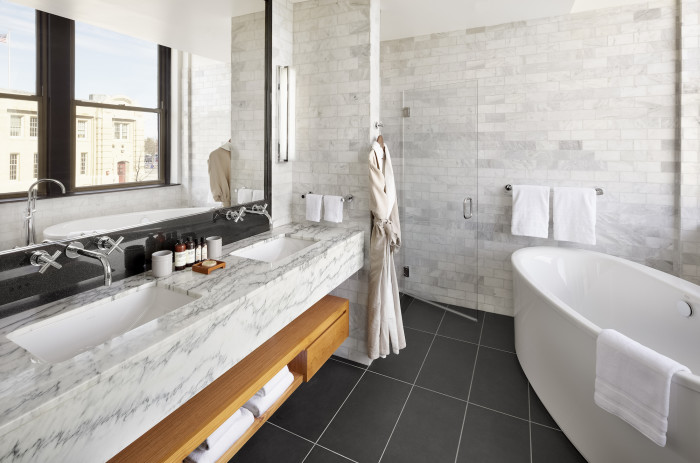 Turndown service at the Press, an increasingly rare feature that I adore in hotels, includes a book of poetry and hard shell discs from a local chocolatier. In the morning, actual newspapers — another rarity — are delivered to your room at no cost. Nothing says vacation like reading newsprint in bed while listening to the morning coos of the seabirds outside the sunlit window.
The Neighborhood
A long weekend in Portland is comprised mostly of eating and drinking, but in between meals and cocktails, the winding streets of downtown are filled with small shops perfect for idling away the afternoon. Local lobster boats, like the Lucky Catch, offer tours for those curious to catch their own lunch (which the local harbor restaurant will gladly cook for you). There are also a handful of picturesque lighthouses within a short drive from downtown and a bay-side bike path for slow summer strolls.
Central Portland is extremely walkable, but the Press's prime location makes hopping between the Old Port and downtown neighborhoods very easy. Start the day with a well-crafted cappuccino, complete with foam art, from Bard. For lunch, Eventide Oyster Co. cannot be missed, but expect a wait. Like all restaurants in Portland, its menu features a lobster roll, but its brown butter version in a steamed bun is a welcome twist on the buttery classic.
For a more traditional seafood dinner, minus the white tablecloths, Scales on the waterfront is worth a visit. I recommend sitting at the bar. You'll miss out on the harbor views, but the vibe at the bar and personalized service make for a fun, martini-fueled night. If you're growing weary of shellfish, both Ribollita and Piccolo are new(ish) Italian spots serving house-made pastas and hearty ragouts.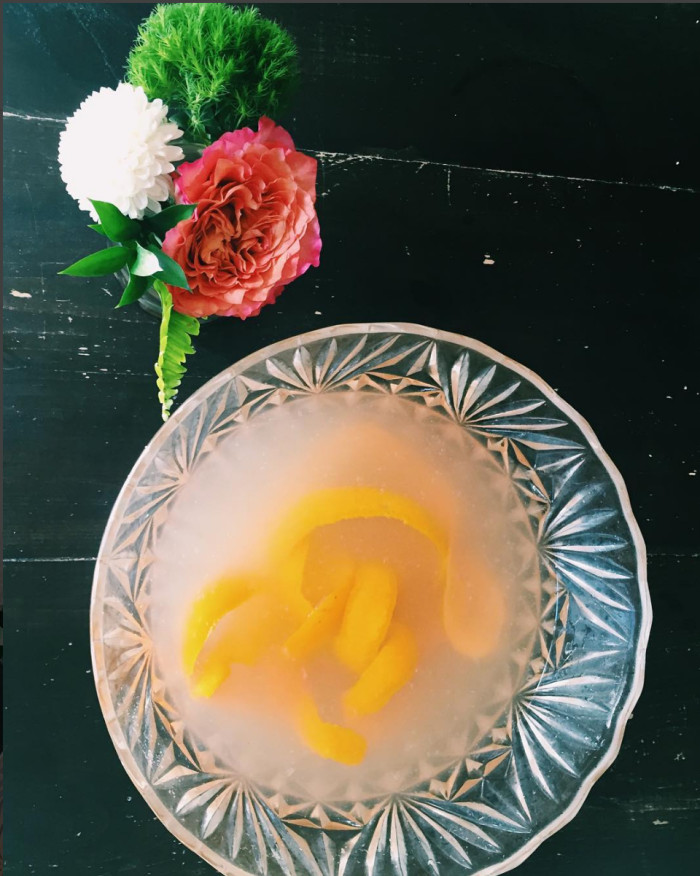 For an aperitif, Portland Hunt and Alpine Club, a 2015 James Beard nominee for Outstanding Bar Program, doles out high-end cocktails in a minimal, Scandinavian-inspired space. For a post-dinner cocktail, depending on your mood and level of sobriety, Rhum tiki bar serves fun cocktails and inventive appetizer platters using local shellfish.
Take advantage of the Press's complimentary bike rentals to ride into Munjoy Hill, Portland's trendiest neighborhood. While there, hit the date night–worthy bistro Lolita for a bowl of stunning gazpacho, which uses peak-season Maine tomatoes and local produce. The wood-burning oven fills the small space with aromas of searing meats and wood-grilled clams, the perfect backdrop for sipping Spanish red wine. Drifter's Wife, the Parisian-style wine bar that garnered heavy praise from Bon Appétit, is an excellent stop for a refined nightcap (and subsequently buzzed bike ride home).
As a last stop before flying back to reality, any of the local lobster fisheries will arrange overnight shipping for super-fresh live lobster. In the event your last few hours are spent cramming in one last lobster roll or a breakfast biscuit from Dutch's, fret not: Linda Bean's at the Portland Jetport will happily package up live lobster to count as your carry-on personal item.
The Press Hotel
119 Exchange Street
Portland, ME 04101
201-808-8800
From $449 per night