In Hungry Concierge, we travel the world to spot hotels that operate with their guests' food and drink needs squarely in mind — hotels, both big and small, that are located in neighborhoods rich with bar and restaurant options. Because there's nothing worse than having your trip derailed by crummy room service.
The artisans that flourish along Bondi Beach are a discerning bunch; some might say hedonistic, when it comes to flavor. One café is so particular that it only makes lattes with macadamia milk; another is so alternative, it makes a latte with no coffee but with turmeric, ginger and dandelion root.
Sydney's most iconic beach takes heat for championing this extra-crunchy, healthy-hip zeitgeist. But what can you expect from a neighborhood whose champions are surfers?
Adding to the local flavor, QT Bondi, a new boutique hotel just offshore, opened amidst this flourishing playground for artisans, but the hotel doesn't mean to challenge the local, nuanced craftsmen. It has no plans for a glitzy celebrity chef, or even an up-and-comer.
In fact, there's no restaurant at the hotel whatsoever.
Instead, QT Bondi operates like a living, breathing concierge. In its most classic sense, the concierge's merits are judged by the size of a little black book — a great concierge represents an even greater network. Open for less than a year but already aligned with the neighborhood's best finds, what you're really getting at QT Bondi is an insider's look at what's outside the hotel.
The Program
An all-local staff — as in, residents of Bondi Beach — was hired, a trusty move to ensure that any guest asking "Where do the locals eat?" will guarantee an in-the-know response. But the upbeat folks at QT Bondi can do more than point guests in the right direction. At Porch & Parlour, for example, where lines can last 30 minutes or longer for its famous brunch, staff will point you to the front of the line. Thanks to an ambitious network with the neighborhood's of-the-moment restaurants, they'll tell you where to flash your QT room key in order to get to the front of the queue.
Those key cards can do more for you, too. While cards usually work only at the given hotel's venues, QT Bondi's cards work beyond the hotel itself: Certain restaurants throughout the neighborhood, like the casually upscale Drake Eatery, accept the cards as payment, and the bill is charged to your room. Worth mentioning is the hotel's app — because most hotel apps aren't worth the effort, even if they're free — which works like a dining guide to nearby restaurants. In order to sort out Bondi's roster of eateries, you can select different categories to locate the best options for time of day or mood (one category, thank heavens, is just for ice cream). And since tipping can be an opaque obligation in Australia, the app also includes details on where and what not to tip.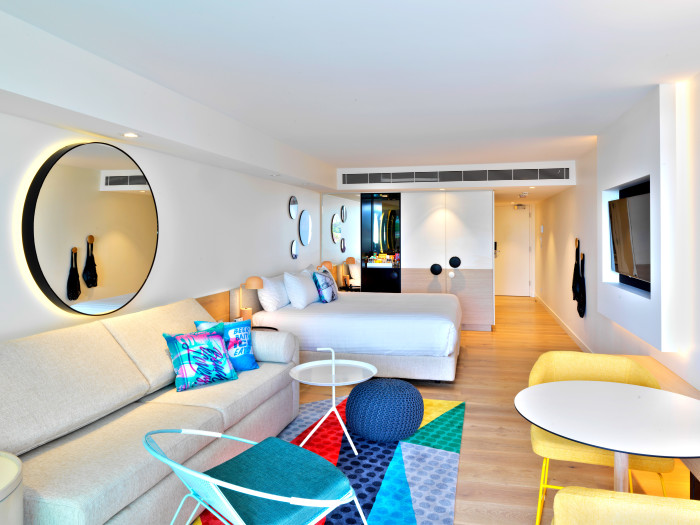 The Rooms
QT Bondi's style is light and quirky, and rooms are furnished in amusing accents. Beach blonde floors pop with yellow and blue chairs. Couches and beds flaunt graphic pillows. High-style rooms are edgy, but with rounded corners; a circle mirror stands in for art while concentric graphics dot the bedside wall.
Among the best features are the not-so-standard kitchenettes. Staying in the room — because truthfully, it will be hard to leave — feels a touch more proper when there's a full set of dishes, bowls and cutlery. There's a dishwasher, too, so there's no need to leave dirty dishes outside the door like a slob. And if you spill soy sauce on your shirt from your sushi delivery from the nearby Raw Bar, there's a washing machine so you won't look like a scrub.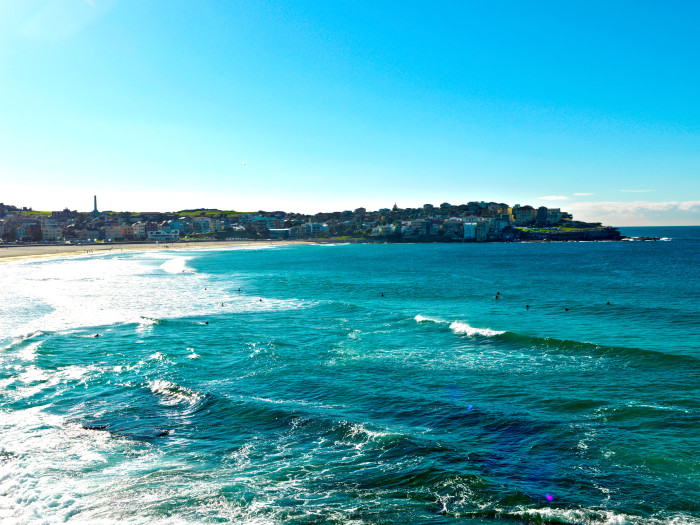 The Neighborhood
Starting at COFFEE, you'll get the macadamia-milk latte you didn't realize you needed. You'll also realize that, because macadamia trees are indigenous to Australia, it's a hyperlocal du jour (they have almond milk, too, if you're worried). At Harry's Bondi, brunch takes the lead. The waiter might suggest they make the best ricotta pancakes in Sydney. She's right. Of course, it's hard to pass up heartier dishes, like a pulled-pork roll with a side of coffee-bacon jam, so luckily, you can order smaller helpings of ricotta pancakes from the kid's menu (some might call this a side, others "dessert").
While Porch & Parlour is another brunch contender, it also makes foR a great lunch and dinner spot; dishes like millet and brown-rice porridge topped with poached fruits and coconut cream are warm-ups for savory, coastal items like seafood pie and fried calamari. At Drake Eatery, the cozy interiors feel like they've been outfitted in driftwood, while the menu is equally organic with freshly shucked oysters, thyme gnocchi and grilled rainbow chard. At Brown Sugar, the brother-and-sister owners take care of locally sourced ingredients, curing ocean trout in gin and tonic, crusting mackerel in macadamia nuts and lighting the rustic bistro in candlelight by nightfall. Long ahead of the sushi craze, Raw Bar has lasted over 20 years, a reminder that Australia is due south of Japan; classic rolls abound for the direct link, while tempura oysters are the port of call.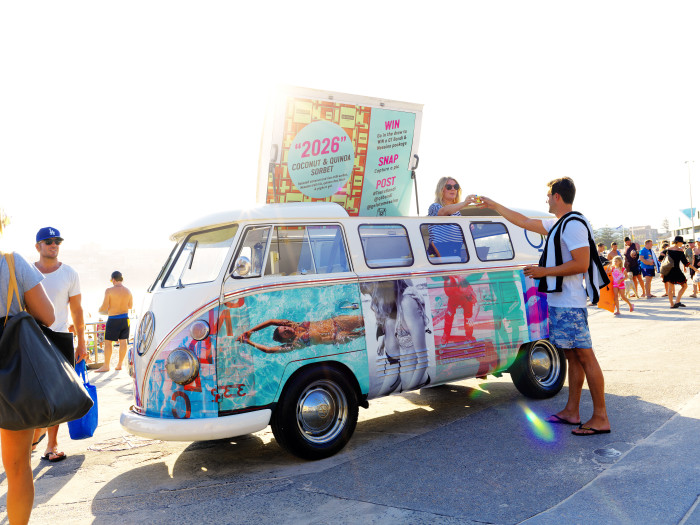 Despite its penchant for cold-pressed juice, Bondi has a sweet tooth. Australia's homegrown Gelato Messina scoops a beguiling 40 flavors for kids and big kids alike, using familiar Italian ingredients like mascarpone and hazelnut, while five newer flavors are released each week. Nutella, meanwhile, is best enjoyed inside a hand-dipped donut from the just-opened, frequently sold-out Doughnut Time, while Milky Lane is Insta-famous for its Churro Bowls — churro dough, shaped into an open bowl, is dusted with cinnamon sugar and smothered with soft serve.
QT Bondi
6 Beach Road
Bondi, NSW 2026, Australia
+61 2 8362 3900
qthotelsandresorts.com/bondi-beach
Rooms start at $210 per night