How To Skip The Kids' Menu: 6 Tips Every Parent Should Know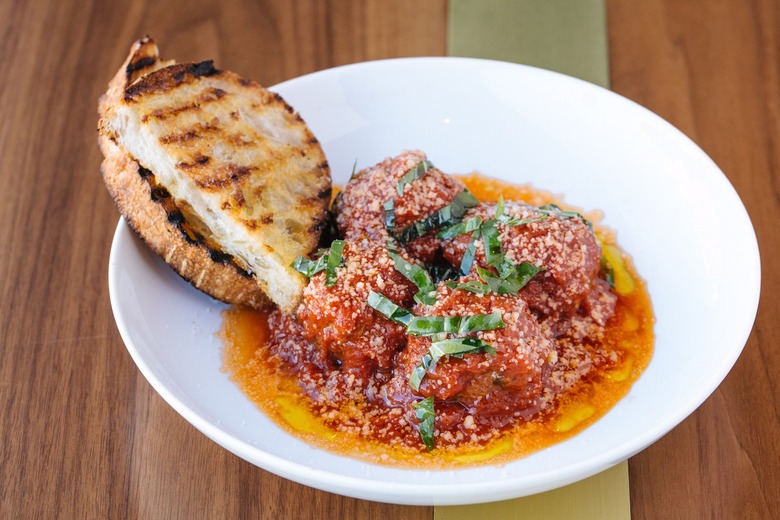 Food Republic has partnered with premier hospitality technology platform Reserve to bring its readers new content from the restaurant world. Love to eat? Check out Reserve's blog, where this post first appeared, for the latest food trends and U.S. restaurant tips.
Dining out isn't what it used to be — you know, before parenthood, especially when your kids are likely to eat chicken fingers...again. Or maybe worse, demand a full-sized meal that costs upwards of $20 only to take two bites. If you're lucky and have more than one child, perhaps you get to deal with both — and other variations — of these scenarios. Not fun.
That said, we're still big believers in taking kids out to restaurants. Dining out gives us the chance to teach our kids how to act in restaurants, exposes them to the inherently social nature of breaking bread, and if you play your cards right, can be an opportunity for them to try new foods — you know, the ones not on the kids' menu — in a fun, relaxed atmosphere. And it doesn't even have to cost a fortune.
With back-to-school madness stretching us thin and the holidays coming up faster than we think, we're getting ready to eat out with our kids more frequently without stretching our budgets. Today, our friends at Cool Mom Eats, a food and lifestyle site for parents, are here to bring you these six tips for how to feed your kids from a regular menu without breaking the bank. So sit back, eat and enjoy not having to do dishes.
Make a meal of appetizers and/or sides.
Appetizers and kid menu items are similarly sized, but you're much more likely to find interesting and healthful foods on the apps and sides sections of the menu. One or two can easily make a meal for kids as old as 10.
Magnolia in Los Angeles serves up this spinach and artichoke dip, which may not be the healthiest preparation of veggies ever but is the perfect way to get my younger son, a spinach refusnik, to give the green veggie a try. And, hey, that's worth the price of dining out.
The beef and pork meatballs appetizer at Root in Philly makes a great main entrée for little ones that has all the flavor grown-ups expect in a kid-friendly classic. It's a perfect choice across the board: fresh, perfectly portioned, familiar, but not pandering.
Split meals with kids.
Restaurant portions tend to run big — even for grown-ups — and the easiest way to skip the kids' menu is to share an entrée with your little one. If half of an adult entrée isn't enough for you, consider getting two entrées between two adults and one kid.
There are a couple of ways to approach deciding on an order when you split an entrée with your kid. One is to get a delicious, grown-up variation of something that your kid already eats, like this lobster mac and cheese at Mussel Bar and Grill in Arlington, Virginia. Yum!
Or try something that ultimately plates as a simple meal, but exposes your kid to some new aspect of a food they already like. For example, if your child is fine eating plain fish fillets, you can share a whole fish. Let her take a close look, poke it, check out the spine once you pull it out, and generally engage their curiosity. Then, flake plain white fish meat onto her plate for a simple meal just the way she likes it.
Find out if half portions are possible.
Speaking of splitting meals, feel free to ask the restaurant if half-portion entrées are available. Be prepared to hear no — this may not be available — but it doesn't hurt to ask. In fact, you might be surprised at how helpful restaurants will be to families who are trying to feed their kids well. They may even offer another off-the-menu solution. Fingers crossed.
Dine at restaurants with a more global mindset.
If you're dead set on avoiding a kid's menu packed with buttered pasta and burgers, consider visiting a restaurant focusing on a certain country's or culture's cuisine instead. They're less likely to offer kid-menu staples, and you set a tone of adventure before dinner even starts. In fact, you can turn dining out into a game: Decide that everyone will try at least one new thing, including you.
As for ordering, scan the menu for dishes that build on more familiar ingredients. If your child loves pasta, for example, give him something like ramen at Little Donkey in Boston.
Or if your kid is already a fan of Chinese dumplings or gyoza, similar Japanese-style dumplings, make a meal of veggie-packed samosas like these at Pub Royale in Chicago. I can tell you that my six-year-old has made many meals out of samosas topped with cilantro chutney (the flavor of which reminds him of more familiar Mexican food) and rice.
Don't be afraid to ask for what you want.
Though we're loath to be a bother at restaurants, it is okay to ask for what you want, as long as you do so respectfully and work with the answer you're given. If mac and cheese is on the kids' menu, ask if it's possible to have pasta with peas and Parmesan instead (they're all staples at most restaurant kitchens). If there is an adult salad that comes with avocado, ask if it's possible to have a side of plain sliced avocado for your little one. If your child will eat anything with grated Parmesan on top, then ask for some to make whatever healthy option you choose even more appealing.
Keep in mind that it's not always about getting your child to be more adventurous, as much as making sure that you can get them delicious, healthy options that go beyond pizza and hot dogs without spending a million bucks on food that will go to waste. No restaurant will fault you for attempting that.
Ask for veggies on the side.
Most restaurants have plenty of vegetables that they serve as sides. While you can ask for veggies no matter what your child's order — from steamed broccoli to raw carrot sticks — it's an especially helpful thing to do if you're having a hard time finding a healthy option using one of the tips above. Get the veggies first so that it's the best option on the table while kids are hungry. Otherwise, you know what happens when the bread arrives.
This very fried cauliflower at Zahav in Philly has helped me make sure that my kids get a dose of veggies and not just bread and hummus. (Though, man, I could live on just their bread and hummus alone — but that's another story!) My older son is iffy about cauliflower, but fried like this? Sold!
Who wouldn't eat every single kernel of mouthwatering corn on the cob at Mana Food Bar in Chicago? Proof that your kids can survive (enjoy, even!) dinner at a vegetarian restaurant.
See? You can take them anywhere! Well, mostly.
---
Reserve is the country's premier hospitality technology platform, helping restaurants and guests connect. Reserve helps guests discover restaurants, make reservations, get personalized service and seamlessly pay the bill.