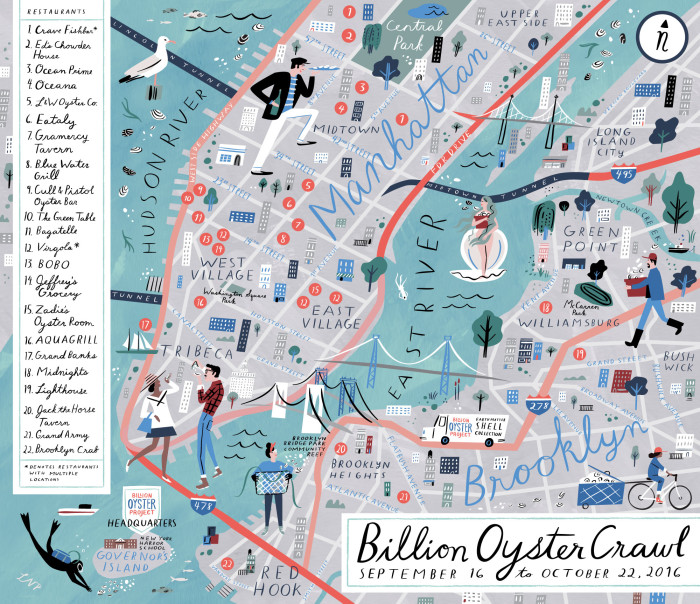 Want to eat at some of New York City's best seafood restaurants and help the ecosystem in the process? Beginning tomorrow — and continuing through October 22 — that scenario can be a reality, thanks to the Billion Oyster Project. The education project's mission is to restore 1 billion live oysters to the New York Harbor, on the theory that a single adult oyster can filter 25 to 50 gallons of water in a day. The entirety of New York Harbor would hypothetically be entirely filtered every three days, should the project reach its eventual goal (to date, BOP has grown 19.5 million oysters in the harbor). Oysters also help protect the coast as a shock absorber for natural disasters.
So how exactly does BOP work? The project engages thousands of local students in more than 50 public schools year-round, teaching them to raise oyster larvae and helping them conduct long-term research projects in the murky, contaminated waters of one of the busiest ports in the country. Oysters were once the keystone species and original ecosystem engineers of New York Harbor, offering a valuable service to the region by filtering water and providing a habitat for other marine species while attenuating wave energy.
Today, oysters are functionally extinct in the harbor as a result of over-harvesting, dredging and pollution. BOP aims to reverse these effects by increasing the oyster population and eventually restoring the local marine ecosystem's natural mechanisms for maintaining itself, resulting in cleaner water and greater biodiversity.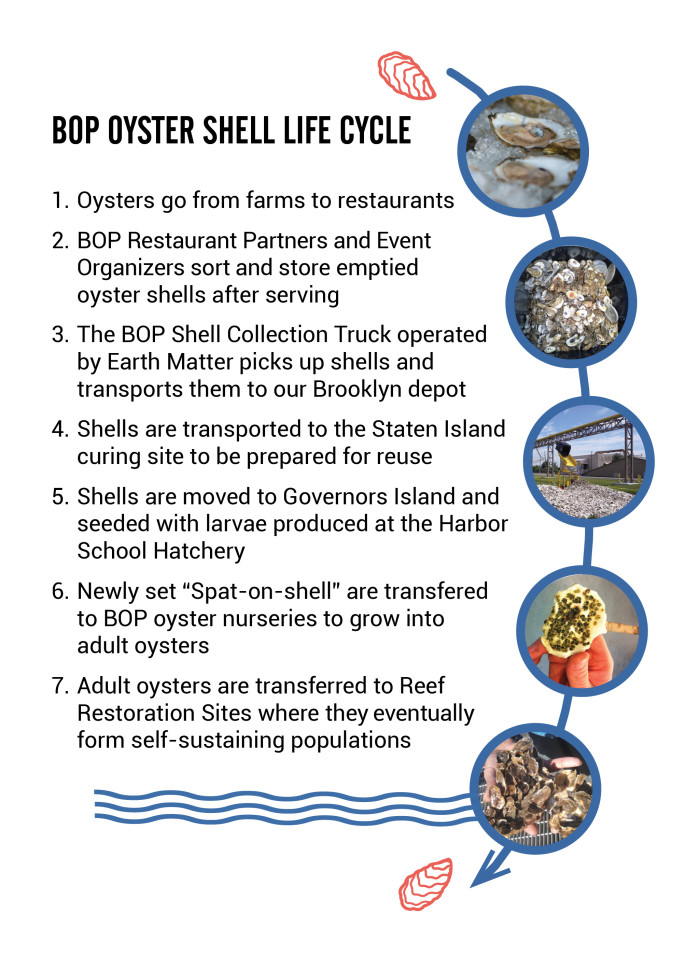 The project currently collects the sorted (used) shells from 54 restaurants across the city every week of the year — which would have otherwise gone into landfills. These shells help new baby oysters to grow (one recycled shell can help up to 20 new oysters grow). The level of restaurant participation has more than tripled over the past year thanks to funding from the New York Governor's Office of Storm Recovery as part of the Living Breakwaters Project.
Now that the basic science is out of the way, let's get down to how you can help — and enjoy dinner while you're at it. Today, BOP is once again launching its Billion Oyster Passport, to coincide with fifth annual New York Oyster Week, which runs through October 1 and is a celebration of the oyster's significant role in the history, culture, cuisine economy and ecology of the state. Almost half of the 54 BOP-partnering restaurants from all over Manhattan and Brooklyn have agreed to take part in the Passport program, each directly donating $1 from sales of one specially offered oyster dish, titled BOPlates, to BOP's reef-restoration program (see the full list below).
The OysterHood, a community for oyster producers, distributors, chefs and oyster enthusiasts to share, learn and explore the world of oysters, is a presenting partner of the ongoing promotion.
Participating restaurants and dishes:
Crave Fishbar
428 Amsterdam Ave., New York, NY 10024
945 2nd Ave., NY, NY 10022
Half-dozen chilled oysters with gochujang tofu purée
Ed's Chowder House
44 W 63rd St., NY, NY 10023
Oyster pan roast on the half shell — Blue Points, white wine, cream and breadcrumbs
Ocean Prime
123 W 52nd St., NY, NY 10019
Baked oyster bingo with lemon, garlic, bacon, creamed spinach
Oceana
120 W 49th St., NY, NY 10020
Oysters Rockefeller
L&W Oyster Co
254 5th Ave., NY, NY 10001
Smoked oyster succotash with smoked Long Island oysters, local corn, beans, pickled scapes, Rockefeller puree
Eataly
200 5th Ave., NY, NY 10010
Piazza: Ostriche Cesenatico/half-dozen batter-fried East Coast oysters in the style of Cesenatico
Pesce: Ostriche Arrosto/half-dozen East Coast roasted oysters with salsa verde and focaccia breadcrumbs
Ostriche: Daily selection of sweet, sustainable and briny East Coast oysters on the half shell
Gramercy Tavern
42 E 20th St., NY, NY 10003
Roasted Island Creek Oysters with peppers and leeks
Blue Water Grill
31 Union Square W., NY, NY 10003
East/West oyster platter with spicy cocktail sauce, mignonette, Holy Schmitt's horseradish
Cull & Pistol
75 9th Ave., NY, NY 10011
Selection of half-dozen oysters on the half shell with quince and muscatel mignonette
The Green Table
75 9th Ave., NY, NY 10011
Sweet-onion custard, gently poached oysters topped with an apple mignonette
Bagatelle
1 Little W 12th St., NY, NY 10014
Huîtres gratinées with Champagne rosé sabayon
Virgola
28 Greenwich Ave., NY, NY 10011
111 E. 7th St., NY, NY 10009
221 Ave. B, NY, NY 10009
Oyster flight — a platter of the entire daily selection
BOBO
181 W. 10th St., NY, NY 10014
Half-dozen oysters with seasonal garnish
Jeffrey's Grocery
172 Waverly Pl., NY, NY 10014
Grilled oysters with cornbread crumbs, bacon, jalapeño
ZADIE'S Oyster Room
413 E. 12th St., NY, NY 10009
Broiled oysters with sea lettuce, sofrito, Parmesan, black pepper
Aquagrill
210 Spring St., NY, NY 10012
Poached New York oysters topped with truffle crabmeat polenta and sevruga caviar
Grand Banks
Pier 25, NY, NY, 10013
Blue Point Number 9 oysters with roasted shishito peppers, cucumber and shiso
Midnights BK
149 N. 6th St., Brooklyn, NY 11249
Oyster po'boy sliders — buttermilk fried oysters, Jersey tomatoes, shredded iceberg lettuce, Creole mustard aioli
Lighthouse
145 Borinquen Pl., Brooklyn, NY11211
Half-dozen oysters on the half shell with special sauce
Jack The Horse
66 Hicks St., Brooklyn, NY 11201
Spring garlic butter-poached oysters with creamed corn, marinated shallots and panko
Grand Army
336 State St., Brooklyn, NY 11217
Baked oysters with chipotle, breadcrumbs, lime
Brooklyn Crab
24 Reed St., Brooklyn, NY 11231
Daily East Coast oysters with a blood orange mignonette topped with smoked salmon and crème fraîche