The Many Faces Of Mooncakes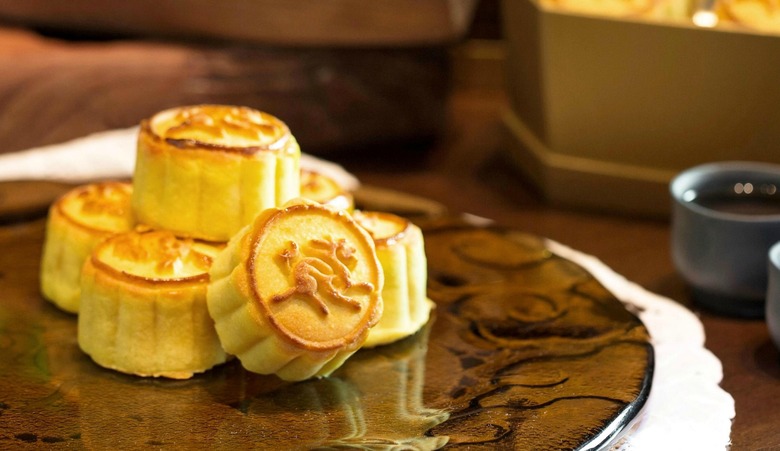 Every September, Elmo Han spends untold hours toiling with an ancient art form — hand-making mooncakes for the annual Mid-Autumn Festival.
These round-shaped pastries, stuffed with a variety of fillings, are the official go-to snack of the traditional Chinese holiday. Taking place on September 15, the festival marks the time of year when the moon is at its roundest and brightest (also a symbol for reunion in Chinese culture). Han, a Beijing native, makes more than 5,000 of the delicacies each year to be sold at the Peninsula Chicago, where he works as chef de cuisine.
The number is undeniably steep for a one-man operation. Han is the only one at the hotel who knows the recipe. But it pales in comparison to the production levels of mooncake-monopolized wholesalers and bakeries in New York, Houston, San Francisco, and Los Angeles, which are known to make upwards of 50,000 units per season — and that number only grows at factories in Southeast Asia.
"It's very hard to find high-quality mooncakes here because it takes such an enormous production when the season comes around," says pastry chef Pichet Ong of Qi in New York City, who was making mooncakes previously for NYC's Sugar and Plumm before he began focusing on private orders. Ong notes that the exception to that rule in the U.S. is generally found in hotels and high-end Chinese restaurants, thanks to their tendency to use the best possible ingredients and packaging.
At the Peninsula, that means butter, cream, egg yolk, coconut milk, sugar, custard powder, and condensed milk, a series of components that have been called upon for more than 30 years, when the recipe was first created by dim sum chef Yip Wing Wah at the Peninsula Hong Kong. While it was intended to serve as a lighter alternative to the traditional lotus paste and duck egg yolk cakes, it's still considered to be a rather traditional version when compared to the flavors and fillings available today — especially the likes of those from Ong, whose modern-day mooncakes include chocolate chips and strawberries and cream.
"The innovation of mooncake flavors parallels the timeline of Chinese food in general — we've seen a lot of groundbreaking change in the last eight years," says Ong, noting the arrival of an entirely new no-bake dough for mooncakes dubbed "snow skin." Adds Ong, "It's not necessarily all about lotus bean paste, red bean paste, or salted egg paste anymore."
Han agrees. "There's a much greater variety in mooncakes today, from the Beijing style and the Soviet style to the Cantonese style," he says. In Singapore and Thailand, for example, it's all about the dried mango and durian filling, while salted egg is the most in-demand offering in Hong Kong and Taiwan.
Still, Ong is seeing a gradual shift in flavor preferences throughout Asia. "I've heard that chocolate is very popular right now," he says. And ever since he collaborated with Häagen-Dazs on a mooncake recipe back in 2010, ice cream fillings have been a hit, too. "It's really blown up for them," he says. "I think that the production each season could easily surpass 2 million units."
Whether or not those millions will actually be consumed is another question entirely. "Mooncakes are really meant to be a gift — not everybody even eats them," says Ong. "I know a lot of people who receive them, and the boxes just sit there for a long time."
It's for that reason that featuring them at his restaurants — or any restaurant — is a tricky maneuver to pull off. "Even in the Chinese community, people have hesitations about actually eating a mooncake, especially in a restaurant," Ong says. "It's sort of like ordering chocolate bon bons for dessert — you just wouldn't do it."
Ong's friend and fellow chef Erik Bruner-Yang (one of Food Republic's New Chefs Rising) feels the same way. "I tried offering ones at Maketto, and no one bought them," says Bruner-Yang, referring to his popular Cambodian- and Taiwanese-inspired restaurant and marketplace in Washington, D.C.
When Ong asks about the filling, Bruner-Yang says that he went old-school with a red bean paste.
Ong's rejoinder? "Maybe you should try chocolate chip."