Our Sexiest-Looking Pasta Recipes Of All Time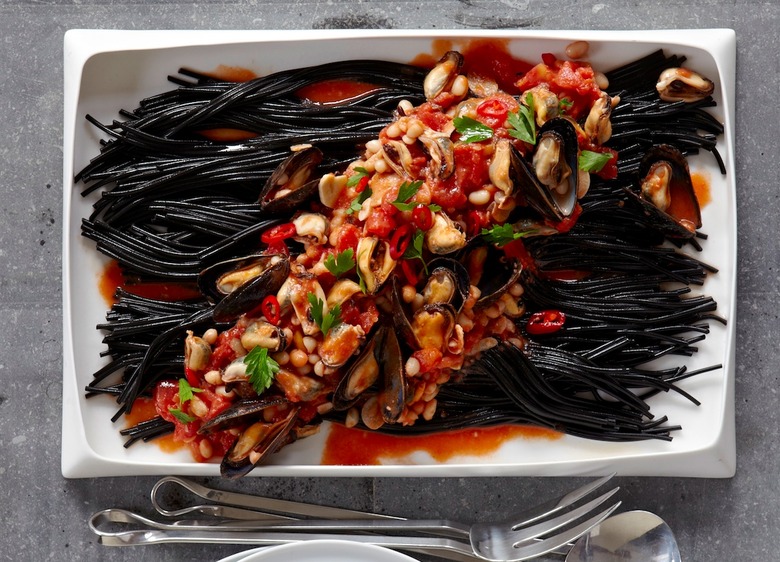 Photo: Lucy Schaeffer
You know sexy when you see it, and so do we. Behold: a dozen of our most beautiful pasta recipes, specially curated for your culinary pleasure. Whether you're going for shellfish or melted cheese, spicy, covered in sea urchin or otherwise hedonistic, there's something in here for your particular proclivity. And believe us: It's not all about looks. There's plenty of substance there, too.
Recipe: Black Pasta With Mussels
Squid ink pasta is hands-down one of the prettiest pastas ever! Glistening black, it's a glamorous canvas whose delicately briny flavor enhances any seafood. It is especially gorgeous against the lovely orange color of mussels and the white beans. In Italy, beans are often paired with seafood, but feel free to leave them out if you prefer.
Recipe: Tagliatelle With Asparagus And Parmesan Fonduta
This entire dish is right out of Rose and Ruthie's River Café playbook, with just a few tweaks of my own. They taught me how to make fonduta, a silky sauce rich with crème fraîche and egg yolks. It takes less time and just a bit more effort than tomato sauce and turns a plate of pasta into an elegant and impressive meal. Get yourself some asparagus spears that are as thick as your pointer finger — not those thin or sprouty ones — and you'll enjoy the juicy slivers in each bite.
Recipe: Squid Ink Pasta With Seafood, Burst Tomatoes And Sea Urchin Butter
What makes the squid ink pasta at Trattoria Bianca in New York City so addictive is the perfect combination of fresh seafood in one dish. First is the most obvious — the whole shrimp, scallops and clams. Next is the sea urchin, which is blended into the butter sauce, and finally there is the squid ink. Chef Julian Clauss-Ehlers adds squid ink to the pasta dough, giving the strands a striking black color and a hit of salinity that ties the whole thing together.
Recipe: Pasta With Chorizo And Mussels
Pasta is popular in the east of Spain. You might wonder why a Spanish chef is cooking with pasta, but so many Italian chefs are cooking wonderful dishes with chorizo, so why not? I created this dish with my friend Diego in Barcelona. I still remember buying the mussels from La Boqueria, the famous food market in that city, and marrying the flavors with a very nice glass of red wine from Priorat.
Recipe: A Deconstructed Carbonara
When we are short on time and need only a few small sheets of pasta, we use packaged fresh. Don't think we're slackers not to make our own — the packaged is just right for a quick dish like this one.
Recipe: Beet Butter Linguine
This unique pasta dish is one of my husband's absolute favorites. The shocking pink color is a fun twist on traditional Italian and features one of my most beloved vegetables, the beet.
Recipe: Broccoli Rabe Stuffed Shells
We're on the lookout for spectacular spring recipes and nabbed a new vegetarian entrée on the menu at chef Harold Dieterle's NYC outpost The Marrow: Broccoli Rabe Stuffed Shells. Dieterle stuffs pasta shells with ricotta and serves them with a broccoli rabe pesto and sauce made with hot cherry peppers. "Being half-Italian, I grew up eating a lot of baked pasta dishes as a kid. I am always looking for modern ways to include them on new menus," says the winner of Top Chef season one.
Recipe: José Andrés' Rossejat With Shrimp
Andrés suggests keeping the dish in a warm oven for five minutes after cooking so that the pasta has a chance to rise and absorb the flavors, and he always mixes in a custom-made Catalan "aioli" redolent of garlic before eating.
Recipe: Three-Cheese Lasagna With Porcini Mushrooms And Spinach
This delicate vegetarian lasagna plays up the cheese, complementing it with the flavors of mushrooms and spinach. Try experimenting with different types of mushrooms, but salt them sparingly as the Parmesan acts as salt in this dish.
Recipe: Spaghetti With White Puttanesca
This dish was a happy accident. Andrew was testing a standard—i.e., tomato-based—puttanesca recipe for this book in which he added all the other elements (save the parsley) before the tomato. It looked and smelled gorgeous in the pan, so we tasted it and found it to be fantastic on its own, without the tomatoes.