Now In Season: Beauty Heart Radishes (Plus A Recipe)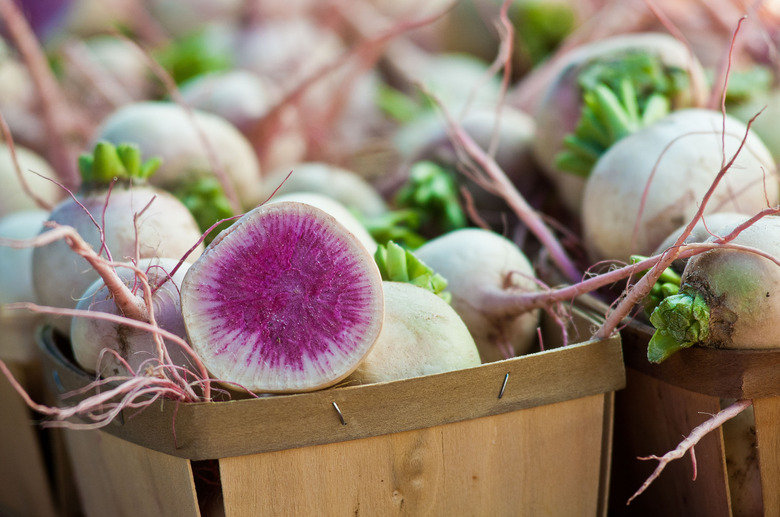 With a name like Beauty Heart, one would expect these radishes to have some sort of superpower to make you lovelier, kinder and all-around better. Of course, there's no proof that eating these lovely vegetables doesn't make you extra awesome. Go ahead and give it a try. After all, chef Ben Lustbader of Giant in Chicago thinks they're one of the best ingredients you can find this time of year. "I love using Beauty  Heart radishes starting in the late summer," he says. "They are firm and crisp and peppery, but they're a little sweeter than other radishes, so they're great raw or barely cooked."
Where It's From
First of all, let's talk about the name. You can see the inspiration for the moniker "Beauty Heart" the second you cut open one of these roundish, three-inch vegetables. Inside the boring white-green shell is a bright magenta center, perfect for adding color to a dish. It's not often you find mystery inside a vegetable, but with this variety each radish is a surprise, as some display a deep pinkness throughout and others feature a starburst pattern embedded within the white flesh.
This radish is also known as the Roseheart, the watermelon radish and the decidedly un-vegetarian-sounding Chinese Red Meat, a name that dates back to the vegetable's Asian origins. In fact, this heirloom is a type of daikon radish and originated in China, as did many vegetables in the Brassicaceae family. The variety remains popular in northern China, and if you have ever seen the intricately carved radish flowers that garnish special meals there, most of them are made with the Beauty Heart. As an added benefit, after the feast you can eat the radishes to help aid digestion.
When It's In Season
"They grow through November and are typically available as a storage crop through the winter," says Lustbader, who starts shopping for them in early September. Since these heirlooms grow all over the country, you should be able to find them in most farmers' markets and specialty shops.
What To Look For
Make sure when hunting for these tasty morsels that you're looking for veggies that look more like a turnip than a common radish. The outer flesh has a white hue with hints of green, which gets darker around the head of the radish. Like most root vegetables, Beauty Heart radishes should have a firmness to them. You can still use them if they feel a little soft, though they won't be very good raw in this state, so it's best to cook them up as soon as possible. Also look for samples without much blemish on the flesh. The stems, if they are still attached, should be crisp and green.
How To Store Them
If you de-stem these crisp babies and pop them in the fridge, they're yours to keep for months. If you plan on eating them in the next week or two, leave them on the counter.
How To Prepare Them
Many people look at a radish and think of it only as a salad component or as a refreshing topping for street tacos. But these spicy, crunchy vegetables can be used for so much more. "Because of that extra sugar, they also sear really well," says Lustbader. "The inside is a rich pink color that adds a nice splash of color when other cooler-weather vegetables start to get monochrome."
That's right, sauté them in a pan, roast them with your other root vegetables and marvel at how the bite mellows, the sweetness becomes more pronounced and your dinner has a new layer of flavor to it. Add these mild radishes to your next stir-fry, serve as a side dish, slice thin and add "scales" to a fish dish or add to any salad for a tangy crunch. They are great as a substitute for celery in chicken or tuna salad, or as a unique sandwich topper. If you choose to cook the Beauty Hearts, keep in mind that like other brightly hued veggies, they tend to fade when you add heat. To preserve that lovely color, consider lightly heating them in the pan as you finish the foods. You can also clean and sauté the radish stems like any other green, or chop them up and add them to a summer stew for a peppery kick.
At Giant, Lustbader likes to use Beauty Hearts the way he does zucchini — marinated in a cilantro dressing (recipe below). "The dressing is bright, herbaceous, a little spicy, a little sweet and bright green," says the chef. "Slice the radishes thinly or in wedges, season lightly with salt, and sauté gently or leave raw. Next, toss them in a generous amount of dressing and adjust with a little extra lime to your preference." Don't leave them to simmer for too long, and finish the dish with queso fresco and fried black beans.
Beauty Heart Radish In Cilantro Dressing
Courtesy of chef Ben Lustbader
"The fish sauce should be all the salt needed, but add more according to your preference," says Lustbader. "The bright green color may fade in a day or two, but the dressing remains delicious for several days."
Ingredients
1/2 yellow onion, roughly chopped
3 Thai bird chilies
6 garlic cloves
1 tablespoon lemongrass
1/2 tablespoon ginger
1/2 cup cilantro, loosely packed
1 cup mint, loosely packed
1/2 cup Thai basil, loosely packed
1 tablespoon sunflower seeds
1/2 tablespoon sugar
1 tablespoon fish sauce
1/2 teaspoon sesame oil
3/4 cup sunflower oil
2 limes, juiced
2 large Beauty Heart radishes, sliced thinly on a mandolin
Directions:
Add the onions to the blender first and puree until they release their water.
Begin feeding in the other vegetables, followed by the herbs.
Use a little of the fish sauce to loosen up the puree if needed, then add the sunflower seeds, sugar and any remaining fish sauce.
Stream the sunflower oil in slowly.
Add the sesame oil and, finally, lime juice.
Toss the radishes in the sauce and serve.