Red, yellow, green and Massaman may be all that you know about Thai curries. If you've come that far, however, let's break down these famous dishes and see exactly what's inside. Which ingredients go into each curry paste, and what are the aromas and colors that give each curry its unique qualities?
There's some ingredient overlap — you'll see galangal, ginger and chilies in every mix — but visualizing the components can help give you a better idea of what's in each particular blend. Nothing can beat fresh ingredients pounded by hand with a mortar and pestle at home, but commercially sold pastes will certainly get the job done.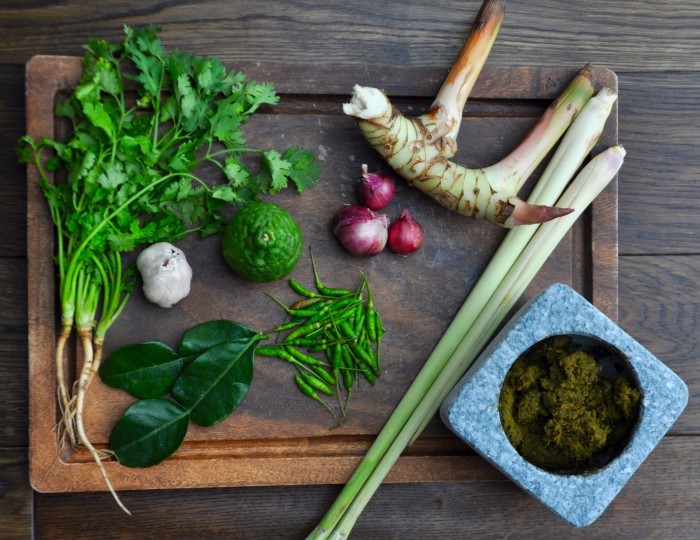 Green Curry
Most of the ingredients for this paste have a green hue, which gives the mixture its color (particularly the pigment-rich green bird's eye chili). This blend makes a spicy-sweet coconut milk–based curry finished with Thai basil leaves and served with round green Thai eggplants and fresh kaffir lime leaves. It's sweetened with palm sugar, used instead of white granulated sugar, for a flavor profile that's essential in Thai food. Green curry can be made with beef, chicken or fish balls and is eaten with rice, round rice noodles (kanom jeen) and roti.
Jungle Curry
This is one of the spicier Thai curries, because it's stock-based without any coconut milk to help mellow the heat. Jungle curry paste has fewer ingredients than others you may know, and chilies make up the highest percentage of the mixture. There's sharp spiciness with a strong aroma of galangal, which is julienned and used as a garnish. Unlike most curries, fish sauce is not used to season it. Instead, salt is used to prevent the fermented fish smell from overpowering the few herbs in the curry. It's all about balance. Serve this delicious, fiery dish with rice, and don't say we didn't warn you!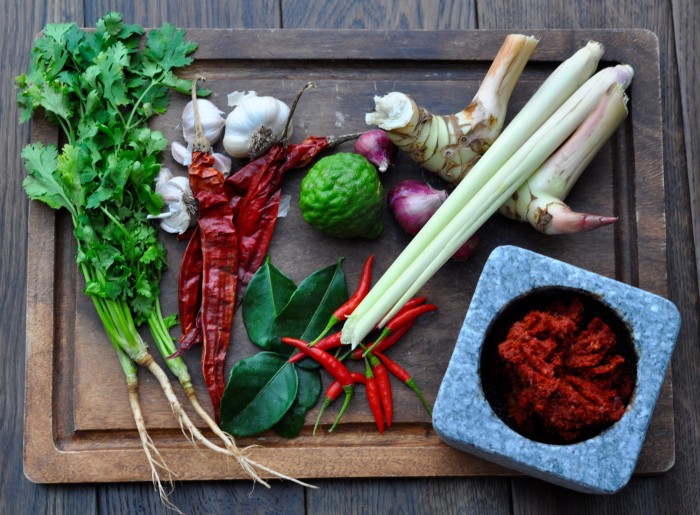 Red Curry
This dish is known as both kaeng dang (red curry) and kaeng ped (spicy curry). Red curry contains both dried and fresh red chilies, though the bright color comes from the dried red chilies, which don't oxidize and lose their color when pounded. This preparation is made with with sliced bamboo shoots, finished with duck, chicken, pork or beef and garnished with aromatic sweet basil. You can also add sliced pineapple or grapes to add a little sweetness to balance the heat.
Massaman Curry (photo at top)
This curry has a very different flavor profile than the other curries on the list because of the number of roasted spices that make up the paste. This is not a spicy curry, but a very aromatic one that is usually sweet, slightly sour and salty. Potatoes, peanuts and onions are usually added to this curry. Because of its pungent flavors, this is one of the only curries that can use lamb, but other common meats are chicken and beef.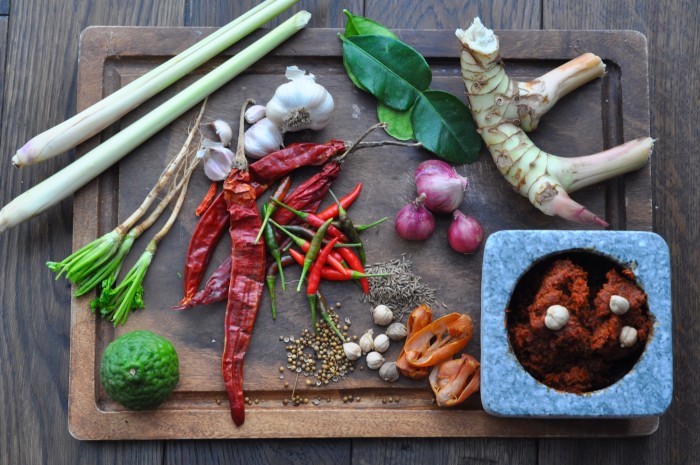 Penang Curry
This is a versatile curry that works with both surf and turf. Salty and sweet, penang curry is usually thicker and served on a plate with rice. Peanuts are optional but give the curry paste its creamy, thick consistency. To finish, a splash of coconut cream and julienned kaffir lime leaves are used as garnishes.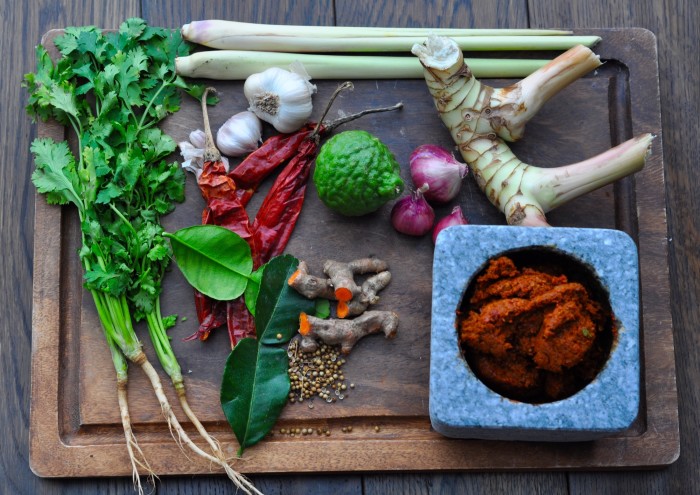 Yellow Curry
Yellow curry in Thailand is not the same as the yellow curry you get from your Thai takeout place. Yellow curry (kaeng leaung) in its native land is very spicy (we'll get to it in Part Two). This curry is called kaeng karee in Thailand and is not spicy. It has strong flavors from the spices like turmeric and curry powder, which is why meats like lamb and goat are usually used. It's sweet, salty, and slightly sour from the use of tamarind water, with a base thickened by potatoes.