Using Korea's Low-Proof, Rice-Based Soju In Cocktails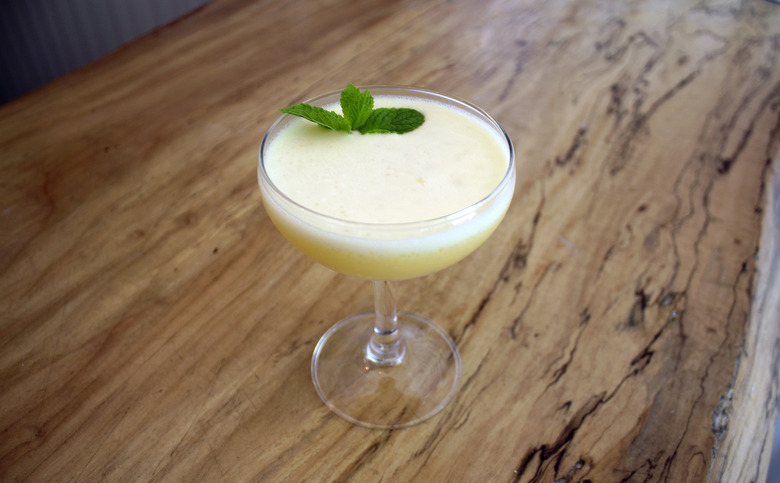 The rise of low-ABV drinks continues with this surprisingly light soju-based cockta
The end of summer usually signals a departure from lighter drinking and a return to heartier cocktails. With the rise of low-ABV drinks, however, it seems that getting your money's worth equates more to the flavor that a drink brings rather than its booziness. Such is the case at the recently expanded Selamat Pagi in Greenpoint, Brooklyn, where the restaurant features a menu of revamped classic drinks made solely with rice-based Korean soju.
Cocktails might not be the first thing that come to mind to pair with Indonesian cuisine, but for Selamat Pagi, the ingredients found in its dishes — lemongrass, kaffir-lime leaf, turmeric, coconut and chilies — are a natural fit for the drinks program. Perhaps one of the more surprising choices is the orange- and cream-driven Dreamsicle, which might sound like it would be cloyingly sweet but in reality is a delicate, textured drink with a passion fruit edge.
Soju, which in Korea is most often consumed straight, can be almost invisible in most cocktails — akin to a weightless vodka — if a low-proof version is used. With the Dreamsicle, this lack of flavor works to the drink's advantage, since mixing two ounces of vodka with orange, passion fruit, honey and coconut cream might feel more like a dressed-up screwdriver rather than a light pillow of balanced flavors. As always, shaking drinks that have citrus in them helps to soften the acidity, and in this case, the coconut milk also adds air to the carry the flavors, similar to the effect of an egg white.
Brunch-ready and refreshingly balanced, the Dreamsicle is more serious than it lets on. For those looking for a kick of flavor to fortify their brunch but still holding out hope for that afternoon run, it's the perfect drink. Enjoy.
The Dreamsicle
Servings: 1 cocktail
Ingredients
2 ounces Jinro 24 Soju
½ ounce organic coconut milk
½ ounce fresh orange juice
½ ounce simple honey syrup*
¼ ounce passion fruit juice
Directions:  
For the simple honey syrup: 
Heat and stir 1 cup honey, 1 cup sugar and 1 cup water until combined.
For assembly:
Combine ingredients into a cocktail shaker tin.
Add ice and shake vigorously for 10 seconds.
Strain into a chilled coupe glass and garnish with mint leaf.
Prep time: 2 minutes
Difficulty: Easy