In Hungry Concierge, we travel the world to spot hotels that operate with their guests' food and drink needs squarely in mind — hotels, both big and small, that are located in neighborhoods rich with bar and restaurant options. Because there's nothing worse than having your trip derailed by crummy room service.

While wandering the low-ceilinged, wooden-beam-accented halls of the Sonnenalp Hotel, I had the distinct feeling I was nestled in a quaint Swiss town. The lounge features dark colors and heavy wood; a roaring fireplace rests at the center of the spa. To complete the thought, a charming restaurant adorned with cow bells serves cheese fondue. But this isn't a ski resort in the Alps — it's located in Vail, Colorado.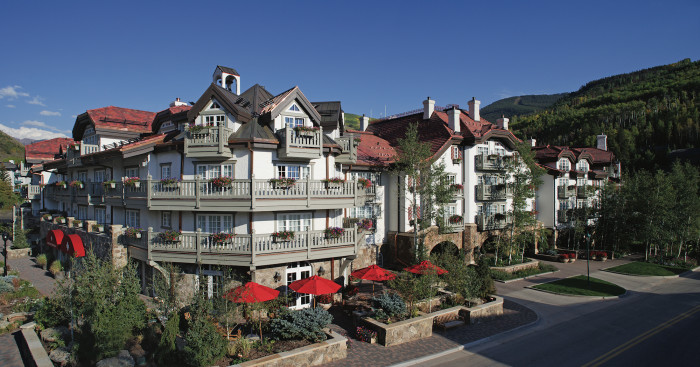 This hotel, which opened in 1979, traces back to the Sonnenalp Resort in the Allgau Alps in Bavaria, a stunning property built in 1919. The Faessler family started both venues, and the Colorado spot came to fruition after several members visited the resort town on a ski trip and fell in love with the area. Dense with striking white and black aspen trees, Vail Mountain looming in the background and a village that feels more European than American, it's not hard to see why the family decided to put down roots here. Today Johannes and Rosana Faessler run the award-winning hotel, lending a personal touch to all aspects.
After many comfortable years, buzz about the hotel has started up again with the opening of acclaimed chef Kelly Liken's new restaurant, Harvest, which opened in the summer of 2016 at the Sonnenalp Club, the golf course located a quick 20 minutes away in the town of Edwards.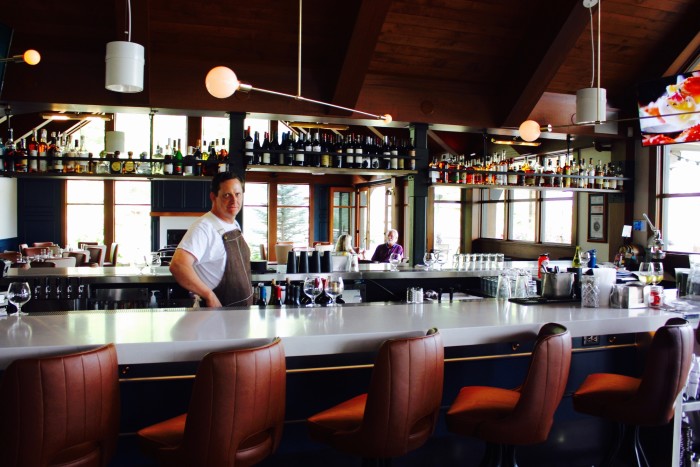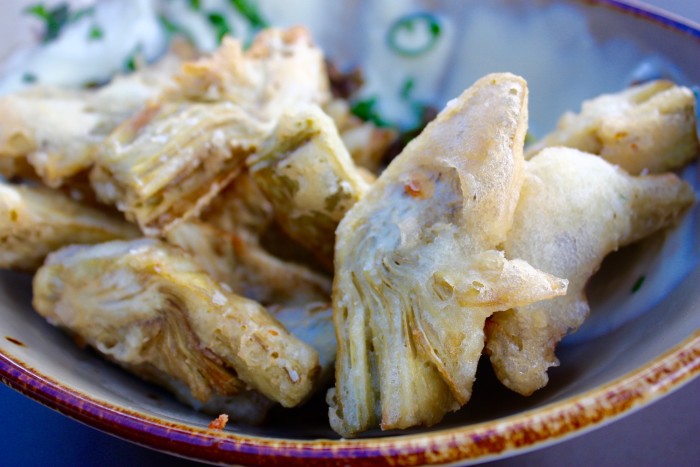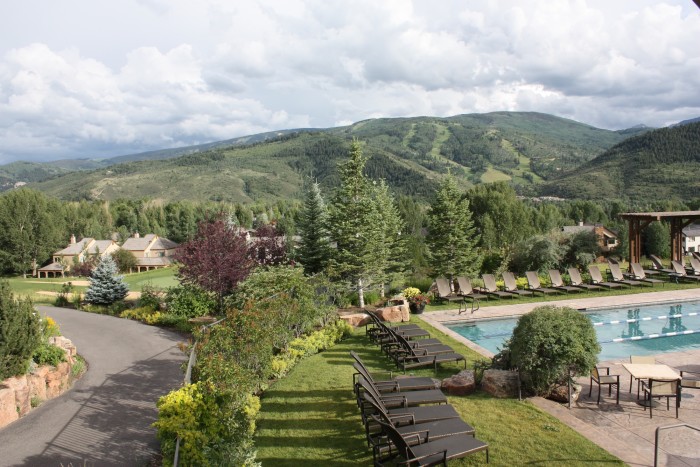 Guests can choose to sit along the horseshoe-shaped bar, grab a seat in the main dining room, casually eat near the semi-open kitchen or dine alfresco overlooking the golf course.
The view of the surrounding mountains is breathtaking, a nice backdrop to appetizers of warm olives and almonds, addictive tempura-battered artichokes and elk carpaccio. For a main course, try the pot-roasted Red Bird chicken with Italian sausage and peppers.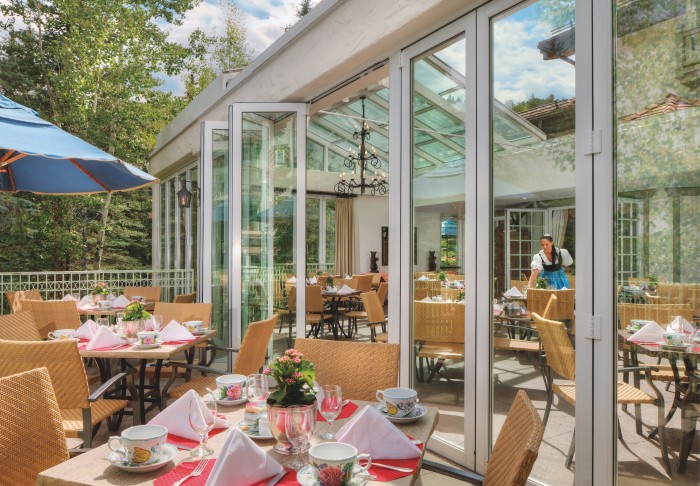 At the hotel back in Vail, guests can dine at several restaurants. Ludwig's is a gluten-free seafood and wild game restaurant with a great wine list. This space is only open for breakfast during the summer, but come December you can try vegan "migas" with seared jackfruit, avocado cream and caramelized pears; oven-roasted venison with chestnuts and blueberry demi-glace; and a Colorado lamb T-bone with rosemary and potato confit.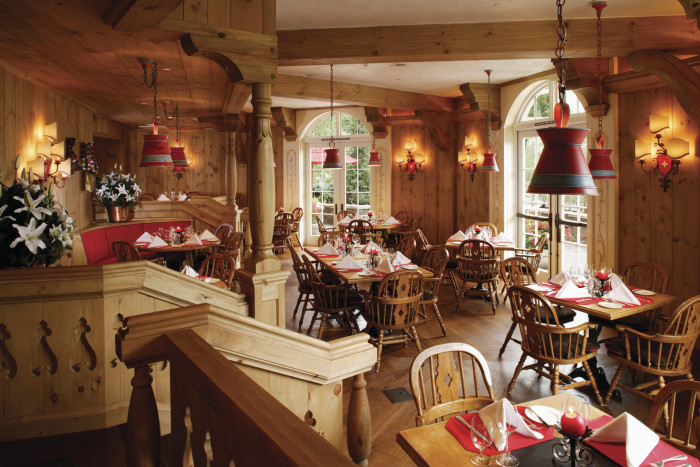 The Swiss Chalet features Alpine cuisine: three types of fondue (cheese, chocolate and bone broth), raclette, käse spätzle dumplings, wiener schnitzel and Austrian apple strudel. Not surprisingly, Swiss mountain food works just as well in the mountains of the United States as it does in Switzerland, and after a jaunt down the snow-covered slopes, nothing hits the spot like a pot of melted cheese and glass of something strong. Enjoy your après-ski in the cozy King's Club lounge. Live music wafts through the space most nights, and it's the perfect spot for a casual burger, truffle-laced tater tots, buffalo sliders or just a hot mug of spiced gluhwein.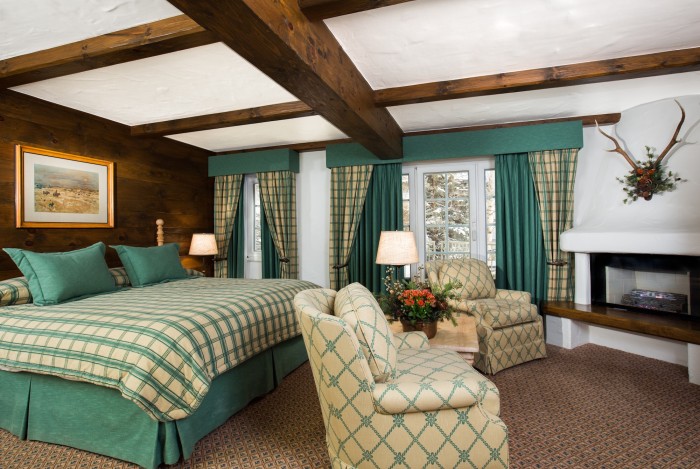 THE ROOMS
Each of the 112 cozy suites at the Sonnenalp has a cabin-in-the-woods meets high-end château feel. Part of this vibe comes from the large gas fireplace found in most rooms, perfect for curling up next to after a long day exploring Vail, skiing, hiking or simply enjoying your cheese coma. Large bathrooms feature heated marble floors, deep soaking tubs, double vanities and enough room to shower and get ready even if your partner, sister, best friend or two children are in the same space. Many of the rooms also feature a small balcony overlooking the river, pool, village or mountains. While you might not want to saturate your abode with fresh mountain air, especially in the dead of winter, it's pleasant to observe nature first thing in the morning. When booking accommodations, choose from a basic suite, one or two bedrooms, or one of the 15 hotel rooms, which are scaled-down versions of the suites.
THE LOOK
The Faesslers' goal was to fashion this hotel as similar to their Bavarian property as possible, with a Swiss Château-style façade, a cozy interior and a European vibe. Owing to this, the Sonnenalp fits in seamlessly with the Alps-themed Vail Village. Inside the hotel is a vast lounge that melts into Ludwig's, the go-to spot for a scrumptious breakfast buffet complete with complimentary newspapers, cheeses, fresh-squeezed juices, blintzes, morning meats and more. Have a peaceful moment in the dark, austere dining room or get a dose of sunshine on the enclosed patio. The latter is perfect for taking in the curated flower gardens and also gives you a glimpse at the heated pool, an indoor-outdoor perk that lets guests swim right into the spa. With three hot tubs to choose from, you can relax your sore muscles or simply warm up on a cold day. The spa itself offers facials, body scrubs and massages and also features an oxygen bar to help out-of-towners acclimate to the altitude and thin air. You don't have to book an appointment to enjoy the large, southwestern-facing fireplace in the center of the spa, which has a bright yellow couch wrapping around it, the ideal setup for a quiet afternoon reading.
THE NEIGHBORHOOD
Vail is a resort town with a strong Swiss aesthetic influence throughout. Many of the buildings feature heavy wood and exposed beams, balconies and brightly colored trim and shutters. During the summer, the town bustles with locals and vacationers taking advantage of the perfect weather, hotel deals, water sports and stunning hikes. Winter brings the skiers, and the whole village devotes itself to après-ski — drinks and fireplaces. No matter the season, Vail always proves perfect for beer lovers. A 10-minute jaunt from the hotel rewards you with a pint or two of Gore Creek IPA from Vail Brewing Co., and a short drive from there you'll find the Colorado-themed brews of Crazy Mountain Brewing Company. Enjoy a fire-cooked dinner at Mountain Standard, where Rocky Mountain trout, charred octopus and wood-roasted carrots take center stage. And if Vail Village feels a little small at times, head to nearby Lionshead Village, an easy stroll or free shuttle ride away. There you can grab a slice from Blue Moose Pizza or sit down for breakfast at the true-to-its name establishment Little Diner.
Sonnenalp Hotel
20 Vail Road
Vail, CO 81657
From $250 per night