How To Make Sous Vide Burgers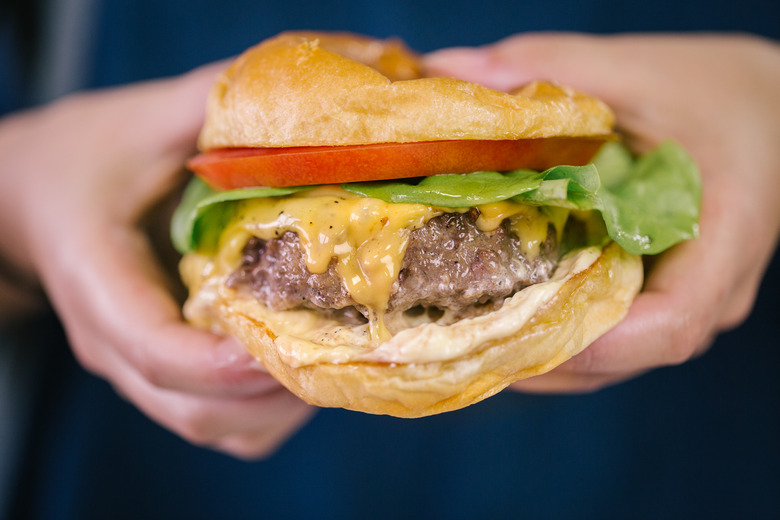 We know, we know. Labor Day weekend has come and gone, and with it — just maybe — so has your insatiable appetite for backyard grilling. But as long as the weather keeps cooperating, you'll continue to find us hard at work hosting burger bashes for guests.
That said, grilling does have its drawbacks. An hour into your event, you might find yourself stuck behind the grill, sweating beneath your novelty apron, flipping burgers a few at a time and worrying about who is getting fed and who isn't. It's an undeniable fact that if you're manning the Weber, you're often missing the party. But don't call the caterer just yet — there's another option. You can cook those burgers sous vide!
Those of you who read our weekly partnership content might think that our friends at ChefSteps are excessive on the sous vide front. But the fact is that you'll be thanking them — and us — when you've got a bunch of perfectly cooked, snappy-textured patties ready to sear up quickly on the grill when your first friends start arriving. Sous vide is the perfect way to streamline the cooking process and yield delicious, predictable results! Take a look at the brief instructional video and full process here below.
[Editor's note: ChefSteps cooks sous vide with Joule, a tool created by its in-house team of chefs, designers, and engineers. Joule is a Wi-Fi-connected device that you control with your smartphone. For more, check out Food Republic's independent review of the device.]
Servings: 4 burgers
Ingredients
2 pounds ground beef, 20 percent fat recommended
About one large egg
Salt, as needed
Black pepper, as needed
Directions:
Heat Joule to 133° F. This will result in burgers that are rosy in color and very juicy. If you like your burgers very rare, opt for 126°. If you like your burgers more done, with just a hint of pink, you can go as high as 158°.
If you have the equipment, grind your own beef. If you don't, buy some.
In a bowl, combine ground beef and egg. Using your hands or a spatula, mix until egg is fully incorporated.
Portion patties.
Shape patties by first forming a ball to remove air and cracks. Then flatten the ball between flat palms, using your thumbs to pinch the sides into shape.
Just before cooking, season patties with salt and pepper. Transfer to gallon-size ziplock bags. We do two burgers per bag to avoid overcrowding.
Depending on how thick your patties are, they will take anywhere from 15 minutes to 30 minutes. You can leave them in the water for up to an hour, however, and they will still be perfect.
Let burgers cool to room temperature while you prepare your platter of condiments. This will help them keep their shape when you sear.
Transfer patties to a hot grill and sear 45 seconds. Flip, add cheese if you want and sear for 30 more seconds. Cover, and cook 15 additional seconds to melt cheese. You can finish your burgers under the broiler or in a pan on the stove, too.
Eat up! You will never eat an overcooked burger again.
ChefSteps comprises a team of award-winning chefs, filmmakers, scientists, designers and engineers focused on revolutionizing the way people cook by inspiring creativity and encouraging expertise in the kitchen. You can also get access to all of ChefSteps' Premium content — including paid classes and dozens of recipes available only to Premium members for a onetime fee — for the special price of $24 (regularly $39). Classes include Sous Vide: Beyond the Basics, Fluid Gels, French Macarons and more!