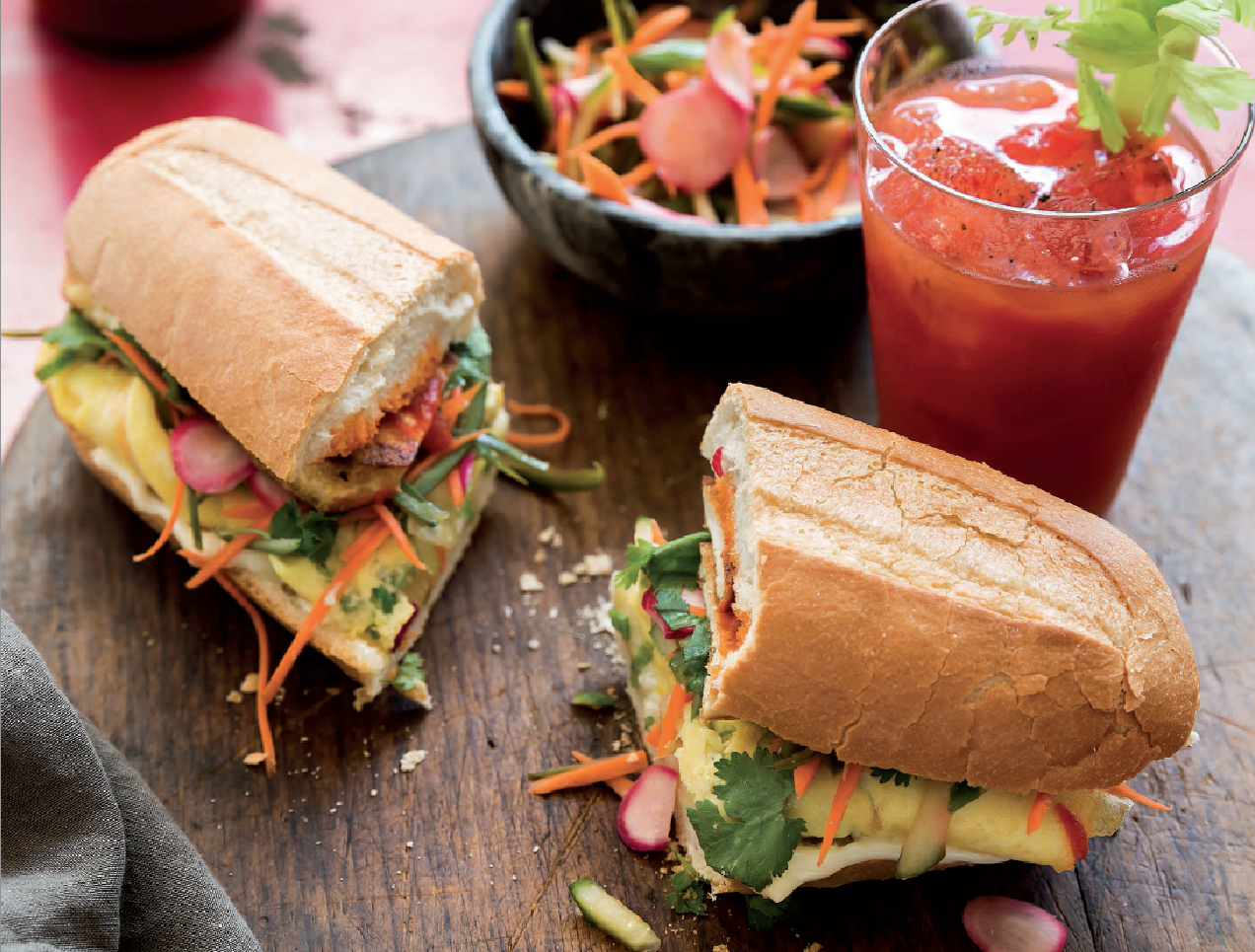 Don't just scramble an egg because it's easy. Scramble it because Nobu's scrambled egg donburi demands it. Don't just make an omelet because you know how. Make one because you also fried tofu for an omelet banh mi.
Today, we bring you eight delicious egg dishes off the beaten path. And sure, that's a good egg joke, but let's get serious for a second. Are you really just going to commemorate this great recipe roundup with a couple of over-easies?
There is a bánh mì shop a block away from our house that is damn good and mighty cheap. We've spent many a ragged hungover morning zombie-walking there with Murphy, Max's dog, to pick up food. One time we wondered why there wasn't a breakfast bánh mì. Crispy bread, hot eggs, spicy sauce — sounds perfect, right? Our shop didn't have it, so we made it ourselves. For the best bánh mì, you want to use a fresh Italian roll, fluffy inside, white bread. Don't make this on whole wheat and e-mail us saying you didn't love it. We will publicly shame you.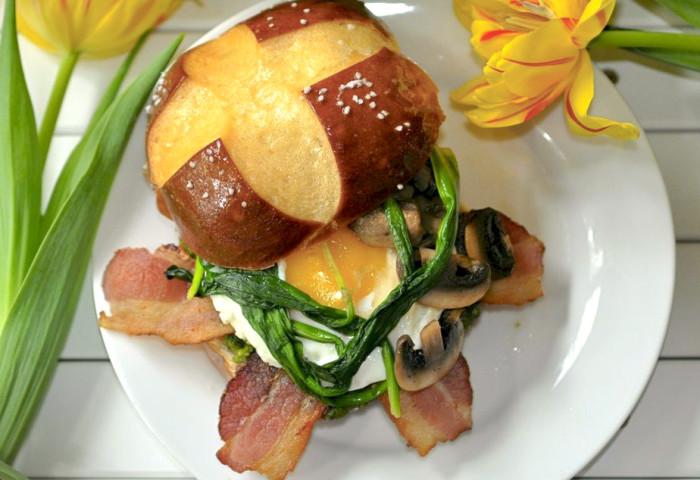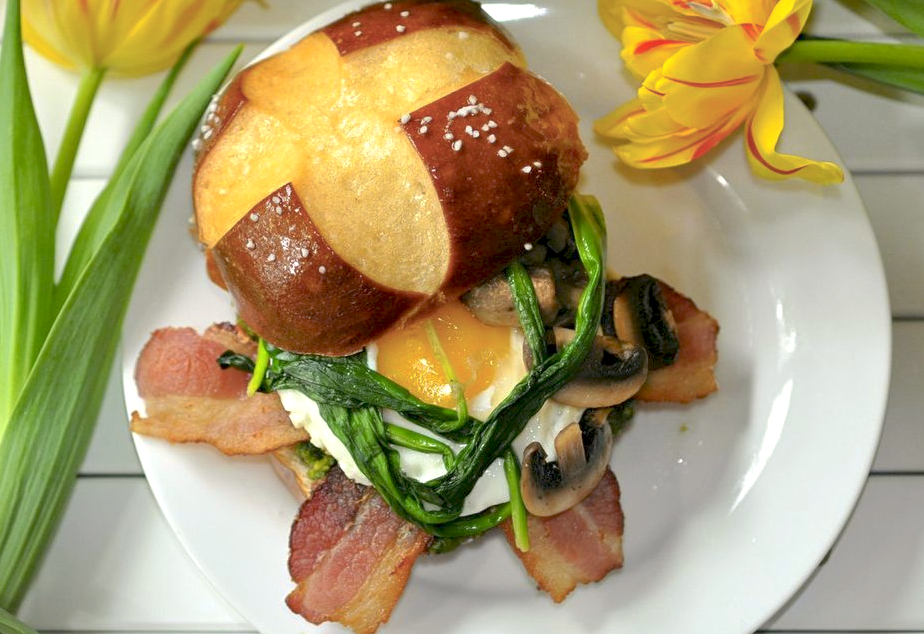 One morning, when I had a god-awful hangover, this sandwich was born. Eggs and bacon are the antidote to the previous night's excesses, and the ramp pesto gives the sandwich both garlic and heat. It has evolved each year, and mushrooms give it that extra umami kick that makes for the ultimate egg sandwich.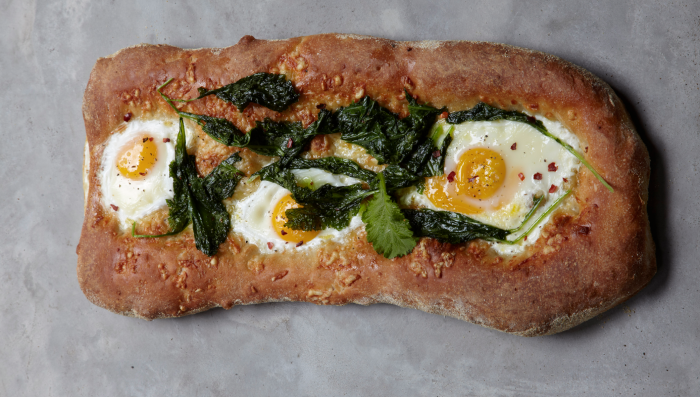 When you really want to go for it at breakfast, make pizza! Imagine it — fresh, hot, bub­bling with cheese and the quivering yellow yolk of a farm-fresh egg. It's worth the effort, and it's quite a cinch if you make a habit of prepping your pizza dough ahead and keeping it in the freezer or fridge. This pizza gives glory to a good fresh egg (a duck egg also does the trick!) from your local farmers' market. I top my egg with smoked sea salt, to give it the smoky flavor some brunch-goers might crave after forgoing bacon.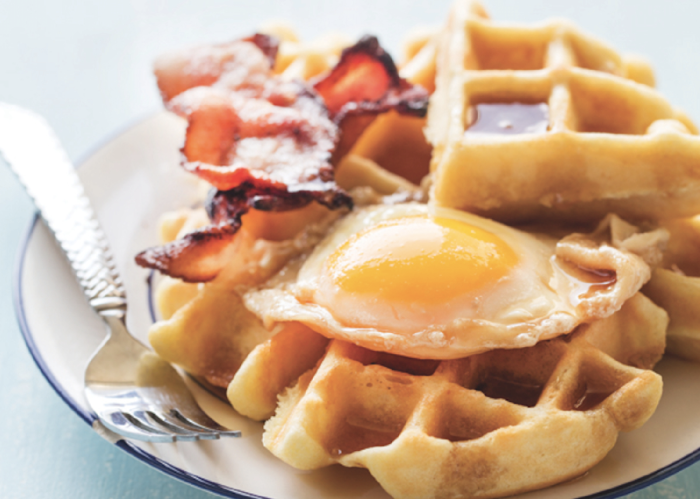 Wouldn't you love to be one of those fancy people who can plan far enough in advance to make yeasted waffles for breakfast? Me too. That's why, instead, I give you this recipe for maple syrup–poached eggs and waffles, which requires only about as much forethought as turning on the waffle iron. And anyway, your waffles will be super-fancy because you're serving them with eggs poached in maple syrup. Yep, you read that right: eggs poached in maple syrup.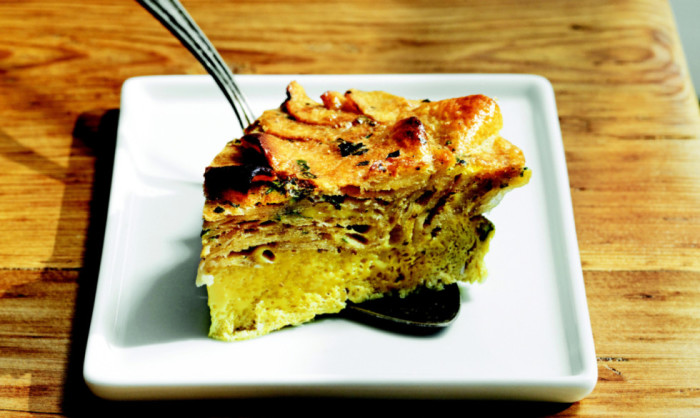 This is an American-style Italian frittata or Spanish tortilla, an open-faced omelet that's a great last-minute brunch dish. The potato chips are layered throughout yet still retain their firm texture. (You don't even need to add salt to the eggs, because the potato chips provide the seasoning.) You can enjoy this warm or at room temperature, with sour cream on the side. Or maybe you're a ketchup-on-your-eggs person.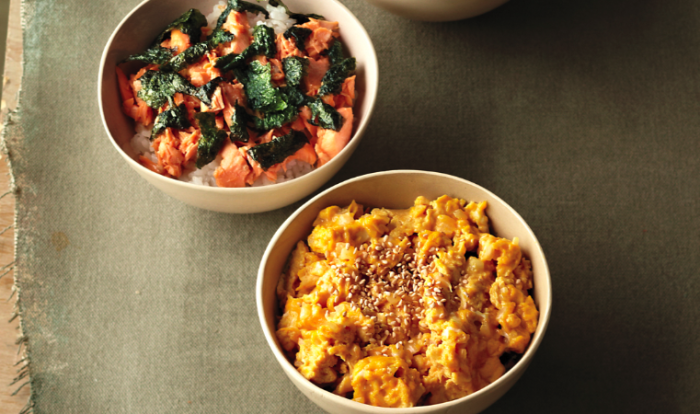 Master chef Nobu Matsuhisa's signature is keeping it simple: If you've ever had the pleasure of that miso-glazed black cod, you know what we're talking about. His Scrambled Egg Donburi, a a protein-rich combination of scrambled eggs and salmon over rice, might just be the perfect breakfast.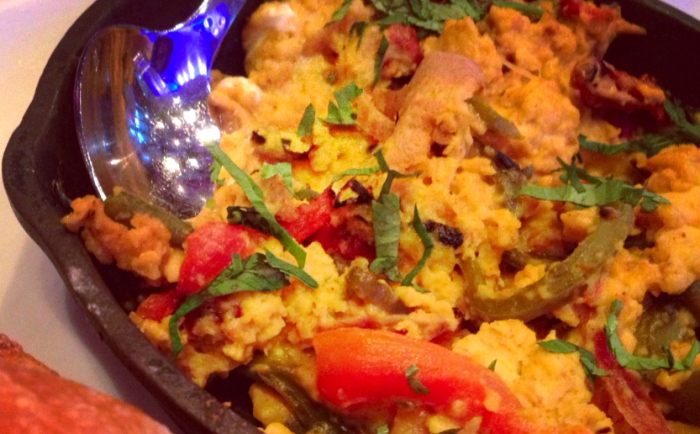 Sometimes you need a little something extra in your breakfast scramble — broccoli and cheddar just won't cut it. Pick up a few fresh, succulent cactus paddles, or nopales, at a Latin grocery and you might just discover your scrambled eggs' new favorite companion. They're juicy and flavorful, reminiscent of green peppers and asparagus.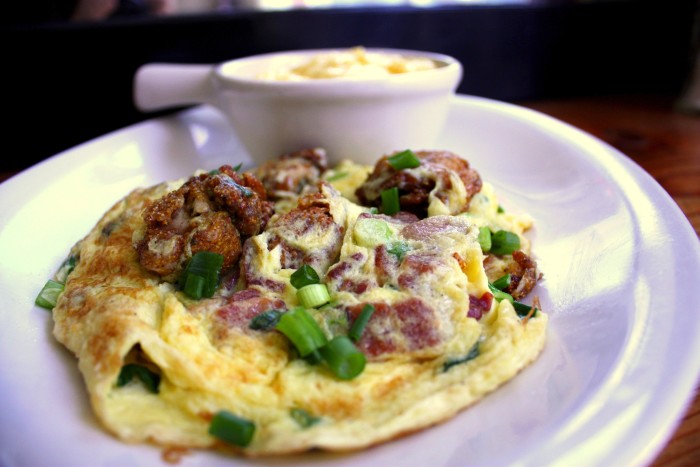 We will wait in the two-hour line at Brenda's French Soul Food in San Francisco, and if you saw their menu, so would you. We're a fan of bacon, fried oysters and eggs by themselves, but beat them together to make an omelet-frittata and that right there is brunch. Serve it with grits or hash and a biscuit like Brenda does.