Update Your Kitchen: Morocco-Inspired Design Finds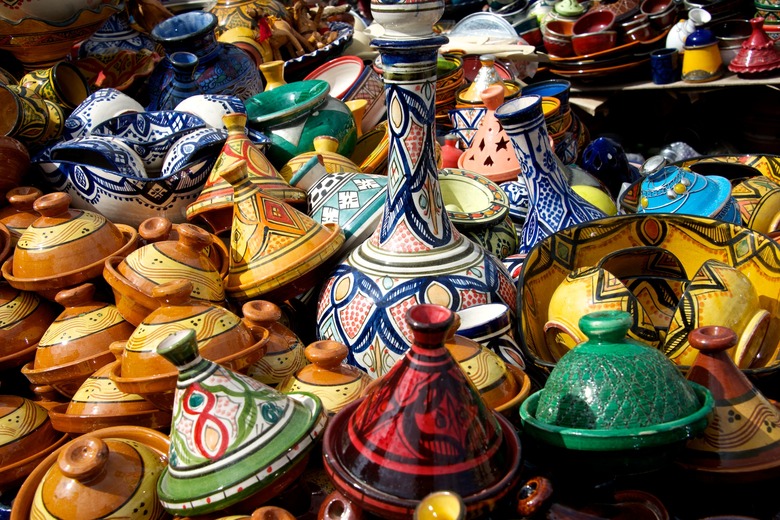 We may receive a commission on purchases made from links.
When I grow weary of my dreary office cubicle, I daydream of one place: Morocco. Yes, it's balmy and crowded and expensive to reach by plane. But oh, the spicy, fragrant stews! The strong, fresh mint-infused teas! The cultural vibrancy not found in my quotidian existence! My Big Moroccan Adventure is still a year or so in the future, but that won't keep me from infusing a little Marrakech into my kitchen.
North African cuisine is perhaps best known for the tagine, a richly spiced meat stew named for the uniquely upside down funnel-shaped dish it's cooked in. If you're looking to expand your international repertoire, the tagine is a great place to start and makes for a show-stopping dish at dinner parties. But why stop there? Below are some of my favorite Moroccan tools to spice up your next Sunday supper.
Tagines 
Traditional tagines (photo above) are made from unfinished earthenware, often painted intricately to serve as a decorative piece as well. The pots are placed directly onto a heat source — traditionally a bed of smoldering charcoal. This can be a tricky endeavor for a novice, since clay pots have a very low tolerance for heat before they fracture and split. For a more robust version, major brands like Le Creuset and Emile Henry make cast-iron and enameled tagines that can even withstand direct exposure on gas burners. However, without the porous ceramic, you sacrifice the deep, earthy notes imparted during the cooking process.
For a more classic option, browse tagines from Le Souk Ceramique. Handcrafted in Tunisia, they showcase all the bright colors and patterns of traditional Moroccan artisans. A purist will opt for an unfinished vessel, but if you chose a glazed version, be sure to keep it clean and always air-dry the tagine without the lid to prevent mold growth. Make sure to purchase a diffuser with it — an absolute necessity that helps disperse heat evenly and prevent cracking.
Bowls and Baskets
Handmade baskets fill every narrow alley in Moroccan souks, or markets. Handwoven from wicker, the baskets are bright and colorful, ranging in size from tabletop decorations to enormous bulk spice bins. They're often used as bread baskets in Morocco, and I recommend the same application. Take a stab at a traditional Berber skillet bread and show off your handiwork in a wide, open-brim basket. I prefer one with bright colors and patterns to contrast with a minimal, white place setting. For an extra layer of texture, loosely wrap the breads in a linen towel in the basket, which will help keep them warm. 
Copper Couscoussier
Don't call it a pasta pot! Specifically designed for preparing couscous and slow-cooked stews, this double-chambered steamer (pronounced coos-COO-see-yay) is made of two interlocking pots with a perforated floor in between. The bottom pot is typically filled with a meat stew (mmm, lamb and olives!) that simmers for hours. While the stew is cooking, fill the upper basket with dry couscous. The perforations are just large enough to allow flavorful steam from the bottom pot to seep upward, cooking the couscous while also preventing it from dropping into the lower chamber. Once the stew is finished and the couscous is cooked and fluffed, carryover heat from the bottom chamber will keep the whole vessel warm for nearly an hour until ready to serve. More entertaining time for you!
I strongly recommend shelling out for a copper pot (Williams-Sonoma has a great one) instead of the more cost-effective steel alternatives. It is a large investment for what is arguably a piece of specialty cookware, but not only does copper conduct heat better than steel, the hammered copper is truly eye-catching. It makes dinner and starts conversations.
Moroccan Tea Set
Tea service is a daily, honored ritual in Morocco. In the morning, before lunch, during dinner, after dinner, because your neighbor walked in, during negotiations of the price of a carpet in the souk — the slightest pretext warrants teatime. It is a sign of sincere hospitality and a deeply rooted cultural norm. To not have tea would be unfathomable. So naturally, you need a tea set.
I love the combination of curvaceous, polished steel kettles with delicate, richly colored glassware. (Moroccan sets don't use teacups.) I suggest perusing eBay for authentic sets with funkier shapes and hand-painted glasses with metallic inflections. Mass-produced copies from large retailers will feel sterile and generic, and a true tea service is anything but.
Since teatime is a social event, be sure to buy enough glasses — which are not required to match — and an oversize, etched serving tray for a stunning presentation. A traditional service would include strongly brewed green tea served with abundant fresh mint leaves and plenty of sugar. I grow indignant if tea is served without a baked good of some kind (British grandmother), so I include a plate of small biscotti or biscuits. Or, if you have any leftover skillet bread, that would be delicious served alongside fig preserves.