Summer might be effectively over, but there are plenty of good reasons why you should still pay a visit to Portland, Maine. Since the months of June, July, and August are peak tourist season for the charming coastal town, the crazy crowds have finally started to thin out, making accommodations more affordable and restaurants easier to get into.
As for the weather? Well, it's still mighty fine. Imagine crystal-clear skies, bright sun, and balmy days followed by cool nights — which are perfect for showing off your newly acquired L.L. Bean anorak.
On top of it all, there's been a glut of noteworthy openings in the past year alone, proving there's much, much more to eating and drinking well in Maine's largest city than lobster rolls and beer (as much as we love them both).
Here are seven spots you can't miss during your next trip to Portland.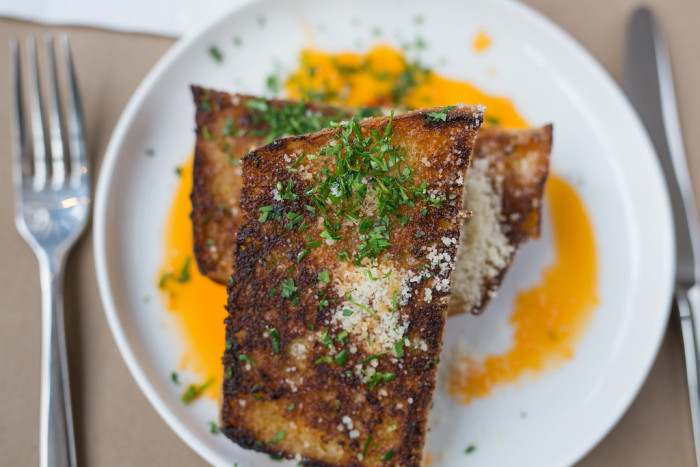 Roustabout
The dining room feels vaguely nautical with its sparkling white walls and rope-knot pendant lights, but the cuisine is Italian with a contemporary twist. The whole-leaf Caesar salad, for example, is brightened by preserved lemons in the dressing, while chicken marsala gets updated with pickled raisins, collard greens, and meaty oyster mushrooms. Whatever you do, order the garlic bread. Thick, crusty slabs of house-made bread are bathed in garlic butter and Calabrian chili–infused oil. It's messy as hell — have those napkins ready — but totally worth it. 59 Washington Ave., Portland, ME 04101; 207-536-4008; roustabout.me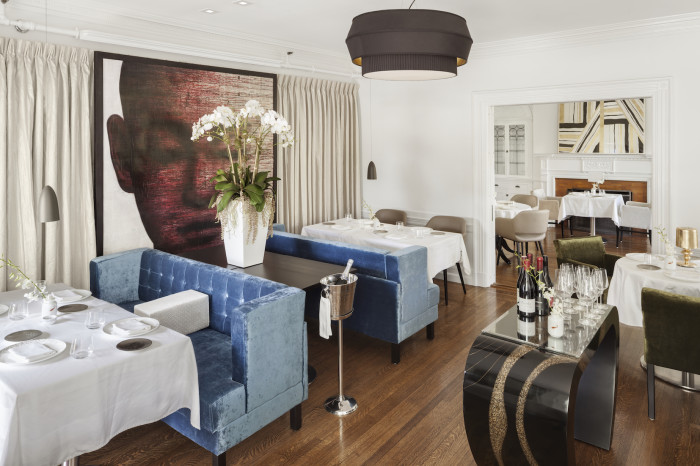 Tempo Dulu
If you're in the mood for a more refined evening, beeline to Tempo Dulu, the elegant Southeast Asian restaurant and bar tucked away in the recently renovated Danforth Inn. In the main dining room, get pampered with executive chef Michael MacDonnell's lavish tasting menu — which includes Indonesian rijsttafel, a traditional Dutch (not a typo) meal of rice and assorted savory sides. At the adjacent bar, let award-winning mixologist Trevin Hutchins, who travels to Southeast Asia regularly for inspiration, inspire you with his incredibly artful cocktails. For the signature Jakarta, Hutchins pours a mix of Knob Creek Rye, Carpano Antico, and Amaro into a glass filled with Chinese five spice–infused smoke. Each sip is hauntingly deep and complex. 163 Danforth St., Portland, ME 04102; 207-879-8755; tempodulu.restaurant
Scales
From the team behind the city's longstanding institution Fore Street comes this excellent, newly opened seafood spot by chef Michael Smith. It's open for lunch and dinner and offers picturesque views of Casco Bay, along with an extensive menu. Though it reads a bit like a "greatest hits" of all things oceanic, rest assured that everything is both comforting and fresher than fresh. (Because Mainers wouldn't have it any other way.) In case you were wondering: Yes, the lobster roll alone is worth the visit. Cool, buttery chunks of meat are stuffed into a toasted top-split bun and arrive with hand-cut fries. It's straightforward and sublime. 68 Commercial St., Portland, ME 04101; 207-805-0444; scalesrestaurant.com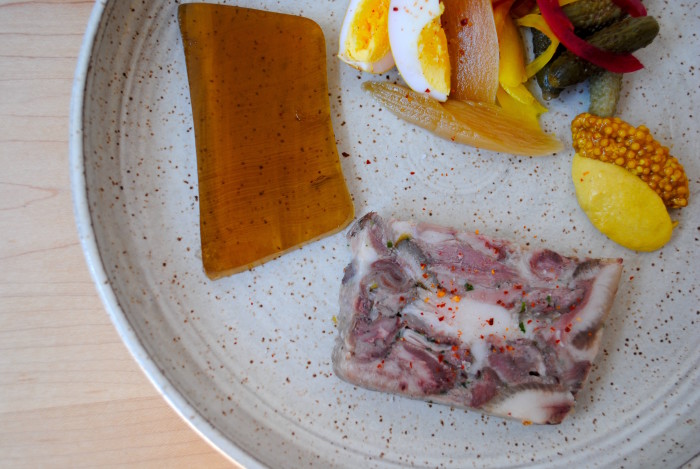 Drifters Wife
In the front of Munjoy Hill's buzzy natural-wine shop by husband-and-wife team Peter and Orenda Hale, you'll find this equally buzzy wine bar, where the cooking and tending to guests is handled by chef Ben Jackson and his wife Alexis. (Fun fact: The four met in Brooklyn, New York, while working at two of Andrew Tarlow's restaurants, Diner and Reynard.) It's a chill, laid-back nook, where you can tuck into a sweet, simple, and ever-rotating menu of savory small plates, including bluefish rillettes, house-made head cheese, and radicchio salad. Naturally, all of Jackson's food pairs beautifully with the wines. 63 Washington Ave., Portland, ME 04101; 207-805-1336; drifterswife.com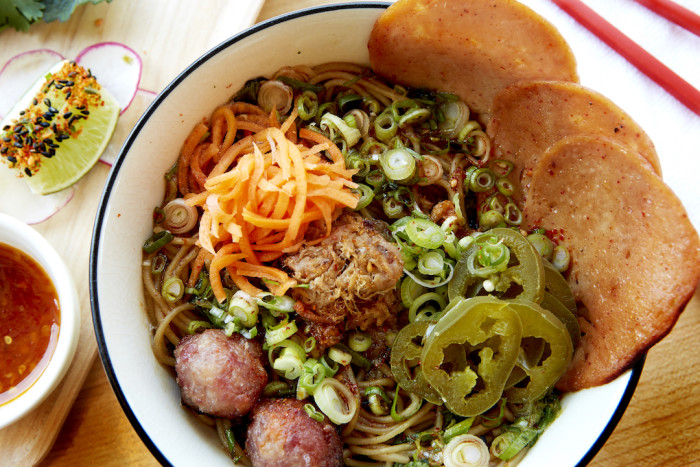 The Honey Paw
The latest venture from the guys behind Hugo's and Eventide Oyster Co. next door, this lively joint uses the bold, bright, and totally addictive flavors of Asia for inspiration. And since the menu relies heavily on carbs, come hungry. The wok-fried rice noodles with cumin-spiced beef are earthy and hearty, and the chilled somen — you'll chase every last drop of the bright ramp dashi — fills you up without weighing you down. And of course, there's a fried chicken sandwich. Available only at lunch, the meat for this one is Korean style (lacquered in a sweet and spicy glaze) and topped with pickled daikon and melty American cheese. 78 Middle St., Portland, ME 04101; 207-774-8538; thehoneypaw.com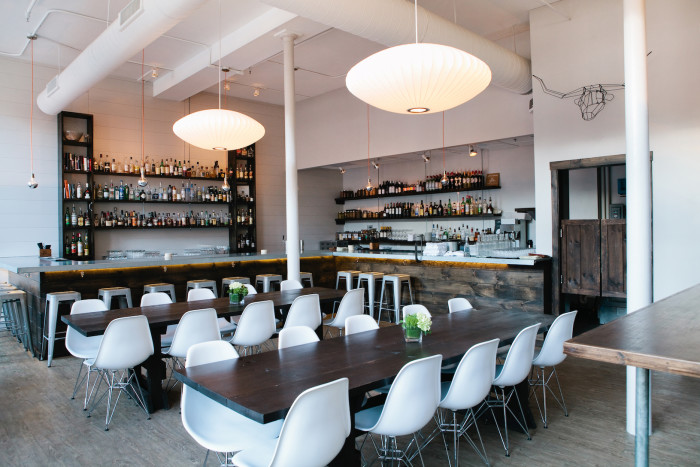 The Portland Hunt & Alpine Club
Opened in 2013 by Andrew Volk, this Scandinavian-inspired cocktail bar fittingly features a clean and minimal aesthetic with white walls, communal tables, and Eames pendant lighting and chairs. House cocktails are grouped into four categories — refreshing, adventurous, classic, and wild card — but it's the Firecracker that's beloved by locals and the staff alike. A blend of vodka, lime juice, chili simple syrup, and soda, it's easy to drink, refreshing, and just spicy enough to keep the conversation flowing. 75 Market St., Portland, ME 04101; 207-747-4754; huntandalpineclub.com
Rhum Food + Grog
The tiki trend finally hits Portland with this spacious lounge located in the Old Port neighborhood. Though the decor doesn't scream "tiki," per se (well, except for the grass skirt–lined bar), the food and drink certainly do. Classic drinks, like the Painkiller and Rum Runner, are just as you'd expect: boozy, sweet, and served in goofy mugs and glasses. The bites are just as fun. The house Pupu Platter is a generous plate of assorted savory snacks (pork riblets, crab rangoon, jerky, and prawn chips), and after a few bites and sips of your rum drink, you'll be falling under Rhum's bewitching spell, swaying back and forth. 4 Free St., Portland, ME 04101; 207-536-1774; rhumportland.com