How To Make Your Own Steak Knives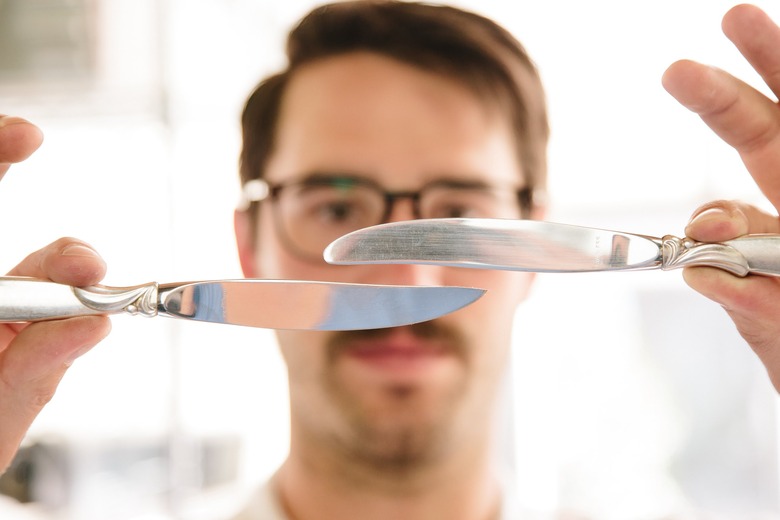 The beautiful final produc
Did you know you can take old butter knives and turn them into sharp and sexy steak knives? It's true! Imagine taking a quick trip to the local thrift store to pick up some cool-looking old knives, then transforming those dusty dullards into a beautiful set of blades that cut clean through all manner of meats.
To perform this incredible trick, you'll need a set of Japanese waterstones. If you've got a grinder, that's a great help, too. Our friends at ChefSteps are here to assure us that home grinders are widely available at hardware stores, pawn shops, auctions and big-box everything stores and shouldn't cost you much or take up a ton of room. Whatever tools you choose, you'll learn a cool new skill that comes in amazingly handy every time you need a wedding or holiday gift. Line your knives up in a lovely antique cigar box and wrap it with string, and you're destined to delight just about anyone on your list. Check out the simple instructional video below and get to it!
What you'll need:
Antique butter knives
Sharpening stones
Grinder (optional)
Silver polish
Elbow grease
ChefSteps comprises a team of award-winning chefs, filmmakers, scientists, designers and engineers focused on revolutionizing the way people cook by inspiring creativity and encouraging expertise in the kitchen. You can also get access to all of ChefSteps' Premium content — including paid classes and dozens of recipes available only to Premium members for a onetime fee — for the special price of $24 (regularly $39). Classes include Sous Vide: Beyond the Basics, Fluid Gels, French Macarons and more!