Four men singing in perfect harmony — ah, the dulcet tones of a barbershop quartet. Think about it: When was the last time you lost yourself in a good old-fashioned rendition of "Good-bye, My Coney Island Baby?" And come to think of it, wouldn't that be even better with a great beer? According to one of our favorite new craft brewers, that answer is "Yes, yes it would."

Last month, singers from far and wide gathered in Nashville for an annual convention hosted by the Barbershop Harmony Society, America's largest all-male singing organization. With such a vast assembly of active vocal cords in one place, the crowd is bound to get thirsty. Enter Thomas Mercado of Rock Bottom Brewery Nashville, who welcomed the conventioneers with their very own collaboration beer: the aptly named Barbers Hop. The new beer even came complete with its own barber's pole logo, a label designed by Mercado's friends at Nashville graphics firm DoubleStruck Designs.
Full disclosure: In addition to being a craft beer fanatic, I am a card-carrying barbershopper. I sing lead in a quartet called the Regulars (yes, we do weddings), I'm president of a local chorus and I attended last month's convention in Music City. Often portrayed in popular culture as little more than a punch line, barbershop quartets can offer a fantastic glimpse into a unique and storied American musical genre. I also happen to know many fellow barbershoppers who are craft beer fans. Suffice it to say, this first-ever barbershop convention beer proved to be a very popular development.
During the convention, our group, the Regulars, spent some time with brewer Mercado, tasting this new collaboration and discussing his brewing process. "It's a Belgian-style pale ale, so it's got a decent malt backbone and a little back bitterness," he said of the finished product. "We picked hops that would complement the Belgian style, used Belgian golden ale yeast and allowed it ferment at about 74°F — higher than most beers. It allows the yeast to really create big, bold fruity flavors, then we add Belgian/European-style hops. It's citrusy, but not super-bold like you'd find in an IPA."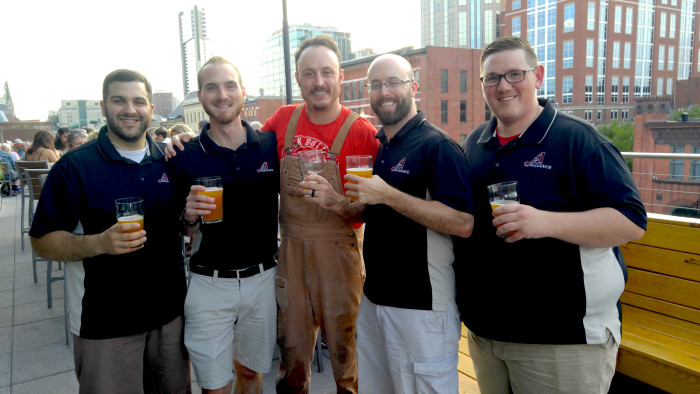 As Thomas spoke (and we drank), the greatest aspects of the beer rang loud and clear in my mind as well as on my palate: The balance, harmony and interplay between the components — how they all worked together for a delicious, full-flavored result. I imagined the ingredients as vocal parts, Fantasia-style:
The yeast represented the lead. In barbershop context, the lead is the primary contributor of emotion and character — the featured voice. In Barbers Hop, this is definitely that special Belgian golden ale yeast, which makes those fruity notes sing louder.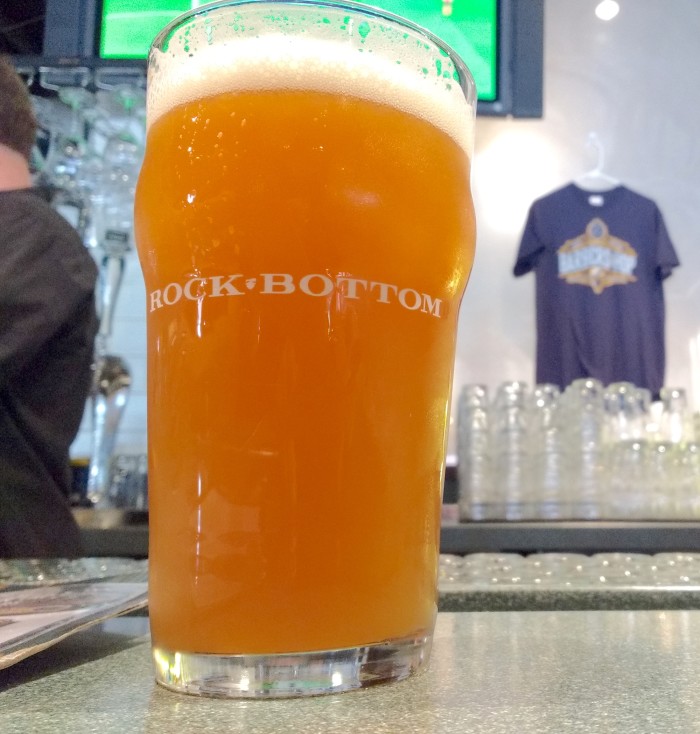 The malt would be the bass, or lowest harmony. The malt generates the foundational sugars for the yeast to consume, known in craft brewing terminology as "backbone." In a quartet, the low bass provides the musical foundation for chords and rhythm, upon which everything else rests.
Tenor, the highest harmony voice, is represented by the hops. While some other beer styles might place hops as lead instead of tenor, Barbers Hop has been expertly layered to enhance and amplify the work of the other components at play. The tenor voice reinforces the overtones generated by the lower three parts and engages the expansion of sound through its role as the lightest harmonious component.
Finally, the baritone, or midrange harmony voice, would be the water. Now hear me out: It can be easy to forget water's place as a beer ingredient and discount the impact it can have on the final product. Water in beer is similar to the baritone part simply in how imperative it is.
As with an award-winning barbershop quartet, you can have champion-quality brewing ingredients and equipment, but if they don't work together — if painstaking care, preparation or skill is absent — the result is largely unremarkable. After learning that Rock Bottom Brewery was a chain restaurant before visiting, I assumed its beer would be bland and boring, with uninspired recipes and subpar ingredients. I convinced myself that I liked the idea of a collaboration beer more than I was going to actually enjoy the beer itself. Mercado wasn't surprised when I admitted that to him.
"That's been 80 percent of my career with this company: explaining to people who we are," he says. "If I had one phrase to describe our business, it would be: corporate restaurant, local brewery. All the recipes are designed and brewed here, and doing things like the BHS collaboration allows us to keep it all up." I decree to all of my craft beer elitist brothers and sisters who would otherwise never give a chain restaurant brewery a chance: We have been keeping our worlds unnecessarily small. Always taste before you judge.
Later that evening at the tapping party for the official Barbers Hop release, my quartet invited Mercado (in the red shirt) to sing with us. He learned the bass part in no time, completely crushed it and got to experience the epic rush of that last resounding harmony. I'm the guy with the beard on the left.