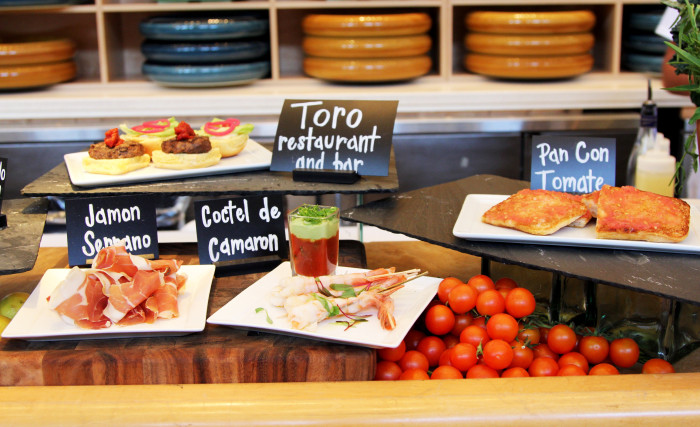 The U.S. Open, which begins today and runs through Sunday, September 11, is the world's most-attended sporting event, attracting a ridiculous 700,000 fans over the course of the two-week tennis tournament in New York City.

In this food-obsessed era, when jeers about crappy stadium food can overshadow even poor play, it is essential for organizers of major sporting events to get concessions right. The U.S. Open does this about as well as anybody, annually bringing in an impressive mix of acclaimed chefs and offering a wide array of options, ranging from simple finger foods to high-end restaurant–quality meals. This year's roster includes David Burke, Masaharu Morimoto, Tony Mantuano, Ed Brown, David Chang (who is using the Open platform as an opportunity to unveil a new spicy-chicken sandwich) and Ken Oringer.

It's the last name on that impressive list that most piqued our interest. Longer-tenured sit-down restaurants (such as Brown and Morimoto's Aces and Burke's BLT Prime at the Champions Bar & Grill) are both located within Arthur Ashe Stadium and available only to courtside seat holders and luxury suite guests, whereas Oringer's tapas newcomer, Toro — which currently has ultrapopular locations in Boston, New York and Bangkok — is open to the general public.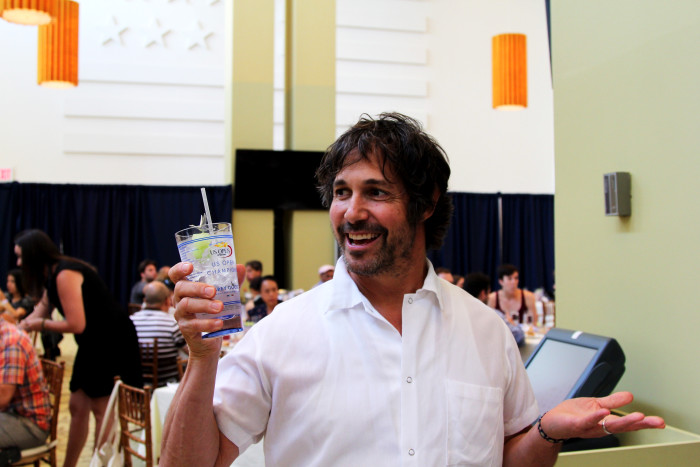 But will Oringer and partner Jamie Bissonnette succeed in bringing traditional Spanish tapas to the masses at a sporting event — in a large-scale space, no less? The duo is, after all, taking over the former site of the Latin American–inspired Mojito, a vast indoor-outdoor space with the capacity to serve more than 1,000 covers daily.
We caught up with Oringer at the annual U.S. Open food-preview event last week — as he jovially took down multiple Honey Deuces alongside Chang — to ask him just that: Can tapas play at a high level during the U.S. Open?
Oringer tells us that the idea has been in the works for some three years, ever since he and Bissonnette first opened in NYC. And he fully believes that fans will embrace the concept. "It's such an international crowd, and, of course, the athletes. And tapas are just so summer," says the chef. "When you think tapas…you think of being able to sit outside and hang out over some drinks and food and share things." That certainly speaks to the laid-back vibe at the Open. "The great thing about the Open is that people make a day of it. Even if they're just coming to see one match, they're going to hang out for eight to 10 hours."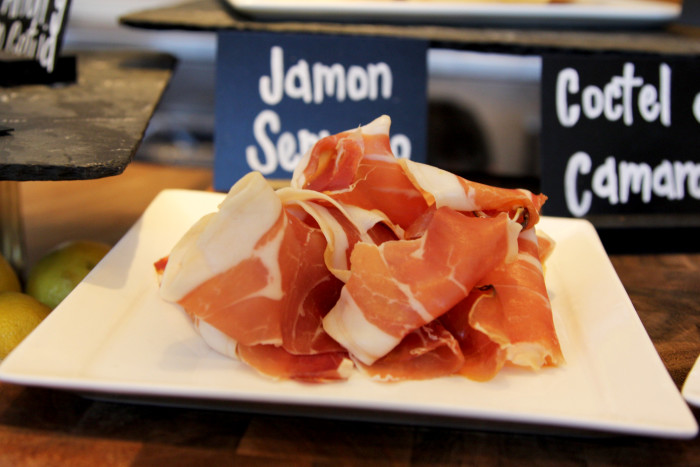 Just how does Oringer envision fans fitting Toro into their half-day in Flushing? "You can hold court and have your chorizo, your bellota, your jamón and a glass of wine and maybe an hour later, move onto the uni bocadillo." That does sound in line with today's ever-increasing emphasis on complete sporting-event experiences. We're certainly not in hot-dog-and-soggy-bun land anymore.
While Oringer and Bissonnette will be on hand for the majority of the tournament, overseeing a menu that consists of an astonishing 25 or so items, the former is quick to note that he's done his due diligence when it comes to tailoring options to the Open crowd. "I mean, I don't think tripe or blood sausage is going to be the best option on a 95-degree day watching tennis," he laughs. We're inclined to agree. Vámanos, gents!
Check out the full Toro menu available at the U.S. Open, here below:
Pincho Board 1 ($15 per person)
PAN CON TOMATE
Toasted bread with tomato, garlic, Spanish olive oil and sea salt
PIMIENTOS DE PADRON
Spicy shishito peppers with sea salt
TORTILLA ESPAÑOLA
Egg, potato and onion omelet with aioli
DATILES CON JAMON
Medjool dates filled with Marcona almonds and Valdeon blue cheese, wrapped in jamón serrano
Pincho Board 2 ($20 per person)
DATILES CON JAMON
Medjool dates filled with Marcona almonds and Valdeon blue cheese, wrapped in jamón serrano
OSTRAS EN ESCABECHE
Marinated oysters with green strawberry, mustard seeds and verjus
LEONORA
Soft goat cheese with seasonal fruit
JAMON SERRANO
Premium cured Spanish ham
Pincho Board 3 ($25 per person)
IBERICO DE FERMIN
Premium hand-cut Iberian ham
JAMON SERRANO
Premium cured Spanish ham
CHORIZO IBERICO DE BELLOTA
Dry-cured Iberian sausage
BEATO DI TABARA
Raw goat's milk cheese with membrillo
LEONORA
Soft goat cheese with seasonal fruit
MANCHEGO
Aged sheep's milk cheese from Andalucía with membrillo
Tapas
ENSALADA 15
Little gem lettuce, carrots, sunchokes, migas, cucumbers, tahini dressing and mahon cheese (Add lobster: $20)
BOCADILLO DE ERIZOS 15
Pressed sandwich of sea urchin, miso butter and pickled mustard seeds
ENSALADA DE TOMATE 20
Tomato salad with charred eggplant, green goddess and migas
COCTEL DE CAMERON 18
Chilled shrimp with Mexican cocktail sauce and avocado
TOMATO AND CUCUMBER GAZPACHO 12
Dried olive and crema
CROQUETTAS DE BACALAO 14
Salt cod fritters with lemon and aioli
PULPO 18
Galician octopus with sungold tomatoes and charred onions
PLATOS — Select one vegetable
BOCADILLO DE CONGREJO 35
Soft-shell crab sandwich with crunchy ramen aioli and little gem lettuce
GAMBAS AL AJILLO 28
Griddled garlic shrimp with cascabel chilies 
FRIED CHICKEN TORTA 21
Kimchi brined with buttermilk ranch, pickles and iceberg lettuce
FILETE 30
Marinated hanger steak with Valdeon blue-cheese butter
HAMBURGUESAS 23
Grass-fed mini burgers with smoked tomato, aioli and pickled red onion
Vegetables
CALABAZA 12
Grilled squash with dukka, tahini-yogurt and mint
SETAS 16
Mushrooms with a farm egg
MAÍZ ASADO CON ALIOLI Y QUESO COTIJA 12
Grilled corn with aioli, lime, espelette and aged cheese
PATATAS BRAVAS 12
Fried potatoes with aioli and spicy tomato sauce
Desserts
CHURROS 11
Cinnamon and dark chocolate dipping sauce
STRAWBERRY SHORTCAKE 12
Manzanilla whipped cream, local berries and olive-oil cake
CHOCOLATE CREMEUX 12
Coffee crumble and sea salt
A SELECTION OF BEN & JERRY'S ICE CREAM AND SORBET 11