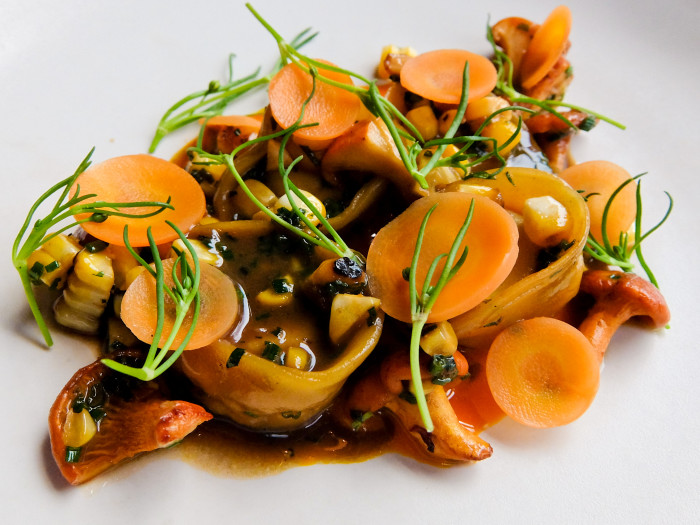 Montreal is the largest city in Canada's French-speaking Quebec province and, on the evidence of its food, is more French than France. You'll find old stalwarts here, like frogs' legs and foie gras, but it's in the realm of produce that the cuisine is undergoing a quiet revolution. I suspect that it's a result of the long, cold winters where nothing much grows, so it's party time when the first green shoots appear. In Scandinavia, at the slightest hint of summer, locals stay up all night and drink too much, but in Montreal, chefs go crazy with fresh fruit and vegetables. Indeed, it's so important to get the best to table that they seem to have developed a symbiotic relationship with the local farmers, jealously guarding their suppliers.
The notion of "farm to table" is not new, but here it's taken extremely seriously. The countryside is not far from the city center, so farmers can get their produce to the kitchens extra-quickly, and since Montreal is an island, there's an abundance of seafood nearby. The city sponsors an urban garden project, encouraging residents to grow vegetables in their back alleys, and some restaurants even have their own gardens in the parking lot. You need only wander the city's two main markets to see the wide range of fruit and vegetables on offer, and artisanal producers of cheese, cured meat, cider and wine impress with their quality.
Markets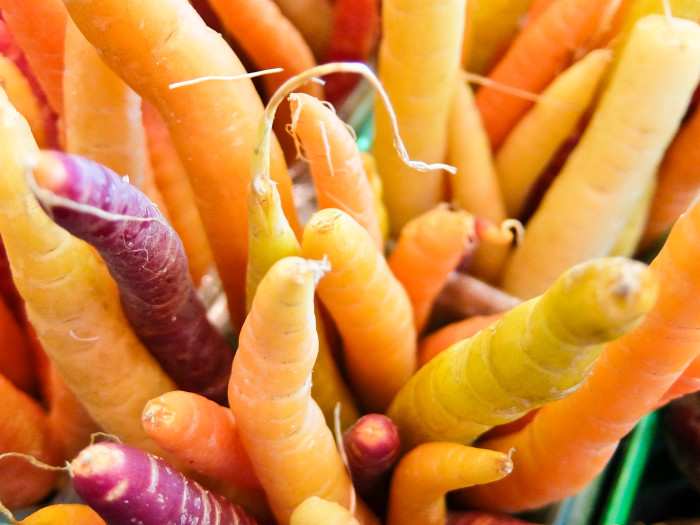 Jean-Talon Market
In the heart of Montreal's Little Italy, the Jean-Talon Market is one of the oldest public markets in the city, having first opened in 1933. It's also one of the largest in North America and hosts more than 150 producers during summertime. Of course, what's on sale is largely determined by the season, but it's still open 365 days a year. In August, there's not only an astounding array of fruit and vegetables, but also wild mushrooms, flowers, spices, oils, cheese, meat, fish and artisanal bakery goods. Spade & Palacio's market tours not only give you a taste of their favorite producers, but also take you on a restaurant sampling stroll of the surrounding area that showcases Montreal's diversity. 7070 Ave. Henri Julien; 514-277-1588; spadeandpalacio.com
Atwater Market
In the southwest of the city, Atwater Marker also opened in 1933 and is renowned for the quality of its butchers, fishmongers and delicatessens, whose expertise has been passed down for generations. Food halls occupy two levels inside, and of course there's also fresh produce available from farmers' stalls on the perimeter. It's also worth grabbing a bite at the Satay Brothers food stall. 138 Ave. Atwater; 514-937-7754; sataybrothers.com
Restaurants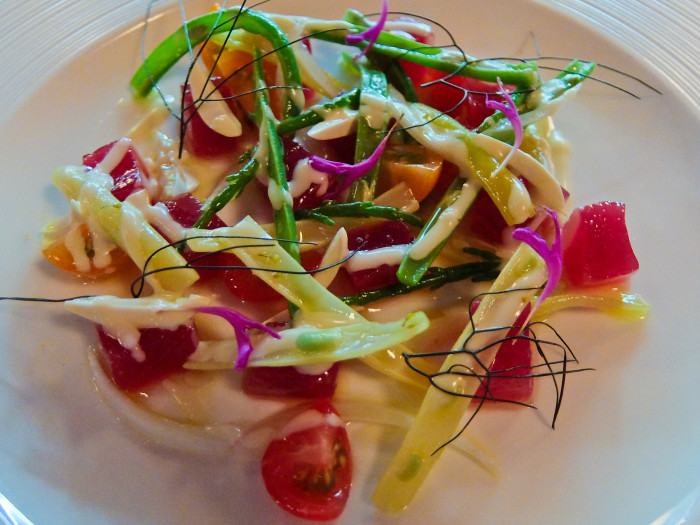 Restaurant Toqué!
If anyone deserves the title of Godfather of Montreal Dining, it's chef Normand Laprise. He founded Restaurant Toqué! some 23 years ago, and his passion for traceability of ingredients has been an inspiration to young chefs coming through his kitchen. Over time he's built strong relationships with small producers and takes great pleasure in giving me a tour of his kitchen cold store. Laprise points to a huge hunk of tuna and tells me it was line-caught in the Magdalen Islands, and there's a side of lamb that comes from a local farm specializing in a single breed. His cooking is based on classical tradition, and his advice to young chefs is to find the best and not get distracted by trends.
The restaurant is fine dining with white tablecloths, although Laprise has a more casual bistro nearby. I start with marinated slices of raw princess scallops from the Magdalen Islands in cucumber water, with a single disk of radish topped with a single red currant, the berry providing a hint of sourness to contrast with the sweet cucumber water. Next are raw slices of that tuna I saw earlier, with cherry tomatoes, thin strips of fennel, green beans and a sorrel emulsion. Both dishes shout fresh, and I'm grateful for Laprise's insistence on hunting down the very best. Medallions of venison loin, on a bed of eggplant puree with green beans, roasted zucchini, corn and lobster mushrooms, complete the trilogy. 900 Place Jean-Paul-Riopelle; 514-499-2084; restaurant-toque.com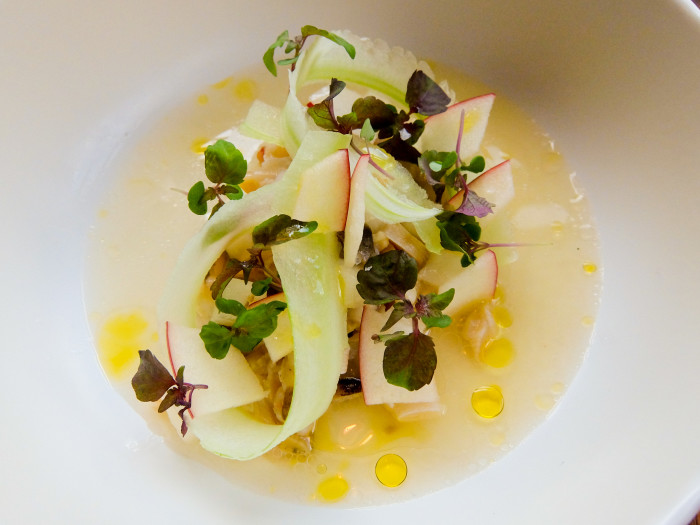 Les 400 Coups
Although Les 400 Coups has established a strong following since it opened in 2010, chef Jonathan Rassi has been here just six months. As usual, it's the relationship with his suppliers that's key, and he tells me that he designs his dishes around seasonal vegetables. Forget meat stocks — his sauces are usually vegetable emulsions, and protein is secondary. That's not to say meat and fish aren't important, and he uses smoking as a technique to add complexity of flavor. His lunch menu is where he experiments and is an excellent value, with two courses for $22 or three for $28.
My first appetizer is smoked clams with strips of celeriac, slices of apple and shiso leaves, the deep smokiness contrasting with the fresh flavors of the vegetables. Next, I try something that I wouldn't normally choose: potato with potato — in this case, slices of fingerlings encased in smoked Yukon Gold puree and topped with black garlic and chervil. It's surprisingly good; Rassi tells me the secret is the supplier who grows the tasty fingerlings. Another highlight is rolled strips of smoked veal tongue topped with cauliflower snow, with charred onions and wild caraway seeds roasted in veal stock. Perhaps my favorite dish is lobster tortellini in a carrot butter with chanterelles, roasted corn and tarragon. 400 Rue Notre-Dame E.; 514-985-0400; les400coups.ca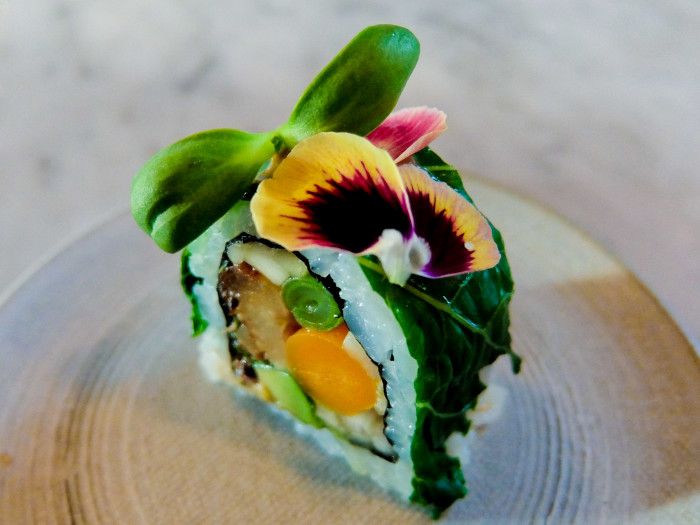 HVOR
It's only been open for two months, but chef S'Arto Chartier Otis's HVOR doesn't even provide a menu, instead giving you a simple choice of three or five courses and listing its suppliers on the back. Each course is a complete surprise, although you are asked about allergies before the meal begins, and the restaurant also provide wine pairings — useful when you don't know what you're getting. HVOR has its own urban garden, just adjacent, with tomatoes, zucchini, pepper, Swiss chard, kiwis and a range of herbs all in full bloom.
I go for the five-course menu and am immediately given an amuse-bouche of vegetarian maki containing eggplant, carrots and mushrooms, wrapped in a green Swiss chard leaf and artistically topped with a cornflower. The first course is a tasty panzanella, with tomato, cucumber, violet pepper, balsamic croutons and mustard ice cream. Next is baby buckwheat cavatelli with beads of buckwheat crumble and Swiss chard in a miso broth. It's a perfect match of al dente pasta with the salty miso, and it even provides toasted homemade bread to soak up the miso. The highlight for me is a seared scallop resting on a carrot puree, surrounded by celery pieces and topped with sea urchin. As a piece of theater, it's difficult to beat the frozen orange, filled with sorbet made from the pith, topped with meringue and flamed with chartreuse and prosecco. 1414 Rue Notre-Dame O, 514-937-2001; hvor.ca
Restaurant Cadet
At this newcomer, located in the entertainment district, the food leans toward fusion but is none the worse for that. Diners are encouraged to go for sharing plates, and the menu reflects Montreal's diversity. Dishes include lobster with lemongrass, Chinese pork dumplings with shrimp and radishes with crispy chicken skin. 1431 Boul St-Laurent; 514-903-1631; restaurantcadet.com/en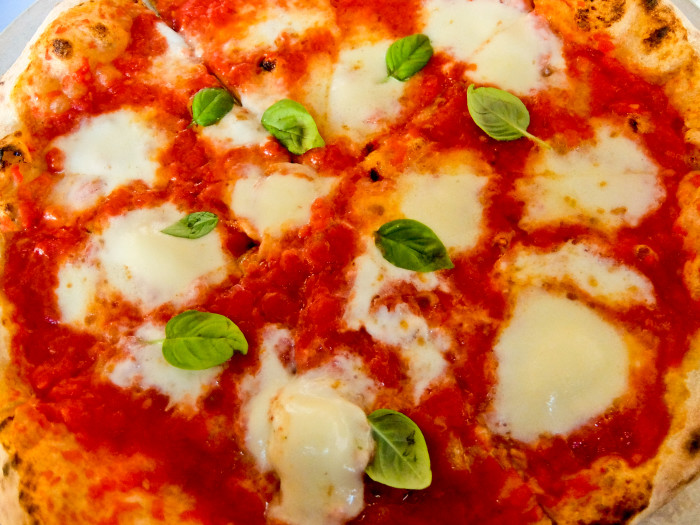 Restaurant Moleskine
Also recently opened and close to the entertainment district, Restaurant Moleskine occupies a fashionably distressed space on two levels. Chef Frédéric St-Aubin conjures up crisp and light pizzas from his wood-fired oven and offers paprika-flavored popcorn while you wait. He's done a stint in Italy, and it shows in his choice of ingredients in the appetizers — try the melon with parma ham or the panzanella. Upstairs dining is more formal, but St-Aubin is still in the driver's seat. 3412 Ave. du Parc; 514-903-6939; moleskine-mtl.com
Restaurant Helena
There's a sizable Portuguese community in the city, and chef Helena Loureiro's cuisine is inspired by traditional dishes whilst tweaking them to incorporate Montreal style. I like her spicy octopus and the salad of raw shaved asparagus with toasted almonds that's topped with cheese, but the highlight is her Alaskan black cod with roast tomato puree, marinated mushrooms and sesame seed. It's fun here to order tapas-sized portions and explore the menu. 438 Rue McGill; 514-878-1555; restauranthelena.com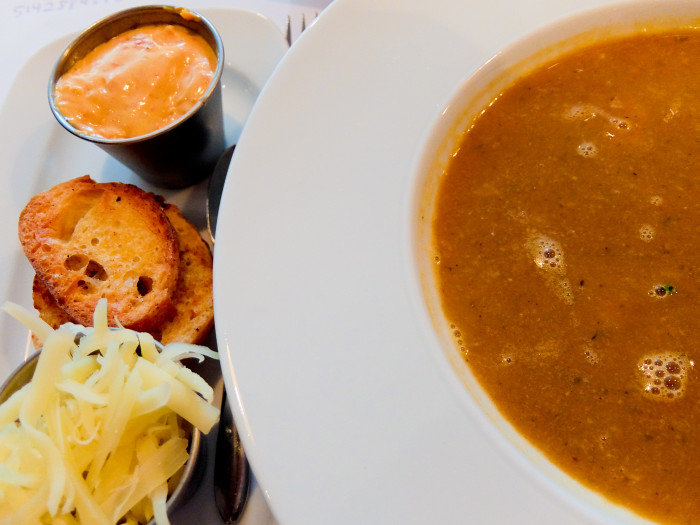 Le Delmo
This has long been an institution in old Montreal, serving the best of fish in slightly old-fashioned surroundings. There's nothing dated about the food, however, and its soupe de poisson can compete with the best. Fish is sourced locally, and I enjoy a pan-fried fillet of walleye, or zander, from the Ontario lakes, cooked perfectly on the right side of underdone. 275 Rue Notre-Dame O; 514-288-4288; chezdelmo.com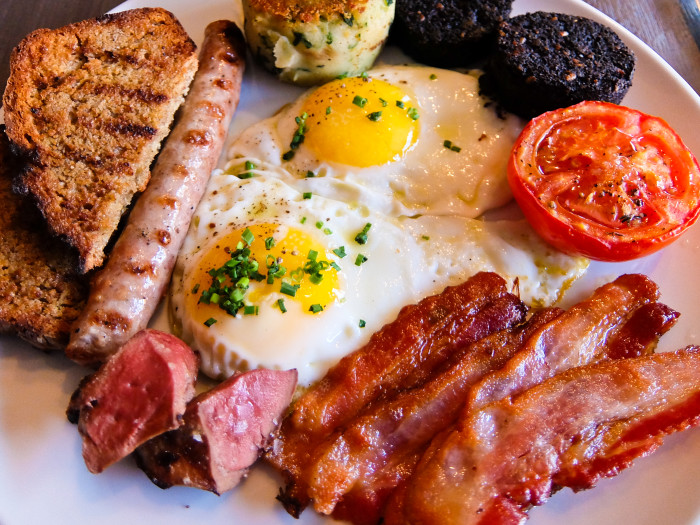 EVOO
Another new arrival, EVOO is committed to local products, ensuring everything is made from scratch. I have time only for brunch and enjoy granola with tasty homemade goat yogurt and fresh fruit. I plump for the full Irish breakfast (one of the chefs is from Ireland), as well as local sausage, bacon, eggs and black pudding, along with milk-fed piglet liver, colcannon (Irish mashed potato), and a side of soda bread. That's enough fuel to dig potatoes for the rest of the afternoon. 3426 Rue Notre-Dame O; 514-846-3886; restaurantevoo.com
---
Here are more new and classic spots to seek out in Montreal, featuring contributions by Richard Martin, Chantal Martineau, Emily Saladino and Rachel Signer:
Arthurs Nosh Bar
Husband-and-wife team Alex Cohen and Raegen Steinberg, who have worked at some of the other restaurants on this list, including Joe Beef and Nora Gray, are the minds behind this new, new-school and artfully designed Jewish deli-restaurant serving schnitzels, smoked fish, cabbage rolls and more. If many visitors head to Montreal for the feel of France, now there's a culinary detour into Eastern Europe that's earning high marks in its first few months of operation. 4621 Notre-Dame Ouest; 514-757-5190
Montreal Plaza
This year-old charmer on Plaza St-Hubert is the first restaurant from Toqué alum Charles Antoine-Crête and partner Cheryl Johnson. The homespun contemporary decor spans lively tables, intimate nooks and an outdoor terrace with unpretentious picnic benches. The menu is seasonal and creative throughout: A recent visit featured tartare of either fish or venison, a vegetable salad that showcased Montreal's brief but glorious summer produce, a similarly fresh cavatelli-and-veggies dish (albeit in a chicken stock–based sauce) and plenty of seafood and meat options. It's a fantastic spot for a date night or a place to share a bunch of clever, tasty dishes with friends. The wine list is a standout as well, ranging from curated Old World options to New World discoveries that include some from Quebec. 6230 Rue St-Hubert, Montreal, QC H2S 2M2; 514-903-6230; montrealplaza.com
Joe Beef
No guide to Montreal cuisine would be complete without Joe Beef. Chef-owners David MacMillan and Frédéric Morin put the once-industrial neighborhood of Little Burgundy on the culinary map, serving an innovative menu that takes the local natural bounty to 11. The taxidermy bear head (not a typo) over the bar and checkered napkins on the tightly confined dining room tables may suggest Canadian Country Cookin', but the protein-rich, proudly Quebecois menu is incredibly sophisticated. The big flavors and bigger portions never overwhelm the complexity of the preparation, which elevate protein-heavy mains like enormous steaks, pastas studded with lobster and foie gras on top of more foie gras into pretty transcendent fare. Reservations can be hard to come by, so call early and call often. 2491 Rue Notre-Dame Ouest; 514-935-6504; joebeef.ca
Le Petit Alep
Meet friends here to share a plentiful Syrian-Armenian mezze featuring house-made dips and scrumptious falafel sandwiches on the patio of Petit Alep, the sister restaurant to the more robust Alep. The wine list is impressive enough to please the nerdiest drinkers (even that stalwart of "unicorn wines," a Jura white by Pierre Overnoy, is on the list) and has a low markup, too. Everything here is fresh and light, and the mood is perfectly casual. Try a lunch here on the sunny patio along a quiet street before a long stroll through the city or shopping in the nearby Jean-Talon market. 191 Rue Jean-Talon E., Montreal, QC H2R 1S8; 514-270-9361; petitalep.com/EN/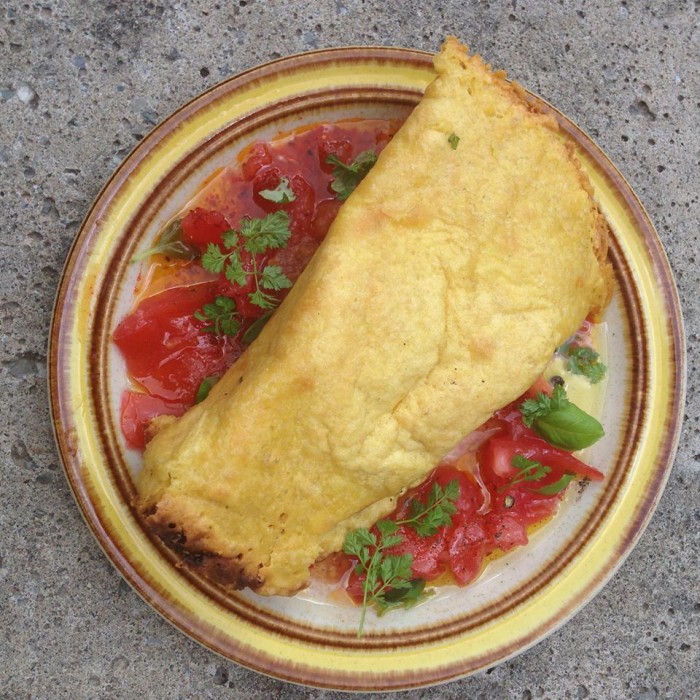 Le Vin Papillon
The food and wine menus are written on chalkboard at this wine-centric, chic sister restaurant of Joe Beef. Compared to the rich and hearty foods at Joe Beef, Vin Papillon offers shared plates highlighting seasonal bounty, like zucchini flower tempura that comes with a creamy fish-based sauce; smoked sea urchin in the shell; thinly shaved ham alongside hard, salty cheese; asparagus right off the backyard grill. Speaking of that backyard, it's a true scene in the summer, with local revelers mingling with visitors from afar. They have come to enjoy the hospitality of partner Vanya Filipovic, a strong proponent of natural wines who knows how to make guests feel truly at home (and keep their glasses full). This is the place to stay late, drinking wine and nibbling cheese. For the adventurous eater, there even may be horse tartare, depending on when you come. 2519 Rue Notre-Dame Ouest, Montréal, QC H3J 1N6; vinpapillon.com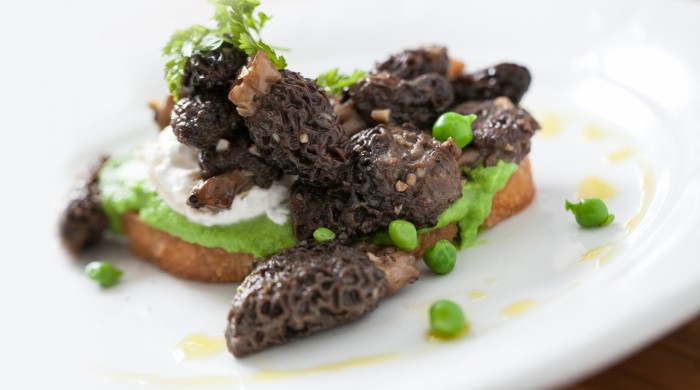 Nora Gray
Come for the impressive array of natural, Old World wines; stay for the beautiful handmade pasta and modern interpretations of rustic Italian dishes. It's a cozy place, with modern decor, low lighting and slow-paced service — perfect for dates. With walnut-stuffed rabbit, deep-fried ricotta balls and pork trotter with farro on the menu, Nora Gray's is not an entirely light meal. But the restaurant, which opened in 2011, has earned a reputation for being exemplary of new Montreal dining and tops in food and service alike. Oh, and the cocktails are proper. 1391 Rue St-Jacques, Montreal, QC H3C 4J4; 514-419-6672; noragray.com
Au Pied de Cochon
If you're feeling up to a spread of pigs' heads and foie gras in various forms, including foie gras poutine, then grab a spot near the open windows on a warm evening for a classic Montreal cuisine experience. Located in the heart of the trendy and picturesque Plateau neighborhood, surrounded by humdrum restaurants beckoning you to "apportez votre vin" (BYOB), Au Pied de Cochon provides the ultimate indulgence, including about nine different ways of serving foie gras and double that many ways of presenting pig — and the restaurant also brews its own beer. 536 Ave. Duluth E., Montreal, QC H2L 1A9; 514-281-1114; aupieddecochon.ca
Reservoir
Of all the random things you might encounter in Montreal, a vegetarian brasserie is probably one of the least expected. But there is one: Reservoir, a gastropub located just a few blocks away from Au Pied de Cochon in the Plateau. Along with its house-made beer, Reservoir offers various Canadian brews and an array of creative small plates. By night, enjoy beers on the rooftop; by day, enjoy brunch on the rooftop. Either way, finish up with some sweet and crusty petit beignets. And if you're worried you couldn't stand to make it through your trip to meat-heavy Montreal without a kale salad, fret not; you can have one at Reservoir. 9 Ave. Duluth E., Montreal, QC H2W 1G7; 514-849-7779; brasseriereservoir.ca
Maison Christian Faure
Opened on Place Royale in August 2013, this modern patisserie is a revelation to Old Montrealers, who historically found their fine French pastry selection sorely lacking. The three-level space encompasses the namesake chef's kitchen, which churns out countless sweets, sandwiches and complex confections, followed by the main-level café, where locals spend hours over perfectly pressed coffee alongside addictive croissants, rib-sticking roast beef on fluffy brioche or warm jambon-buerre. The third story houses Faure's culinary school, which includes a professional pastry curriculum as well as afternoon sessions geared toward enthusiastic amateurs and three-hour children's classes. 355 Place Royale; 514-508-6452; maisonchristianfaure.ca/en
Big in Japan
What would Momofuku Ssam Bar be like if the menu were exclusively Japanese? The answer is Big in Japan, a fun, funky and enormously popular izakaya. Crowd-pleasing dishes include the oversize moshi pan, Japanese pork buns and wonderfully tender toro with crisp shiso and toasted baguette slices. Portion sizes here are of the American persuasion: the "share" dishes, which in the winter might include a cast-iron pot filled with slow-roasted veal shoulder, mussels and udon, claim to serve two to four people but could easily sustain a family of five. 4175 Boul St-Laurent, Montréal, QC H2W 1Y7; biginjapan.ca
Foodlab
If you see a five-story, LED-light display on the side of an industrial building on Mont Royal's main drag, you've come to the right place. Located on the top floor of a digital arts museum, Foodlab is epicurean experiment done right. The name may bring to mind overwrought, self-purportedly "molecular" menu theatrics, but fear not. The experimental nature of the restaurant lies in its concept, which changes every two weeks. Co-chefs Michelle Marek and Seth Gabrielse circle the globe each fortnight, with temporary menus highlighting everything from Spanish tapas to Sardinian seafood to hearty Israeli dishes. 1201 Boulevard Saint-Laurent; 514-844-2033; sat.qc.ca/en/laboculinaire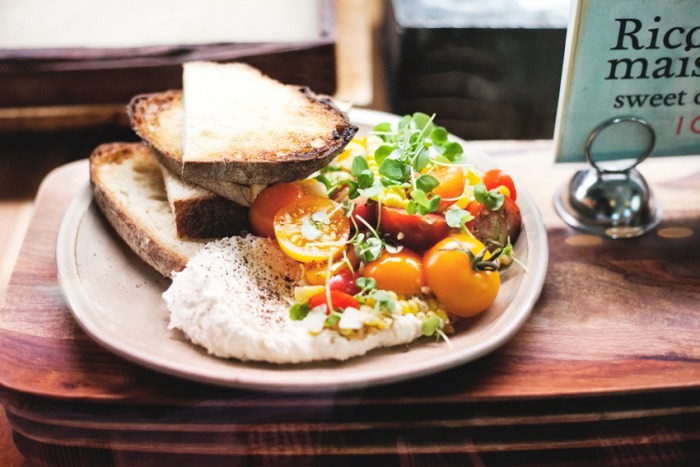 Olive et Gourmando
Named for the owners' two cats, this welcoming café sits on a sunny corner of Old Montreal, a short walk from the riverfront. Don't show up too hungry, as there will be an inevitable wait for one of the inviting, warmly lit tables. But once you're situated, settle in for stellar café classics, like goat cheese panino, mac and cheese with truffle tapenade, and hearty winter salads made with pureed roasted squash, bitter greens and candied pecans. Save room for the epic chocolate brownie, which is a local legend on par with Quebec native William Shatner. 351 Rue Saint Paul Ouest; 514-350-1083; oliveetgourmando.com
Lawrence
Any visit to Montreal must include a stop at Mile End, home of charmingly sunlit coffee bars, high-end design boutiques and historic bagel shops. London-born chef Marc Cohen keeps things swinging at the boho-chic Lawrence. His menu speaks gastropubbery with a French accent, as in roasted cauliflower soup with a touch of blue cheese, seared Arctic char with horseradish cream, and decadent grilled duck hearts (just go with it) alongside a delicately dressed celeriac salad. Come for the popular weekend brunch, where stylishly disheveled artist types and the people who dress like them tuck into chocolate and lemon beignets, smoked trout with scrambled eggs and glass after glass of Aperol spritz. 5201 Blvd. Saint Laurent; 514-503-1070; lawrencerestaurant.com
L'Express
There are folks who go to Montreal as a cheaper alternative to Paris. Such misguided souls are validated at this moderately priced mainstay Parisian-style bistro. It's one of the few places — in the world, one would suspect — that you can get a hearty pot-au-feu or classic steak tartare at 1 a.m. 3927 rue Saint-Denis; 514-845-5333; restaurantlexpress.ca
Brasserie T!
Chef Normand Laprise presides over what is often said to be the city's best restaurant, Toqué! Its casual sister establishment is a modern, glass-walled canteen at the heart of the theater district. Expect brasserie standards like garlicky escargots, duck rillettes and superlative housemade sausages. 1425 rue Jeanne-Mance; 514 282-0808; brasserie-t.com
Le Club Chasse et Pêche
It translates as "the hunting and fishing club," so you can probably guess that meat and fish abound. But this is no rustic log cabin–style dining room. You might say it looks deco-lodge, with exposed brick, leather club chairs and white ceramic animals adorning the light fixtures. The food has an artsy flair, too. 423 rue Saint-Claude, Old Montreal; 514-861-1112; leclubchasseetpeche.com
Schwartz's
Save at least one meal during your trip for this storied Jewish luncheonette. The same simple smoked-meat sandwich has been made here since 1928: slabs of peppery smoked brisket on white rye, smeared with yellow mustard. Novices should order it "medium"; "lean" is for lightweights, and "fat" may be more than you can handle. 3895 Blvd. Saint-Laurent; 514-842-4813; schwartzsdeli.com
La Banquise
You're going to want to have poutine while in Montreal, either to say you tried it or because you already have and are now addicted to piles of French fries, brown gravy and cheese curds. This decidedly unfancy diner has about 28 incarnations of the drunk-food staple. Oh, and it's open 24 hours. (Yeah, they know what they're doing.) 994 Rue Rachel E.; 514-525-2415; restolabanquise.com